Hal Parker, Board Member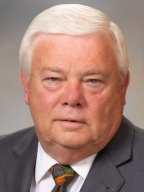 Mr. Hal Parker was first appointed to the Board by Governor Phil Bryant in May 2012 to represent the First (Central) Supreme Court District. He was reappointed by Governor Tate Reeves in May 2021 for a term to expire May 7, 2030.
Mr. Parker is a Pike County native. He is actively involved in his community and has built several successful distribution companies. He began his career with Sears after graduating from Mississippi State University with a Bachelor of Science degree in business. He then moved into a partnership in Climate Masters, Inc. In 1982, Mr. Parker founded Sunbelt Wholesale Supply Co., a regional distributor of fiberglass insulation and residential roofing products. The company became an integral part of Service Partners, LLC. Service Partners is the largest distributer of fiberglass insulation in the United States. In 2000, Mr. Parker became a partner in Mississippi Roofing Supply and served the company until its sale in 2006. He is a general partner in Parker Land, LLC and is president of Parker CDJR Auto in Starkville, Miss.
He served four terms on the Mississippi State Development Foundation Board and served two terms as president of the Bulldog Club. He has additionally served on the boards of directors for the Hinds Community College Foundation Board, the Rankin Health Foundation, Rankin First and Bank Plus.
Mr. Parker and his wife, Linda, live in Bolton and are very active with the Jackson and Mississippi State chapters of the Fellowship of Christian Athletes. The Parkers have two children and two grandchildren.