BOARD OF TRUSTEES EXTENDS CONTRACT FOR JACKSON STATE UNIVERSITY PRESIDENT
10/25/2012 - Jackson, Miss.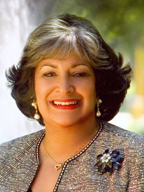 The Board of Trustees of State Institutions of Higher Learning delivered a strong vote of confidence in the leadership of Jackson State University President Dr. Carolyn Meyers when they voted recently to extend her contract for four more years. The Board's decision came following a careful review that included meetings with stakeholders on campus. With almost 9,000 students on campus, Jackson State has flourished under Dr. Meyers' leadership.
"Dr. Meyers is a strong, thoughtful and pragmatic leader," said Ed Blakeslee of Gulfport, president of the Board of Trustees of State Institutions of Higher Learning. "She is focused on quality in all aspects of the university, whether it is teaching in the classroom, research in the laboratory or service in the community."
Dr. Meyers was named the 10th president of Jackson State University in December 2010 and began serving in the role in January 2011. She also serves as a professor of civil and environmental engineering.
"Dr. Meyers has done an outstanding job as president of Jackson State," said Trustee Bob Owens of Jackson. "She understands the key role that JSU plays in the capital city and has a heart for helping students. I am impressed by all that she has accomplished thus far and look forward to even brighter days ahead for the university."
Under Dr. Meyers' leadership, Jackson State University earned a 10-year reaffirmation of accreditation from the Southern Association of Colleges and Schools and national accreditations in business, teacher education and engineering as well as full certification by the NCAA. Dr. Meyers has made gains in student enrollment, increased fundraising to $7.5 million, and positioned the university to become a national model for educating the underserved and achieving global recognition for excellence in education, research and service.
"Dr. Meyers' leadership exemplifies a true understanding of the importance of the inclusion of all stakeholders in the continued success of the University," said Dr. Rosella Houston, president of the JSU Staff Senate. "Her visionary leadership was the driving force behind the development and implementation of the inaugural Staff Leadership Institute. We look forward to the great things Dr. Meyers has envisioned for our becoming One JSU!"
Designated as a high research activity university, Jackson State continues to enhance the state, nation and world through comprehensive economic development, healthcare, technological and educational initiatives. JSU is the fourth largest institution of higher learning in Mississippi and serves as Mississippi's Urban University.
"On behalf of the JSU National Alumni Association, we were glad to hear of the contract extension of Dr. Meyers," said Terry Woodard, president, Jackson State University National Alumni Association. "Her vision of One JSU is timely as we continue to build a better university by enhancing academic programs, increasing funding, improving student outcomes and strengthening alumni support and engagement."
Dr. Meyers has launched several initiatives to enhance the university and improve the life of JSU students, staff and faculty, including the iPad Initiative for freshmen, the Staff Leadership Institute, and the Academy for Research and Scholarly Engagement. Those initiatives exemplify her commitment to the success, growth and development of the students, faculty, and staff.
"As president of the Faculty Senate, I am pleased to congratulate President Meyers for her accomplishments," Jean-Claude Assad, Ph.D., President of the Faculty Senate. "I also want to praise the Board of Trustees of the State's Institutions of Higher Learning for their foresight and their confidence in our president's leadership. The Faculty Senate has pledged to continue to work closely with our president to ensure a better and a more productive future for our university under the banner of 'One Jackson State.'"
Dr. Meyers' leadership is instrumental in helping Jackson State University move in new and exciting directions and has helped the faculty, staff and students strive to reach even higher goals. The university's reach has expanded through more evening and weekend classes and online degree programs and the campus continues to grow beyond west Jackson. The university has five satellite campuses throughout Jackson, including the soon-to-open downtown location.
"I am deeply honored to be given the opportunity to serve Jackson State University for four more years. Jackson State is moving in new and exciting directions, and I'm delighted to be part of its future," Meyers said. "The talent at Jackson State is enormous. I am extremely fortunate to get work with so many brilliant, dedicated and innovative Jacksonians. They make my job a lot easier."
Dr. Meyers brought to Jackson State more than 30 years of academic and leadership experience in higher education, serving most recently as President of Norfolk State University in Norfolk, Va. She served as Provost and Vice Chancellor for Academic Affairs for North Carolina Agricultural and Technical State University, where she had been a tenured professor of mechanical engineering and Dean of the College of Engineering. Dr. Meyers also has been a tenured faculty member at the Georgia Institute of Technology and was the first Associate Dean for Research at the Georgia Institute of Technology College of Engineering.
Reared in Newport News, Va., Dr. Meyers earned a bachelor's degree in mechanical engineering from Howard University, a master's degree in mechanical engineering and a doctorate in chemical engineering from the Georgia Institute of Technology, and completed post-doctoral work at Harvard University.
Dr. Meyers has published numerous articles and reports and presented more than 100 invited presentations and technical papers on education and diversity topics and research and technical topics. She has received numerous honors, awards and commendations for her leadership and service to higher education.
"Dr. Meyers has a wealth of experience in high research activity institutions," said Dr. Hank M. Bounds, Commissioner of Higher Education. "This is coupled with her keen understanding of the important role that Jackson State University plays in our state and her desire to help all students succeed. She is a dedicated and gifted leader and I look forward to our continued work together."
# # #
The Mississippi Board of Trustees of State Institutions of Higher Learning governs the public universities in Mississippi, including Alcorn State University; Delta State University; Jackson State University; Mississippi State University including the Mississippi State University Division of Agriculture, Forestry and Veterinary Medicine; Mississippi University for Women; Mississippi Valley State University; the University of Mississippi including the University of Mississippi Medical Center; and the University of Southern Mississippi.