BOARD OF TRUSTEES EXTENDS CONTRACT FOR UNIVERSITY OF MISSISSIPPI CHANCELLOR
8/26/2011 - Jackson, Miss.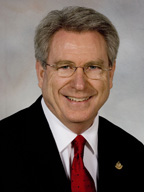 The Board of Trustees of State Institutions of Higher Learning voiced great support for the Chancellor of the University of Mississippi when they voted unanimously to extend his contract for four more years. Following a careful review that included meetings with stakeholders across each campus, the Board extended the contract of Dr. Daniel W. Jones, Chancellor of the University of Mississippi. Since being named Chancellor in 2009, Jones has strengthened the university and witnessed record enrollment.
"Dr. Jones has demonstrated committed, visionary leadership as the university's executive officer," said Trustee Robin Robinson of Laurel, president, Board of Trustees of State Institutions of Higher Learning. "He has provided stellar leadership and that has translated to record enrollment, increased research activities and outstanding alumni support."
Jones became the 16th Chancellor of the University of Mississippi in July 2009. Under his leadership, the university has completed its new strategic plan, UM 2020, to provide vision for continued growth in undergraduate, graduate and professional programs. The plan calls for a careful balance between academic excellence and access to higher education, particularly for Mississippi students.
"Dr. Jones has provided the university with outstanding leadership over the past two years," said Trustee Aubrey Patterson of Tupelo. "He remains focused on meeting the needs of students while working with business leaders from across the state to ensure that students today are prepared to help businesses grow and prosper in the future."
Over the last two years, the number of freshman applications to Ole Miss has increased more than 55 percent, and the university enrolled the largest freshman class in state history last fall, with 3,095 incoming students on campus. This year's freshman class is expected to be even larger.
The university has developed new initiatives to aid deserving students with financial needs, including the Ole Miss Opportunity program. In its first year, the program provided $459,000 in scholarships to 102 Mississippi freshmen. This fall, nearly 190 new students will share more than $1 million in Ole Miss Opportunity scholarships.
"Ole Miss has been blessed with very strong, enabled leadership from our chancellors over history, and Chancellor Jones continues that tradition," said Bill May, a Meridian attorney and president of the Ole Miss Alumni Association. "I have found him to be a great listener and a strong leader, willing to make difficult decisions. I have also found that his passion for Ole Miss, including its students and alumni, is intense. I am grateful for his leadership."
Over the past two years, the university has opened its new Robert C. Khayat Law Center, Center for Manufacturing Excellence and Lucky Day Residential College, and renovated the Old Chemistry building to house part of the expanded School of Engineering. The Medical Center completed construction of the final three floors of the Guyton Research Center and finished renovation of the Pediatric Intensive Care Unit. Several other building projects are expected to be completed within the next year.
"I am very pleased with the way Dr. Jones is running the university," said Trustee Dr. Stacy Davidson of Cleveland. "The growth on the University of Mississippi campus in Oxford and at the Medical Center in Jackson is a credit to his leadership. It is not easy to grow during difficult economic times, but Dr. Jones has managed to do that by planning strategically, finding efficiencies where possible, involving all stakeholders and making good decisions."
UM is the highest-ranked public university in the five-state Mid-South region on Forbes' listing of "America's Best Colleges" and was named one of the publication's Top 20 "Best College Buys." The list is part of the annual "America's Best Colleges" section, which includes several rankings and data on 650 colleges and universities compiled by the Center for College Affordability and Productivity.
"I have known Dr. Jones for many years, going back to when he was Vice Chancellor of the Ole Miss medical school," said Bill Parsons of Florida, former NASA Shuttle Program Manager and Director of the Kennedy Space Center. "He is an absolutely gifted medical doctor and leader, but he is more than that. He believes in service and has set an example for all to follow. I am proud to call him a friend, and the Ole Miss family is extremely fortunate to have him leading us in this very dynamic time of our school's history."
Over the past fiscal year, UM faculty, staff and students garnered more than $163 million in external funding to support 555 different projects, ranking the university in the top quartile of all public research universities. The School of Pharmacy ranked No. 1 nationally among 120 schools of pharmacy for total extramural funding and No. 5 for funding from the National Institutes of Health, the highest ranking UM has ever achieved for NIH funding.
"The University creates opportunities," said Noel Wilkin, UM Associate Provost and Professor of Pharmacy Administration. "Chancellor Jones recognizes that we can play a significant role in improving the lives of others. This responsibility cuts across our many efforts in research, teaching and service. His efforts and passion for making positive, transformational changes in people's lives have energized this aspect of who we are as a community."


Before his appointment as Chancellor, Jones served as Vice Chancellor for Health Affairs, Dean of the School of Medicine and Herbert G. Langford Professor of Medicine at the University of Mississippi Medical Center. He served as the institution's chief executive officer for six years, overseeing the five schools and the health system.
A native Mississippian, Jones graduated from Mississippi College in 1971, earned his M.D. in 1975 at the UM Medical Center and completed his residency in internal medicine there in 1978. He had a private practice in Laurel. In 1985, he went to Korea as a medical missionary.
"It is a great privilege to serve as chancellor of the University of Mississippi," said Jones. "I am grateful for the support of the IHL board and appreciate their decision to allow me to continue to work with our students, dedicated faculty and staff, alumni and many others who love our great university. I look forward to the years ahead and the opportunities for our university to transform individual lives as well as the state, region and world."
"Dr. Jones has proven to be an exceptional leader," said Dr. Hank M. Bounds, Commissioner of Higher Education. "I look forward to our continued work together to help our university system continue to excel in serving the needs of our students and our state."
# # #
The Mississippi Board of Trustees of State Institutions of Higher Learning governs the public universities in Mississippi, including Alcorn State University; Delta State University; Jackson State University; Mississippi State University including the Mississippi State University Division of Agriculture, Forestry and Veterinary Medicine; Mississippi University for Women; Mississippi Valley State University; the University of Mississippi including the University of Mississippi Medical Center; and the University of Southern Mississippi.