AMERICORPS MEMBER SELECTED FOR PRESTIGIOUS SERVICE INSTITUTE
6/3/2011 - Jackson, Miss.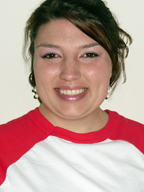 Second year AmeriCorps member Ashley Ellison epitomizes having a heart for service. This generous spirit has provided her with an opportunity to "learn from distinguished professors, gain valuable work experience, and interact with leaders in their field" through the prestigious 2011 Institute of Philanthropy and Voluntary Service (IPVS) to be held June 5-July 30 at Georgetown University in Washington, D.C.
The University of Mississippi student is a member of the AmeriCorps Teacher Assistant Program (ATAP), serving as an assistant teacher in the DeSoto County School District for three years at Greenbrook Elementary School.
In addition to being selected to participate in the Institute, Ellison also received a substantial scholarship to aid with tuition and accommodations while there. She will also have a summer service assignment as a tutor with Little Lights Urban Ministries working with children of families that make less than $8,000 per year.
As an AmeriCorps member, and in addition to the regular assistant teacher duties, Ellison serves as a tutor for students with special needs and provides one-on-one interventions. She also plans and implements community service projects, and recruits community volunteers, students, parents, and local leaders to participate with her in service. Ellison volunteers with organizations in DeSoto County that serve children with special needs.
"The AmeriCorps program has changed my life dramatically," said Ellison. "It has helped me to understand the need for outside intervention to help enhance the learning process that goes on in the school system. I was introduced to AmeriCorps in 2009 as an Assistant Teacher for Special Education. My plan for the future is to become a Special Education teacher and I know that my volunteer efforts with AmeriCorps have sharpened my dedication to the education of young people. I was given the opportunity to apply for 'The Fund for American Studies' internship at Georgetown University during a leadership training session sponsored by the ATAP AmeriCorps program. Without the support of ATAP staff and the opportunity to serve, I am not sure that I would have ever had the chance to be a part of this amazing opportunity."
Upon completion of a second year of AmeriCorps service, Ellison will have served over 3,400 hours and will have earned two AmeriCorps Segal Education Awards valued at a combined total of $10,075.
The AmeriCorps Teacher Assistant Program (ATAP) is made possible through a grant from the Corporation for National and Community Service and is administered by the State Institutions of Higher Learning (IHL).
###
The Mississippi Board of Trustees of State Institutions of Higher Learning governs the public universities in Mississippi, including Alcorn State University; Delta State University; Jackson State University; Mississippi State University including the Mississippi State University Division of Agriculture, Forestry and Veterinary Medicine; Mississippi University for Women; Mississippi Valley State University; the University of Mississippi including the University of Mississippi Medical Center; and the University of Southern Mississippi.