TRUSTEE ROBIN ROBINSON TO TAKE OFFICE AS PRESIDENT OF IHL BOARD
4/21/2011 - Jackson, Miss.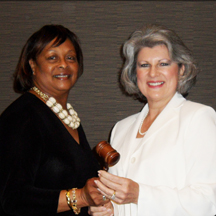 During her tenure as President of the Board of Trustees of the State Institutions of Higher Learning, Dr. Bettye Neely has seen a record number of students enroll at Mississippi's public universities, has watched university researchers chart the course for the country's environmental future through research related to the BP Oil Spill Disaster, and managed the selection of two new university presidents and the beginning of the search for a third new university president.
Dr. Neely passed the gavel to incoming President Robin Robinson at a Board meeting held today in Jackson. Robinson will officially take the seat on May 7.
"These are very challenging times for higher education and for Mississippi," said Robinson, appointed as a Trustee by Governor Haley Barbour in 2004 to represent the Southern Supreme Court District. "I look forward to leading the Board as we work with our universities to advance our state together."
Robinson served as Vice President of the Board during Dr. Neely's term. Trustee Ed Blakeslee will serve as Vice President during Robinson's term.
Dr. Neely was appointed by Governor Ronnie Musgrove in 2000 to represent the former Fourth Congressional District.
"I have enjoyed serving in this position and feel honored to have had the opportunity," said Dr. Neely. "Having served on the Board for several years with Ms. Robinson, I have full confidence that she will be an excellent leader and utilize her keen business acumen and excellent communication skills to help us lead the universities to even greater success."
Robinson serves as the Director of Organization Development and Corporate Communication at Sanderson Farms, Inc., a position she has held since 2000. She has worked for the Laurel-based poultry company in a variety of roles since her graduation from the University of Southern Mississippi in 1978. She holds a bachelor's degree in business administration with an emphasis in accounting from Southern Miss.
Robinson, whose term expires in May 2015, is very active in the community and across the state. She serves as chairman of the M.B. Swayze Educational Foundation and serves on the Board of Directors for the Jones County Junior College Foundation; the United Way of the Pine Belt; and the American Lung Association, Mississippi Chapter. She serves on the University of Southern Mississippi Business Advisory Council and is a Governor-appointed member of the Mississippi Supreme Court Judicial Advisory Student Committee. She also served on the Governor's Commission for Recovery, Rebuilding and Renewal after Hurricane Katrina struck the Mississippi Gulf Coast in August 2005.
"We are fortunate to have visionary, dedicated leaders like Dr. Neely and Ms. Robinson on the Board of Trustees of the State Institutions of Higher Learning," said Dr. Hank M. Bounds, Commissioner of Higher Education. "I am certain Ms. Robison will be an outstanding leader, just like her predecessor."
Dr. Neely, whose term expires in May 2012, recently retired as Assistant Superintendent of District Testing and Federal Programs for the Grenada School District. She and her husband, Calvin, reside in Grenada. Their daughter, Shundreia, lives in Georgia, where she is a district instructional specialist.
Dr. Neely holds four degrees from Mississippi's public four-year institutions including a Bachelor of Science in English from Mississippi Valley State University, a Master of Science in Elementary Education from Jackson State University, an Education Specialist in Administration and Supervision from Delta State University, and a Doctor of Philosophy in Curriculum and Instruction from Mississippi State University.
###
The Mississippi Board of Trustees of State Institutions of Higher Learning governs the public universities in Mississippi, including Alcorn State University; Delta State University; Jackson State University; Mississippi State University including the Mississippi State University Division of Agriculture, Forestry and Veterinary Medicine; Mississippi University for Women; Mississippi Valley State University; the University of Mississippi including the University of Mississippi Medical Center; and the University of Southern Mississippi.