STUDENT LEADERS VISIT STATE CAPITOL, MEET WITH LIEUTENANT GOVERNOR
2/1/2011 - Jackson, Miss.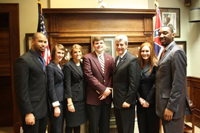 Student Government Association presidents from Mississippi's public universities visited the State Capitol in Jackson recently and met with Lieutenant Governor Phil Bryant and other lawmakers to thank them for making difficult decisions during challenging times and ask them to continue to support higher education and ensure opportunities are available for future students and leaders. Included in the photo are (left to right) Brandon Newsome of Jackson, Mississippi University for Women; Kasey Mitchell of Picayune, University of Southern Mississippi; Virginia Burke of Charleston, Mo., University of Mississippi; Thomas Sellers of Canton, Mississippi State University; Lt. Governor Phil Bryant; Emily Hearn of Millington, Tenn., Delta State University; and Andross Milteer of Long Beach, Calif., Jackson State University.