MISSISSIPPI PUBLIC UNIVERSITIES PREPARE NEXT GENERATION OF ARTISTS, ENRICH COMMUNITIES WITH CULTURAL OFFERINGS
11/5/2021 - Jackson, Miss.
Mississippi is known as both the Hospitality State and the Birthplace of America's Music, as well as the home of world-renowned artists and writers. Mississippi Public Universities play a key role in preparing the next generation of artists, musicians, and writers, while also enriching the state with performances, conferences, and lectures.
From the Mississippi Blues Trail to the many arts-related festivals across the state, Mississippi's arts tradition and rich culture drive the tourism industry in the state, which in turns boosts the economy on both the local and state levels. Mississippi Public Universities help support the tourism industry and help tell the story of Mississippi's arts and culture around the world, helping draw tourists to the state to explore Mississippi's past and present artists.
Mississippi University for Women offers more than 100 cultural events annually most without charge, enhancing quality of life in the region. The Department of Music will host the sixth annual international Music by Women Festival, March 3-5, 2022, on campus. The festival will feature concerts of new and historic music written by women composers historically as well as in the present day. The Eudora Welty Writers' Symposium, now in its 33rd year, continues to draw emerging writers and regional participation.
The University of Mississippi's online Master of Science degree in hospitality management prepares management-level professionals for hospitality management and helps meet the needs of a growing industry. The program is designed for people working in the industry in management roles to develop more effective operational and analytical skills and talents needed for top-level jobs in a global hospitality marketplace. Advanced food-service, lodging and service quality management classes coupled with advanced marketing, leadership and research course work represent the core of the curriculum. Faculty members with expertise in sustainability practices, menu analysis, social media marketing, service quality management, consumer behavior, nutrition, human resources and financial analysis, provide graduate students with mentorship and support across a wide array of professional and research interests.
Through a continuing partnership with Viking Range, students in the University of Mississippi's Department of Nutrition and Hospitality Management apply what they learn in a new test kitchen to perfect their skills, while preparing for careers in one of Mississippi's leading sectors: the tourism and hospitality industry. Viking Range, manufacturer of professional-grade ranges for the home and based in Greenwood, offered its product for use in the new NHM training kitchen at the university's South Oxford Campus and in the department's existing campus classrooms in Lenoir Hall. The state-of-the-art equipment is valued at nearly $150,000 and supports hands-on learning for students.
For more than three decades, the Encyclopedia of Southern Culture (University of North Carolina Press, 1989), developed by scholars in the Center for the Study of Southern Culture at the University of Mississippi, has fostered a deeper understanding of the South. The original volume and its update, The New Encyclopedia of Southern Culture (24 vols., University of North Carolina Press, 2006-13) are models of scholarly, authoritative, inclusive, thorough and well-written encyclopedias. The Encyclopedia of Southern Culture was "the first attempt ever," notes U.S. News & World Report, "to describe every aspect of a region's life and thought, the impact of its history and policies, its music and literature, its manners and myths, even the iced tea that washes down its catfish and cornbread." Contributors to the volume included 800 historians, literary critics, sociologists, anthropologists, geographers, linguists, theologians, folklorists, architects, ecologists, lawyers, university presidents, newspaper reporters, magazine writers and novelists.
Mississippi Magazine declared the University of Mississippi Museum as "Best Art Museum 2021" and as the "Best Historic Site 2020" for Rowan Oak, the home of legendary author and Mississippi native William Faulkner that is managed by the UM Museum.
The University of Southern Mississippi (USM) is one of only 39 institutions in the nation accredited in theatre, art and design, dance, and music, and USM's College of Arts and Sciences is a leader in the creative arts.
The University of Southern Mississippi's School of Performing and Visual Arts houses undergraduate programs in art, graphic design, painting and drawing, sculpture, dance performance and choreography, dance education, theatre, theatre performance, and theatre design and technology. Graduate programs are offered in theatre performance, theatre design and technology, and directing. The school produces exhibitions and performances throughout the year, and students are highly engaged in practice in the arts.
The School of Music at USM is dedicated to its longstanding international reputation for musical excellence, providing a myriad of musical and educational opportunities for the professional and artistic growth of student musicians. Students have the opportunity to work side-by-side with distinguished faculty who have performed on world-class stages and teach at festivals and conferences around the globe. Music ensembles include The Southern Chorale, Symphony Orchestra, Wind Ensemble and the Steel Pan Orchestra.
Most recently, the biennial 2021 USM Outdoor Sculpture Exhibition, sponsored by USM's College of Arts and Sciences, the Art and Design program and Partners for the Arts, was installed on the USM Hattiesburg campus. The exhibition features the work of nationally recognized visual artists and will remain on display through March 2023. The public is invited to visit the Hattiesburg campus and view these sculptures.
The mission of the Southwest Mississippi Center for Culture & Learning at Alcorn State University is to celebrate culture, creativity, and community. The Center serves as a resource for identifying, preserving, and communicating the rich history, vibrant culture, and cherished traditions of the region. Through community outreach, hands-on and online learning opportunities, lectures, public forums, exhibitions, and celebrations, the Center is a significant part of the region's cultural landscape.
As an educational and cultural center for the Mississippi Delta and the region, Delta State University promotes art and culture through a variety of programs and initiatives. Delta State is home to the state-of-the-art Bologna Performing Arts Center which offers a rich tapestry of cultural and educational opportunities, attracting quality programming, superb artists and powerful performances.
Delta State's Digital Media Arts program, which offers the only animation degree in the state, provides a foundation for students seeking to develop careers in the rapidly growing areas of motion graphics, sound design, video production, and photography through a multidisciplinary approach.
DSU's Delta Music Institute features two world-class recording facilities, opportunities with GRAMMY™ Museum Mississippi located on Delta State's campus, and the traveling Mobile Music Lab. Serving more than 4,000 students, the DMI Mobile Lab program provides exposure to songwriting as well as basic digital audio technology and videography to students across the Delta.
Among Delta State's signature conferences is the International Conference on the Blues, which attracts national and international musicians and scholars, along with fans of the blues, for three days of presentations and performances.
Jackson State University has one of the largest graphic design programs in the country and is one of only four HBCUs with an accredited program in art.
The Jackson State University Art Collection is housed in the new Johnson Hall and was amassed over 68 years. The collection began with portraitures by Harlem Renaissance artists and expanded to African Wooden sculptures from the Democratic Republic of Congo and Central Africa.
Jackson State University is also home to the Dr. Henry T. Sampson, Jr. Collection, which relates to the historic contributions of African-Americans to motion pictures, performing arts, music, radio and television broadcasting in the U.S. between 1865 and 1970.
The Jackson State University Department of Music is perhaps best known for the Sonic Boom of the South, which celebrates its 50th Anniversary this year. This high-energy show-stopping marching band is legendary throughout the U.S. and abroad and has been chosen to perform for nationally televised awards programs and professional football games.
This unit is also home to over 20 music ensembles that master and perform Western classical, jazz, gospel, and world music genres throughout the Southern region. These include numerous brass ensembles, vocal and instrumental jazz combos, an orchestra, opera workshop, choirs, symphonic bands, and an African music and dance ensemble. The program has produced internationally renowned performers, music educators, and music producers who have matriculated through our National Association of Schools of Music (NASM) accredited programs in Music Education (both graduate and undergraduate), Music Performance, Music Technology, and Jazz Studies.
JSU has one of the only African music and dance programs at an HBCU and is the only music department at a Mississippi HBCU with a fully functional orchestra and string ensemble and an accredited music technology program with a state-of-the-art recording studio and music technology lab. Additionally, in Mississippi, JSU houses the only HBCU music department with an opera/musical theater workshop.
The JSU theatre department always offers a series of inspiring and thought-provoking performances, often exploring complex themes intended to facilitate change for the better. These performances are open to the community, most through a virtual platform. Numerous theatre students have gone on to have fulfilling careers on Broadway and the film industry.
Mississippi State University's Department of Art is home to the largest studio art program in the state of Mississippi, with concentrations in fine arts, graphic design and photography. The Bachelor of Fine Arts degree is earned after successful completion of an intensive, four-year program that provides the student with a series of in-depth studio experiences leading to a thesis/senior presentation balanced by studies in humanities, communication, mathematics, and sciences.
With graduates working in art and design-related fields and matriculating into MFA programs from coast to coast, MSU's Department of Art is home to the state's largest undergraduate studio art program.
As one of only six universities in the nation to house a presidential library, MSU is proud to be the home of the Ulysses S. Grant Presidential Library. Also home to the prestigious Frank J. and Virginia Williams Collection of Lincolniana, MSU stands as a leading national research center for the Civil War era and its central figures.
Appointed by Governor Tate Reeves, MSU English professor Catherine Pierce serves as Mississippi's Poet Laureate. Originally from Delaware, Pierce made her home in Mississippi in 2007 when she joined the faculty at Mississippi State University. Her conviction that "poetry is for everyone" drives her to amplify poetic voices and develop opportunities for others to experience poetry.
Located in the heart of historic downtown Meridian, the MSU Riley Center features a fully restored 1889 grand opera house theater and offers cultural, artistic and educational experiences.
Caption: A performance in the state-of-the-art Bologna Performing Arts Center, located on the campus of Delta State University, provides the audience with exciting entertainment for the evening. The venue offers the community with many cultural and educational opportunities.
Caption: Students in Delta State University's Digital Media Arts program prepare for exciting careers in motion graphics, sound design, video production, and photography.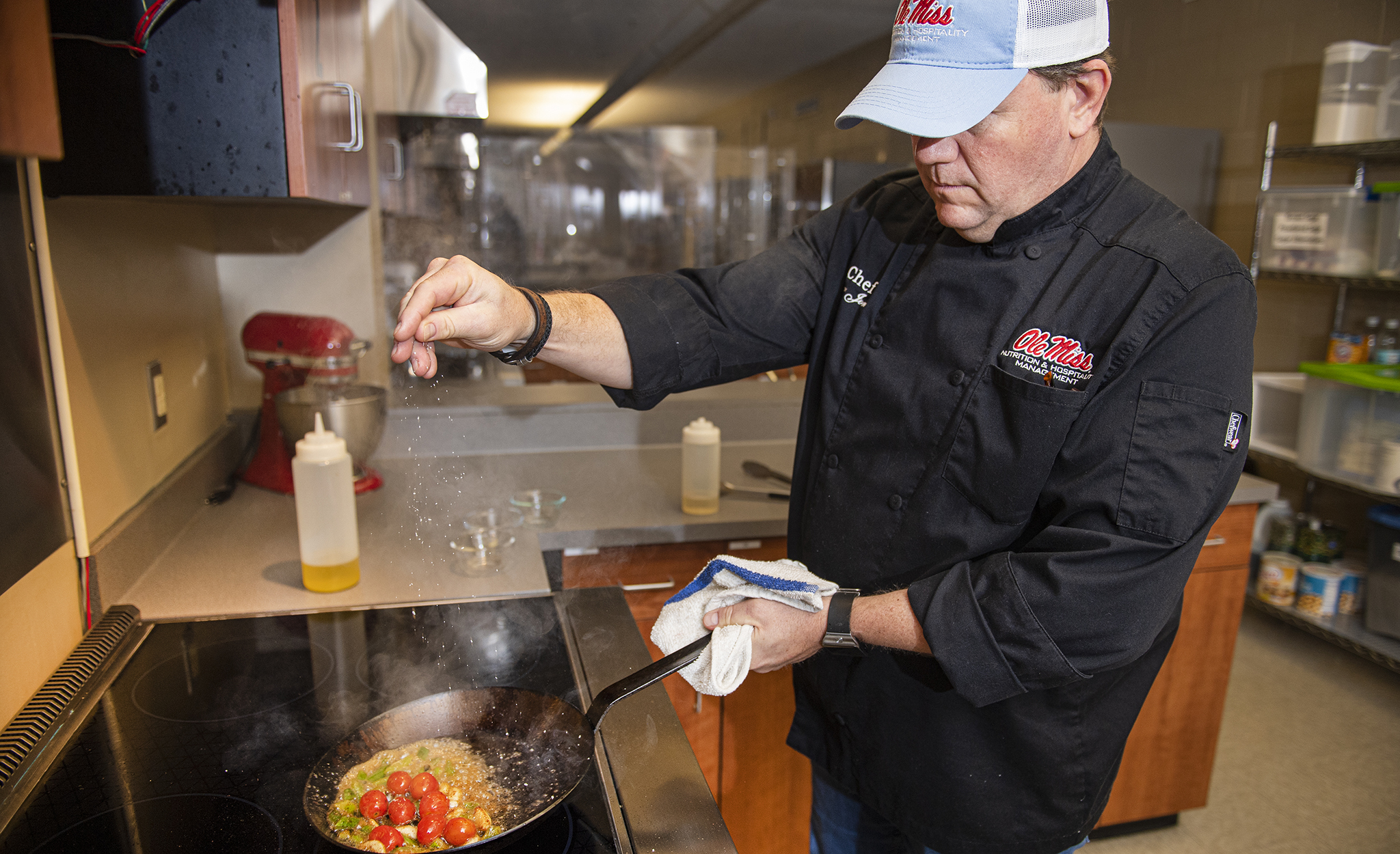 Caption: UM Department of Nutrition and Hospitality Management received new Viking ranges in their Lenoir Hall Test Kitchen, where students will be able to train on professional-grade appliances under the department's partnership with Viking Range. Photo by Logan Kirkland/Ole Miss Digital Imaging Services
Caption: Hailed as a groundbreaking work when it was released, the Encyclopedia of Southern Culture was published as a single volume in 1989. Photo by Kevin Bain/Ole Miss Digital Imaging Services.
###
The Mississippi Board of Trustees of State Institutions of Higher Learning governs the public universities in Mississippi, including Alcorn State University; Delta State University; Jackson State University; Mississippi State University including the Mississippi State University Division of Agriculture, Forestry and Veterinary Medicine; Mississippi University for Women; Mississippi Valley State University; the University of Mississippi including the University of Mississippi Medical Center; and the University of Southern Mississippi.