UNIVERSITIES HELP IMPROVE COMMUNITIES THROUGH OUTREACH, PARTNERSHIPS, SUPPORT
10/7/2021 - Jackson, Miss.
Mississippi Public Universities bring their resources, including providing both the effort and expertise of students, faculty, and staff, to help improve communities across Mississippi. The axiom, "Many hands make light work," is proven through a wide range of initiatives as the universities and communities join together to lift up the communities and enhance the quality of life for their citizens.
Delta State University's Center for Community and Economic Development (CCED) was established in Aug. 1994 to address major development issues facing the region. The CCED provides quality community service through management of resources and evaluation and support of grants and contracted services using highly credentialed teams of academic personnel and successful practitioners. Under the auspice of Delta State's College of Business and Aviation, current CCED programs include the Delta Educational Opportunity Center, the Breast Education and Early Detection Project (BEEP), the Business Assistance Center, the Women Minority Business Development Center and America Reads Mississippi. The CCED pursues excellence in its programs and activities as it seeks to improve the quality of life for citizens of the Delta.
Jackson State University's Small Business Development Center (SBDC) is part of a network of Small Business Development Centers across the nation bringing expert business knowledge to small businesses at no cost. The center assists the local community with services such as, business set-up, business plans, financial projections, among other services. In addition, Jackson State recently opened a Women's Development Center in the College of Business to address the interest of women entrepreneurs.
With many areas throughout Mississippi viewed as food deserts, more than a thousand motorists from various communities line up to receive fresh fruits and vegetables during Jackson State University's annual fall and spring Crop Drop. The drive-up event is sponsored by the university's JSU's Center for University-Based Development. With surplus food distributed by area farmers, JSU has partnered with organizations such as the Society of St. Andrew, Continental Tires and the People's Advocacy Institute. In addition to sweet potatoes and watermelons, the center recently has distributed non-perishable food, bottled water, hand sanitizers and many other items with help from dozens of mostly student volunteers. Faculty, staff, city and state leaders, community members and organizations also assist.
Sobering statistics show that people ages 12-20 consume 11 percent of all alcohol in the U.S. and more than 90 percent of alcohol is consumed during binge drinking. Consequently, Jackson State University's Metro Jackson Community Prevention Coalition (MJCPC) works deliberately and diligently to curb substance abuse that sometimes result in disastrous consequences. MJCPC, with grant assistance from the Department of Mental Health Bureau of Alcohol and Drug Services, meets throughout the area with local schools, colleges and the communities. Formed in 1995, the coalition cautions about the hazards of underage drinking and offers prevention sessions that use evidence-based curriculums and provides intervention training. Also, it sponsors bimonthly meetings, health fairs, National Night Out, campus engagements and peer education and training.
Mississippi State University's Center for Community-Engaged Learning works to integrate community engagement with university teaching and learning strategies. The center works with faculty to facilitate partnerships that benefit community partners and fulfill academic course goals. The center's vision is to advance and support all faculty, staff, students, and extension agents, in making connections between and finding the value in the creation of engaged scholarship that connects research, service, and learning in the community, state, region, nation, and beyond.
With more than 51,000 service hours performed in 2019, Mississippi State University stands as a Carnegie Foundation National Community Engagement Designee. Students, faculty and staff at the university have an abundance of opportunities to engage and partner in local communities, including Starkville, Oktibbeha County and the Golden Triangle, with some opportunities expanding throughout the state, country and internationally. Along with the university's Center for Community-Engaged Learning, the Office of Student Leadership and Community Engagement, and the Maroon Volunteer Center coordinate campus community engagement, service-learning and volunteerism efforts. The MSU Extension Service also has a presence in every Mississippi county as it delivers education and research that changes lives.
The Fred Carl Jr. Small Town Center, founded in 1979 and housed in Mississippi State University's College of Architecture, Art and Design, serves as an advocate of meaningful planning and design services to small communities throughout Mississippi. Comprised of architects, planners and students, the research that is conducted provides solutions to problems faced by communities across the nation. The Small Town Center's outreach efforts run a wide gamut from community engagement and visioning, grant writing, project feasibility studies, master planning, downtown revitalizations, small town research, design education seminars and workshops, to bike and pedestrian infrastructure planning and development.
The University of Mississippi placed its first cohort of Bonner Leaders, select members of the current freshmen class who serve in high-commitment, paid internships with community non-profit organizations. As a part of the national Corella and Bertram F. Bonner Foundation, the program recruits and supports a diverse pool of students who are committed to changing the world through service. The students undergo training to develop skills that are important in the nonprofit and public sectors, deepen their knowledge around the social and environmental issues facing Oxford and the Lafayette-Oxford University region, and join a supportive community of peers through team building and community formation activities. This year's class of 14 Bonner Leaders are working to transform their campus and community through internships with local groups like the Oxford Intermediate School, Boys & Girls Club, United Way and OxFilm. UM's Bonner Leaders Program is the first in the Southeastern Conference.
The University of Mississippi's Community First Research Center for Wellbeing and Creative Achievement, or UM: CREW conducts community-based research and serves as a resource for Mississippi counties, cities, and community groups to create, access, analyze and apply knowledge and data to improve community well-being and local and regional decision-making. UM: CREW guides community organizations through research processes to help them make data-driven, evidence-based decisions about what's best for their community. The center also helps UM students and faculty with conducting community-based participatory research projects and acts as a facilitator between university researchers and Mississippi communities in need of research skills. One of the early successes of UM: CREW is a grant from the Walmart Foundation for nearly $500,000 to support a food prescription program to improve access to fresh food for Mississippians. The program will provide about 45,000 meals for 200 people for two years.
University of Mississippi students assist with a community beautification project as part of the MPartner initiative.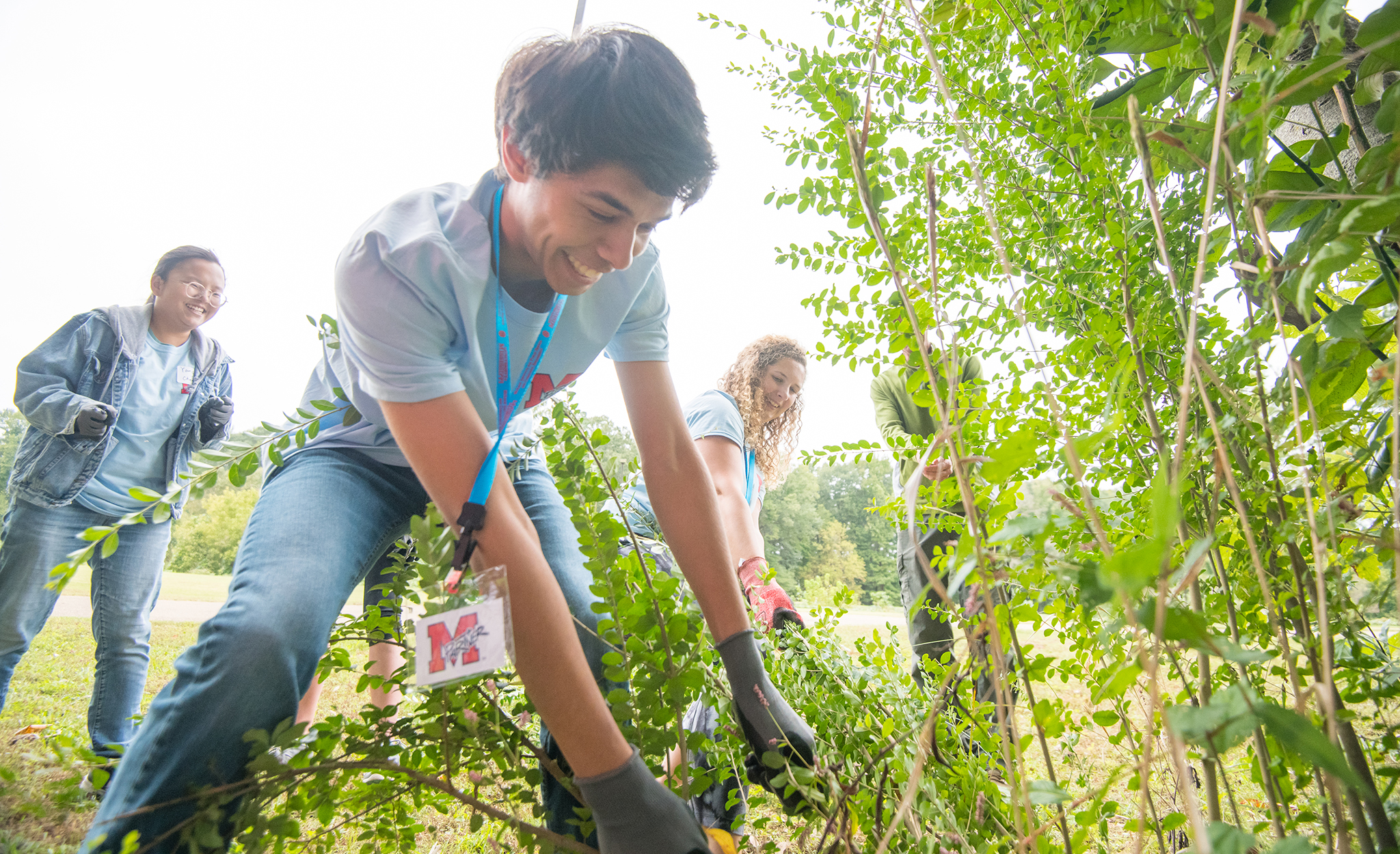 University of Mississippi students assist with a community beautification project as part of the MPartner initiative.
Local community members participate in programs held at Delta State University's Center for Community and Economic Development.
Local community members participate in programs held at Delta State University's Center for Community and Economic Development.
###
The Mississippi Board of Trustees of State Institutions of Higher Learning governs the public universities in Mississippi, including Alcorn State University; Delta State University; Jackson State University; Mississippi State University including the Mississippi State University Division of Agriculture, Forestry and Veterinary Medicine; Mississippi University for Women; Mississippi Valley State University; the University of Mississippi including the University of Mississippi Medical Center; and the University of Southern Mississippi.