COMPLETE 2 COMPETE INITIATIVE LAUNCHES WEBSITE
8/15/2017 - Jackson, Miss.
Governor Phil Bryant voices support for the effort
The portal to a better future is just a click away for thousands of Mississippians. The Complete 2 Compete website provides information and resources available to help Mississippi adults who have completed some college, but no degree, to return to college and complete the requirements necessary to earn their degrees.
"Complete 2 Compete will grow our skilled, educated workforce, in turn growing economic development across the state," said Governor Phil Bryant. "This partnership will ensure Mississippi remains attractive to business and industry looking for a favorable tax climate and a workforce ready to excel on day one. I am grateful to everyone involved in making it a reality."
The website will serve as an important resource for thousands of Mississippians:
More than 2,400 former students age 21 or over have enough credits to earn a bachelor's degree with no additional coursework.
An additional 28,000 students have enough credits to earn an associates degree with no additional coursework.
More than 100,000 former students can earn either an associates or bachelor's degree with some additional coursework.
"This website provides important information that can have life-changing results for many Mississippians," said Dr. Glenn Boyce, Commissioner of Higher Education. "Workforce studies have shown that the vast majority of future jobs will go to those with a postsecondary degree or credential of value beyond high school. I would encourage individuals to access this website as it could be an important first step in helping them achieve a goal that will ultimately lead to a better, higher-paying job and greater job and financial security."
Mississippi Public Universities, the Mississippi Community College Board and the Mississippi Association of Community and Junior Colleges are partners in the effort to identify target groups, implement adult learner services and re-engage adult students to help them complete their degrees.
"As a statewide initiative, Complete 2 Compete has the potential to impact hundreds of thousands of Mississippians," said Dr. Andrea Mayfield, Executive Director, Mississippi Community College Board. "Expanding career and wage opportunities are just two, of many, benefits of Complete 2 Compete. I am excited to see this collaborative effort become a reality. Without the partnership and efforts of many, this initiative would not be possible. I look forward to the positive impact on individuals, employers, and Mississippi's economy."
The Mississippi Department of Human Services has provided funding through a grant designed to help low-income Mississippians improve their job skills.
"The Mississippi Department of Human Services (MDHS) proudly supports the Complete 2 Compete Project," said John Davis, Executive Director of the Mississippi Department of Human Services. "Our generation plus (gen +) approach at MDHS begins by addressing poverty as well as associated barriers encountered by Mississippi families. The approach is designed with an intentional focus on working with the family as a whole. Education is one of the key components to create a foundational framework for individuals along their pathway to independence. The Complete 2 Compete Project perfectly aligns with our efforts to holistically assist households obtain livable wages."The Mississippi Department of Employment Security also provided a grant for the program.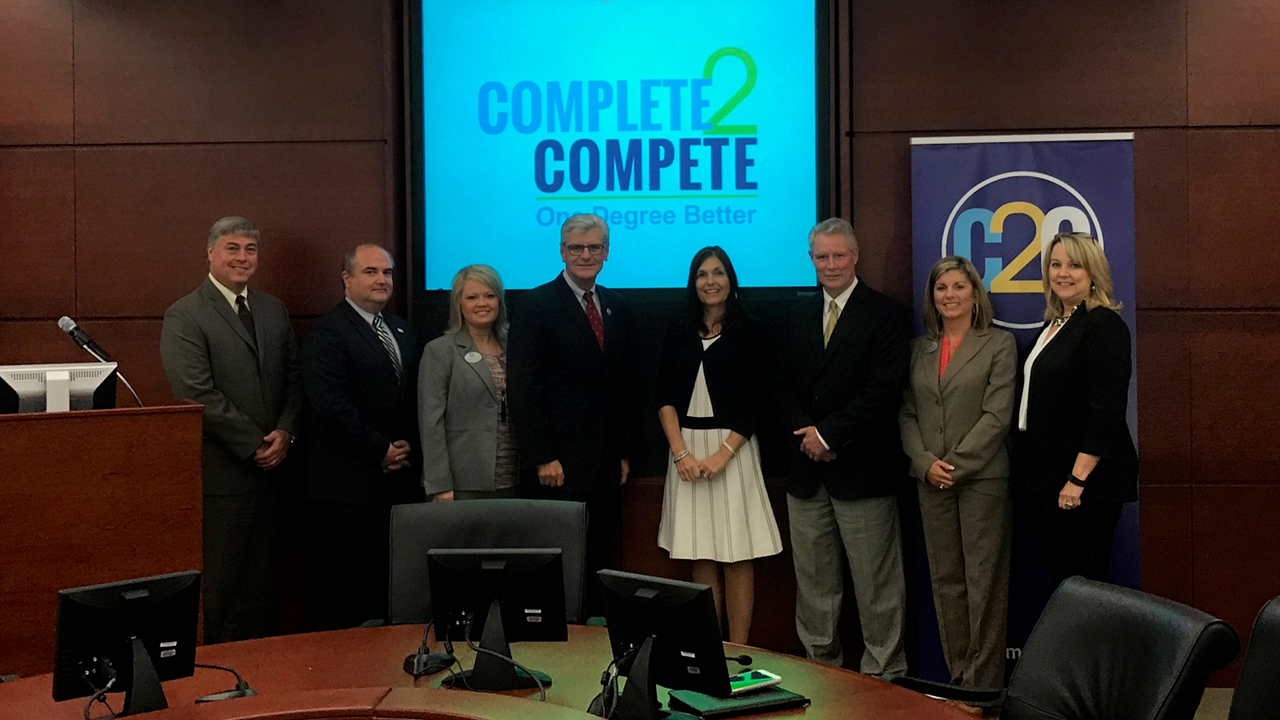 "Officials, including (l-r) Steve Jaworowski, Vice President of Marketing Operations, LK Marketing; John Davis, DHS; Stephanie Bullock, IHL; Governor Phil Bryant; Dr. Andrea Mayfield, MCCB; Dr. Glenn Boyce, IHL; Dr. Casey Turnage, IHL; Audra Kimble, MCCB; gather to announce the launch of the Complete 2 Compete website.
There is no cost for submitting information through the C2C website and doing so may help an individual determine how close they are to completing degree requirements. Depending on what programs are needed to satisfy an individual's career and educational interests, the Complete 2 Compete website will match him or her to a list of schools that offer the classes needed to complete a degree.
Tuition and fees for enrollment in courses may be assessed according to the established tuition and fee schedule at each institution. Some incentives, including academic forgiveness, virtual tutoring, adult learner scholarships and tuition assistance, prior learning assessment and repayment plan options may be available at some of the institutions.
# # #
The Mississippi Board of Trustees of State Institutions of Higher Learning governs the public universities in Mississippi, including Alcorn State University; Delta State University; Jackson State University; Mississippi State University including the Mississippi State University Division of Agriculture, Forestry and Veterinary Medicine; Mississippi University for Women; Mississippi Valley State University; the University of Mississippi including the University of Mississippi Medical Center; and the University of Southern Mississippi.