TRUSTEE PERRY TAKES OFFICE AS PRESIDENT OF IHL BOARD
4/16/2015 - Jackson, Miss.
During his term as President of the Board of Trustees of State Institutions of Higher Learning, Aubrey Patterson has advocated for increased resources for universities from the state and placed an emphasis on working with the business community. Under his leadership, the Board of Trustees appointed a new president of Alcorn State University.
Trustee Patterson passed the gavel to incoming President Alan Perry at the board meeting held today in Jackson. Trustee Perry will officially take office on May 8.
"My fellow Board members and I look forward to joining with the four new Trustees who will be joining the Board to continue the work done by IHL to advance higher education in Mississippi. However we will all miss the leadership provided by Aubrey Patterson as President. And it is hard to contemplate going forward without Ed Blakeslee, Robin Robinson, and Bob Owens. They have been worthy examples and I hope we can serve the State as well as they have served," said Perry.
Perry served as Vice President of the Board during Trustee Patterson's term. Trustee Doug Rouse will serve as Vice President during Perry's term.
"I have enjoyed leading the Board and appreciate all of the time and hard work each Trustee devotes to service on the Board," said Patterson. "Trustee Perry possesses excellent leadership skills and I know that, under his leadership, the university system will continue to do great things for our students and our state."
Mr. Perry was appointed to the IHL Board of Trustees by Governor Haley Barbour in 2008. His term will expire in May 2018.
Mr. Perry practices law with the firm of Bradley Arant Boult Cummings LLP. Mr. Perry received his B.B.A. in accountancy from the University of Mississippi, graduating first in his class with the distinction of summa cum laude. Mr. Perry received his J.D. degree from Harvard Law School, graduating magna cum laude, and was awarded the Fay Diploma as the graduate with the highest grade point average in the class. He also received the Joshua Montgomery Sears, Jr. prize for academic achievement. He served as an editor and senior editor of the Harvard Law Review.
Mr. Perry is a Fellow of the American College of Trial Lawyers. He is listed in the publication The Best Lawyers in America in five different categories, including Bet-The-Company Litigation. He is also listed as a leading lawyer in the publication Chambers USA: America's Leading Lawyers for Business. He has served as a member of the Standing Committee on Rules and Procedure of the Judicial Conference of the United States and as a Member of the Board of Visitors of the Harvard Law School. Mr. Perry and his wife Anne reside in Jackson.
Appointed by Governor Barbour in 2004, Trustee Patterson's term will expire next month. Mr. Patterson served as chairman and chief executive officer of BancorpSouth, Inc. prior to his recent retirement. Mr. Patterson served as president and chief operating officer from 1983 to 1991, and as chairman and chief executive officer from 1991 until retiring in 2013. Mr. Patterson is a graduate of Ole Miss and holds a Master's degree in accounting from Michigan State University, where he was first in his class. He has completed the Graduate School of Banking at the University of Wisconsin and is a member of several professional organizations, including Beta Gamma Sigma and Beta Alpha Psi honoraries.
Mr. Patterson is active in local, state and national organizations. He serves on the National Executive Board of the Boy Scouts of America. He has served as Chairman of both the American Bankers Association and the Mississippi Bankers Association.
In 1997, he was honored by election to the Mississippi Business Hall of Fame. In 2001, he was elected to the Alumni Hall of Fame of The University of Mississippi. He and his wife, Ruby Kathryn, are active members of the First Presbyterian Church in Tupelo, where Mr. Patterson is a Ruling Elder. He has served two terms as a member of the Executive Committee and the Board of Trustees of the National Foundation of the Presbyterian Church (U.S.A.) and two terms on the Board of Trustees of Columbia Theological Seminary.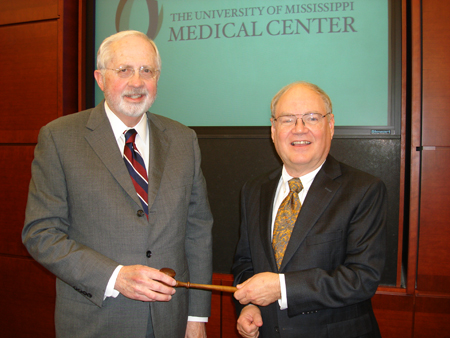 Tupelo resident Aubrey Patterson, (left) outgoing President of the Board of Trustees of State Institutions of Higher Learning, passes the gavel to incoming President Alan Perry of Jackson.
###
The Mississippi Board of Trustees of State Institutions of Higher Learning governs the public universities in Mississippi, including Alcorn State University; Delta State University; Jackson State University; Mississippi State University including the Mississippi State University Division of Agriculture, Forestry and Veterinary Medicine; Mississippi University for Women; Mississippi Valley State University; the University of Mississippi including the University of Mississippi Medical Center; and the University of Southern Mississippi.