BOARD OF TRUSTEES NAMES PEARCE AS INTERIM CFO
5/16/2013 - Jackson, Miss.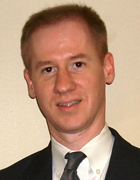 The Board of Trustees of State Institutions of Higher Learning named veteran staff member John Pearce as Interim Associate Commissioner for Finance and Administration at the meeting held today in Jackson. He has served as Director of University Budgets for the Institutions of Higher Learning since 2008.
A Certified Public Accountant, Pearce has extensive experience in providing budget oversight of Mississippi's eight public four-year institutions of higher learning, including the University of Mississippi Medical Center, Agricultural Programs and Subsidiary Programs. He has served as the liaison between the IHL Board Office and the chief financial officers at the universities and communicated with them regarding Board budget policy and legislative instructions.
"We are pleased to have someone of John's caliber serving in this role," said Trustee Alan Perry, Chair of the Board of Trustees' Finance Committee. "His experience with university budgets, board policy and university finance make him extremely qualified to take on this role."
In addition to serving as a liaison with the universities and their staff members, Pearce has also served as the budget liaison between the Board of Trustees and the Legislative Budget Office and the Department of Finance and Administration. In this role, he compiled and presented the annual Mississippi Budget Request to the Legislative Budget Office and responded to requests for information and analysis about the universities from state legislators.
"I am grateful that John has agreed to serve in this capacity," said Dr. Hank M. Bounds, Commissioner of Higher Education. "We have relied heavily on his expertise as director of university budgets and I am certain that he will be a tremendous asset in this new role."
Prior to joining the Institutions of Higher Learning, Pearce served as a senior accountant for The Koerber Company, P.A. and as a performance evaluation auditor for The Joint Committee on Performance Evaluation and Expenditure Review of the Mississippi Legislature (PEER Committee). With the PEER Committee, he reviewed operations of state agencies for program efficiency and effectiveness through written reports and analysis, and provided the Legislature with fiscal analysis of existing and proposed legislation.
Pearce holds a bachelor's degree in accounting from Mississippi College, a master's of business administration, with an emphasis in finance, from the University of Southern Mississippi. He has completed coursework toward a doctorate at Delta State University.
Pearce is a member of the American Institute of Certified Public Accountants and the Mississippi Society of Certified Public Accountants. An active member of Calvary Baptist Church in Brandon, he serves as Church Treasurer.
# # #
The Mississippi Board of Trustees of State Institutions of Higher Learning governs the public universities in Mississippi, including Alcorn State University; Delta State University; Jackson State University; Mississippi State University including the Mississippi State University Division of Agriculture, Forestry and Veterinary Medicine; Mississippi University for Women; Mississippi Valley State University; the University of Mississippi including the University of Mississippi Medical Center; and the University of Southern Mississippi.