TRUSTEE OWENS TAKES OFFICE AS PRESIDENT OF IHL BOARD
3/18/2013 - Jackson, Miss.
During his tenure as President of the Board of Trustees of State Institutions of Higher Learning, Ed Blakeslee has witnessed a record number of diplomas awarded at Mississippi Public Universities during Spring Commencement ceremonies, managed the selection of two university presidents and led a renewed emphasis on fundraising efforts to acquire the private donations necessary to fully fund the Ayers Private Endowment Fund.
Trustee Blakeslee passed the gavel to incoming President Bob Owens at a recent board meeting prior to Owens officially taking office on March 1.
"I look forward to working with my fellow Board members, university leaders, policymakers and private sector leaders to help advance our university system and our state," said Owens. "I appreciate the leadership that Trustee Blakeslee provided during his tenure and look forward to building on the strides we have made this year."
Owens served as Vice President of the Board during Trustee Blakeslee's term. Trustee Aubrey Patterson will serve as Vice President during Owens' term.
"I have enjoyed leading the Board and working with university leaders and other stakeholders," said Blakeslee. "I am fully confident that Trustee Owens will be an excellent leader and approach all decisions with careful consideration and thorough review."
Mr. Owens was appointed to the IHL Board of Trustees by Governor Haley Barbour in 2004. His term will expire in May 2015.
Trustee Owens is a partner in the law firm Owens Moss, PLLC, in Jackson. His primary area of practice is general and personal injury litigation. The firm is listed in Martindale-Hubbell's Bar Register of Preeminent Lawyers, which is limited to only the most distinguished law practices and specifically those that have achieved the AV® rating in the Martindale-Hubbell® Law Directory. The "A" signifies the highest level of legal ability, while the "V" denotes "very high" adherence to the professional standards of conduct, ethics, reliability and diligence.
Owens holds a bachelor's degree from Jackson State University and earned his law degree from Florida State University College of Law. He is a member of the Mississippi Bar Association, the Mississippi Trial Lawyers Association, the American Association for Justice, and the Charles Clark Chapter of the American Inn of Court. In addition, he is past president of the Magnolia Bar Association and is a past member of the Board of Directors for the Hinds County Bar Association.
Named Alumnus of the Year by the JSU Department of History in 1997, Owens has received numerous awards, including the Jack H. Young, Sr. Award for the lawyer contributing the most to the profession, the R. Jess Brown Award, and the NAACP of Mississippi's Lawyer of the Year Award. In 1993, he was appointed to a U.S. Magistrate Selection Committee by a Chief United State Judge. He has served on the Mississippi Supreme Court Rules Advisory Committee and the Mississippi Bar Disciplinary Complaints Tribunal.
Trustee Owens is married to Chancellor Denise Sweet Owens. They have four children, Selika, Bobby, Brittany and Jason.
"Serving on the Board of Trustees requires a great deal of time, dedication and attention to matters that hold great weight, both for our universities and our state," said Dr. Hank M. Bounds, Commissioner of Higher Education. "Mississippi is fortunate to have committed, courageous members such as Trustees Owens and Blakeslee serving on the Board. I am certain Mr. Owens will be an outstanding leader, just as Mr. Blakeslee was before him."
Appointed by Governor Barbour in 2004, Trustee Blakeslee's term will expire in May 2015. He retired as vice president of Mississippi Power Company, capping a career with the company that began in 1965 and included numerous positions, including assistant engineer, manager of financial services, chief accounting officer, and division director, prior to being named vice president in 1984. Blakeslee received a bachelor of science in electrical engineering from Mississippi State University and completed accounting courses from the University of Southern Mississippi. Blakeslee served in the United States Army prior to joining Mississippi Power Company.
Active in numerous civic organizations, particularly those focused on economic development, Blakeslee is a registered professional engineer and a certified public accountant in the state. He is married to the former Marilyn Moore and they have two daughters and three granddaughters.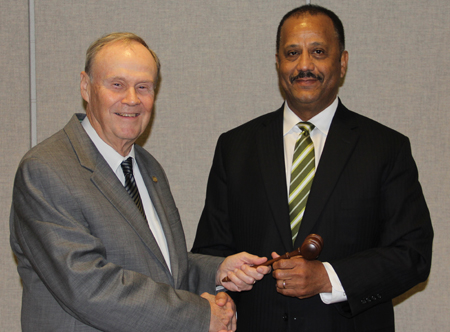 Gulfport resident Ed Blakeslee, (left) outgoing President of the Board of Trustees of State Institutions of Higher Learning, passes the gavel to incoming President Bob Owens of Jackson.
###
The Mississippi Board of Trustees of State Institutions of Higher Learning governs the public universities in Mississippi, including Alcorn State University; Delta State University; Jackson State University; Mississippi State University including the Mississippi State University Division of Agriculture, Forestry and Veterinary Medicine; Mississippi University for Women; Mississippi Valley State University; the University of Mississippi including the University of Mississippi Medical Center; and the University of Southern Mississippi.