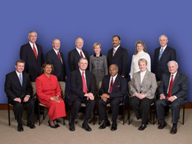 IHL Board of Trustees

Board Approves New Degree Programs and Textbook Task Force Recommendations
During its regular monthly meeting on Wednesday, the IHL Board approved the following new degree programs to be offered in the fall of 2008:
Bachelor of Science in Earth System Science - Jackson State University

Master of Science in Sport Science - Jackson State University

Master of Arts in Interdisciplinary Sciences - Mississippi State University

Master of Science in General Biology - Mississippi State University

Bachelor of Arts/Science in Interdisciplinary Studies - Mississippi University for Women

Master of Fine Arts in Physical Theatre - Mississippi University for Women

Bachelor of Science in Hospitality Management - University of Mississippi

Bachelor of Science in Business Administration in Healthcare Marketing - University of Southern Mississippi
In other news, the Board approved a report from the Textbook Task Force Committee, charged earlier this year to explore ways to make textbooks more affordable for Mississippi's students. Chaired by Mr. Troy Stovall, Senior Vice President for Finance and Operations at Jackson State University, the Task Force presented recommendations for System administration, members of the student body, campus bookstores, System Faculty Senate members, the Board of Trustees, and the Mississippi Legislature. Recommendations for System administration included conducting open forms on campuses to raise awareness of the issues; improving the book buyback processes; establishing and enforcing timelines for textbook adoption; and placing copies of new textbook editions in campus libraries, among others. View the report.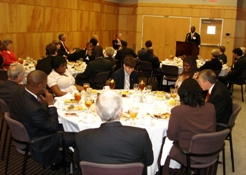 IHL Board members dine with student leaders.

Board Hears Student Perspective from SGA Presidents, Newspaper Editors
The IHL Board met with Student Government Association (SGA) presidents and campus newspaper editors at an annual roundtable luncheon on Wednesday. The luncheon provides Board members an opportunity to hear the student perspective on a number of important issues. Among other things, the group discussed the rising cost of tuition and the need from greater financial support from the state. The student leaders in attendance included: Vernon Dandridge, SGA President, and Erica Turner, The Campus Chronicle Editor, from Alcorn State University; Deborah Brick, SGA President, and Johnny Hunsucker, The Delta Statement Editor, from Delta State University; Andrell Harris, SGA President, and Denise Black, The Blue and White Flash Editor, from Jackson State University; Jeremy Johnson, SGA President, and Tyler Stewart, The Reflector Editor, from Mississippi State University; Juna'uh Allgood, SGA representative, from the Mississippi University for Women; Timothy Lampkin, SGA President, and Lamonica Scott, The Delta Devils Gazette Editor, from Mississippi Valley State University; Drew Taggart, Associated Student Body (ASB) representative, and Marti Covington, The Daily Mississippian Editor-in-Chief, from the University of Mississippi; Tyler Marks, ASB Representative, and Jason Murphree, The Murmur Co-Editor, from the University of Mississippi Medical Center; and Vincent Fabra, SGA President, and Jake Meek, The Student Printz News Editor, from the University of Southern Mississippi.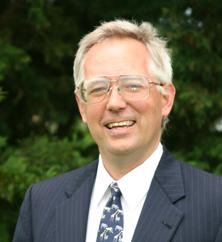 Dr. Joel Thierstein

Thierstein to Address Feb. Creating Futures Through Technology Conference
Dr. Joel Thierstein, Associate Provost for Innovative Scholarly Communication at Rice University and Executive Director of Connexions, is slated to headline the Creating Futures Through Technology Conference (CFTTC) at the Beau Rivage Resort in Biloxi, Miss., February 6-8, 2008. The CFTTC, now in its 12th year, will explore the use of technology in higher education through sessions on emerging technology; systems, services, and infrastructure; teaching and learning in a changing world; and the technical aspects of technology on college campuses. During the keynote luncheon on Thursday, February 7, Dr. Thierstein will discuss the online file-sharing site Connexions, which allows faculty to post learning content for use by other faculty members. Dr. Thierstein previously served as an Associate Professor and Director of New Media Communications at Oregon State University and has held several other professorships. With nearly 14 years of media experience, Dr. Thierstein has worked in radio, television, cable television, and newspaper. He has been a voting member of the Advanced Television Systems Committee (the body that sets standards for digital television) since 2002. Dr. Thierstein has also written extensively on the topic of telecommunications and published the books Birds in Flight: Satellites in the New Millennium, 3rd ed., and Religion, Law and Freedom: A Global Perspective . The CFTTC is a collaborative effort of IHL and the State Board for Community and Junior Colleges. Visit the CFTTC website for more information, and please note the early registration deadline of January 15, 2008.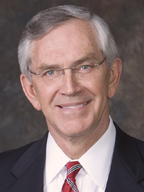 Dr. Thomas C. Meredith

Commissioner Meredith Inducted into WKU Hall of Distinguished Alumni
Mississippi Commissioner of Higher Education Dr. Thomas C. Meredith was one of three alumni inducted into Western Kentucky University's (WKU) 16th Alumni Class Hall of Distinguished Alumni during a homecoming luncheon on Friday, Nov. 9, 2007, at the Sloan Convention Center in Bowling Green, Kentucky. "I am truly honored by this selection. This outstanding university is rapidly gaining national prominence," Meredith said. A native of Owensboro, Kentucky, Meredith served as the eighth president of WKU, where his leadership and innovative programs set a course for growth and success that continues today. Meredith built the budget reserve from $250,000 to $4 million, created the school's first strategic plan, revamped fund-raising efforts, oversaw construction of two residence halls (including one that bears his name), increased academic standards and programs, established the Distinguished Professor program, created the Institute of Economic Development, enhanced the community college, expanded information technology infrastructure and implemented the Athletic Hall of Fame and the Hall of Distinguished Alumni. In addition to serving as president of WKU and commissioner of Mississippi's public university system, Meredith has also served as chancellor of the university system of Georgia and chancellor of the university system of Alabama. View Commissioner Meredith's biography.
#4 Universities Reap Economic Benefits for State
(Top 15 Ways Universities Benefit Mississippi)
Mississippi's university system produces graduates who earn higher wages than their peers without degrees. Higher wages lead to more money for the state through increased tax revenues and increased wages for all other employees. According to the U.S. Census Bureau, in 2005, the average working university graduate earned about 62 percent more than the average working high school graduate. These higher earnings by four-year degree holders translated into nearly 80 percent more in total federal, state, and local taxes paid than the taxes paid by the typical high school graduate. Governments rely on taxes to provide necessary services, such as education and health care. Findings released in Education Pays: The Benefits of Higher Education for Individuals and Society and based on studies by economist Enrico Moretti indicate that the earnings of workers with lower education levels are positively affected by the presence of university graduates in the workforce. In fact, every one percentage point increase in the population with a four-year degree leads to an increase in wages of 1.9 percent for workers without a high school diploma, 1.6 percent for workers with a high school diploma, 1.2 percent for workers with some college, and 0.6 percent for workers with a university degree. Read about other ways that Mississippi's public universities benefit the state in archived issues of the System Review.

Items included in the "University News" section of the System Review are submitted each week by the universities. The news items are not listed in alphabetical order by university, and the order will change each week.
JACKSON STATE UNIVERSITY NEWS


Campbell College Suites Receives Award for Construction
Jackson State University's Campbell College Suites recently received the Mississippi Associated Builders and Contractors Merit Award, recognizing the residence hall as one of the state's best construction projects of the year. "We are improving residence halls campus-wide," said Walter Johnson, director of planning and construction management. "Any future residence halls will be built in this style." Cutting-edge for the Jackson State campus, Campbell College Suites features apartment-style living complete with a kitchen, allowing students to create the feel of "home," Johnson said. The $20 million building opened in February after 16 months of construction. Campbell College Suites can accommodate up to 442 male and female students in separate buildings, which also provide comfortable study areas and convenient laundry facilities. Students can choose from two-, three- or four-bedroom suites. The residence facility is located along the Gibbs-Green Plaza next to the dining hall and the student union. It is named for Campbell College, which was previously located at the current site of Jackson State's main campus. This is the second award Jackson State has won since 2005, when Dixon Hall earned the same honor. The seven-story facility houses male students. Learn more.

Longmire to Receive Humanitarian Award

Neel-Schaffer Donates Funds to JSU Urban, Regional Planning

JSU Students Win Awards at Research Symposium

JSU Urban, Regional Planning Department Candidate for Accreditation
MISSISSIPPI STATE UNIVERSITY NEWS


MSU Formally Launches African-American Studies Program
During Nov. 8 ceremonies, Mississippi State officials, students, and guests commemorated the start of a new academic program focused on African-American studies. College Board member Bob Owens of Jackson, university President Robert H. "Doc" Foglesong and Stephen Middleton, the program's recently appointed director, were among those taking part. "This program is about diversity and understanding other cultures," Foglesong said. "It is not for African-Americans; it's not for Caucasians; it's for Americans." Middleton echoed Foglesong's sentiments that the curriculum will not be restricted just to a particular group. "Dr. Foglesong had a dream of participating in an ongoing dialogue about diversity," Middleton said. Also during the program, Middleton presented Foglesong with the program's first leadership award for his support in establishing the new academic effort. Citing poet Emily Dickinson's philosophy of "dwelling in possibilities," Middleton said the program's ultimate goal is "to improve the educational experience of our students and contribute to our state." Keynote speaker Jacqueline Wade, a black studies curriculum specialist and Middle Tennessee State University faculty member, told the standing-room only assembly, "You have not gone wrong, and you will never go wrong offering students a chance to broaden their social and economic backgrounds." Learn more.

MSU Opens Ag and Bio Engineering Building

MSU Research Arm Tapped to Aid State Education Department

MSU Veterinary Administrator Named to U.S. Accrediting Body

Analyze This: New MSU Equipment Helps Students Do Just That
MISSISSIPPI STATE UNIVERSITY AGRICULTURE, FORESTRY, & VETERINARY MEDICINE NEWS


Life as MSU Mascot Suits Bully to a 'T'
His auspicious debut at a 1935 football game between Mississippi State and Alabama brought the Bulldogs good luck and a 20-7 victory. More than 72 years later, the university's canine mascot has become an icon. Because people instantly see Bully as the face of MSU, he must look and feel good, and behave properly to create a favorable impression. He succeeds as a goodwill ambassador because of the College of Veterinary Medicine's (CVM) comprehensive oversight of his health care and daily routine. Six-year-old Bully is the 19th official English bulldog mascot. Born in Waynesboro, he is a descendant of Bully XVI and Bully XVII and registered by the American Kennel Club as "Mississippi's TaTonka Gold." Veterinary technician Lisa Chrestman was assigned the role of trainer, guardian, and scheduler for Bully. She quickly became his "mama." Chrestman and her family have raised the mascot as a pet at their home in Mathiston. Bully, who is affectionately nicknamed "T" by his family and CVM associates, rides to work with Chrestman and leaves with her when the day is done. He eats an evening meal of nutritionally balanced dog food and enjoys doggie treats, but he is not allowed to have people food except for stray popcorn on the floor of Humphrey Coliseum at basketball games. "Everything we do with Bully is based on the principle that his health and well-being come first," Chrestman said. Learn more.

MSU Students Learn Horsemanship Skills

MSU Specialist Sees $1.6 Million in State Christmas Trees

Ag Commissioner Receives MSU Pegasus Award

MSU Open House Shows Holiday Plants, Display
MISSISSIPPI UNIVERSITY FOR WOMEN NEWS


MUW Culinary Arts Institute awarded grant
The Robert M. Hearin Support Foundation recently awarded Mississippi University for Women's Culinary Arts Institute a grant for $775,000, which will be used to fund scholarships, student field experiences, a guest chef program, and consulting for the development of a teaching restaurant laboratory. The grant will be broken into four parts: $75,000 a year for 4 years will be used for student scholarships; $50,000 a year for 4 years will be used to fund student field experiences, to allow students to have hands-on instruction and real-world training outside the classroom; $50,000 a year for 4 years will be used for a guest chef program, which will provide for instructors, chefs, and scholars to visit the university for lectures and other events. The final part of the grant, in the amount of $75,000 for 1 year, will be used for design and consulting for the development of a teaching restaurant laboratory. Learn more.
MISSISSIPPI VALLEY STATE UNIVERSITY NEWS


MVSU Receives NEA's Big Read Grant
Mississippi Valley State University's J.H. White Library is one of 127 libraries, municipalities, and arts, culture, higher education, and science organizations to receive a National Endowment for the Arts (NEA) grant to host a Big Read celebration of one of 16 classic novels from January to June 2008. The NEA continued its drive toward making the Big Read the largest federal reading program in U.S. history. The NEA launched the Big Read nationally in 2007 in partnership with the Institute of Museum and Library Services and in cooperation with Arts Midwest. Dr. Annie Payton, director of the MVSU J.H. White Library, said the staff was thrilled to receive the $20,000 grant. "We firmly support the community in getting our area's reluctant readers back in bookstores and libraries - back to reading, period," said Dr. Payton. The staff has chosen A Lesson Before Dying , by Louisiana native Ernest J. Gaines. "We chose this book for two reasons, the first being our locale. The second, the timeliness of the book is so prevalent of what we're living and experiencing in the Mississippi Delta, in the counties which we are partners with, and with the current incarceration rates," Payton said. MVSU's Big Read will run Jan. 28 through Feb. 28, 2008. Details will be forthcoming, but Payton said interested readers can find information on the library's section of the MVSU website , beginning in January. She said more than 20 events will occur around the novel, including a red carpet showing. Learn more.
UNIVERSITY OF MISSISSIPPI NEWS


UM Campus Organization Teaches About Chinese Food, Culture in Debut Event
Curious dinner guests venturing into Lenoir Hall on a recent evening were greeted by the aroma of freshly prepared, authentic Chinese cuisine. With not one egg roll or bowl of fried rice in sight, the appetites of diners were satisfied with an atypical, three-course Chinese meal. "China Table" was the first ethnic dinner hosted by Cook! Eat! Share!, a new multicultural organization founded to familiarize the community with other cultures through food. Under the direction of member Yang Liu, a pharmacology postdoctoral research associate, group members prepared vermicelli and seaweed salad, more than 250 Chinese dumplings, Chinese barbecue ribs, and green bean soup. "I wanted to show people homemade (Chinese) food," Liu said. "America has a lot of Chinese fast food, but that's not the way food actually tastes in China." Daphne Ingene, counselor at the University Counseling Center and coordinator of Cook! Eat! Share!, said the dinner's success was a true collaborative effort. "I am proud of the Cook! Eat! Share! members," she said. "They crossed over culture differences to cook Chinese food and share the Chinese culture and traditions together." During the meal, Ingene and member Stephanie Sheng led a presentation on the origins of several popular Chinese foods, and member Sheng Bi demonstrated how to cook Chinese dumplings, or jiaozi. Learn more.

Pulitzer Prize-winning Journalist Encourages South to Forsake Past Prejudices, Embrace Future

Sophomore Awarded National Honor Society Scholarship

Southern Religious Roadside Signs Inspire Book

Orientation and Parent Programs Office Expands, Hires Coordinator
UNIVERSITY OF MISSISSIPPI MEDICAL CENTER NEWS


New Dermatology Director Provides "Full Spectrum" of Skin Care
Dr. Nancye McCowan, director of the Division of Dermatology and associate professor of otolaryngology and communicative sciences, thought it would take some time to fill her schedule after joining University of Mississippi Health Care (UMHC) in September. She was wrong. "I was really expecting for it to take two months, but it took two days. There was a crying need in the community," she said. In fact, the Department of Otolaryngology and Communicative Sciences had been collecting names of patients who needed dermatological services for several months. McCowan, who enjoys general and cosmetic dermatology, is married to Dr. Timothy McCowan, professor and chair of radiology, who joined the Medical Center in July. She jokes that he was hired because he's married to a dermatologist, but there's no doubt her practice is important to the future of health care services here. Dr. Scott Stringer, associate vice chancellor for clinical affairs and president of University Physicians, said until McCowan's arrival, UMHC did not have a full-time dermatologist practicing a broad range of dermatology. Learn more.

UMC Renal Clinic Now Offers Home Dialysis for End-stage Patients

CAP Ranks UMC Pavilion Laboratory Among Top Three in Nation
UNIVERSITY OF SOUTHERN MISSISSIPPI NEWS


Southern Miss Professor and Student Develop Staph Aureus Microarray Meta-Database
In the ongoing search for a vaccine to battle the aggressive methicillin-resistant staphylococcus aureus, a University of Southern Mississippi biological science professor and student have developed an online database that holds collected data on genes related to staph. The Staphylococcus aureus microarray meta-database, known as SAMMD, launched this semester under the direction of associate professor Dr. Mohamed Elasri. "We've added this bioinformatics tool, specific to staph infection, that allows researchers worldwide to be able to take their favorite gene and look up all the information there is about it," Elasri said. "This database is unique. Other databases only tell you about the papers published on staph, but you cannot cross-reference them with other publications. With SAMMD, you can enter your favorite gene name and this will find all the information extracted from these published papers for you." Staphylococcus aureus is an important human pathogen, causing a variety of diseases and infections. Strains of staph are increasing - each with its own chromosome that is composed of about 2,500 genes. Learn more.

Southern Miss Center for Spectator Sports Security Management Adds Computer Simulation Software

Southern Miss Sees Record Turnout for Black and Gold Day

Former Student Printz Editor, Civil Rights Activist Meet at Southern Miss Journalism Symposium

Southern Miss Adult Education Professor Receives Award from National Association
UNIVERSITY OF SOUTHERN MISSISSIPPI GULF COAST NEWS


College of Arts and Letters Assistant Dean Named Fellow in American Studies
Dr. Tom Lansford, assistant dean of the University of Southern Mississippi College of Arts and Letters and associate professor of political science, was named a Fellow in American Studies at Lynn University in Boca Raton, Fla., on Nov. 2. The American Studies program at Lynn University hosts a lecture series each academic year and names one Fellow in American Studies during the series. Lansford, who has authored over 20 books, answered questions from the audience on terrorism and national security at two separate sessions. "I am honored to be named an American Studies Fellow at Lynn University," said Lansford. "It is a real privilege to be recognized for one's contributions to the scholarly community." Following his visit at Lynn University, Lansford presented two additional lectures on terrorism and national security at Florida Atlantic University. Learn more.

North Gulfport Students Learn First Aid at Southern Miss Gulf Coast Student Service Center
ALCORN STATE UNIVERSITY NEWS


New Appointments at ASU
Mrs. Jessie B. Arnold has been named Dean of University Libraries for the J. D. Boyd Library and its branch Library on the Natchez campus. Mrs. Arnold has served the university library in many positions including Assistant Catalog Librarian, Documents Librarian, Director of Public Services, Systems Librarian, and Assistant Library Director. She was named Director of the Library in 1993. Dr. Carolyn Dollar assumed the position of Interim Dean of the School of Nursing. Dr. Dollar has 30 years of experience in nursing, including experience as an educator, researcher, and clinician. Dr. Donzell Lee has been appointed as the Dean of the School of Graduate Studies. Dr. Lee assumes the deanship following a six-year tenure as chairman of the Department of Fine Arts. Immediately prior to being appointed to the deanship, Dr. Lee spent one academic year as the Interim Dean of Graduate Studies and Interim Associate Vice President for Academic Affairs. Dr. William S. Piper has been appointed Interim Dean of the School of Business. Prior to his appointment as Interim Dean, Dr. Piper was the Associate Dean for Undergraduate Programs at Alcorn. In that role he was responsible for student and faculty issues related to internal conduct. Mrs. L. L. Juna Grennell-Weir has been named Interim Director of University Relations. Mrs. Weir has been employed by Alcorn State University for ten years as Operations Manager for Alcorn Public Radio (WPRL) and holds a masters degree from ASU. Learn more.
DELTA STATE UNIVERSITY NEWS


Four Candidates Chosen in Delta State's Search for New Provost
In a search that began with 35 initial candidates for the position of Provost and Vice President for Academic Affairs at Delta State University, the appointed search committee has selected four candidates to participate in on-campus visits, Nov. 12-15, Monday-Thursday. From its initial 35, the committee reduced the list to 12, with 11 participating in off-campus interviews with the committee. The twelfth withdrew before the interviews. This past week, the committee and Greenwood & Associates conducted reference checks on seven of the 11 remaining candidates. From that discussion, four candidates were selected to move forward in the interview process. Those applicants visited the Delta State campus this week. The interview days and candidates were: Monday, November 12, Dr. Anthony Koyzis, Dean of the School of Education, Wayne State College, Wayne, Nebraska; Tuesday, November 13, Dr. Ann Lotven, Provost and Vice President for Academic Affairs, Texas A&M - Texarkana, Texarkana, Texas; Wednesday, November 14, Dr. Vagn Hansen, Dean, College of Arts & Sciences, University of North Alabama, Florence, Alabama; and Thursday, November 15, Dr. Debbie Norris, Vice President for Planning & Assessment, Mississippi College, Clinton, Mississippi. Two open meetings are scheduled for each candidate. Learn more.

Schultz Receives Humanities Award

Statesmen Receive No. 3 Seed in Region; Delta State to Host No. 6 Shaw Saturday

Delta State's Michael Eubanks Among 24 Candidates for 24 Harlon Hill Trophy


Nov. 16 - Mississippi Valley State University will hold its United Way Kick-Off Rally at the Business Education Building foyer from 11 a.m. to 2 p.m. Light hors d'oeuvres will be served. Faculty and staff will have an opportunity to support agencies of the United Way of Leflore County. Learn more.

Nov. 16-17 - The Delta Futures Health Care Camp is open to 7th grade middle school students in eighteen Mississippi Delta Counties. For more information about the camp at Holmes County State Park contact Margaret Cotton at (662) 325-6792 or mcotton@ext.msstate.edu . Learn more.

Nov. 17 - The Mississippi Agricultural and Forestry Experiment Station and MSU's Department of Animal and Dairy Sciences (ADS) will host a horse sale at the Mississippi Horse Park south of Starkville. For more information on the 1 p.m. sale, contact Dr. Peter Ryan in the ADS department at (662) 325-2802. Learn more.

Nov.17 - The game between Alcorn Sate and Jackson State will take place on November 17th at the Mississippi Veterans Memorial Stadium, Jackson, MS. Learn more.

Nov. 26 - Mississippi State University's Student Association presents Holiday in the Junction at 7 p.m. The ceremony will include lighting the Junction Christmas tree, wreath displays, and special entertainment. For more info on this free event, contact Bethany Shipp at (662) 312-1428. Learn more.

Nov. 26 - A class on "Japanese Health Care for Health Professionals" presents Japanese etiquette in dealing with patients, Japanese medical care, the Japanese health insurance system, relationships between patients and medical professionals, and more. It is set for 6-8 p.m. in the UM Yerby Conference Center. Learn more.

Nov. 27 - Delta State University will present "A Viennese Christmas" in the Delta and Pine Land Theatre of its Bologna Performing Arts Center at 7:30 p.m. For ticket information, please call the Box Office at (662) 846-4626 or to order tickets online.

Nov. 27 - The Southern Arts Brass Quintet will be in concert at 7:30 p.m. in the Mannoni Performing Arts Center at Southern Miss in Hattiesburg. Admission is free. Learn more.

Nov. 28 - Mississippi State University's Greek Life presents the Miss MSU Scholarship Pageant at Lee Hall Auditorium. The 7 p.m. free pageant will showcase beautiful, courageous, hardworking, and intelligent MSU women. For more information, contact Heidie Lindsey at (662) 325-3063. Learn more.

Nov. 28 - Mississippi State University's Mitchell Memorial Library presents "Microsoft PowerPoint: Fun Games and Quizzes" at the library's instructional media center. The workshop will explain how Macros in PowerPoint can be used to create basic games and quizzes to reinforce your message. Learn more.

Nov. 28-Dec. 2 - Ole Miss Theatre presents Lysistrata , the third and last play in Aristophanes' War and Peace series, written around 411 B.C. Performances of the comedy are set for 8 p.m. daily in Fulton Chapel, except Dec. 2, when a 2 p.m. matinee is slated. Learn more.

Nov. 29 - Jackson State University will host a Vocal Jazz Ensemble Concert at 7 p.m. in the F. D. Hall Music Center. Admission is free. Learn more.

Nov. 29-30 - The 2007 Mississippi Guitar Festival will be held at The University of Southern Mississippi. Award-winning classical guitarist William Kanengiser, will be guest artist in concert Nov. 29 at 6 p.m. in Marsh Auditorium. Call (601) 266-5401. Learn more.

Dec. 1 - Southern Miss presents the Roots Reunion Live Radio Show at 7 p.m. in the Saenger Theatre in downtown Hattiesburg. Admission is free. Learn more.

Dec. 6 - Delta State University will present A Garfield Christmas in the Delta and Pine Land Theatre of its Bologna Performing Arts Center at 7:30 p.m. For ticket information, please call the Box Office at (662) 846-4626 or order tickets online.

Dec. 11-12 - MSU's annual cotton short course features Extension specialists, researchers, and professionals from MSU and other institutions and agencies reviewing research-based practices in cotton fertility, disease, weed and insect management, pest management, production practices, and emerging technologies. Learn more.

Dec. 14 - The Executive Ph.D. Program and the Jake Ayers Institute for Research at Jackson State University are hosting an Executive Gala, themed "Delta Jewels," at 7 p.m. to raise scholarship funds for students in the Mississippi Delta/Mound Bayou. Learn more.

Now - Dec. 20 - Watercolors by famed Mississippi artist Marie Hull are on display in the Skipwith Gallery of the University of Mississippi Museum. "Marie Hull: Home and Abroad" demonstrates Hull's interest in exotic locations and architectural details. Learn more.

Jan. 15 - The early registration deadline for the Creating Futures Through Technology Conference is fast approaching. Register now for the conference, which will take place February 6-8 at the Beau Rivage Resort in Biloxi, Miss. The conference, a collaborative effort of IHL and the State Board for Community and Junior Colleges, will explore the use of technology in higher education. Learn more.