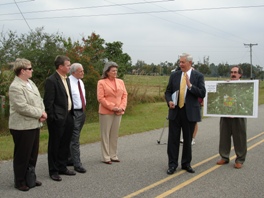 (L to R) IHL Board members Amy Whitten, Scott Ross, Roy Estess, and Robin Robinson meet with George Schloegel and Sal Domino to view the Cross Creek property in Long Beach, Miss.

Board Real Estate Committee Toured Cross Creek Property Tuesday
On Tuesday, the IHL Board Real Estate and Facilities Committee, chaired by Trustee Scott Ross, met to view the grounds of Cross Creek, the site selected by the Board in April 2007 as the preferred location of the additional campus of the University of Southern Mississippi. Committee members were joined by representatives from the University of Southern Mississippi, Hancock Bank, Coast Electric, and the media. During the committee meeting, Board members received an update from George A. Schloegel, President of Gulfport's Hancock Bank. As part owners in the limited liability company Gulf South Technologies Center, LLC, contractor W.C. Fore and Hancock Bank own about 2,000 acres at Cross Creek, on which they plan to establish a world class, mixed-use development on the site, positioning the Mississippi Gulf Coast as a center for economic development. The developers donated about 200 acres to the Board of Trustees for the additional Southern Miss campus, which will be seamlessly integrated as a cornerstone of the property's master plan. Fifty feet above sea level, Cross Creek is perfectly positioned to withstand hurricanes and other natural disasters. "We learned lessons from Katrina," said Schloegel. "Cross Creek will stand the test of time." For more information, contact Director of Gulf Coast Operations Mr. Robert Bass at (228) 214-3293. Learn more about the IHL Board's commitment to the Mississippi Gulf Coast.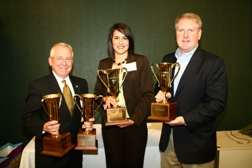 (L to R) Dr. Joe Paul, Vice President for Student Affairs at the University of Southern Mississippi; Ms. Soraya Welden, Dean of Students at Meridian Community College; and Mr. Tim Wise, Athletic Director at Millsaps College, accepted Halbrook awards on behalf of their institutions.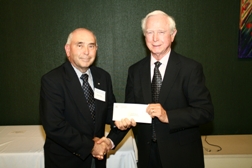 Representing the Halbrook family, Mr. David Halbrook (right) awarded a check to Dr. Howell Garner, President of Copiah-Lincoln Community College.

Halbrook Award Recipients Named
Winners of the Halbrook Awards for Academic Achievement Among Athletes were announced in October at the Mississippi Association of Colleges and Universities Annual Conference, hosted by Jackson State University. The annual awards program was authorized by a legislative resolution in 1984 and named in honor of its founder and endower, former Representative David M. Halbrook, and his brothers, John C., James G., and J. A. Halbrook. The purpose of the awards program is to recognize colleges and universities that maintain and achieve high academic standards for student athletes, thus encouraging high graduation rates among athletes. In the public universities division, the University of Southern Mississippi was recognized for having the highest percentages of both male and female athletes graduating. Millsaps College was recognized in the independent colleges division, and Meridian Community College won in the community and junior college division. Copiah-Lincoln Community College captured the John C. and Ernestine McCall Halbrook Award, a cash award for experiencing the largest increase in the percentage of athletes graduating. Individual athletes were also recognized for excellence in athletics, academics, leadership, and public service. The Halbrook Awards Program is administered cooperatively by IHL, the State Board for Community and Junior Colleges, and the Mississippi Association of Independent Colleges. During the awards celebration, David Halbrook presented a check to the Mississippi Association of Colleges and Universities to ensure the continuance of the program.
IHL Participates in Mississippi Counseling Association Annual Meeting
IHL Executive Office staff members brought Mississippi counselors up to date on a number of IHL programs and initiatives during the Mississippi Counseling Association Annual Meeting in Choctaw, Miss. on Friday. Dr. Lynn House, Assistant Commissioner for Academic and Student Affairs, discussed ongoing and proposed student access and success initiatives, such as the College Readiness Task Force, which recently completed recommendations for improving college readiness in the math and English subject areas. She also highlighted the work of the Blue Ribbon Committee for the Redesign of Teacher Preparation Programs and other initiatives designed to benefit students in kindergarten through post-secondary. Dr. Susan Lee, Director of P-16 Initiatives, provided an overview of the Improving Teacher Quality Higher Education Grants program, a national initiative related to the No Child Left Behind act. Pearl Strickland Pennington, Director of Student Affairs, updated the group on the new college prep curriculum that will go into effect in 2012, the IHL Summer Developmental Program, dual enrollment, and the academic common market. Mary Jane Covington, Director of Student Financial Aid, updated counselors on the financial aid programs available to Mississippi students, and Jennifer Rogers, Communications and Marketing Associate, gave session attendees a sneak peak at a college access website that is currently under construction. The website will serve as a clearinghouse of information about going to college in Mississippi. It will provide information about why college is important, guidance for selecting a college, extensive profiles on every college in Mississippi, tools for identifying and securing financial aid to pay for college, and guidance to help students realize their career goals.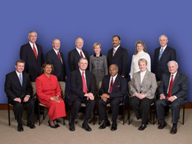 IHL Board of Trustees

IHL November Board Meeting, Legal Committee Meeting Next Week
The IHL Board will hold its regular monthly meeting next Wednesday, November 14, beginning at 8:30 a.m., in the IHL Board Room in the Universities Center, 3825 Ridgewood Road, Jackson, MS, 39211. As part of the meeting, the Board will consider new degree programs at Jackson State University, Mississippi State University, Mississippi University for Women, the University of Mississippi, and the University of Southern Mississippi. In addition, the Board's Textbook Task Force Committee, chaired by Mr. Troy Stovall, Jackson State University's Senior Vice President for Finance and Operations, will present its findings and recommendations to the Board. Various Board committees, including Educational Policies and Programs; Budget, Finance, and Audit; Gulf Coast Committee; Real Estate and Facilities; Governance; and Legal will meet as part of the Board meeting. The Board meeting will be available for real-time viewing via live webcast on the IHL website, www.mississippi.edu. In addition to its regular meeting, the Board will hold a Legal Committee meeting on Tuesday, November 13, beginning at 2:30 p.m. in room 935 on the 9th floor of the Paul B. Johnson tower building in the Education and Research Center, 3825 Ridgewood Road, Jackson, MS, 39211. The purpose of the meeting is to discuss the Board's diversity initiative as it relates to the Legal Committee. For the Board meeting and the committee meeting, an executive session may be held in accordance with the Open Meetings Act. Learn more about the IHL Board.
#5 - Higher Education Levels Lead to Less Public Assistance, Poverty
(Top 15 Ways Universities Benefit Mississippi
Universities benefit the state by producing graduates who are less likely to live in poverty and less likely to participate in social support programs than high school graduates. According to the U.S. Census Bureau, in 2005, about 3.6 percent of bachelor's degree holders lived at or below the poverty level, compared to 10.8 percent of high school graduates. Also in 2005, only 6 percent of university graduates, compared to 19 percent of high school graduates, participated in Medicaid. Only 1 percent of bachelor's degree holders lived in households that participated in the National School Lunch Program, compared to 8 percent of high school graduates. Finally, only 1 percent of university graduates lived in households that received food stamps, compared to 6 percent of high school graduates. Read about other ways that Mississippi's public universities benefit the state in archived issues of the
System Review
.


Items included in the "University News" section of the System Review are submitted each week by the universities. The news items are listed in rotating alphabetical order by university.
DELTA STATE UNIVERSITY NEWS


Delta State Honors Area Leaders at 4th Annual Community Recognition Event
Delta State University recently recognized area leaders as part of its annual Community Recognition Awards. The luncheon was part of the University's year-long celebration of "The Year of Delta Heritage." Special recognition was paid to Cleveland Heritage Champions Scott Coopwood and Senator Willie Simmons; Delta Regional Heritage Champions Woods Eastland of Indianola, Mary and Sylvester Hoover of Greenwood, Dr. Roy C. Hudson of Mississippi Valley State University, Bill Luckett of Clarksdale, Bill McPherson of Indianola; the B.B. King Museum and Delta Interpretative Center; Jimmy Sanders, Inc.; MACE/Delta Blues Festival; Mississippi Delta Tourism Association and Tunica Convention and Visitors' Bureau. Willie Seaberry and The Garden Clubs of the Delta were also honored during the program. Learn more.

Delta State Partners to Present First-Ever Mississippi Delta Children's Arts & Letters Festival
JACKSON STATE UNIVERSITY NEWS


JSU Student Completes Recording with Saxophonist Andre Delano
Tremeris Sanders has something to brag about. The junior music education major from Greenwood has just completed a recording with the famed saxophonist and Jackson State University alumnus Andre Delano. "This has been fun," said the Sonic Boom of the South tuba player after the Nov. 6 recording at JSU's new studio. "I just hope I match up to his standards." After enduring a competitive audition with five fellow tuba players, Sanders may have even exceeded expectations. "I'm actually mad he caught on so fast," Delano said with a laugh after listening to Sanders play a part he'd just been taught. Delano returned to his alma mater to record the song "JSU Jam," which will be featured on his second album due out in the summer. "The song is a tribute to my experiences here at Jackson State," he said. While some of his counterparts in California suggested hiring a tuba player from the West Coast, Delano knew the only way he could capture the true JSU spirit was to get a Jacksonian to perform it. In Sanders, Delano said he found a teachable showman who could play the music and enjoy it. The recording could not be complete without the special contribution that only Jimmie James, Jr. could make. Having been associated with the band since 1966, James' voice is inextricably tied to the Sonic Boom. James, chair of JSU's music department, introduces Delano and Harris in the eloquent fashion Jacksonians love. Learn more.

Watkins Named College of Education Chair

Burton Named Associate Dean of Policy, Planning at JSU

WJSU Urges Listeners to 'Fall in Love All Over Again' During Pledge Drive
MISSISSIPPI STATE UNIVERSITY NEWS


English Prof, Award-winning Poet Receives MSU Humanities Honor
Richard Lyons is being recognized by the Mississippi Humanities Council as Mississippi State University's 2007 Humanities Teacher of the Year. Presented annually at public and private institutions of higher learning around the state, the award carries a $500 honorarium and the responsibility to share humanities scholarship in a public setting with students, colleagues, and other interested audiences. The English professor and MSU faculty member since 1994 recently presented a campus lecture on creative writing, the English department's academic program he directs. He also read from Granite from Sugar Water, his fourth book of poetry currently in the editing phase. Lyons said most of the forthcoming book is centered on jazz music and "is somewhat of a carryover" from his previous work, Fleur Carnivore, winner of the 2005 Washington Prize given annually by the Washington, D.C.-based Word Works national literary organization. "It is mostly meditative poetry, or what I call 'episodic meditation,'" Lyons explained. "It is poetry about jazz music and artists, particularly African-American artists." A doctoral graduate in English and creative writing from the University of Houston, Lyons is the author of two other award-winning books of poetry. He received the Devins Award from the University of Missouri Press for These Modern Nights (1988) and the James Dickey Memorial Award from the University of South Carolina Press for Hours of the Cardinal (2000). Learn more.

Unique New MSU Academic Program Focuses on Study of the Mind

Much-honored MSU Professor Receiving Regional Essay Award

MSU to Dedicate New Engineering Building

David Shaw of MSU Joins National Science Association Elite
MISSISSIPPI STATE UNIVERSITY DIVISION OF AGRICULTURE, FORESTRY AND VETERINARY MEDICINE NEWS


MSU Students Bag Sweet Potatoes for Hunger Campaign
Neither the chill nor the early hour dampened the enthusiasm of 100 Mississippi State University students who gave up one October weekend's sleep to bag 20,000 pounds of sweet potatoes for the Mississippi Food Network. The first-ever potato drop held on campus was part of an on-going effort to distribute donated produce to food pantries across the state. At the Palmeiro Center parking lot, students stuffed the potatoes into 10-pound bags in less than 90 minutes and loaded them onto the network's 18-wheeler headed to Jackson. Two MSU alumni, Tim Edmondson of Edmondson Farms in Vardaman and Bill Wooten of Missi-ana Produce, Inc. in Bruce, sent a dump truck with donated sweet potatoes from their operation. The network's rig carried 15,000 pounds of the bagged potatoes for distribution to soup kitchens and food banks. Several student organizations personally delivered 5,000 pounds to Golden Triangle and Tupelo area food pantries. The truck driver was back on the road well before 9 a.m., which made the experience even more satisfying for Chiquita Briley, assistant Extension professor in the Department of Food Science, Nutrition and Health Promotion. "Students are already asking me when the next potato drop is," said Briley, who coordinated the event to involve the College of Agriculture and Life Sciences in "Universities Fighting World Hunger," a growing social movement. "We hope this is only the beginning of our student participation in such projects." Learn more.

Catfish Studies Under Way to Reduce Economic Losses

MSU Scientists Seek Ways to Improve Delta Groundwater Supplies

Kidd Heads MSU Poultry Program

Retired MSU Extension Director Enters Hall of Fame
MISSISSIPPI UNIVERSITY FOR WOMEN NEWS


Hearin Leadership Students Help Renovate Houses in Jackson
Members of the Hearin Leadership Program at Mississippi University for Women recently traveled to Jackson to assist with several housing renovation projects as part of the Hearin Alternative Break. The fifty-two students worked with a group called MadCAAP (Madison Countians Allied Against Poverty), and, in their weekend there, painted the interior and exterior of one house and the exterior of 2 other homes. They also gutted and painted a house that had been burned and helped roof another. While in Jackson, the group stayed at the First Baptist Church of Ridgeland. Wahnee Sherman, coordinator of the Hearin Leadership Program, said, "[T]he students were amazing because they worked so hard to help people they didn't even know. This trip teaches students the importance of helping others." Josh Kemp, a junior business management major, said he thought the trip to Jackson was a "great experience." "It's a great feeling . . . to give back to the community," said Kemp. Senior pre-physical therapy major Haley Cochran said that Hearin is beneficial for students because it "provides a family away from home." For more information about Hearin, contact Sherman at (662) 329-7355 or visit www.muw.edu/hearin . Learn more.
MISSISSIPPI VALLEY STATE UNIVERSITY NEWS


Robert Clark Political Leadership Forum Set for Nov. 14
Mississippi Valley State University's Delta Research & Cultural Institute (DRCI) and the Social Science Department present the Robert Clark Political Leadership Forum "Revitalizing the Mississippi Delta" on Nov. 14, from 8:30 a.m. – 11:30 a.m., in the Business Building Auditorium. Distinguished panelists include Rep. John Hines of Greenville, Rep. Bryant Clark of Pickens, and Mayor Debra Mabry of Goodman. Bureau of Long Range Economic Planning Director Pete Walley and Economic Planner Debra Anderson of the IHL Office of Policy Planning and Research will also be on hand. For more information, contact DRCI at (662) 254-3854.
UNIVERSITY OF MISSISSIPPI NEWS


OMazing Race Helps Students Bridge Racial Barriers
Taking a cue from reality television, University of Mississippi (UM) students of various racial and ethnic backgrounds found life can be sweeter when people work together as a team. And the prizes aren't too bad either, including a $2,000 grand prize for the winning team. "I gained a really valuable experience about connecting with people that are different than me," said Sufian Ahmed, a junior computer science student from Amman, Jordan. Ahmed was one of 80 UM students who recently competed in the OMazing Race. Designed to bring diverse students together to explore others' perspectives and opinions, the two-day competition was based on educating students about the various historical achievements across the Ole Miss campus. Thought to be the first program of its kind in the Southeastern Conference, OMazing Race fielded competitors of 20 four-member teams, including people from different ethnicities, genders, religions, sexual orientations, and interests. "This was the first time a collaborative effort of this sort was made here at Ole Miss to bring a large number of diverse students together to explore racial barriers," said OMazing Race director Josh Davis, assistant director of Alumni Affairs. "Participants learned to be respectful of others, while at the same time experienced personal growth. It was an enriching and enlightening experience." Learn more.

Sonic Zoom: UM Physicist Verifies that Sound Can Travel Faster Than Light

Student Hand Band Uses Signing to Express Song Lyrics for Hearing Impaired

Alumnus Lucian S. Minor Gives $1 Million to Endowment for Patterson School of Accountancy

Doug Marlette Exhibit to Open as Inaugural Exhibit at Overby Center
UNIVERSITY OF MISSISSIPPI MEDICAL CENTER NEWS


Kick-off Event Builds MomentUM at UMC
A celebration to launch the University of Mississippi Medical Center's $50 million capital campaign took place Oct. 30 on the front lawn of University Hospital. The MomentUM Jubilee was part of the Medical Center's portion of the MomentUM campaign, the University of Mississippi's academic enrichment drive. "For Mississippi's Better Health: MomentUM" will help fund the UMC Cancer Institute; a new heart and vascular center; relocation and renovation of the existing children's clinics which will allow for the relocation and expansion of the children's emergency department; a medical research scholars program; and distinguished chair endowments. "The MomentUM campaign is an opportunity for our community to express its support for the programs at the University of Mississippi Medical Center," said Dr. Dan Jones, UMC vice chancellor for health affairs. Learn more.

UMC's Health Care Mission Receives New Home

Former UMC Faculty's Alumni Lecture Highlights First SGSHS Research Day

Health Carnival Series Touts Nutrition, Exercise Values for Children

Biomaterials Lab Destroyed in SOD Fire
UNIVERSITY OF SOUTHERN MISSISSIPPI NEWS


J.L. Scott Marine Education Center Receives National Designation
The Southern Miss Gulf Coast Research Laboratory hosted First Lady Laura Bush along with Interior Secretary Dirk Kempthorne and Gov. Haley Barbour on Friday, November 2. in Ocean Springs for ceremonies designating the J.L. Scott Marine Education Center as the nation's 21st Coastal Ecosystem Learning Center by Coastal America. As the community education and outreach arm of the Gulf Coast Research Laboratory, the Marine Education Center joins a network of other distinguished centers that focus on the shared preservation, restoration, and education of the Gulf of Mexico. Coastal America is a partnership among federal, state, and local governments and private alliances to address environmental problems along the nation's coasts and to promote ocean literacy. The organization designates learning centers around the nation to create an expanded information network for the general public and to encourage mutually beneficial cooperation between the federal agencies and non-federal facilities. In accepting the designation, Southern Miss President Martha Saunders said the university is honored by this recognition of the Marine Education Center. "The work of Coastal America is tremendously important and we join their focus on environmental education. At Southern Miss, we will bring the full measure of our intellectual capital, educational creativity, and scientific discovery talents to advance environmental awareness and stewardship among the public." Learn more.

Active Learning Experiences Boost Student Achievement

Southern Miss to Host Lecture by British Psychologist
UNIVERSITY OF SOUTHERN MISSISSIPPI GULF COAST NEWS


Southern Miss Tourism Management Program Gets Backstage Pass at Hard Rock
The Hard Rock Live's green room is where all the casino's performers take time out before and after their show. This private room has only been seen by a limited number of Hard Rock Hotel and Casino employees. But on Oct. 25, students and instructors in the Department of Tourism Management at The University of Southern Mississippi were able to see the green room and more at the Hard Rock Hotel and Casino. The students and instructors were shown almost every part of the Hard Rock to see what goes on both in the public eye and behind the scenes. As the 55 students gathered in the concert venue, Hard Rock Live, they were split into groups of four and rotated around to different sections of the hotel and casino. Several areas of interest to the students were the high-roller suites, the green room, and the "attic." The attic, located in a secluded section of the casino, is a room for employees only. This relaxed room, which contains tee shirts autographed from every Hard Rock Café around the world, is where the Hard Rock's executives gather for meetings. Along with the chairs and plush couches, the attic contained an autographed wall, guitars, and photographs that would make a rock star proud. Learn more.

Southern Miss Gulf Coast Opens Eagle City Café in Long Beach and Gulfport

Students Travel around Mississippi for Southern Miss Gulf Coast Geography Mini-Session

High School Students Discover Possibilities in Tourism Management from Southern Miss Instructor
ALCORN STATE UNIVERSITY NEWS


ASU Business School Discussion Forum Reaches 30,000 Hits
The School of Business website at Alcorn State University has reached a milestone in the number of people accessing career information. More than 30,000 people have visited the site that provides information on jobs, graduate schools, and internships that helps students and alumni better their careers and lives. According to Dr. Piper, Interim Dean at the Business School, the site contains links that aid undergraduate students in searching for employment opportunities or researching graduate school programs. In addition, the links to summer internship programs list many management level options that often result in fulltime employment. The discussion forum portion of the website has testimonials and messages from alumni about jobs, internships, and graduate school experiences. It is a place to ask questions, get advice, or just discuss current issues with other students, alumni, or professors. Dr. Piper notes, "The Discussion Forum aids students and the school in accomplishing a common goal of student career enhancement." The Discussion Forum was set up by Mr. Z. Dogar, an instructor at the Business School, in 2004 as part of a joint effort with Dr. Peter R. Malik, associate professor in the Department of English and Foreign Languages, who provided the initial content and continues on as an advisor. Access the Discussion Forum. Learn more.


Nov. 11 - Students from around the globe plan to gather at 7 p.m. in the Ford Center for the Performing Arts to share and learn during International Night at the University of Mississippi. The event features dances and other performances, as well as a fashion show. Admission is $10. Learn more.

Nov. 12 - Mississippi State University's Holmes Cultural Diversity Center presents a Russian presentation as part of International Education Week. The 4 p.m. discussion at Mitchell Memorial Library's Grisham Room will include a Russian MSU student detailing her native country. Learn more.

Nov. 12 - The world-renowned Raschčr Saxophone Quartet will be in recital at Southern Miss at 8:30 p.m. in the Mannoni Performing Arts Center Auditorium in Hattiesburg. Learn more.

Nov. 13 - Mississippi State University's English as a Second Language Center presents "T-shirt Buddies" on the Drill Field from 11 a.m. to 4 p.m. The free event allows you to design a T-shirt for you or an international student arriving at MSU in the spring. Learn more.

Nov. 13 - MSU's Delta Research and Extension Center hosts a crop summit focused on the 2008 agricultural growing season. Registration begins at 7:30 a.m. in the Charles W. Capps, Jr. Entrepreneurial Center. For more information, call Dr. Dan Poston, MSU Extension soybean specialist (662) 686-3230. Learn more.

Nov. 13 - UM civil engineering faculty encourage the public to attend a workshop on earthquake preparedness at 8:45 a.m. at the Oxford Conference Center. Registration for the "Mississippi Workshop of Catastrophic Earthquake Response Planning: New Madrid Seismic Zone" is $25, which includes lunch. Learn more.

Nov. 14 - Alcorn State Global Programs will hold Student Fulbright Program Lecture by Kumasi Adoma of the Institute of International Education (IIE) from 1:00 to 2:00 pm in Room 7 of the ASU Campus Union. For more information, call John Blackmore, Office of Global Programs, at (601)877-2382.Learn more.

Nov. 14 - The JSU Medgar Evers/Ella Baker Lecture Series will focus on the role of music in the civil rights movement at 6:30 p.m. at the Smith Robertson Museum and Cultural Center. Learn more.

Nov. 14 - Mississippi State University's GeoResources Institute will showcase geographic information system applications and how they're used by campus departments. The 9 a.m. to noon event at the High Performance Computing Collaboratory includes forestry, plant and soil sciences, and geosciences. Learn more.

Nov. 14-15 - JSU's College of Lifelong Learning will host the Spirit of Safety (S.O.S.) Conference, featuring television host Judge Greg Mathis at the Hilton Hotel and Convention Center. The conference's goal is to promote violence free educational environments. For more information, call (601) 432-6649. Learn more.

Nov. 14-17 - Southern Miss Theatre presents Shakespeare's Twelfth Night, or What You Will at 7:30 p.m. in the Martha R. Tatum Theatre in Hattiesburg. Matinees are set for 2 p.m. Nov. 11 and 18. For more information, call (601) 266-5418 or (800) 844-8425 for tickets. Learn more.

Nov. 15 - The Mississippi Agricultural and Forestry Experiment Station's 25th Annual Production Sale will feature registered Angus, Hereford, and Charolais bulls and bred heifers from the MSU research herds. For more information, contact Dr. Jane Parish at (662) 325-7466 or jparish@ads.msstate.edu . Learn more.

Nov. 15 - University of South Dakota law professor Frank Pommersheim discusses "Broken Landscape: Indian Tribes and the Constitution" at 4 p.m. in the William N. Ethridge Jr. Moot Court Room of the Lamar Law Center. The presentation and reception to follow are open to the public. Learn more.

Nov. 17 - The Mississippi Agricultural and Forestry Experiment Station and MSU's Department of Animal and Dairy Sciences will host a horse sale beginning at 1 p.m. at the Mississippi Horse Park near Starkville. For more information on the sale, contact the ADS department at (662) 325-2802. Learn more.