Board Names Mark Keenum Preferred Candidate for MSU
The IHL Board announced in a press conference Wednesday that Dr. Mark Keenum, current Under Secretary of Farm and Foreign Agricultural Services, is the preferred candidate for the position of President at Mississippi State University (MSU). The announcement was made following a meeting of the Board, representatives of the Mississippi State University Search Advisory Committee, and search consultant Jerry Baker. "We are confident Dr. Keenum's background and expertise makes him the perfect choice to lead Mississippi State University," said MSU Board Search Committee Chair Trustee Scott Ross. On Wednesday, November 12, Dr. Keenum will participate in open, day-long interviews on the Mississippi State University campus with various university and community constituency groups (schedule forthcoming). Individuals attending the open interviews will be given the opportunity to provide feedback to the Board of Trustees regarding their impressions of Dr. Keenum. At the end of the day, the Board will announce either that Dr. Keenum will be the next president of Mississippi State University, or that the search will continue. Dr. Keenum was sworn-in as Under Secretary on December 20, 2006. In this role, Dr. Keenum provides leadership and oversight for the Farm Service Agency, the Risk Management Agency, and the Foreign Agricultural Service. In 1989, Dr. Keenum joined the Washington, D.C. staff of U.S. Senator Thad Cochran as Legislative Assistant for Agriculture and Natural Resources. From 1996 through 2006, he served as Chief of Staff for Senator Cochran. Dr. Keenum received his Bachelor's, Master's, and Ph.D. degrees in Agricultural Economics at Mississippi State University, where he joined the faculty in 1984. Click here to read Dr. Keenum's biographical sketch and see a photo, and click here to read Dr. Keenum's personal statement.

IHL Convenes Academic Common Market Meeting
Continuing in its commitment to offer broadbased access to higher education, the IHL Office of Academic and Student Affairs convened the first-ever Academic Common Market (ACM) Institutional Coordinators' meeting on Tuesday, October 28. The Academic Common Market program allows a student to enroll in an undergraduate or graduate program at a university in another state without having to pay out-of-state tuition if that program of study is not offered by the public institutions in the student's home state. Seven of Mississippi's eight public universities were represented at the meeting to discuss the ACM program and to learn more about a new website designed by the Southern Regional Education Board (SREB) to manage the program more efficiently. Meeting attendees discuss the current process of administering the ACM program, institutional participation, and the importance of the institution in the ACM process. For more information, contact IHL Director of Student Affairs Pearl Pennington.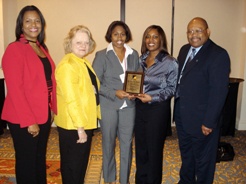 University of Southern Mississippi Doctoral Scholar Tolecia Clark (third from left) and Mississippi State University Doctoral Scholar La Shonda Steward (fourth from left) were honored at the conference. Joining them are IHL Director of Student Affairs Pearl Pennington (far left), University of Southern Mississippi Graduate Studies Director Dr. Susan Siltanen (second from left) and Mississippi State University Professor William Person (far right).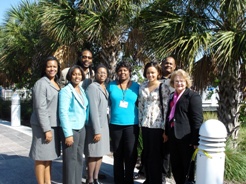 IHL Director of Student Affairs Pearl Pennington and University of Southern Mississippi Graduate Studies Director Dr. Susan Siltanen join past and present University of Southern Mississippi Doctoral Scholars. (L to R) Pearl Pennington, Tolecia Clark, Walter Swan, Ericka Ford, Felicia Thadison, Davida Crossley, Robert Osgood, and Dr. Susan Siltanen.

MS Doctoral Scholars Attend Conference on Teaching and Mentoring
A 20-member delegation of Southern Regional Education Board (SREB) Doctoral Scholars, university administrators, faculty mentors, and IHL's Director of Student Affairs Pearl Strickland Pennington attended the 15th Annual Institute on Teaching and Mentoring in Tampa, Florida, October 23-26. Jackson State University, Mississippi State University, the University of Mississippi, and the University of Southern Mississippi were represented by the delegation. The Compact seeks to address the minority faculty shortage by providing racial/ethnic minority students with support to pursue doctoral degrees and become college professors. The Institute brought together doctoral and post-doctoral scholars to share insights for success in graduate work, to network, and to enrich their research and teaching skills. Also in attendance were faculty recruiters from all over the country. IHL provides financial support for Doctoral Scholars. Each scholar receives a $15,000 award administered by the SREB. The participating universities provide tuition waivers and other financial support and match each scholar with a mentor. The Southern Regional Education Board's Doctoral Scholars Program was developed with support from The Pew Charitable Trusts and the Ford Foundation. It is part of a nationwide initiative, the Compact for Faculty Diversity, to produce more minority Ph.D.s and to encourage them to seek faculty positions. For more information, contact IHL Director of Student Affairs Pearl Pennington.

Items included in the "University News" section of the System Review are submitted each week by the universities. The news items are listed in rotating alphabetical order by university.
MISSISSIPPI VALLEY STATE UNIVERSITY NEWS


MVSU Taps Dr. Kathy Golden as Humanities Teacher of the Year
Mississippi Valley State University's Director of the International Program, Dr. Kathie Stromile Golden, has been named MVSU's 2008 Humanities Teacher of the Year. Dr. Golden will lecture on "Global Education in the 21st Century: The Humanities" on Wednesday, Nov. 12, at 11 a.m. in the Business Education Building auditorium. Following Dr. Golden's presentation, a reception will follow in the Business Education Building foyer. The public is invited to attend the free lecture and reception. Dr. Golden will be recognized at the Mississippi Humanities Council's Awards banquet in February where she will join colleagues representing their community colleges and universities throughout Mississippi. Dr. Golden is a past president of the National Conference of Black Political Scientists and currently serves as director of the Graduate Assistantship Program Dr. Golden is currently chair-elect of the Mississippi Association of International Educators and is a member of the editorial board of the "National Political Science Review." Golden previously served as Director of the MVSU Delta Research and Cultural Institute. From 2003-2005 she served as project director for the Mississippi Consortium for International Development's Higher Education and Development Project for Iraq. In 2005, Golden was a Fulbright Lecturer/Researcher at The Academy for Public Administration under the President of Azerbaijan Republic. Learn more.

Valley Hosts SWAC Soccer Championships
THE UNIVERSITY OF MISSISSIPPI NEWS


Public Invited to Reopening of Farley Hall, Dedication of Newly Named Areas
The University of Mississippi Department of Journalism and Chancellor Robert Khayat announce the reopening of Farley Hall Friday (Nov. 7), including the dedication of three learning areas recently named honoring former faculty members. The public is invited to the 1:30 p.m. reopening ceremony on the front steps of Farley Hall, which houses the journalism department. The celebration also includes the dedication and tour of the J.R. Hoar Center for Excellence in Writing, S. Gale Denley Digital Photo Lab and Samuel S. Talbert Reading Room. "We now have a building that both students and alumni will be proud to call home for journalism at Ole Miss," said Samir Husni, journalism chair and Hederman Lecturer. Hoar joined the UM faculty in 1956 and taught for 36 years. Denley, who died in August after a long illness, was widely known for his years as editor of the Calhoun County Journal in Bruce, as a syndicated columnist and as a journalism professor at UM. Talbert was the journalism department's second chair, serving from 1957 until his death in 1972. Learn more.

Topping Off Event Marks Progress on Residential College

Author and Pulitzer Prize-Winning Journalist Is Journalism Week Keynote Speaker Nov. 6

Advisory Board for Center for Manufacturing Excellence Holds First Meeting, Sets Agenda

Prestigious Journalism Award Renamed in Honor of Samuel Talbert
THE UNIVERSITY OF MISSISSIPPI MEDICAL CENTER NEWS


When Disaster Strikes, Mississippi Med-1 Responds on Site
About 100 Shubuta residents are watching an afternoon baseball game when a crop duster flies overhead and sprays poison on the crowd. Soon, complaints of runny noses, coughing and respiratory distress begin. With no hospital nearby to handle all the patients, workers with the Mississippi State Department of Health and first responders with the University of Mississippi Medical Center are dispatched to the scene with a mobile field hospital - Mississippi Med-1. In six to eight hours, the 53-foot-long tractor-trailer transforms into three mobile field hospital units, operated by a team of 40 professionals. UMMC emergency responders have been training for more than a year to set up and operate the self-contained and self-sufficient field hospital. They quickly assess the situation, triage the patients and work immediately to address the most serious cases. That was the scenario Oct. 23 at the unveiling of Mississippi Med-1 at Trustmark Park in Pearl that also served as a disaster drill for first responders. The mobile hospital units, purchased with $2.4 million in federal funds, will allow for immediate medical response in disaster situations in Mississippi or anywhere in the country, if requested. Learn more.

NIH, JMM Launch Quarterly Series to Improve Health Literacy
THE UNIVERSITY OF SOUTHERN MISSISSIPPI NEWS


www.usm.edu
THE UNIVERSITY OF SOUTHERN MISSISSIPPI GULF COAST CAMPUS NEWS


College of Health Appoints Representative for Dean's Office on Gulf Coast
Dr. Patsy Anderson, associate professor in the School of Nursing at The University of Southern Mississippi, has assumed the duties of representative for the dean's office at Southern Miss Gulf Coast. Anderson's responsibilities include representing the dean's office in meetings and Gulf Coast forums, coordinating College of Health operations on the Gulf Coast and informing the Hattiesburg-based administration of Gulf Coast issues and developments. "Patsy is a tenured associate professor of nursing with a solid organizational management background and an extensive record of service to the university," said Dr. Michael Forster, interim dean in the College of Health. "She will no doubt do an excellent job in this new capacity." Learn more.

Southern Miss Citizenship and Justice Academy Makes Presentation in Scotland
ALCORN STATE UNIVERSITY NEWS


USDA-ARS Publishes Alcorn's Technology Transfer Paper on Its Website
The United States Department of Agriculture-Agricultural Research Service (USDA-ARS) and the International Society for Horticultural Science (ISHS) in Belgium, published Alcorn's technology transfer paper "C-factor Research on Horticultural Crops for Erosion Prediction: Philosophy and Methodology" on their web sites. The ARS, with over 2,100 scientists and 1,200 research projects, is the chief scientific research agency of the USDA. The ISHS is the largest horticultural society in the world with members in 143 countries. Alcorn State University entered into a cooperative agreement with the Natural Resources Conservation Service (NRCS) of USDA in 1988 to conduct cover management factor (C-factor) research on vegetable and fruit crops. The main objective of this research is to conduct phenotypic evaluation of horticultural crops and collect residue data that are used to populate databases needed to develop C-factors in erosion prediction and natural resource models. The enormous amount of data collected on 36 crops with more than 100,000 readings made the Center for Conservation Research the largest C-factor databank on horticultural crops in the world. This is the only research project in the nation which received funding continuously for 18 years from USDA/NRCS at the rate of $175,000 per year. We received more than $3 million from USDA alone. USDA never continues funding for a research program beyond 5 years. "This is a great milestone in Alcorn's research history," said Dr. Girish Panicker, director of the center, who is also the main author of the paper. Learn more.

ASU Assistant Professor Presents Research Findings at International Conference

Alcorn Biology Professor Robert Sizemore Composes Musical Score

ASU/ARM to Facilitate AmeriCorps Training on Campus
DELTA STATE UNIVERSITY NEWS


Delta State Partnership Commemorates 90th Anniversary of Conclusion to WW1
November 11, 2008 will mark the 90th anniversary of the armistice that ended the First World War. It would not be until 1919 that the Treaty of Versailles formally concluded the conflict on the eleventh hour of the eleventh day of the eleventh month was then and continues to this day be a solemn reminder that the ultimate tragedy of war is its futility. A total of 344,724 Mississippians were required to register for the draft before the conflict ended, while some 154,000 were called up. 56,740 saw action by the time of the armistice, with 2,303 becoming casualties of war. Of these, 904 were dead. While these numbers pale compared to the losses suffered by Britain, France, Germany and Russia, they are placed in their proper context when it is realized that the population of the state at this time averaged 1,793,200, of which some 400,000 men were of age for military service. In other words, 38% of the state's eligible male population found themselves called to service before the War ended, while 14% saw actual service. Of these, twenty-six were awarded the Distinguished Service Medal and three France's Croix de Guerre. The Bologna Performing Arts Center, in partnership with Delta State University's Art, History, Language and Literature, and Music Departments, and the Delta Music Institute, is hosting a series of events on the DSU campus to commemorate the end of the War. Learn more.

Delta State Honors Senator Bob Dearing

DSU Delta Center Offers Summer Workshops for Teachers in American History and Culture

JACKSON STATE UNIVERSITY NEWS


JSU's President Mason Receives Thurgood Marshall Foundation Award
Jackson State University's President Ronald Mason Jr. was recently honored with a 2008 Education Leadership Award during the Thurgood Marshall College Fund's 21st Anniversary Awards Dinner Oct. 27. Mason, chief executive officer of the only university located in Mississippi's capital since 2000, holds a bachelor's and juris doctorate from Columbia University. He has led JSU through an impressive academic restructuring and campus revitalization that has expanded into the surrounding community of West Jackson. Most recently, Jackson State University announced plans to creating a mixed-use development center adjacent to the campus. The Educational Leadership Award is the highest individual award presented to a sitting president or educational leader of a public HBCU. It is presented annually to an educational leader who has demonstrated outstanding business, academic and visionary leadership through effective management of his or her institution. Nominees are submitted by philanthropic, board, government, alumni, students and educational leaders nationally. "Dr. Ronald Mason, Jr. has a decorated career in Higher Education and Community Development that directly supports one of our nation's gems and member university, Jackson State University and its 9,000 students," said Dwayne Ashley, President and CEO, Thurgood Marshall College Fund. Learn more.
MISSISSIPPI STATE UNIVERSITY NEWS


MSU Engineering Increases Online Graduate Degree Offerings
Mississippi State is adding new online graduate degree programs in two engineering fields to help more working professionals and others expand their education through the latest in distance learning technology. The university's Bagley College of Engineering began this fall providing both master of science and doctoral degrees in computer engineering and electrical engineering. The college's computer-delivered degree programs initially included a master's in engineering and in industrial engineering, as well as a doctorate with a concentration in industrial engineering. Rita Burrell, Bagley's manager of graduate and distance education, said the online programs provide students with options beyond--literally and figuratively--traditional campus classroom settings. Currently, about 70 students--mostly from throughout Mississippi, but also in Maine, Texas and Canada--are enrolled in online MSU graduate engineering courses. Dean Sarah Rajala said career success in the field often depends on continued professional development. For that reason and others, she said the college expects to see an increasing demand for online degree access. "Engineers employed fulltime often do not have the flexibility, either because of work schedules or location, to enroll in on-campus courses or degree programs," Rajala said. Learn more.

MSU, ARC Team to Expand Regional Higher Education Opportunities

MSU Scholarships by Pearl River Couple Honor Departed Friends

MSU Launches Veterans Day Awareness Effort

MSU Music Department Announces 'Discovery Day,' Brass Workshop
MISSISSIPPI STATE UNIVERSITY DIVISION OF AGRICULTURE, FORESTRY AND VETERINARY MEDICINE NEWS


ATV Safety Training Typical of MSU Extension Service
Mississippians know to call the Extension Service with questions about insect pests, row crops or family finances, and thousands turn to the same source for training on a variety of other topics. One topic that has become popular is all-terrain vehicle safety. Many Mississippians are injured and some killed each year in accidents involving ATVs. In late October, two 11-year-old girls died in an ATV accident in DeSoto County, highlighting the need for training in how to safely operate these vehicles. Bolivar County was the first in the state to offer safety training through the MSU Extension Service's Agromedicine program. "We were able to develop the ATV safety training into a model program for other counties to follow," said Laura Giaccaglia, Bolivar County 4-H agent. "We worked with the Agromedicine staff to create this program for the rest of the state." Maci Flautt is an Extension area health agent based in Coahoma County. She said the Agromedicine project began in 2003 and lasted four years with funding from the Centers for Disease Control and Prevention through the Delta Health Alliance and the U.S. Department of Health and Human Services. The state's ATV safety program was developed during this time. Learn more.

MSU's Crosby Arboretum Celebrates Piney Woods Heritage Festival

MSU Veterinary Grad Makes World Safer for Pets and People

MSU Studies Show Soil Quality Affects Deer Antler Size

Experiment Station Horse Sale Supports MSU Research
MISSISSIPPI UNIVERSITY FOR WOMEN NEWS


MUW to Graduate First Group of Online Business Students
For Cassondra Buford of Biloxi, getting a four-year college degree was a dream that might have been difficult to attain due to family obligations, but Mississippi University for Women is helping make that dream a reality through its 2 + 2 Online Business Administration Degree Program in General Business. She and a handful of other students are scheduled to be the first at MUW to complete this pro gram, which began in 2006. The participants complete the first two years of college at a community college before enrolling at MUW to complete the last two years completely online. "Like a lot of college students today, I am a nontraditional student," Buford said. "As a mother of two little boys, this program allows me to stay at home with my children and finish my degree online. It is very difficult balancing it all, and it helps that I can do all my classes online. The best part is I can even take my tests from the comfort of home as well. "I would recommend it for anyone really, not just nontraditional students. The instructors all give great notes and are very encouraging and do not mind helping you in any way." The general business concentration is designed for students desiring a broad understanding of business. Students learn how to problem solve and provide managerial solutions for daily business decisions. Learn more.

MUW Offering Entrepreneurship Concentration


Nov. 5-7 - MSU Extension and Mississippi Agricultural and Forestry Experiment Station personnel from around the state will gather for their annual conference on the MSU campus. Learn more.

Nov. 6-11 - JSU's Department of Speech Communication and Theater presents "Before it Hits Home," a story about a jazz musician who has been diagnosed with AIDS. The play will be held at the Rose McCoy Auditorium at 7:30 p.m. and is $5 for students and seniors and $10 for the general public. For more information, call (601) 979-4309. Learn more.

Nov. 11 - Jackson State University's College of Liberal Arts will present "Tobacco Addiction Education," as part of its Substance Abuse Current Events Workshop Series at 9 a.m., Tuesday, Nov. 11, in the Dollye M.E. Robinson Liberal Arts Building. Learn more.

Nov. 11 - The University of Mississippi celebrates Veterans Day and honors those who have served in the country's armed forces. Chancellor Robert Khayat and Larry Ridgeway, vice chancellor for student affairs, will speak during the 4 p.m. program in Paris-Yates Chapel. A reception will follow in Martindale Hall. Learn more.

Nov. 12 - The University of Mississippi presents its 2008 Faculty Research Fellows in a poster symposium. From still life theatre to the search for gravitational waves, studies conducted by these researchers cover a broad range of disciplines. The event will take place from noon to 1:30 p.m. in Johnson Commons Ballroom. Learn more.

Nov. 13 - Mississippi State University's Department of Art presents a reception for bachelor of fine arts thesis students. The reception will bring student artists out for the exhibition that runs until Dec. 2. Learn more.

Nov. 13 - The University of Mississippi presents Provost Emeritus Gerald Walton showing photographs from and discussing his recently published book "The University of Mississippi: A Pictorial History." The presentation and following reception are set for 5:15-6:15 p.m. in Overby Center Auditorium. Learn more.

Nov. 13 - Southern Miss Gulf Coast will host the Issues + Answers lecture "Breast Cancer: Personalized Medicine for a Personal Matter" by Dr. Roy J. Duhe' at 7 p.m. in the Advanced Education Center auditorium on the Gulf Park campus in Long Beach. The lecture is free and open to the public. Learn more.

Nov. 13-14 - Mississippi State University's Campus Activities Board presents the annual Holiday Bazaar at the Sanderson Center's main gym from 10 a.m. to 7 p.m. More than 150 vendors will feature Christmas gifts including jewelry, pottery, ornaments, candles, and decorative items. Learn more.

Nov. 14 - The Mississippi University for Women Department of Music and Theatre will present its second annual Madrigal Feast at 6:30 p.m. at the First Presbyterian Church on Bluecutt Road. Tickets are $30 and must be purchased in advance by contacting Dr. Debra Atkinson at (662) 329-7430. Learn more.

Nov. 15 - The Mississippi Student Chapter of the American Veterinary Medical Association hosts the second annual 5K Run/Walk for Rabies at MSU's North Farm. The race is open to the public. Pre-registration is $15. Race day registration is $20. Contact Liz Ezelle at LBlanche@cvm.msstate.edu. Learn more.

Nov. 17-19 - Alcorn State University hosts the Fourth Annual Multicultural Festival. The Festival has been expanded to include more days and more activities this year. The major feast and activities will be happening Wednesday, November 19, 2-4pm at the E.E. Simmons Gymnasium and 4-6pm at the Dr. Clinton Bristow Dining Facility on the institution's main campus in Lorman, Mississippi. Learn more.

Nov. 18 - ASU/America Reads Mississippi (ARM) will facilitate AmeriCorps members' training beginning at 7:30 a.m. in the Agriculture Assembly Room and the Ray Johnson Assembly Room. The speakers, Ladreana Goins, an Instructional Interventionist from Northside Elementary, Clinton Public School District and Jordan Goins, the Project Director of the Institute for Effective Teaching Practices from Mississippi Valley State University will conduct the reading tutor training and student management sessions. Learn more.

Nov. 19 - Mississippi State University's Department of Political Science and Pubic Administration presents the Mississippi Court of Appeals at the Hunter Henry Center at 1:30 p.m. Periodically, the Court of Appeals travels outside of Jackson for oral arguments to allow the public to see the judicial process. Learn more.
Nov 20 - Delta State University will present "The Ant and the Elephant" a matinee, in the Bologna Performing Arts Center at 9:30 a.m. and 11:30 a.m. For ticket information, please call the Box Office at (662) 846-4626. Learn more.

Dec. 1-2 - The annual cotton short course at Mississippi State University will be in the Bost Extension Center. The pre-registration ($80.00) deadline is Nov. 21. On-site registration is $100.00. Contact Tammy Scott at (662) 325-2701 or tscott@pss.msstate.edu. Learn more.