IHL Makes FY 2009 Appropriation Request to JLBC
This past Tuesday, members of the IHL Board of Trustees, institutional executive officers, and Commissioner of Higher Education Dr. Thomas C. Meredith introduced IHL's fiscal year 2009 state appropriation request to the representatives and senators on the Joint Legislative Budget Committee (JLBC) and the staff of the Legislative Budget Office. IHL leaders impressed upon committee members the need for continued adequate state funding for the universities' many, varied roles. The universities not only educate Mississippi's students, but also maintain the state's largest investment in capital resources, conduct research that promotes and facilitates economic development, and provide necessary services to the citizens of the state through the State Office of Financial Aid, the University of Mississippi Medical Center and the agriculture units at Alcorn State University and Mississippi State University. The total state funding request over FY 2008 includes $99 million for capital renewal, $69 million for education, $12 million for research and economic development, and $78 million for services. Read IHL's report to the JLBC, and view IHL's FY 2009 appropriation request. View graphs and other data shared with the JLBC.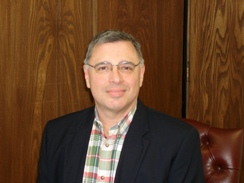 Dr. Jim Borsig

Borsig Named Assistant Commissioner for Governmental Relations
The IHL Executive Office is pleased to welcome back into the IHL family Dr. Jim Borsig, who was recently named Assistant Commissioner for Governmental Relations - Legislative Liaison and Special Projects. In his new role, Dr. Borsig will develop and direct a legislative strategy for the Board and assist Commissioner Meredith with various special projects specific to the Executive Office. Dr. Borsig comes to IHL from South Mississippi Electric Power Association, where he served as manager of corporate information and planning. He has also served as assistant to the president for government relations at the University of Southern Mississippi, research and development coordinator at the John C. Stennis Institute of Government at Mississippi State University, chief administrative officer for the cities of Biloxi and Hattiesburg, and executive director of the Mississippi Municipal Association. A native of Jackson, Dr. Borsig holds bachelor's degrees in political science and American studies and a master's degree in political science from the University of Southern Mississippi as well as a doctorate in public policy and administration from Mississippi State University. He also completed the Senior Executive Institute at the Cooper Center for Public Service at the University of Virginia, and he is a certified city planner. Contact Dr. Borsig.
#12 - UMMC Provides Vital Healthcare Services
(Top 15 Ways Universities Benefit Mississippi)
Mississippi's universities do much more than just educate students. They also provide vital services to the citizens of the state. One such service provider is the University of Mississippi Medical Center (UMMC). As the state's only level-1 trauma center, UMMC serves 27,000 inpatients each year with more than 418,000 outpatient and emergency room visits. While healthcare costs continue to rise at a rapid rate, the medical center is charged with providing service to those who could not otherwise afford it. By statute, UMMC must provide no less than 50 percent of their services to indigent persons including qualified beneficiaries of Mississippi's Medicaid program. With 67 percent of patients falling in this category, UMMC more than meets its mandate. In 2001, UMMC spent $291 million fulfilling this mission. In 2007, that number increased to $540 million.


Items included in the "University News" section of the System Review are submitted each week by the universities. The news items are listed in rotating alphabetical order by university.
MISSISSIPPI VALLEY STATE UNIVERSITY NEWS


Robert Sanders Named MVSU Police Chief
When Robert Sanders was pounding the basketball court in Europe and Argentina, his mind was never far from home – the Mississippi Delta. The 6'6" All-SWAC performer loved his days as a Delta Devil playing basketball under Coach Lafayette Stribling between 1980 and 1985. And while a pro career in basketball took him throughout the world, he wanted to raise his family in a place where everyone knew everyone and it felt like home. A decade in law enforcement in small towns such as Cleveland and Shaw eventually took Sanders to the Mississippi State Senate where he was sergeant-at-arms from 2000-2004. Most recently, dual jobs as Shaw Police Chief and Student Resources Officer for the Cleveland Police Department led to his new job as Mississippi Valley State University's Police Chief. Sanders will call upon his skills acquired in previous jobs and adapt them to his new career at Valley. He learned a great deal, he said, about negotiations while sergeant-at-arms at the Mississippi State Senate. He maintained decorum in the Senate chambers which, at times, could get heated when lawmakers were creating and passing legislation. "To have the opportunity to come back and give something back to my alma mater says a lot," said Sanders. Sanders hopes to take advantage of numerous grants from the Justice Department and Homeland Security to improve safety on the MVSU campus. "We're here for the students' safety." Learn more.

MVSU High School Day is Oct. 13
UNIVERSITY OF MISSISSIPPI NEWS


Professor Uses iPods to Provide Help for People Who Stutter
Compared to advancements in modern medicine over the past 70 years, there have been few new treatment options for people who stutter. That's one reason a $50 digital device being developed by a University of Mississippi researcher is drawing attention. Contrast that price to a typical digital speech device costing approximately $5,000, and it's easy to see why Greg Snyder, assistant professor of communicative disorders, may be on to something big. Snyder said that his own experience as a person who stutters played an important role in his chosen goals as a researcher and educator. "There is an incredible amount of disinformation and poor theory in stuttering research and treatment," Snyder said. "Most of the 'common knowledge' thought by the public and even within the field isn't based on science, but rather people's 'common sense' prejudice." Snyder's research has led him to develop a system using portable MP3 players to take the place of expensive and nearly invisible digital speech feedback prosthetic devices. His work has drawn national attention. Initial results suggest that this methodology may produce comparable results to that of expensive feedback devices, but for about 1/100th of the cost. "So, if it works for our clients, great," Snyder said. "If not, then they have a cool and inexpensive MP3 player for their own personal use. No real 'lose' scenario in the situation." Learn more.

Mississippi Innocence Project to Help Prove Innocence of Prisoners

Croft Institute for International Studies Names 2007 Scholars

Art Graduate Student Among 15 in Nation to Receive $15,000 Grant

MFA in Creative Writing Grad Included in Scribner's Best American Poetry 2007
UNIVERSITY OF MISSISSIPPI MEDICAL CENTER NEWS


"Broad Spectrum" of Treatment Options Available for Fibroid Relief
For women who don't want to undergo a hysterectomy for relief from fibroids, minimally invasive treatments are now available. "If they come see a gynecologist, they hear a broad spectrum of treatment options," said Dr. Bryan Cowan, chair of the University of Mississippi Medical Center Department of Obstetrics and Gynecology. They include cryoblation, in which the fibroids are frozen; laparoscopic myo-mectomy; uterine artery embolization; MRI-directed, high-frequency sonogram; and radiofrequency coagulation. Depending on the type of procedure chosen, an interventional radiologist may be involved in the patient's care. Fibroids are the No. 1 cause of hysterectomies, Cowan said. About 600,000 hysterectomies are done each year, and the majority is for uterine fibroids. The cause for fibroids is unknown, but the condition predominantly affects African-Americans. Learn more.

UMC Implements "Smart" IV System
UNIVERSITY OF SOUTHERN MISSISSIPPI NEWS


Forensic Science Conference Set for Oct. 1-4 at Southern Miss
Some of the country's top experts in forensic science and criminology will be on The University of Southern Mississippi campus Oct. 1-4 at the Thad Cochran Center to share their knowledge with students and law enforcement personnel. That's when the Mississippi Division of the International Association for Identification will have its fall 2007 educational conference, with the theme "CSI: 'Southern' Style," co-sponsored by the Southern Miss Forensic Science Program and the College of Science and Technology. From identifying criminal behavior to knowing what clues to look for at a murder scene, the conference will have something for everyone, said Dean Bertram, a forensic science instructor at Southern Miss and one of the conference organizers. The conference has been approved for 32 continuing education credit hours by the Mississippi Board on Law Enforcement Officer Standards and Training and for Mississippi county medical examiner investigators by the Mississippi State Medical Examiner's Office. On Oct. 3 and 4, a variety of hands-on workshops will be taught by forensic experts from the U.S. Army Crime Laboratory, the Mississippi Crime Laboratory, the Mississippi Bureau of Investigation, the Hattiesburg Police Department, and Ron Smith and Associates, Inc. Learn more.

Southern Miss' Fall University Forum Schedule Rich in Diversity

Institute for Disability Studies Still Assisting Hurricane Katrina Victims

Southern Miss Symphony Performs with Solerno-Sonnenberg

NASA Exhibit, Science Experiences Await Students at Southern Miss Oct. 1-3
UNIVERSITY OF SOUTHERN MISSISSIPPI GULF COAST NEWS


Southern Miss Gulf Park Campus Hosts Australian Representatives
The Jack and Patti Phillips Workplace Learning and Performance Institute at The University of Southern Mississippi Gulf Park campus recently hosted representatives from the Australian Construction and Property Services Industry Skills Council. The CPSISC is a non-profit industry organization established by the Commonwealth Government of Australia to develop and maintain competency-based qualifications in the vocational education and training sector for the construction and property services industries, including spatial information, and provide advice to the government on skills development and related items. Noel Hamey, CPSISC director, and David Magee, senior project manager, met with Dr. Cyndi Gaudet, director and associate professor in WLPI, and Dr. Heather Annulis, assistant director and assistant professor in WLPI, to learn more about the institute's research in competency-based geospatial workforce development in the United States. Learn more.

Southern Miss Web-based Marketing Director Recognized as Senior Practitioner

Check out the Sun Herald's Coverage of the Gubernatorial Debate on Sept. 20 in the Biloxi Saenger Theatre
ALCORN STATE UNIVERSITY NEWS


ASU MBA Program Graduate Receives Wall Street Journal Award
Alcorn State University and Jesse Abbott, MBA Program graduate, were listed in the Saturday/Sunday, September 22 -23, 2007 edition of the Wall Street Journal. Alcorn State University's Graduate Business Programs are among the thousands of programs at colleges that participate in the Journal-in-Education program with the Wall Street Journal. Every year the Journal honors exceptional students with the Wall Street Journal prestigious Student Achievement Award. Jesse Abbott was honored this year as Best in Class. Learn more.
DELTA STATE UNIVERSITY NEWS


Breast Cancer Awareness Week Set, Oct. 1 - Oct. 6
"The statistics are frightening," Rori E. Herbison, director of university relations at Delta State University and chair of the Leaders of Delta Health and Wellness, levied. "One out of eight women will be diagnosed with breast cancer in their lifetime. We are convinced that is just too many. We are equally convinced we can do something about it." That "something" is education, awareness, and early detection. Delta State University, through its Center for Community and Economic Development (CCED) and Breast Education and Early-detection Program (BEEP), in cooperation with the Leaders of Delta Health and Wellness, has planned a full week of activities beginning Monday, Oct. 1, and ending Saturday, Oct. 6. "Our charge for this coming week – Breast Cancer Awareness Week – is to educate and raise awareness. We need women to understand the importance of early detection through monthly self-exams and regular mammograms," Deborah Moore, director of the CCED, declared. "Our theme for the week is to 'Enlighten Yourself.'" For more information, please contact Delta State's Center for Community and Economic Development at (662) 846-4784 or University Relations at (662) 846-4675. Learn more .

Delta State to Welcome Pulitzer Prize-Winning Poet to Campus Oct. 10

Yearly Peavine Awards Announced, Ceremony Set for Oct. 4

Delta State to Name Stadium after Long-Time Football Coach

Delta State Baseball to Hold Reunion, Oct. 5 - 6
JACKSON STATE UNIVERSITY NEWS


BankPlus Names Booker Endowed Chair
BankPlus recently held a reception honoring Jackson State University (JSU) accounting chair Quinton Booker as the BankPlus Chair of Accounting, made possible by a $1 million endowment. Paid to the university over five years, the endowment will allow Booker to take advantage of professional development opportunities, research symposiums, and a salary supplement worthy of his 26 years of professional experience and achievements. "In order to attract the most qualified faculty members, the university must be competitive," Booker said. "At larger schools, accounting professors are receiving salaries between $100,000 and $135,000 a year. We (JSU) can't compete on that level, so it means so much to us when private businesses step up to the plate like BankPlus has." Though Booker seems to be the immediate beneficiary of the endowment, students majoring in accounting are expected to receive long-term benefits. "The more research I can do and the more I'm able to learn means my students will get that much more education out of their doctoral program," Booker said. It is not uncommon for businesses, especially large accounting firms, to fund accounting faculty members. Many businesses see endowed faculty as a means of investing into students who later become qualified job candidates. "When I arrived at JSU 26 years ago, we were known for our excellent accounting program," Booker said. Learn more.

'FENCES' Performed at Jackson State University

Judge Mathis Keynote Speaker at JSU School Safety Conference
MISSISSIPPI STATE UNIVERSITY NEWS


MSU Historian Loves a Good (Civil War) Rumor
Did you hear the one about Gen. Ulysses S. Grant's hubris costing him his life? They said the Yankee general died on a surgeon's table in July 1864, shortly after a rebel cannonball ripped his arm from his body. Since Southerners billed the Civil War as a personal battle between Grant and Confederate Gen. Robert E. Lee, the Union leader's death certainly showed the South would win, thus proving its superiority. Not only did "they" spread good news of Grant's agonizing, bloody death, but reports also were dispersed about the North's stock market collapse and England's and France's decision to support the Confederacy. These non-events didn't make the cut for students to read in modern history books, not that Confederate soldiers and civilians would have cared. They were spreading the tall tales as a means of survival--to keep Southern morale high and to help convince themselves their preferred reality existed. The actual reality of Confederate rumors is the topic of a new book by Jason K. Phillips. An assistant history professor at Mississippi State University, his Diehard Rebels: The Confederate Culture of Invincibility is scheduled for November release by the University of Georgia Press. Learn more.

Mississippi Power Endows MSU Engineering Professorship

MSU Engineering Administrator Assuming National Leadership Posts

NSF Taps MSU Team to Help Teachers Bridge Cultural 'Science Gap'

MSU Student Team Helping Make First Viking Classic a Success
MISSISSIPPI STATE UNIVERSITY DIVISION OF AGRICULTURE, FORESTRY & VETERINARY MEDICINE NEWS


Homeward Bound Relocates Mississippi Pets
Supply and demand forces are saving pet lives in Mississippi and making puppies and kittens available to owners in the Northeast. Krista Gazzola, a second-year veterinary student at Mississippi State University's College of Veterinary Medicine (CVM), has a soft place in her heart for young strays. "When I got to Starkville last fall, I started picking up puppies and young adult dogs off the side of the road and trying to find them homes," Gazzola said. "I thought to myself, 'If I don't figure out a way to find more homes, then I'm going to have about 80 million dogs by the time I get out of vet school.'" Gazzola, who is from Deerfield, N.H., has friends from New York and Massachusetts. They realized that the abundance of puppies in the South does not extend to their home states, and people there often do not have the opportunity to adopt young pets from shelters. Gazzola and her friends started the Homeward Bound project through the veterinary college's Humane Ethics and Animal Welfare Program. Homeward Bound has taken three loads of pets to New Hampshire and New York to be adopted. A fourth trip is set for the end of September. Dr. Phil Bushby, the Marcia Lane Endowed Professor of Humane Ethics and Animal Welfare and coordinator of CVM's shelter medicine program, is providing guidance, funding, and oversight of the Homeward Bound project. Learn more.

Let's Go Walkin' to Kick Off Annual Flower, Garden Fest

Peanuts Enjoy Good Year in Mississippi Fields

R.I.T.E. Stands for "Rice Improvement through Technology and Education."

Mississippi State University Extension Service's Youth Development Program Celebrates National 4-H Week
MISSISSIPPI UNIVERSITY FOR WOMEN NEWS


MUW Mathematics Professors Score Big Outside the Classroom
When she is not in the classroom teaching, Dr. Dorothy A. Kerzel can be found grading exams during her spare time. For the past nine years, the Mississippi University for Women professor of mathematics and chair of the Department of Science and Mathematics has been a reader and a table leader, scoring the Advanced Placement calculus exam. Each year at several sites across the country, college and high school instructors score the free response portion of the AP exams. The last two years, Kerzel has served as a table leader, which involves a moderate level of leadership and supervision over a group of 12 to 16 readers. This role includes two or three days at the beginning to assist with the early stages of the scoring process. Discussions about curriculum issues and teaching approaches are common, she added. There are instructors from just about every state in the U.S. and also from overseas. Kerzel said she is aware of other faculty members who participate in this professional activity, two who are in her department. Tess Creel, instructor in mathematics, has been a reader for two years on the calculus exam, and Dr. Shaochen Yang, professor of mathematics, was a reader on the statistics exam one year and has been doing the calculus exam for three years. Kerzel scored in Louisville, Ky., this year after being in Fort Collins, Colo., for eight years. Next year, she will go to Kansas City, Mo. Learn more.


Sept. 29 - Mississippi Valley State University will co-sponsor Fall Festival with the city of Itta Bena from 8 a.m. to 4 p.m. in the Industrial Park on Sunflower Road. The MVSU Choir will perform at 8 a.m., the drumline will perform at 11 a.m., and the First Choir will perform at noon.

Oct. 2 - The Southern Miss Gulf Coast Civic Chorale will perform with Gulfport, Hancock County, Long Beach, and Ocean Springs High Schools at 7 p.m. in the Gulfport High School Auditorium for the Festival of Choirs. This event is free and open to the public. Learn more.



Oct. 3 - Jackson State University's Lottie W. Thornton Early Childhood Center will kick off "Walking Wednesdays" at 9 a.m. at the Joseph Jackson School of Education Building on the main campus. Learn more.



Oct. 3 - The University of Mississippi hosts the fourth annual "Ole Miss Idol" talent competition beginning at 7 p.m. in the Student Union's Southern Breeze room. The public is invited to attend all five rounds at no charge, including the final event scheduled for Nov. 2.Learn more .



Oct. 3-10 - Mississippi State University's Panhellenic presents "Knock Out Sexual Assault Self-Defense Program" at McCarthy Gymnasium. The free program serves as an introduction to the university's rape aggression defense program. For more information, call (662) 325-2513. Learn more.

Oct. 3-Nov. 28 - Born to Read, an early literacy story time for babies and toddlers up to age four, will make its return to the Delta State University campus. The nine week program will run every Wednesday at 10 a.m. at the Instructional Resources Center in the Roberts-LaForge Library. Learn more.

Oct. 4 - Mississippi State University's Mitchell Memorial Library presents former Mississippi Gov. William Waller speaking at 3 p.m. as part of the Morris W.H. "Bill" Collins Speaker Series. For more information on the free event, call (662) 325-2559. Learn more.

Oct. 4 - Mississippi State University's Stennis-Montgomery Association presents a gubernatorial debate between Republican incumbent Haley Barbour and Democratic nominee John Arthur Eaves at 7 p.m. in Lee Hall Auditorium. The free event is open to the public. For more information, call (662) 325-9480. Learn more.

Oct. 4 - Mississippi State University Division of Agriculture, Forestry, and Veterinary Medicine hosts an Ornamental Horticulture Field Day at Poplarville's South Mississippi Branch Experiment Station beginning at 8:30 a.m. Nurserymen, homeowners, and landscapers are invited. Learn more.

Oct. 5 - The United States Air Force Band of Mid-America performs a free concert at 8 p.m. in the University of Mississippi's Ford Center for the Performing Arts. Since its formation in 1941, the Air Force Band has brought superb music and exciting entertainment to music lovers around the globe. Learn more.

Oct. 6 - Jackson State will host "High School Community College Day" for prospective students. For more information, call (601) 979-2913. Learn more.

Oct. 6 - Residence hall open houses and information sessions on academics, student life and financial aid are among the offerings for prospective students at Fall Visit Day at the University of Mississippi. A limited number of $5 football tickets for the Vanderbilt game will be offered to visiting students. Learn more.

Now-Oct. 11 - The Department of Fine Arts at Mississippi Valley State University is presenting a joint exhibition of photography by Dr. John Zheng and his son, Ben Huang, both of Greenwood, in the Johnston Gallery through Oct. 11. Zheng is chairman of the Department of English and Foreign Languages.

Oct. 14-20 - A week of Mississippi Valley State University Homecoming Festivities will begin with the Gospel Extravaganza featuring the MVSU Choir on Oct. 14, at 7 p.m., in H.G. Carpenter Auditorium. For a complete schedule, see the Valley web site. Learn more.

Oct. 19 - Jackson State University's premier jazz-infused radio station, WJSU, will host the 3rd Annual "Battle of the Saxes" concert at 7 p.m. at the Rose E. McCoy Auditorium on JSU's main campus. For more information, call (601) 979-2285. Learn more.

Oct. 23 and Nov. 7 - The Mississippi State University Extension Service sponsors Mississippi Women in Agriculture, a three-day intensive business management seminar for farmwomen. For more information, call Suzie Manning at (662) 325-3080 or e-mail womeninag@ext.msstate . Learn more.

Nov. 15 - The Mississippi Agricultural and Forestry Experiment Station's 25th Annual Production Sale will feature registered Angus, Hereford, and Charolais bulls and bred heifers from the MSU research herds. For more information, call Dr. Jane Parish at (662) 325-7466 or jparish@ads.msstate.edu . Learn more.