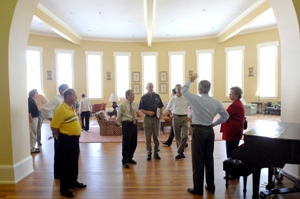 University architect Ian Banner (gesturing at right) shows representatives from the Legislature and the Bureau of Building the new faculty lounge at Bryant Hall (photo by Kevin Bain).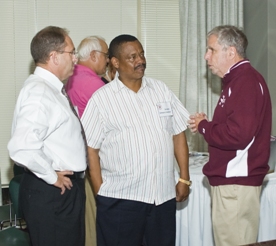 Mississippi State President Robert "Doc" Fogleson (right) and Chief of Staff Mike McGrevey (left) discuss the university's needs with Senator Sampson Jackson.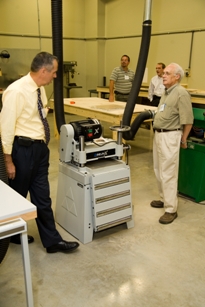 Legislators look at equipment in the new MUW physical plant.
Legislators Tour University Campuses with R&R in Mind
Each summer, the Mississippi Bureau of Building organizes tours of Mississippi's eight public universities for state legislators. The tours allow legislators to see how state money is being used on the campuses to improve infrastructure, and they also provide university administrators an opportunity to demonstrate the university's need for increased appropriations for repair and renovation in the upcoming fiscal year. During the Ole Miss tour, Ian Banner, university architect, and Dr. Andy Mullins, executive assistant to the chancellor, discussed priorities for building and renovation, including the need to expand the university's wastewater treatment plant. Mullins discussed their roofing problem as well, noting that Ole Miss has approximately 200 buildings on campus. "If you get 20 years out of a roof, which is pretty good, then we need to be reroofing 20 buildings a year," he said. "We're not coming close to that, and if we don't find a way to get the job done, we're going to have a big problem down the road." Similar conversations took place on every campus, as similar problems persist from one university campus to the next. Mississippi's university system owns 1,693 buildings, 60 percent of which are more than 25 years old. The current tab for repairing and/or renovating all these aging buildings is over $1 billion. In recent history, the Legislature has passed bond bills to cover the high recurring cost of upkeep, but it simply is not fiscally responsible to pay for sprinkler systems, paint, and hand rails over 20 or 30 years. For this reason, the university system will urge the Legislature to approve a line item for capital renewal in its FY 2009 appropriation.
Department of Archives and History Awards Restoration Grant for Gulf Park Campus
The Mississippi Department of Archives and History recently awarded a $50,000 Community Heritage Preservation Grant to the Mississippi Institutions of Higher Learning (IHL) to assist with the ongoing restoration and future planning needs of the University of Southern Mississippi's Gulf Park Campus. The grant, allocated under the provisions of Senate Bill 3190, will be used to formulate an expanded campus vision and create a campus redevelopment program and implementation study. In addition, the grant will assist with the design of a campus master plan to redevelop the Katrina-damaged historic Southern Miss Gulf Coast Campus, with consideration of potential functions, such as a mixed-use conference center and studio for the film arts. "The Southern Miss historic Gulf Park Campus is integral to both the past and the future of the Mississippi Gulf Coast," said Commissioner of Higher Education Dr. Thomas C. Meredith. "The generous grant from the Department of Archives and History will assist us as we realize the Gulf Coast's true potential within Mississippi's higher education landscape." University of Southern Mississippi President Dr. Martha Dunagin Saunders added, "This grant provides a real boost not only for Southern Miss, but for the entire Gulf Coast as we rebuild and grow together. Our future is bright." Learn more about the IHL Board's commitment to higher education on the Mississippi Gulf Coast.
GEAR UP Mississippi Student Wins National Scholarship
GEAR UP (Gaining Early Awareness and Readiness for Undergraduate Programs) Mississippi student Jordan Gilmore, a rising senior at Jim Hill High School, is one of only six recipients nationwide of the 2007 GEAR UP College Entrance Exam Scholarships. The $2,500 scholarships are awarded annually to students who demonstrate the greatest improvement in their academic preparation for college as evidenced by scores on college entrance exams and other academic achievements. The scholarship program, which is sponsored by Peterson's, a Nelnet company, in collaboration with the National Council for Community and Education Partnership (NCCEP), requires students to undergo a rigorous application and review process. Gilmore has been actively involved with GEAR UP Mississippi since seventh grade, and plans to pursue a college education after graduating from high school next year. "College will prepare me for the dramas and obstacles that I will come across in life, giving me the experience and 'know how' to deal with those issues," Gilmore wrote in his scholarship application essay. "With the help of GEAR UP I have had the opportunity to view colleges around the state of Mississippi and this has assisted me to realize what I look for in a college." In addition to the scholarship, Gilmore was also awarded an expense-paid trip to the NCCEP/GEAR UP national conference in San Francisco, July 22-25, where he received the award. GEAR UP, which operates under the auspices of the IHL Office of Academic and Student Affairs, is a federally funded program designed to increase the number of low-income students who are prepared to enter and succeed in college. For more information, contact GEAR UP Mississippi State Director Di Ann Lewis at (601) 432-7801.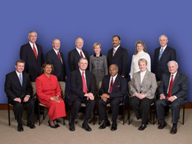 IHL Board of Trustees
IHL August Board Meeting Next Wednesday
The IHL Board will hold its regular monthly meeting next Wednesday, August 15, beginning at 8:30 a.m., in the IHL Board Room in the Universities Center, 3825 Ridgewood Road, Jackson, MS, 39211. As part of the meeting, members of the Mississippi State Board of Education will join the IHL Board to hear a presentation from Dr. Lynn House, Assistant Commissioner of Academic and Student Affairs, regarding the preliminary recommendations of the Blue Ribbon Committee for the Redesign of Teacher Education (BRC), co-chaired by Trustee Bettye Neely. The BRC was convened in November 2006 to increase the quality and quantity of teachers in Mississippi by improving teacher preparation and recruitment programs in the state. After extensive research and evaluation, the BRC has identified a number of recommended changed to Mississippi's teacher education programs. The Board meeting will be available for real-time viewing via live webcast on the IHL website, www.mississippi.edu. In addition to its regular meeting, the Board will hold several committee meetings on Tuesday, August 14, 2007, including the Educational Policies and Procedures Committee; the Gulf Coast Committee; the Strategic Planning Committee; and the Commissioner's Evaluation Committee. The committee meetings will also take place in the IHL Board Room in the Universities Center. For the Board meeting and each committee meeting, an executive session may be held in accordance with the Open Meetings Act.


Items included in the "University News" section of the System Review are submitted each week by the universities. The news items are listed in rotating alphabetical order by university.
UNIVERSITY OF SOUTHERN MISSISSIPPI GULF COAST NEWS


Marine Science Professor Studies Effects of Climate Change in Yukon River
Dr. Alan Shiller, professor of marine science at The University of Southern Mississippi, recently returned from a trip to the Yukon River System where he conducted research about the effects of climate change on the waters in and around the Yukon River. After working with the United States Geological Survey (USGS) for many years, Shiller was asked to participate in this study of the river. Shiller has traveled to meet with colleagues from the USGS to collect samples for the past five summers. The researchers found that the river is affected by the melting glaciers from the recent climate changes. The Yukon River starts in the northern part of British Columbia and works its way through the Yukon and empties into the Bering Sea from Alaska. "Our main goal is to find what the climate change is doing to the river chemistry," Shiller said. Through a grant provided by the National Science Foundation, Shiller and members of the USGS have at least two more years for conducting their research. "Our research has been focused within a couple hundred miles of Fairbanks, Alaska," said Shiller. "This year we were looking at ten separate rivers that drain into the Yukon River. We wanted to study these ten rivers because they are set in different environments. We then use the water samples to relate the river chemistry to find out what's happening on the land." Learn more.

Gulf Coast Research Lab Seeks Anglers' Help with Shark Research

Southern Miss to Offer New MCAT Preparation Workshop for Fall Semester

Summer Field Program at Gulf Coast Research Lab
ALCORN STATE UNIVERSITY NEWS


 ASU Math Center Assists Summer Upward Bound Program
For six weeks this summer, the Alcorn State University Math Center (funded by a Title III grant) assisted the Upward Bound Program participants with math tutoring, which including worksheets, online math tutoring, and different strategies for solving problems. The Upward Bound Program participants were high school students from Adams, Jefferson, Wilkinson, and Claiborne counties. The students were divided into three groups and each group visited the Math Center once a day for one hour.  Every day, they were assigned work from their ACT classroom textbook and were asked to work in the lab. Tutors assisted students with their assignments. The Math Center, under the guidance of Ms. Satya Redla and with the help of Alcorn State University undergraduate student assistants (tutors), worked very hard to improve the math skills of the participants. "We feel that these students definitely are going to do better on their ACT than before," said Ms. Redla. "We thank Dr. Reginald Lindsey, dean of the School of Arts and Sciences for spending time at the Math Center with participants. We appreciate Dr. Lucille Donaldson's decision (Upward Bound Program Director) to keep these students at the Math Center for additional help."
DELTA STATE UNIVERSITY NEWS


 Delta State Honors Long-Time Supporter, Robert E. Smith
Robert E. Smith of Cleveland, a long-time supporter of Delta State University, was recently honored for a $55,000 contribution to the university. Smith generously contributed $30,000 towards the Robert E. Smith School of Nursing Scholarships and $25,000 to the Wesley Foundation. "Mr. Smith has supported the Wesley at Delta State in many ways that have allowed the ministry to reach greater potential and new heights," Eddie Willis, director of the Wesley Foundation, offered. "It has been his wish that college students be given the opportunity to grow closer to Christ while at Delta State." Reed Abraham, director of development for the Delta State Foundation Inc., reported, "In addition to his very generous gift to the Wesley Foundation, Mr. Smith has endowed six scholarships benefiting the University's School of Nursing. Additionally, he has named the university and the Wesley Student Foundation as a beneficiary to a charitable remainder trust." "I commend Robert for making such a generous gift to support two causes that are dear to his heart. He is truly a kind and giving person," Dr. John M. Hilpert, Delta State President, lauded. Learn more.

Delta State's Morehead Recognized by Accountants' Association

DSU Swimming & Diving Set to Host First Reunion

Vondenstein Named Assistant Coach
JACKSON STATE UNIVERSITY NEWS


Chicago Freedom Museum Sculpture Captures Words of JSU Alumnus
Jackson State University National Alumni Association President Dr. Hilliard Lackey recently had his words immortalized as part of an historic sculpture in a Chicago museum that celebrates the U.S. Bill of Rights. The sculpture, dubbed "12151791," is a suspended timeline of text that is housed in the McCormick Tribune Freedom Museum. It incorporates nearly 850 "freedom quotes" from various Americans throughout history, including former slaves, average citizens, and even former presidents. The voices commemorated in the sculpture were gleaned from poems, billboards, legal codes, letters, stray testimony, and various other sources. Lackey's quote was pulled from an August 15, 2001 editorial newspaper column appearing in the Mississippi Link, a weekly newspaper in Jackson, Miss. "It is not politically correct to write about race in 2001. Columnists who do don't get published. Writers must pretend that America's greatest challenge has been met and no longer exists. This is called denial. The social dynamics of an unfavorable occurrence is (1) shock, (2) denial, (3) acceptance, and (4) coping. Until we get to acceptance, we can not really begin to cope. The Naked Truth: The role of the op-ed writer is to speak to the issues so that readers can see them more clearly, accept them, and cope. Those who stifle such expressions are hindering progress, holding back processes of coping with today's problems. Nobody benefits. We all suffer." Learn more.

Higher Education Expert Urges 2007 Summer Graduates at JSU to Create Their Own Future

JSU Urban and Regional Planning Dedicates Research Room

JSU Professors, Students Present Research in South Africa

JSU Students Participating in Summer Research Program
MISSISSIPPI STATE UNIVERSITY NEWS


MSU Camp Provides Fun, Food for Thought about--Food!
Fewer family farms and busier families throughout the United States have produced hordes of children who think milk comes from the grocery store, cayenne pepper from the spice rack and chickens from a fast-food drive-through window. With responsibility for producing food falling into more concentrated corporate groups and fewer parents taking time to break-in their kitchens to their children, younger generations could think meals become synonymous with fast food or take-out. That's why Sylvia Byrd of Mississippi State University has her work cut out for her. An associate professor in the university's department of food science, nutrition, and health promotion, she coordinated the first "Fun with Food Camp" earlier this summer. The program was designed to empower third- through sixth-grade students with kitchen knowledge by teaching them how food goes from the farm to the table, and to pass on practical skills associated with food preparation. Byrd, who grew up on a family farm, said she has worried for some time about the distance people today find themselves from the food they eat. "We just go to the grocery store and think it magically appears," Byrd said during a field trip with 40 students in the camp to the Mayhew Tomato Farm near Starkville. "If children are involved in food preparation, they have a better idea of how it works." Learn more.

MSU Fundraiser to Lead National Advancement Organization

Student Part of Education-spanning MSU Program

MSU Extension Interactive Video Links Services to Mississippians
MISSISSIPPI UNIVERSITY FOR WOMEN NEWS


MUW Health Education Graduate Students Land Internships
Not only are Mississippi University for Women health education graduate students learning essential information in the classroom, but they also are gaining valuable knowledge through interesting internship opportunities. "I am excited about the opportunities in health education that are available for internship experiences," said Dr. Joyce Yates, Emma Ody Pohl Professor of Health Education. "It is good to see our students take advantage of these experiences." Dena Pope of Jackson used her internship to develop a toolkit for Healthy Mississippi - A Worksite Wellness Program for State Employees. Gov. Haley Barbour's Healthy Mississippi initiative began in 2006 in an effort to assist Mississippians in making healthy lifestyle choices where people live, work, and learn. The worksite wellness part of the program will be implemented initially in state agencies in Jackson. The goal of this program is to improve the health status and quality of life of state employees by preventing chronic disease and encouraging healthy lifestyle choices. Pope, who will graduate in December, developed a Health Champion Toolkit for state agencies to use as a guide in implementing a comprehensive wellness program to promote a healthy work environment for employees at state agencies. Learn more.
MISSISSIPPI VALLEY STATE UNIVERSITY NEWS


Mississippi Valley State University Online
www.mvsu.edu
UNIVERSITY OF MISSISSIPPI NEWS


Students Learn International Aspects of Insurance During Study in London
From understanding the history represented by Westminster Abbey to meeting Eli Manning's underwriter, a recent week in London proved to be a lifetime experience for six University of Mississippi School of Business Administration students. Staff member Robert Forster led the students overseas to introduce them to the international aspects of insurance and to compare the U.S. market with the model in England based on Lloyd's of London, the world's leading specialized insurance market. "I wanted to expose the students to something much bigger than they had probably ever imagined insurance could be for the purpose of inspiring them to move towards a career in the insurance industry, which may include traveling to Lloyd's to place sophisticated risks," said Forster, assistant to the dean for development. The experience gave the students an understanding of the big picture of insurance, including meeting an underwriter of the arm of former Ole Miss football standout Manning, he said. "It's a small world and the U.S. is an important financial part of the Lloyd's market. The more personal contacts that the London brokers can have with individuals in America, the greater the possibility is that business through these personal contacts will grow," Forster said. "Several of the students now have a dream of going back to London after graduation and working in that market." Learn more.

Small Business Economic Impact Study Provides Key Points

Five Students to Receive Phi Kappa Phi Scholarships

Adjunct Instructor in English Awarded Mississippi Arts Commission Grant
UNIVERSITY OF MISSISSIPPI MEDICAL CENTER NEWS


University of Mississippi Medical Center Online
www.umc.edu
UNIVERSITY OF SOUTHERN MISSISSIPPI NEWS


Ruffin Selected for Prestigious Newbery Committee
A University of Southern Mississippi librarian will have a hand in choosing the recipient of what is considered one of the most prestigious awards in children's literature. Ellen Hunter Ruffin, curator for the de Grummond Children's Literature Collection at The University of Southern Mississippi, has been elected to the John Newbery Medal Committee for the year 2009. She was selected in a nationwide election for the post among members of her profession and will serve on the committee for one year beginning in January. The Newbery Medal was named for eighteenth-century British bookseller John Newbery. It is awarded annually by the Association for Library Service to Children, a division of the American Library Association, to the author of the most distinguished contribution to American literature for children. "I'm very humbled to be chosen to serve on this committee," Ruffin said. "As someone who works in children's literature, to be involved in the selection of the Newbery Medal winner is a real honor. Learn more.

Freshman Move-In Day Continues Decade-Long Southern Miss Tradition

Institute for Disability Studies Receives $2.5 Million for Continued Funding

President Plans Addition to Southern Miss Leadership Team


Aug. 10-Oct. 31 - A new exhibit, "Everything Old Is New Again" will be open in the Capps Archives & Museum on Delta State's campus. The exhibit features some of the recent donations made to the museum. For more information, call (662) 846-4780.

Aug. 11 - Mississippi State University welcomes new students moving into residence halls on opening day. Volunteers including university staff, faculty, and administrators will help students settle into campus life. For check-in times and other information, visit the MVNU2MSU Day website. Learn more.

Aug. 11 - A ballroom dance party, featuring open social dancing to a variety of music, slow and fast, including a mini lesson in tango by a professional instructor, is set for 7-10 p.m. in the University of Mississippi Johnson Commons Ballroom. Admission is $5 and $9 for students, $8 and $12 for all others. Learn more.

Aug. 15 - Mississippi State University presents new graduate student orientation starting at 11:45 a.m. at McCool Hall Auditorium. For more information, contact Julie Goodin at (662) 325-1622. Learn more.

Aug. 18-25 - Welcome Week 2007 at the University of Mississippi is a series of activities - from information booths to games to music - for welcoming new and returning students to the Oxford campus. All-week events include poster and T-shirt sales, a rock climbing wall, trivia, and a movie series. Learn more.

 Now through Sept. 9 - An exhibition featuring artwork by Maud Falkner, William Faulkner, and John Faulkner is open in the Fortune Gallery at the University of Mississippi Museum. The exhibit features 54 works from several sources, including family members and other Oxonians. Learn more.

Oct. 6 - Jackson State will sponsor High School Community College Day for prospective students at the Lee E. Williams Athletics and Assembly Center. For more information, call (800) 848-6817 or (601) 979-2913. Learn more.