Board Approves Short-list of Developers for ASU Housing Project
During Thursday's teleconference meeting, the IHL Board of Trustees approved Alcorn State University's preferred short list of developers and evaluation criteria for its privately financed student housing project. The approved short list of developers includes Ambling University Development Group from Valdosta, GA; Campus Apartments from Philadelphia, PA; and Mississippi Housing Solutions from Jackson, MS. The University will interview the three developers within the next two weeks for the purpose of evaluating and selecting the final developer. For more information, contact Assistant Commissioner of Real Estate and Facilities Harry Sims.
(L to R): Mr. Johnny Franklin; Dr. Tristan Denley, senior fellow, the Residential College, University of Mississippi; Ms. Pearl Pennington; Dr. Lynn J. House; Dr. Susan Lee; Ms. Jean Massey; and Dr. Jason Dean attended the State Teams P-16 Summer Institute on behalf of Mississippi.

IHL Participates in NASH P-16 Summer Institute
IHL led a team from Mississippi to the 11th Annual State Teams P-16 Summer Institute in Stevenson, WA, July 20-22, sponsored by NASH (National Association of System Heads) and The Education Trust. The conference focused on two key issues affecting student access to and success in higher education: the shared responsibility of K-12 and higher education for increasing college going rates and the importance of improving student success in both secondary and postsecondary mathematics courses. Institute participants included representatives from the 21 states participating in the NASH "Access to Success" initiative, which aims to close by at least half the gaps in both college-going and college completion that separate low-income and minority students from others. Mississippi's team included Dr. Jason Dean, vice president of economic policy for the Mississippi Economic Council; Mr. Johnny Franklin, education policy advisor in the Office of Governor Haley Barbour; Dr. Lynn J. House, IHL assistant commissioner for academic and student affairs; Dr. Susan Lee, IHL director for P-16 initiatives; Ms. Jean Massey, director of the Mississippi Department of Education Office of Accreditation; and Ms. Pearl Pennington, IHL director of student affairs. Contact Dr. House for more information. Some conference presentations are available online.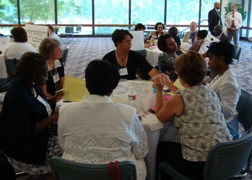 University administrators and faculty discuss strategic plans for developmental education in Mississippi.

System Looks Strategically at Remediation
On Monday, August 4, approximately 60 senior level administrators and faculty from the state's eight public universities gathered in Jackson at the e-Center @ JSU for a strategic planning session regarding developmental education. The purpose of the meeting was to identify the barriers Mississippi's universities face as they seek to deliver high-quality developmental education. Since approximately 25-30 percent of all students entering higher education enrolls in one or more developmental, or remedial, courses, the quality of development education programs is important for improving retention and graduation rates. "We want every student who comes to us to be successful," said IHL Assistant Commissioner for Academic and Student Affairs Dr. Lynn J. House. "To ensure their success, we must offer developmental education programs that improve student learning and prepare students for success in college-level courses." Participates created objectives and action steps for creating the ideal developmental education program for the System. Moving forward, IHL will convene a Developmental Education Task Force to address the restructuring of the universities' developmental programs. The session was hosted by the IHL Office of Academic and Student Affairs and facilitated by Mr. Doug McQueen, a leadership consultant for the University of Mississippi School of Education. Contact Dr. House for more information.
July Mississippi's Business Released
The July issue of Mississippi's Business has been released by the Economics Department of the IHL Office of Policy Research and Planning. The issue, which can be accessed online as a PDF, provides an overview of the state's economic situation as indicated by the leading and coincident indexes. The issue also includes an article on the declining value of the U.S. dollar. For more information about Mississippi's Business, contact Senior Economist Darrin Webb at (601) 432-6556.
Monthly IHL Board Meeting Aug. 20-21
Various committee meetings and the regularly monthly meeting of the IHL Board of Trustees is scheduled for Wednesday, August 20 and Thursday, August 21 in the IHL Board Room in the Universities Center, 3825 Ridgewood Road, Jackson, MS 39211. Please check the IHL website next week for a schedule of committee meetings and agenda items to be addressed. A live webcast of the meeting will be available for viewing online.

Items included in the "University News" section of the System Review are submitted each week by the universities. The news items are listed in rotating alphabetical order by university.
UNIVERSITY OF MISSISSIPPI NEWS


More Than 2,000 Teachers Learn about Cyberspace, Relationships at Session
The Internet is a useful tool, much like a knife. Yet, both can be deadly. That was the message to an estimated 2,300 teachers from across north Mississippi this week at the University of Mississippi. The half-day, back-to-school convocation was packed with sobering messages about cybercrime, cyberbullying, and inappropriate relationships between educators and students through the use of technology. "I learned a lot today," said Trenisha Weekley, a sixth-grade reading teacher at Water Valley's Davidson Elementary. "I learned that I have to be careful with students. I have to stay professional while teaching." Speaker Chris Michaelson, an FBI special agent, posed the issue with this scenario: "Who would give a child a pornographic magazine sealed in a brown envelope, send them off to school with it, and tell them not to open it?" he asked. "The same stuff is just a simple click away on the Internet." Cannon Allen of the Jackson law firm Adams and Reese told teachers that cyberbullying is a danger inside and outside the schoolhouse. Since 1998, nine students, ranging in age from 13 to 18, have committed suicide as a result of cyberbullying, he said. Much of the bullying comes in the form of text messaging. "More than a third of school kids report being victims of cyberbullying," Allen said. "Through this technology, children are vulnerable 24 hours a day, seven days a week." The convocation was sponsored by the North Mississippi Education Consortium. Learn more.

Respected Journalist Jim Lehrer to Moderate Sept. 26 Presidential Debate at UM

MBA Student Makes List of Top 50 Hispanic Business Scholars in U.S.

Leigh Ann Ross Named Associate Dean and Chair of Pharmacy Practice

Social Work Professor Takes On Challenge of Working in Alaska
UNIVERSITY OF MISSISSIPPI MEDICAL CENTER NEWS


BAHA, Prosthetic Ear Restores Child's Hearing, Builds Self-esteem
Something as simple as pulling her hair behind her ears means a lot to 9-year-old Corlee Gentry of Hattiesburg. Even wearing large, dangling earrings just like any other girl is special. That's because Corlee, who was born without a right ear, now has a prosthetic replacement designed specifically for her, thanks to Dr. Jeff Carron, associate professor of otolaryngology and communicative sciences at the University of Mississippi Medical Center. Corlee's mother, Dawn Gentry, said her daughter was always outgoing and full of life, but she was getting to the age that she didn't want to stand out among her peers. After checking with doctors in her area who couldn't recommend a solution to Corlee's condition, she turned to Carron. Carron fitted Corlee with a Bone Anchored Hearing Aid (BAHA) and worked with Dr. Harold Kolodney, clinical faculty member in the Oral Oncology Clinic in the Cancer Institute, to make sure the prosthetic ear fit well and was as realistic as possible. The Gentrys have been pleased with the results. "People who know her and know she's had this done have to second-guess themselves about which ear it is," Gentry said. "It really and truly has boosted her self-esteem." Learn more.

Retired Medical Center Radiologist Pens Family Saga, Personal Memoir

U.S. News Recognizes UMHC for CAD Care
UNIVERSITY OF SOUTHERN MISSISSIPPI NEWS


Southern Miss Teams with PRCC to Offer Courses in Poplarville
The University of Southern Mississippi is launching a pilot program with Pearl River Community College that will bring university classes to the Poplarville campus this fall. The target audiences for the program are current PRCC and Southern Miss students in Poplarville and surrounding areas who wish to take university courses closer to home. "This joint venture is a great opportunity to further solidify the longstanding relationship between our two institutions," said Dr. Cynthia Easterling, associate provost and professor. "We believe it can be a huge advantage for students who want to continue work toward a bachelor's degree to be able to take Southern Miss courses while they're still doing course work at PRCC." The classes will be taught by Southern Miss professors onsite. Southern Miss officials hope to expand the number of course offerings for the 2009 spring semester. In addition, the two institutions have signed a Student Financial Aid Consortium Agreement that will make the process of qualifying for student aid seamless between the two institutions. Students who are concurrently enrolled in PRCC and Southern Miss who qualify may receive financial aid through PRCC for the classes with appropriate documentation. "The population of Pearl River County has grown, and I believe there are students more likely to continue their education if they could get started on it closer to home," said Dr. John Grant, vice president for instruction at PRCC. Learn more.

Researchers at Southern Miss Develop Guide to Meet Nutritional Needs of Pre-Kindergarten Students

Southern Miss Faculty Receive Course Redesign Initiative Grants

Lee Named Sustainability Officer at Southern Miss

Dr. Richard Conville Selected for Editorial Board of Journal of Community Engagement and Scholarship
UNIVERSITY OF SOUTHERN MISSISSIPPI GULF COAST NEWS


Hydrography Students Graduate from Department of Marine Science
The University of Southern Mississippi Department of Marine Science recognized the 2008 master's degree in hydrographic science graduates on July 30 at a ceremony at John C. Stennis Space Center. The Department of Marine Science works in cooperation with the U.S. Navy to provide the hydrographic science master's degree program to students. Through the partnership, the program meets the category A certification requirements by the Federation Internationale des Geometres/International Hydrographic Organization (FIG/IHO) International Advisory Board. Southern Miss is the only educational institution in the United States to offer a master's degree in hydrographic science that is certified at the category A level by the FIG/IHO. "This was an exceptional class," said Dr. Steve Lohrenz, chair of the Department of Marine Science. "I learned a lot from them and I hope they also learned from me. It is a strong class." The 2008 graduates are Dean Battilana of Carnes, Australia; Jessica Burt of Slidell, La.; Travis Clem of Mandeville, La.; Michael Gonsalves of Bay St. Louis; Bryan Mensi of Picayune; Megan Palmer of Baltimore, Md.; Kimberly Collins Pevey of Biloxi; Mike Redmayne of Slidell, La.; Max Salazar of Slidell, La.; and Carlos Zapata of Tuayaquil, Ecuador. Learn more.

Southern Miss Gulf Coast Wins Awards at Public Relations Conference
ALCORN STATE UNIVERSITY NEWS


Alcorn State Awarded Grant by Nuclear Regulatory Commission
Alcorn State University was among 60 Minority Serving Institutions and Historically Black Colleges and Universities that were awarded grants by the Nuclear Regulatory Commission (NRC). The NRC and Congress provided grants to boost nuclear education and expand the workforce for nuclear energy. Alcorn State received $128,000 for nuclear education and curriculum development (second year funding.) Learn more.

Alcornite Serves as Young Baseball Coach in Memphis
DELTA STATE UNIVERSITY NEWS


DSU Hosts First Certified Nurse Educator Workshop
Delta State University's School of Nursing served as host to the first Certified Nurse Educator workshop in Mississippi on Aug. 5 inside the Baioni Conference Center in Broom Hall on the campus. Patricia Mahoney, MSN, RN, CNE was guest speaker at the workshop. Mahoney has been a nurse educator for over 35 years. She retired several years ago as the Assistant Dean of a joint associate degree nursing program in New Jersey. For the past two and a half years she has been a consultant for Galen College of Nursing and was their interim vice president of academic affairs and currently is their curriculum and instructional specialist. She has developed and conducted local, regional, and national workshops to facilitate the role of nurse educator. The National League of Nursing (NLN) developed the Academic Nurse Educator Certification Program to recognize excellence in the advanced specialty role of the nurse educator. Certification in any field is a mark of professionalism. For academic nurse educators, it establishes nursing education as a specialty area of practice and creates a means for faculty to demonstrate their expertise in this role. It communicates to students, peers, and the academic and health care communities that the highest standards of excellence are being met. By becoming credentialed as a certified nurse educator, you serve as a leader and a role model. Certification is the mark of distinction for nursing faculty. The School of Nursing Faculty Development committee at Delta State coordinated the workshop. Vicki Bingham, chair, School of Nursing stated, "The CNE workshop was a success with representatives from 17 of the 21 Schools of Nursing in Mississippi in attendance at the workshop. Future plans are being discussed to offer this workshop again next year at Delta State for other nurse educators throughout Mississippi and surrounding states."

JACKSON STATE UNIVERSITY NEWS


New Jackson State Graduate Teaches Lessons With New Book
As a child, Matthew Lynch remembers searching his yard for a money tree. He never found it, but the release of his new book, Matthew and the Money Tree , allows children to discover a valuable lesson. The published author, who now holds a doctorate degree in elementary education, was among more than 300 graduates to receive degrees from Jackson State University on Saturday, Aug. 2. The summer commencement exercises were held at 9 a.m. in the JSU Athletics and Assembly Center. Lynch embarked on his money tree search after hearing his dad tell a story about it. The tale had been passed down through generations of his family and is now in a form to be shared with children all around the world. In the book, Lynch says, young readers learn, "You don't need money to be happy." Education has been one key to Lynch's happiness. Before earning his doctorate, the Hazlehurst native taught elementary and college students and published two books. That is a lot for someone who is only 29 years old, but Lynch offers advice for those who may aspire to similar goals. "Whatever your field of interest is, find a mentor and don't be afraid to push the envelope," said Lynch, who holds a bachelor's degree from the University of Southern Mississippi in psychology and a master's from Jackson State in teaching. "Make goals and aspirations and work toward them. Definitely put yourself in a position to grow." Learn more.

JSU Summer 2008 Commencement Slideshow

Jackson State Welcomes New Executive Ph.D. Cohort

Jackson State Club Donates Books to Children's Hospital
MISSISSIPPI STATE UNIVERSITY NEWS


MSU Computer Science Student Uncovers Major Software Flaw
A Mississippi State graduate student working with the university's Critical Infrastructure Protection Center could be nicknamed "Johnny-on-the spot." Robert W. "Wes" McGrew of Collinsville recently discovered what is being called "a significant software vulnerability" that could allow hackers the ability to gain entry to computer control systems of numerous industries and potentially threaten national security. Center director Ray Vaughn said the computer science doctoral student found serious flaws in software commonly used in worldwide nuclear power and oil and gas industries. "We know that this software exists in very critical infrastructures in the U.S.," said Vaughn. "Through his research, Wes demonstrated how it was possible to obtain unauthorized access to the control system in just a few seconds. He then discovered how to break every encoded password in the system and how to bypass password security altogether," Vaughn added. The National Security Agency was notified immediately of McGrew's discovery. Shortly thereafter, the Department of Homeland Security broadcast an alert that included information on how to rectify the problem. "Wes is one of the most technical students we have and a real asset to the department of computer science and engineering," Vaughn observed. "He now also has proven himself to be an asset to the federal government." Learn more.

Reese of MSU Honored for Women-in-Engineering Efforts

MSU Police Again Earn Elite National Accreditation

Landscape Architecture Programs Once More in Top 15

Season Tickets for MSU's Riley Center Now on Sale
MISSISSIPPI STATE UNIVERSITY DIVISION OF AGRICULTURAL, FORESTRY AND VETERINARY MEDICINE NEWS


MSU Serves through the Mississippi Veterinary Research and Diagnostic Lab
Michael and Shuping Zhang work at the same facility, but you won't find this husband and wife team making dinner plans or coordinating transportation for their kids. "If people ask about my husband, I tell them my husband is at home. We are just colleagues at work," Shuping said. "We work in the same facility, but we each have our own sections." The Zhangs are associate professors in the Mississippi Veterinary Research and Diagnostic Laboratory operated by Mississippi State University's (MSU) College of Veterinary Medicine in Pearl. He is a veterinary virologist overseeing the virology and molecular diagnostics sections, and she is a microbiologist in charge of the daily operations of the microbiology and serology sections. The lab opened a new $18.5 million, 40,000-square-foot facility in 2006, joining the Poultry Research and Diagnostic Laboratory that had operated on the site since 2003. The two labs provide routine diagnostic work for all the veterinary clinics in the state and the poultry and livestock industries. They also are involved in monitoring for several significant diseases to prevent serious outbreaks. Both the Zhangs are from China where they earned doctor of veterinary medicine degrees before receiving doctorates at Kansas State University. Both came to MSU in 2002. Learn more.

Agriculture and Life Sciences Service Honored at MSU

MSU Specialists Warn About Farm Fuel Theft Increase

MSU, LSU Support Vicksburg Summit to Equip Rural Tourism Pros

MSU Analyzes Crop Shift Consequences
MISSISSIPPI UNIVERSITY FOR WOMEN NEWS


Rick Bragg to Lead MUW's Common Reading Initiative
An appearance by Pulitzer Prize-winning writer Rick Bragg will highlight Welcome Week activities at Mississippi University for Women (MUW), which kicks off Saturday, Aug. 9. Bragg, who is professor of writing in the Department of Journalism at the University of Alabama, will be on campus Monday, Aug. 11 as part of MUW's Common Reading Initiative (CRI). "The project is designed to bring together the whole campus--faculty, students, and staff--around a common book. The project shows that we, as a university community, care about reading and learning," said Dr. Eric Daffron, interim associate vice president for academic affairs and professor of English. Bragg's book, All Over but the Shoutin' will be the focus of this year's CRI, which is in its second year. According to a synopsis from www.randomhouse.com, "All Over but the Shoutin' is the moving account of one man's determination to rewrite his family history and to carve out a life for himself based on the strength of his mother's encouragement and belief. Written with refreshing honesty and marvelous humor, it paints an unforgettable picture of the love and suffering that lie at the heart of every family." The book is required reading of all freshmen and will follow with round tables led by Bragg, faculty, students, and staff. Bragg will speak at 3 p.m. in Nissan Auditorium of Parkinson Hall and sign books at 5:30 p.m. in Hogarth Dining Center. The talk in Nissan is free and open to the public. Learn more.

MUW to Offer New Ethics Certificate Program

MUW's Nursing Program Awarded Grant
MISSISSIPPI VALLEY STATE UNIVERSITY NEWS


Mississippi Valley State University Online
www.mvsu.edu


Aug. 9 - MSU faculty, staff, and administrators assist freshmen with move-in on Saturday, beginning at 8 a.m. and ending at approximately 4:30 p.m. Classes begin Aug. 18. Learn more.

Aug. 9-22 - MSU celebrates the beginning of fall semester with Dawg Daze, activities and events to welcome freshmen, transfer and returning students to campus. Learn more.

Aug. 11 - Mississippi State students returning to campus next week will put some sweat equity back into the community. The first-ever Service DAWGS project will take about 150 students to locations ranging from a Habitat for Humanity construction site to a field where they will glean for a food pantry. Learn more.

Aug. 14 - Agriculture professionals can review the latest crop research at MSU's North Mississippi Research and Extension Center Agronomic Row Crop Field Day in Verona. Contact Normie Buehring at (662) 566-2201 or nwb2@msstate.edu. Learn more.

Aug. 14-15 - Jackson State University will hold its faculty and staff assembly at the Rose Embly McCoy Auditorium. Learn more.

Aug. 18 - The University of Mississippi Libraries opens a yearlong exhibit of memorabilia related to presidential politics, in anticipation of the Sept. 26 presidential debate on the Oxford campus. "Hail to the Chief!" highlights U.S. presidents and Mississippi's role in past presidential elections. Learn more.

Aug. 21 - Southern Miss will hold a homecoming celebration for Miss Mississippi at the Thad Cochran Center, 5:30-7 p.m. Learn more.

Aug. 23 - Southern Miss Gulf Coast will host the Southern Miss Jazz and Blues Festival from 2-8 p.m. on the front lawn of the university's Gulf Park campus in Long Beach. The festival will feature live music, local artists, and food vendors. This event is free and open to the public. Learn more.

Aug. 26-27 - The Mississippi Pasture and Forage Short Course, at Mississippi State University's Bost Conference Center, offers training to meet the basic level requirements for Grazing Certification. Contact Rocky Lemus with the MSU Extension Service at (662) 325-7718 or rlemus@ext.msstate.edu. Learn more.

Aug. 28 - "Food as a Business" is a day-long video conference sponsored by Mississippi State University's Extension Service and Small Business Development Center. Satellite site locations include the MSU campus, Cleveland, Hattiesburg, Raymond, and Verona. Contact Anna Hood at (662) 325-3200. Learn more.

Through Aug. 29 - Vicksburg photographer Melody Golding documents the aftermath of Hurricane Katrina in her traveling exhibit "Katrina: Mississippi Women Remember," on display at the UM Gammill Gallery in Barnard Observatory. Admission is free. Gallery hours are 8 a.m.-5 p.m. Mondays-Fridays. Learn more.

Through Sept. 20 - "Site/Possession," an exhibit of 65 drawings, paintings, and photographs by acclaimed artist William Christenberry is on display at the University of Mississippi Museum. Admission is free. Hours are 9:30 a.m.-4:40 p.m. Tuesdays through Saturdays and 1-4:30 p.m. Sundays. Learn more.

Oct. 6 - Dec. 5 - Southern Miss is set to host "Breaking the Veils" international art exhibit. Learn more.