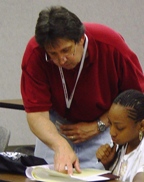 MSU economics professor Dr. Paul Grimes helps a GEAR UP student complete the FAFSA.
GEAR UP Mississippi Students Attend Summer Camps
GEAR UP (Gaining Early Awareness and Readiness for Undergraduate Programs) Mississippi students have been busy this summer attending camps hosted by Mississippi's universities and community colleges. Rising seniors from high schools across the state enjoyed fun educational experiences while learning about college life at camps at Alcorn State University (ASU), Delta State University (DSU), Meridian Community College (MCC), Mississippi State University (MSU), the University of Mississippi (UM), and the University of Southern Mississippi (USM). Though each camp had a different theme, ranging from "CSI: Agriculture" (ASU) to "Extreme Design: College Edition" (MSU), the primary purpose of all the camps was to expose the students to the interesting courses of study available to them in college and to whet their appetite for college life. Other camps included the "BOSS (Building Opportunities for Success School) Camp" (MSU), "College Discovery" (UM), "Exploring Careers in Healthcare" (UM), "The Amazing Race: Three Paths Up the Mississippi" (ASU), "Mississippi Delta Arts and Heritage Summer Experience" (DSU), "Survivor: College 101" (USM), "Broadway Bound: Musical Theater Workshop" (MCC), and "Future Nurses Workshop" (MCC). Dr. Paul Grimes, head of the MSU Economics and Finance Departments and professor of economics, said of the students who attended his camp, "Not only are they getting practice in completing paperwork for scholarships and student loans, they are receiving instruction and advice on how to craft and construct an effective admissions essay." GEAR UP and the camps are supported with federal funding and aim to increase the number of low-income students who are prepared to enter and succeed in college. GEAR UP Mississippi is a unit of the Mississippi Institutions of Higher Learning Office of Academic and Student Affairs. For more information, contact GEAR UP Mississippi Director Di Ann Lewis at (601) 432-7801.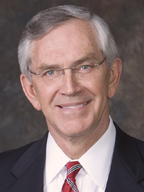 Dr. Thomas C. Meredith
Commissioner Meredith Addresses Summer P-16 Institute
Commissioner of Higher Education Dr. Thomas Meredith addressed state academic leaders at the Tenth Annual P-16 Summer Institute in Minneapolis, Minnesota on Monday. The Commissioner and Dr. Sally Clausen, president of the University of Louisiana System, presented information on the NASH (National Association of System Heads) Initiative for Access and Success. The bold five-year initiative charges participating university systems to commit to halving the gaps in college entry and graduation rates between low-income and/or minority students and those with higher income and non-minorities. A total of 24 systems nationwide have accepted the challenge. To reach these goals, Commissioner Meredith argued, universities should offer remediation; provide more support for first-generation students; better monitor class attendance during the freshman and sophomore years; find ways to improve the financial aid process by simplifying forms and offering more need-based aid when possible; consider implementing new methods of education, such as those proposed by Carol Twigg and the National Center for Academic Transformation; and better define college readiness for core courses. "This is about students," he said. "What if our driving motivation behind every decision was that every student who comes to us will be successful? We wouldn't accept 50-60 percent graduation rates after six years. It wouldn't be okay for so many students to have less than a 2.0 after their first semester. We wouldn't passively watch students with talent and potential fail our classes." Commissioner Meredith asked the audience to commit to the goals of the NASH initiative and to do so with urgency.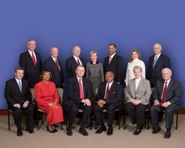 IHL Board of Trustees
IHL Board Committee Meetings Scheduled
The IHL Board has scheduled several committee meetings on Tuesday, August 14, 2007, the day before the regularly scheduled August Board Meeting. All committee meetings will take place in the IHL Board Room in the Universities Center, 3825 Ridgewood Road, Jackson, MS, 39211. For each committee meeting, an executive session may be held in accordance with the Open Meetings Act. The IHL Educational Policies and Procedures Committee, chaired by Trustee Bettye Neely, will meet beginning at 11:30 a.m. for the purpose of discussing items on the August 15 Educational Policies and Programs Board meeting agenda and other items. The IHL Gulf Coast Committee, chaired by Trustee Amy Whitten, will meet beginning at 1:00 p.m. for the purpose of receiving an update on recent activities on the Gulf Coast. The IHL Strategic Planning Committee, chaired by Trustee Thomas Colbert, will meet beginning at 2:30 p.m. for the purpose of reviewing background data and exploring options for developing a new strategic plan. Finally, the IHL Commissioner's Evaluation Committee, also chaired by Trustee Thomas Colbert, will meet beginning at 3:45 p.m. for the purpose of conducting a performance evaluation of Commissioner of Higher Education Dr. Thomas C. Meredith.
System Review Now Distributed to 20,000 Inboxes Each Week
The first edition of the System Review was distributed on October 20, 2006 to just over 500 email addresses. The newsletter was designed to facilitate communication both between the IHL Board office and constituencies at Mississippi's eight public universities and among the universities. Although the state's eight public universities are individual institutions with unique missions, they function as one unified system with a common goal to change Mississippi's future through education. That common goal can be more easily met through increased communication, shared best practices, and synergy. In just over nine months, the reach of the System Review has grown forty-fold. It is now delivered every Friday afternoon to more than 20,000 email inboxes belonging to university faculty and staff, state legislators, state agency leaders, businessmen and women, parents, students, and other stakeholders in higher education. If you know someone who would enjoy receiving the System Review or would benefit from it, please share the newsletter; new readers are welcome and may subscribe quickly online.



Items included in the "University News" section of the System Review are submitted each week by the universities. The news items are listed in rotating alphabetical order by university.
UNIVERSITY OF SOUTHERN MISSISSIPPI NEWS


Center for Black Studies Established at Southern Miss
An academic center dedicated to the multidisciplinary study of the contribution of blacks to the cultural, political, and economic life of Mississippi and the United States has been established at The University of Southern Mississippi. The Southern Miss Center for Black Studies will promote and support research related to these aspects of the black experience, while also meeting objectives that include increasing the visibility of black studies; recruiting and retaining faculty and students for the program; fostering links between the university and community; and generating revenue for development of the center. Organizers of the new center, the first of its kind in the state, also hope to establish a major and a minor in the field, with the center providing the structure and support for the degree program. Center programming will also include conferences, lectures, film series, and community projects, among many other initiatives. Dr. Curtis Austin, associate professor of history and director of the university's Center for Oral History and Cultural Heritage, will serve as director of the Center for Black Studies. Austin said its formation grew out of discussions among faculty about the need for a black studies program, and of the introduction of an emphasis area in black studies for the department's master's degree program. Learn more.

New Nonprofit Studies Minor Offered at The University of Southern Mississippi

RAND Institute Awards Graduate Scholarships to Southern Miss Students

Southern Miss British Studies Program a Window to European Business World

Southern Miss Foundation Announces Executive Committee and New Board Members
UNIVERSITY OF SOUTHERN MISSISSIPPI GULF COAST NEWS


Live Oak Writing Project at Southern Miss Gulf Coast and Penn State Partner
The Live Oak Writing Project, a writing-intensive program for teachers at The University of Southern Mississippi Gulf Coast, partnered with the Lehigh Valley Writing Project from Penn State University, and presented a four-day workshop about literacy strategies to assist students who were not raised with English as their primary language. The workshop, held July 16 - 18 on the Gulf Park Campus, was the beginning of a partnership with the Lehigh Valley Writing Project to create staff development programs to address the needs of teachers who work with limited-English proficiency students. These programs will be offered to local districts by the Live Oak Writing Project. The Live Oak Writing Project, which is part of the National Writing Project, addresses local issues and the particular needs of schools, teachers, and students in their communities. Teachers in all subject areas and at all grade levels learn new strategies for helping their students become accomplished writers and learners. Learn more.
ALCORN STATE UNIVERSITY NEWS


ASU School of AREAS and Global Programs Establish Relations with Russia
On May 20-28, Drs. Dalton McAfee, dean of the School of Agriculture, Research, Extension, and Applied Sciences (AREAS); Kenneth Stallings, chair of the School of Agriculture; Wesley Whittaker, professor and program leader in the School of AREAS; and Elena Dobrynina, staff writer and international student recruiter in the Office of University Relations, visited Voronezh State Agricultural University (VSAU) of Voronezh, Russia. The primary purpose of the visit was to establish relations and sign a preliminary agreement of cooperation between the two institutions. The mutually beneficial cooperation will include student exchange, exchange of faculty and administrators, as well as joint research projects. The idea of cooperation was born during discussion between Dr. McAfee and Russian professor Nikolai Dobrynin of VSAU, who was visiting Alcorn State within the consortium of scholars program last fall. The reciprocal visit of VSAU delegation is scheduled for September 2007. VSAU president, vice president of international affairs, and faculty will meet with ASU students, faculty, and administrators with the visit culminating with ASU and VSAU presidents signing a modified and improved agreement of cooperation. Learn more.
DELTA STATE UNIVERSITY NEWS


Marker Honoring Capps Unveiled on Delta State's Campus
A gray granite marker now adorns the Delta State University quadrangle in honor of long-time Mississippi legislator, Charlie Capps, Jr. The marker sits in front of an oak tree originally planted in July 2003 by the Mississippi Council of Veterans' Organizations. "Today concludes what we started in 2003," Hugh Long, Chairman of the Mississippi Council of Veterans' Organizations explained. "And today offers us another opportunity to recognize and honor the many contributions of Mr. Charlie Capps. We hope that in 150, 200 years, students and passer-bys will see this marker and wonder who Charlie Capps was and what he did. Perhaps, they'll go to the library and look him up. "What they'll find is Mr. Capps served his country honorably, both in military service and public service. They'll find he is a friend to this state, a true 'Statesman' personified and a fellow veteran. We are proud to recognize him today," Long concluded. In response Capps humbly offered, "I thank you for today. I am honored to see all of you here. I was a soldier and an officer in World War II, and I am proud of my service. I am proud to be a veteran. The Mississippi Council of Veterans' Organizations is important to me. It has represented a big part of my life, and I am so thankful for this honor." Learn more.

Yoga, Ballroom Dancing to Highlight Con-Ed Offerings at Delta State

Students Gear Up for College at Delta State

Statesmen Picked to Finish No. 3 in the League

A Q&A with Delta State's Top Statesman, AD Jeremy McClain
JACKSON STATE UNIVERSITY NEWS


Jackson State University Online
http://www.jsums.edu
MISSISSIPPI STATE UNIVERSITY NEWS


MSU Distinguished Scholarships Going to Nine High School Grads
Five Mississippi students, three from Louisiana and one from Illinois are receiving Mississippi State University's (MSU) top scholarships for the 2007-08 school year. MSU's latest Distinguished Scholar class includes Matilda I. Asuzu of Baton Rouge, La., Caleb Y. Brasher of West Monroe, La., John R. Carroll of Meridian, Halston R. Hales of Clinton, and Brooke N. Harris of Florence. Elizabeth T. Haskins of Madison, Tyler R. Raborn of Brandon, Joshua M. "Josh" Stroud of Thibodaux, La., and Brenda R. Willemsen of Streamwood, Ill., round out this year's group. Each is receiving nearly $50,000 for the freshman-senior years of study. "These scholarships are high honors and we congratulate the young men and women for their outstanding achievements in high school," said MSU President Robert H. "Doc" Foglesong in making the announcement. "I am confident that the university's academic program and variety of opportunities for leadership and service will provide each one with superb undergraduate experiences," he said. "Mississippi State looks forward to welcoming them next month to the Bulldog family." MSU fall semester classes begin August 20. Learn more.

MSU Students Now Have Money Management Flexibility

Engineering Majors Gain International Recognition
MISSISSIPPI UNIVERSITY FOR WOMEN NEWS


MUW Creative Writing Majors to Benefit from Scholarship
As a journalist and world traveler, Neill James was able to touch the lives of those she meet. Her legacy will continue through a scholarship established for creative writing majors at Mississippi University for Women (MUW). The Neill James Memorial Scholarship Fund was funded with proceeds from a charitable remainder trust, which was established by James' younger sister Jane Loomis. Loomis never attended MUW, but James graduated from the Industrial Institute & College in 1918. Both were born in Grenada. June Snowden, executor of the trust and niece of the two sisters, attended a luncheon with other family members on campus celebrating the occasion. Snowden and her husband, Thomas, currently live in Meridian. "You all know what Aunt Jane meant to me," she said. "When she began to make arrangements for her estate, she wanted to do for students as well as animals." Snowden said James and Loomis were independent and philanthropists. "They were honest and hard working, and what they accumulated, they shared with others." In reading through James' papers, it was evident that travel was in her blood. She met many celebrities of the day including Amelia Earhart, which sparked an interest in flying. Her travels around the world ended with retirement in Mexico after she was injured in a volcano accident. Learn more.
MISSISSIPPI VALLEY STATE UNIVERSITY NEWS


Washington County Alumni To Honor MVSU's Dr. Hudson on Aug. 5
The Washington County Alumni Chapter of Mississippi Valley State University (MVSU) will hold a reception honoring MVSU Interim President Roy C. Hudson on Sunday, August 5, beginning at 2:30 p.m., at New Hope Baptist Church, 705 Nelson St., Greenville. In addition to the reception, a press conference will be held. Special guests include Institutions of Higher Board of Trustees President, Dr. L. Stacy Davidson, Jr., and IHL Board of Trustees members Mr. Bob Owens, Dr. D.E. Magee, Jr., and Dr. Bettye Henderson Neely. Others scheduled to attend include elected state and local officials and Delta area school superintendents. For more information, contact Willie Sullivan, (662) 455-9416 or Shirley Cartlidge, (662) 335-3951. Learn more.
UNIVERSITY OF MISSISSIPPI NEWS


Jack Butler Donates Collection to J. D. Williams Library
Mississippi has a tradition of producing fine writers, and one of its native sons recently donated his collection of literary materials to the University of Mississippi. Jack Butler, a native of Alligator in Bolivar County, has given more than five boxes of his manuscripts, letters and photos to be housed in the Department of Archives and Special Collections in the John D. Williams Library. "I wanted, if possible, to donate my papers to my home state out of a continuing love for that state," Butler said. "Ole Miss showed the most interest and follow-through of any of the schools I got in touch with, and I liked Jennifer Ford's knowledge and enthusiasm." Ford is head of Archives and Special Collections. The library also houses the collections of Mississippi writers William Faulkner, Willie Morris, Larry Brown, and Barry Hannah, among others, including Butler's friend John Freeman. Freeman, a Jackson native who has published three books and numerous poems, has been instrumental in connecting Ford with other writers, including Butler. "The collection opportunity offers a writer a level of permanence that mere book publication does not, and to have many of the best writers of the state together in one collection appealed to me," Freeman said. "I am rather proud of the fact that Jack's work is included in the collection and is being featured. I consider Jack to be easily the best poet Mississippi has ever produced, and I am honored to have my name connected with his." Learn more.

Parking and Traffic Rules Revamped to Ease Congestion; Parking Fees Increase for Fall

Field Station Director Brings Home World Title

Gulfport Attorney Honored as UM's Law Alumnus of the Year

Accountancy Professor Writes History Book on AACSB International
UNIVERSITY OF MISSISSIPPI MEDICAL CENTER NEWS


Orthotics Now Offers State-of-the-art Device to Correct "Foot Drop"
Steven Malley doesn't remember much from that fateful day in June. He doesn't remember the car crash, the ambulance ride to the hospital or even how it all happened. He is, however, grateful to be alive. The 22-year old came close to losing his life in an auto accident. He suffered spinal and rib fractures along with a traumatic brain injury (TBI), which manifests itself with some symptoms similar to those of a stroke. The similarities can include neurological damage, which causes weakness and/or paralysis in the extremities. Malley is currently undergoing inpatient treatment at the University Rehabilitation Center, where he is improving with intense therapy. People who have suffered central nervous system injuries such as Malley's are often unable to lift a foot because the neural messages that control these movements are not able to reach the muscles due to nerve damage. "Foot drop" is a form of lower limb paralysis that sometimes accompanies TBIs and often accompanies a stroke or cerebral vascular accident (CVA). The weakness or paralysis of the muscles controlling the foot create gait abnormalities, which result in instability of the foot and ankle and the inability to pick up the foot and clear the toes as the leg swings forward. Learn more.

New CFO Brings "Wealth" of Expertise to University Hospitals, Clinics

ACS Grant Fuels Assistant Professor of Medicine's Cancer Research


Aug. 7 - The latest in a series of community outreach programs presented by the UM Center of Research Excellence in Natural Products Neuroscience focuses on a little-known food toxin called acrylamide. "Would You Like Some Acrylamide with Your Fries?" is set for 6:30 p.m. at the Oxford Conference Center. Learn more.

Aug. 9 - The third annual Greenwood-Leflore Corporate Golf Invitational, MVSU's second largest fund-raising event for student scholarships, will be held at the Greenwood Country Club. For more information, call (662) 254-3790.

Aug. 11 - A ballroom dance party, featuring open social dancing to a variety of music, slow and fast, including a mini lesson in tango by a professional instructor, is set for 7-10 p.m. in the University of Mississippi Johnson Commons Ballroom. Admission is $5 and $9 for students, $8 and $12 others. Learn more.

Aug. 11 - The South Central Mississippi Alumni Chapter at Southern Miss will host the Eagle Fanfare featuring football coach Jeff Bower, the Golden Eagle football team, and others for this kickoff to the 2007 athletic season. The event starts at 6 p.m. For more information, call (601) 266-5013. Learn more.

Aug. 11-31 - Mississippi State University presents "Dawg Daze" welcome back activities for the fall semester. The 20-day program for in-coming freshmen and transfer students begins with move-in day for new occupants on campus residence halls. Classes begin Aug. 20. Learn more.

Now through Sept. 9 - An exhibition featuring artwork by Maud Falkner, William Faulkner, and John Faulkner is open in the Fortune Gallery at the University of Mississippi Museum. The exhibit features 54 works from several sources, including family members and other Oxonians. Learn more.