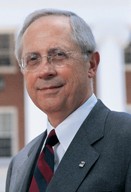 Mr. Aubrey Patterson

IHL Trustee Aubrey Patterson Accompanies Governor to Japan
IHL Board member Aubrey Patterson accompanied Governor Haley Barbour to Japan this month to meet with Toyota executives and to host a seminar for executives of prospective Toyota suppliers interested in future economic development opportunities in Mississippi. In an interview with the
Northeast Mississippi Daily Journal
, published last Sunday, Mr. Patterson predicted that the investment in the state made by suppliers could exceed the initial plant investment made by Toyota. Mr. Patterson noted the strategic role that higher education will play in creating a healthy environment for the new industry. Community colleges will play an essential role in workforce training on the front end, he said. But the universities will be responsible for training the next generation of managers. As he told the
Daily Journal
, "We must continue to enhance opportunities for our kids to go to college - that is our future. This is the manufacturing that the next generation will be prepared to be a part of - or it won't." Mr. Patterson specifically mentioned the important roles that Mississippi State University's engineering department and the University of Mississippi's Center for Manufacturing Excellence will play. Mr. Patterson is Chairman and CEO of Tupelo-based BancorpSouth, the state's largest Mississippi-based bank. He was appointed to the IHL Board in 2003 by Governor Barbour.
College Readiness English and Math Committees Meet with MDE
On Tuesday, IHL Office of Academic and Student Affairs staff, including Assistant Commissioner Dr. Lynn House, Director of Academic Affairs Dr. Dennis Watts, Director of Student Affairs Pearl Pennington, and Director of P-16 Initiatives Susan Lee, joined members of the state's College Readiness Mathematics and English Committees in meetings with community college faculty, high school teachers, and Mississippi Department of Education (MDE) staff to discuss college readiness. The two groups met separately to identify action steps for improving college readiness in their respective disciplines and discussed the need to inspire a sense of urgency in stakeholders regarding the importance of improving college readiness. The College Readiness Mathematics and English Committees are made up of mathematics and English professors from the state's eight public universities. The purpose of the committees and their collaborative work is to ensure that high school administrators and instructors understand what students need to know - not just what courses they need to take - to be successful in the common freshman English and math courses. For more information, contact Assistant Commissioner of Academic and Student Affairs Dr. Lynn House at (601) 432-6501.
Updated Articulation Agreement Available Online
The IHL Board is committed to increasing the number of adults in Mississippi with bachelor's degrees. In accordance with this goal, in June 2006, the Board established the Office of Community and Junior College Relations to join forces with the state's community and junior colleges to increase the number of students transferring to the state's public universities after completion of their two-year college coursework. Since its conception, the Office of Community and Junior College Relations has been working with the Mississippi State Board for Community and Junior Colleges, individual community and junior college administrations, the IHL Executive Office of Academic and Student Affairs, and the universities' academic and admissions officers to develop, coordinate, and improve undergraduate academic articulation programs. An Articulation Agreement between the state's universities and community and junior colleges was developed many years ago to help students understand which courses at the community or junior college will transfer for credit toward a bachelor's degree at the university of their choice. In recent months, this agreement has been updated and is now available online. To improve usability of the document, a chronological list of all changes or updates to the agreement will be provided in introductory pages of the document. Also, the process has been altered by which changes to the agreement can be made. The revised process is also outlined in the introductory pages. For more information, contact Assistant Commissioner for Community and Junior College Relations Dr. Reginald Sykes at (601) 432-6458.
Executive Office Employment Opportunities
Mississippi's university system employs approximately 24,200 individuals on a $1.27 billion payroll. Jobs range from part-time to full-time, from staff to faculty, and include opportunities in the IHL Executive Office, which provides support for the 12-member Board of Trustees, the system's constitutional governing body. Current employment opportunities available in the IHL Executive Office include: Assistant Commissioner for Facilities and Real Estate - Board Office; Facilities Coordinator - Board Office; Director of Nursing Education; Assistant Commissioner for Governmental Relations-Legislative Liaison - Board Office; and Information Systems Analyst - Board Office. To apply for any of these positions, submit an official IHL Application for Employment, along with any additional documents noted in the position description, to the Department of Human Resources, 3825 Ridgewood Road, Jackson, MS, 39211. For more information about IHL Executive Office employment opportunities, contact Human Resources Administrator Susan Erickson at (601) 432-6134. Learn about job opportunities at Alcorn State University, Delta State University, Jackson State University, Mississippi State University, Mississippi University for Women, Mississippi Valley State University, the University of Mississippi, the University of Mississippi Medical Center, and the University of Southern Mississippi.


Items included in the "University News" section of the System Review are submitted each week by the universities. The news items are listed in rotating alphabetical order by university.
UNIVERSITY OF MISSISSIPPI MEDICAL CENTER NEWS


Aspirin Desensitization Cutting-edge Treatment for Allergies
Like many Mississippians, Sebrana Weathersby, a nurse in pediatric infectious disease, suffers from severe sinusitis. Her allergies and sinus problems were always bad, but after giving birth to her second child, her symptoms got even worse. Until now, Weathersby thought she had tried everything to rid her of her problem. Two sinus surgeries later, she still suffered. "The sinus surgeries did not prevent me from getting reoccurring polyps," she said. Enter Dr. Gailen D. Marshall, professor of medicine and director of the Division of Allergy and Immunology, and colleagues at the University of Mississippi Medical Center Allergy-Immunology Clinic who have just implemented a new program for patients with chronic sinusitis and nasal polyps. "Chronic sinusitis is a common problem, but it is a common problem that is very difficult to treat – it can be because of allergies or other forms of inflammatory diseases," Marshall said. "Cystic fibrosis can cause this problem and there also is a surprisingly high percentage of people who have sinus problems with aspirin. Learn more.

Genetics Could Play Key Role in Development of Endocrine Tumors

Human Resources Director Tapped to Lead Institutional Services at UMC
UNIVERSITY OF SOUTHERN MISSISSIPPI NEWS


Southern Miss British Studies Students Make London Their Classroom
University of Southern Mississippi students taking part in the British Studies program this summer are making this international city their classroom. Visits to some of London's most important historic and cultural sites, and lectures and presentations by some of England's top scholars and business and political leaders are providing students with life-changing experiences that go beyond the traditional in the world of academe. Approximately 200 students are benefiting from new features in the 2007 program that allow them to take in learning experiences outside of the classes in which they are registered. With the new "London Alive" feature, during the first three days of the program, students travel around the city with Southern Miss professors and their British counterparts to learn about what it has to offer. "'London Alive' took them to the city's museums, its great monuments, and now their regular courses are bringing them even more as they meet great scholars and timely experts from across the spectrum of British life and letters," said Southern Miss history and international education professor Dr. Doug Mackaman, who serves as director of British Studies. Both undergraduate and graduate students have the opportunity to undertake research while in London. At the program's conclusion, students will have the opportunity to present their research to fellow students, faculty, and their British counterparts at the Great Hall of King's College. Learn more.

Southern Miss Graduate Earns Research Fellowship to Study in Germany

Service Learning Project Focuses on Preservation of Historical Photos

Blount Chair Campaign Receives $100,000 Boost from Houston Event
UNIVERSITY OF SOUTHERN MISSISSIPPI GULF COAST NEWS


Ranck Named Associate Director of Business and Economic Research
Dr. Edward Ranck has been named associate director for The University of Southern Mississippi's Bureau of Business and Economic Research, located at the university's Jackson County teaching site in Gautier. After receiving his doctorate from the University of Kentucky in 1976, Dr. Ranck worked for Mississippi as a state economist in various high-level positions. With the establishment of the bureau on the Gulf Coast, Dr. Ranck said that "getting started is challenging, but it feels great creating things that didn't exist before." "The bureau is very fortunate to have Dr. Ranck because he is a highly qualified and experienced individual," said Dr. George Carter, chairman of the Department of Economics, Finance, and International Business. "His knowledge of how the Mississippi and Gulf Coast economies work will be very beneficial to the university." The Bureau of Business and Economic Research, based in the Southern Miss College of Business on the university's Hattiesburg campus, assists regional businesses and government entities by providing services and important information about the economy. Learn more.
ALCORN STATE UNIVERSITY NEWS


Alcorn State University Online
http://www.alcorn.edu
DELTA STATE UNIVERSITY NEWS


Delta State Hosts Marker Unveiling in Honor of Capps
Delta State University will play host to a special ceremony Friday, July 27 at 10 a.m. on the quadrangle of the campus, as members of the National Guard, Veterans of Foreign Wars (VFW), and American Legion honor long-time Mississippi legislator, Charlie Capps, Jr. The group will unveil a marker for the tree, which was dedicated to Representative Capps in July 2003. Capps, whose legislative career spanned four decades, retired from the Legislature in 2005. He was elected in 1971 and served as chair of the House Appropriations Committee for 16 years (1988-2003). A former sheriff, Capps also chaired the House Constitution Committee. Delta State President Dr. John M. Hilpert commented at "Charlie Capps Day" in 2005, "Delta State has had no greater friend in the House of Representatives than Charlie Capps. A true 'Statesman,' Mr. Capps always had the best interest of this university and the Mississippi Delta in mind." The ceremony is free and open to the public. For more information, please call University Relations at(662) 846-4675. Learn more.

Delta State to Appear on GSC-TV Live Three Times in 2007

Former Statesman Jeremy Richardson Inks Deal with Miami Heat
JACKSON STATE UNIVERSITY NEWS


Rankings Show JSU a Leading Educator of African Americans
For the second year in a row, Jackson State University (JSU) was ranked the top institution among the nation's colleges and universities in educating African- American teachers. The annual reports of Diverse Issues in Higher Education, "Top 100 Undergraduate Degree Producers" and "Top 100 Graduate Degree Producers," also found that JSU ranked third in producing African-Americans with master's degrees in English. In its annual rankings, Diverse compares institutions of higher learning in various disciplines based on an assessment of 2005-06 academic year reports submitted to the U.S. Department of Education's National Center for Education Statistics. The reports were printed in the magazine's May 31 and July 12 editions. Designated a research intensive university by the Carnegie Foundation, JSU's undergraduate program in biological and biomedical sciences ranks No. 3. Overall, JSU's bachelor's programs are No. 13. "These rankings are not a result of happenstance, but rather evidence of a 130- year history of deliberate and concerted efforts to make sure our graduates are equipped to make a positive impact on the world," says President Ronald Mason, Jr. "I always say that we take students where they are and give them what they need to be successful. These rankings tell me that we are doing an exceptional job." Jackson State's graduate programs also scored high among the nation's top colleges and universities with master's and doctoral programs both in the top 30. Learn more.

JSU Launching Program to Train Public, Civic Leaders

JSU Students Participating in Summer Research Program

Leader of National Graduate Organization to Speak During Summer Commencement
MISSISSIPPI STATE UNIVERSITY NEWS


MSU FY Giving Tops $50 Million for Third Consecutive Year
Private funds from the just-ended fiscal year are propelling Mississippi State University's (MSU) "State of the Future" capital campaign over $382 million on its way to a $400 million goal. For FY 2007, which ended June 30, the university received more than $56.8 million in private gifts and pledges--the third consecutive year in which donations to the campaign exceeded $50 million since its 2001 launch. The total represents 43,905 gifts from thousands of donors, many contributing more than once. "I continue to be excited by the outpouring of support shown by this university's alumni and friends," said MSU President Robert H. "Doc" Foglesong. "Their generous investments are paving the way for an even stronger Bulldog Nation." John P. Rush, vice president for development and alumni, said, "We are extremely proud and grateful that so many of our donors see the benefits of supporting Mississippi State with annual gifts and through long-term commitments. "The $56 million-plus fiscal year places 'State of the Future' a full year ahead of the projected pace needed to reach the campaign's $400 million goal by December 2008," he added. Since the 2001 campaign launch, more than $62 million has been received for endowed scholarships and fellowships, more than $30.5 million has been raised for endowed faculty positions and just over $40 million has been earmarked for new and renovated facilities and campus enhancements. Learn more.

Marion Countian at MSU "Shooting" with Photography Pros

State CPAs Honor Longtime MSU Educator

MSU Reminds Retiree-age Mississippians About Free Attendance
MISSISSIPPI UNIVERSITY FOR WOMEN NEWS


Consumers Digest Ranks MUW a Best Value
Mississippi University for Women (MUW) continues to receive confirmation that earning a degree at the institution is worth the investment. The university was recently ranked No. 8 of the top 50 best values for public colleges and universities in the June 2007 edition of Consumers Digest magazine. In determining its selections for the best values among colleges and universities, Consumers Digest narrowed the fields to determine the top 194 public, 131 private, and 61 liberal arts colleges. MUW was the only Mississippi institution ranked. A formula measuring students' academic excellence (standardized test scores, high-school rank, and the grade point average of entering freshman, as well as the school's acceptance rate) with the quality of education offered (as indicated by the student-to-faculty ratio, the four-year graduation rate, the six-year graduation rate, and the percentage of faculty holding a doctorate or terminal degree) to compile a value-index score was applied to each college. That score and the estimated cost of attending each college for the 2005-2006 academic year (tuition and average room and board) were then applied to a formula to determine which schools offered the most academic value per dollar. Learn more.
MISSISSIPPI VALLEY STATE UNIVERSITY NEWS


Volunteers Assist MVSU Upward Bound Students
Usually summer is the time of year when many college students relax after finishing a grueling nine months of academic enlightenment. Two Leflore County students found the time to volunteer, giving back to Mississippi Valley State University (MVSU)while leaving an impression on youngsters following in their footsteps. Erica Plybeah and Malcolm Davis are volunteering this summer to help tutor MVSU Upward Bound kids. Upward Bound is a pre-college program for students in the 9th through 12th grades. Approximately 160 students are enrolled this year on the Itta Bena campus. The summer program offers classes in English, biology, math, history, Spanish, art, choir, and ACT preparation. A 2006 graduate of Amanda Elzy High School, Plybeah, 19, attends the University of Wisconsin at Madison. She said Upward Bound helped make her the person she is now and without it, she believes she would have turned out a different person. "This program helped me with my success," she said. "I've been in the same place these students are and I know what helped me will also help them. I wanted to be a part of helping them." Davis, a student at Morehouse College, is an Itta Bena resident who said choosing to spend the summer tutoring was one of the best decisions he has made. "Instead of being stuck in the house, I decided to come here and volunteer time," Davis said. Upward Bound Director Christine Williams said the students' volunteering has been "wonderful."
UNIVERSITY OF MISSISSIPPI NEWS


UM Officials Return from Jordan Conference with Plans for Partnerships
University of Mississippi (UM) officials recently returned from a four-day conference in Jordan with plans to build partnerships, which officials hope may contribute to peace in the Middle East. The Joint Engineering Science and Technology Conference between UM and the Jordan University of Science and Technology resulted in three key opportunities: enhancing student leadership skills and cultural interaction; developing research in water resources, nanotechnology, and telecommunication; and establishing joint graduate programs. The partnerships promise to help prevent conflict in the region, said Michael Johansson, UM's director of international programs. "As the only American university taking part in the conference, Ole Miss is now poised to take bold steps into the arena of citizen diplomacy," Johansson said. "We could play a strategic and historic role in building and supporting the engineering and technology of this Middle Eastern country." One of the major research areas officials hope to establish involves water resources. Water, more so than oil or terrorism, could lead to widespread war in the Middle East as most countries in the area suffer from a shortage and scarcity of the life-giving necessity. The objective of establishing joint graduate programs between the institutions is to offer both master's and doctoral degrees at UM. Jordan relies heavily on American universities to educate their doctoral students, and the agreement should strengthen UM's graduate programs. Learn more.

Instructor of Freshman Writing Awarded Arts Commission Grant

Pharmacy Practice Professor Elected Chair of National Professional Faculty Council

Gulfport School Administrators Do their Homework During Instructional Coaching Seminar

Golf Course to Close Later this Year for Major Upgrade


July 28 - Jackson State University will host "Get Ready 2008," an informational fair from 10 a.m. to 1 p.m. for prospective students. For more information, call (601) 979-1383 or email latoya.boston@jsums.edu .

Aug. 4 - Jackson State University will celebrate its Summer Commencement exercises at 9 a.m. in the Lee E. Williams Athletics and Assembly Center on the JSU campus. For more information, call (601) 979-2272.

Aug. 9 - The third annual Greenwood-Leflore Corporate Golf Invitational benefiting Mississippi Valley State will be held at the Greenwood Country Club. The tournament is a four-person scramble and is open to men and women of all skill levels. For more information, call Dallas Reed at (662) 254-3790.

Aug. 11 - The South Central Mississippi Alumni Chapter at Southern Miss will host the Eagle Fanfare featuring football coach Jeff Bower, the Golden Eagle football team and others for this kickoff to the 2007 athletic season. The event starts at 6 p.m. For more information, call (601) 266-5013.Learn more.

Aug. 18 - The University of Mississippi Medical Center's Blair Batson Hospital for Children is presenting its MiracleHome drawing. Tickets are $100 each to win a three-bedroom, three-and-a-half bath house, approximately 2,500 square feet. Learn more.

Now through Sept. 9 - An exhibition featuring artwork by Maud Falkner, William Faulkner, and John Faulkner is open in the Fortune Gallery at the University of Mississippi Museum. The exhibit features 54 works from several sources, including family members and other Oxonians. Learn more.