GEAR UP Mississippi Receives Six-Year $18 Million Grant
GEAR UP Mississippi will continue to increase the number of low-income students in Mississippi who are prepared to enter and succeed in college thanks to a six-year $18 million grant, approximately $3 million each year of the grant, from the U.S. Department of Education through the GEAR UP State Award Program. GEAR UP (Gaining Early Awareness and Readiness for Undergraduate Programs) Mississippi recently received notification that the federally funded grant program will continue to operate in the state for another six years. The program began working with its first cohort of Mississippi students in 2002, when the students were seventh graders, and it continued to serve those students as they moved through junior high and high school and graduated this spring. This fall, GEAR UP Mississippi will begin working with another cohort of nearly 8,000 seventh grade students in 20 school districts across the state. Students participating in GEAR UP programs have access to tutors, mentors, and advisors; participate in after school activities; attend summer enrichment programs at colleges and universities; visit college and university campuses; and enjoy increased parental involvement. GEAR UP also offers professional development for teachers and administrators. GEAR UP operates under the auspices of the IHL Office of Academic and Student Affairs. Contact GEAR UP Mississippi Director Dr. Di Ann Lewis for more information or visit GEAR UP Mississippi online.
MVSU IEO Search Advisory Committee Holds Orientation
Members of the Mississippi Valley State University (MVSU) Search Advisory Committee, formed by the IHL Board to assist with the Board's search for the next institutional executive officer of MVSU, met for an orientation with Commissioner of Higher Education Dr. Thomas C. Meredith and executive search consultants Dr. Betty Asher and Ms. Marion Frenche of Greenwood/Asher and Associates, Inc. on Wednesday, July 9. Search Advisory Committee members discussed the steps of the presidential search as well as their important role within the process. Mississippi Valley State University's Search Advisory Committee members were chosen based on recommendations by university and community constituencies and reflect key members of the university community as well as the public and private sectors. The Committee is charged with identifying the most capable and qualified applicants and nominees to be presented to the Board Search Committee for review. Some Search Advisory Committee members will also participate in the final interview process with the Board of Trustees. IHL's institutional executive officer search process allows Mississippi to be on the consideration list of the highest caliber professionals in higher education. The process is open, transparent, and representative-based, and works in accordance with today's recruitment standards for high-level institutions of higher learning. For more information on the MVSU institutional executive officer search process, including a timeline of events, visit the IEO search website.
Mississippi Team Selected for Nursing Education Capacity Summit
Mississippi was one of only 18 states to have a team selected through a competitive application process to attend a national Nursing Education Capacity Summit in Washington, D. C., June 26-27. Across the country, many college and university nursing programs do not have the physical space, faculty, clinical resources, or funds required to enroll and educate the number of students needed to meet future nursing demands. The Summit addressed these critical issues by providing a forum for participants to share best practices, learn about innovative strategies, and develop solutions-based approaches. States were invited to assemble a team of up to 10 participants and submit a letter of application to attend the Summit. States were then selected based on the quality and depth of their applications. The Summit was hosted by the U.S. Department of Labor, Employment and Training Administration, the Robert Wood Johnson Foundation, the Center to Champion Nursing in America, and the U.S. Department of Health and Human Services, Health Resources and Services Administration. Contact IHL Director of Nursing Education Dr. Martha Catlette for more information.
Strategic Initiative Steering Committee Meets
On June 24, the Strategic Initiative (SI) Steering Committee and institutional research staff met for the first day-long work session since the February 13, 2008, SI Summit. The goal of the Strategic Initiative is to increase the number and quality of baccalaureate graduates in Mississippi. The group discussed data, metrics, and reporting issues; the NASH "Access to Success" initiative; the Making Opportunity Affordable Grant program, through which Mississippi has received a $100,000 planning grant; community and junior college transfers; university action plans; and next steps for the initiative. Dr. Thomas C. Meredith, Commissioner of Higher Education, spoke to the group at lunch about the importance of the SI and thanked them for their hard work. Members of the SI Steering Committee are Dr. Franklin Jackson, Alcorn State University; Dr. Beverly Moon, Delta State University; Dr. Debra Buchannan, Jackson State University; Dr. Peter Rabideau, Mississippi State University; Dr. Sandra Jordan, Mississippi University for Women; Dr. Jack Rose, Mississippi Valley State University; Mr. Jim Morrison, University of Mississippi; Dr. Helen Turner, University of Mississippi Medical Center; and Ms. Mary Dayne Gregg, University of Southern Mississippi. Each campus has submitted draft stretch goals for enrollment and baccalaureate completions. The next steps are to finalize the stretch goals and action plan steps and identify the work planned for the coming academic year. For more information, contact IHL Assistant Commissioner for Governmental Affairs Dr. Jim Borsig.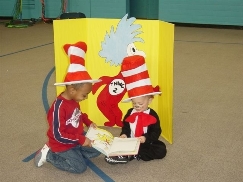 Children have fun with Dr. Seuss on Read Across America Day, one of five national service days for which ARM members plan service projects.

America Reads - Mississippi Refunded for 11th Year
America Reads - Mississippi (ARM) has been re-funded for the 11th year to coordinate opportunities for service to Mississippi's children, schools, and communities in an effort to improve literacy. For the 2008-2009 program year, beginning August 1, 2008, ARM will receive level funding of a $6.6 million dollar AmeriCorps grant and 350 member slots, funded through the Corporation for National and Community Service. ARM is monitored and supported by the Mississippi Commission for Volunteer Service and is administered through IHL. In its 11th year, ARM will train and place persons from local Mississippi communities in schools statewide to serve as full-time reading tutors for pre-kindergarten through middle school students. This year, 85 schools will be served through the five university regional ARM offices at Alcorn State University, Delta State University, Jackson State University, Mississippi State University, and the University of Southern Mississippi. ARM also coordinates statewide service projects and works to help increase the number of certified teachers in Mississippi. Because 75 percent of ARM AmeriCorps members want to be teachers, ARM provides regular training, development, and experience for members to serve in the school setting. After the service year, most ARM members go on to use the $4,725 Segal AmeriCorps Education Award to pursue higher education. This award is earned after completing 1700 hours of service in one program year. Contact ARM State Director Ronjanett Taylor for more information about ARM.
June Economic Review and Outlook Focuses on Economic Forecast
The June issue of the Mississippi Economic Review and Outlook, published by the Center for Policy Research and Planning of the Mississippi Institutions of Higher Learning (IHL), is now available online. The articles in this issue focus on the national economic outlook, the state economic outlook, teen motherhood, and solving the poverty problem in the state. For more information, contact Dr. Marianne Hill, senior economist, at 601-432-6376.
Budget, Finance, and Audit Committee to Meet July 16
The IHL Budget, Finance, and Audit Committee, chaired by Trustee Aubrey Patterson, will hold a committee meeting next Wednesday, July 16, 2008, beginning at 10:00 a.m. in the IHL Board Room in the Universities Center, 3825 Ridgewood Road, Jackson, MS, 39211. The purpose of the committee meeting is to discuss adequate, stable funding for Mississippi's public university System. An executive session may be held in accordance with the Open Meetings Act. Learn more about the IHL Board.

Items included in the "University News" section of the System Review are submitted each week by the universities. The news items are listed in rotating alphabetical order by university.
MISSISSIPPI STATE UNIVERSITY DIVISION OF AGRICULTURE, FORESTRY AND VETERINARY MEDICINE NEWS


Mississippi State Hosts 2008 World Avian Genomics Meeting
Mississippi State University's Institute for Digital Biology (IDB) hosted a four-day international conference on avian genomics this spring. As host, MSU joined a prestigious list of genetic research institutions that includes biomedical institutes in the United Kingdom, Japan, and Spain, as well as the Stowers Institute in Kansas City, MO, and the Cold Spring Harbor Laboratories in New York. "These are the world's leading biomedical genomics institutes," said Shane Burgess, College of Veterinary Medicine professor and IDB co-director. "We had probably 90 percent of the world's leaders in all bird, crocodile, and even dinosaur genomics attending." The chicken is the most used nonmammalian vertebrate model organism in biomedical research for human health. Much of what scientists learn about chicken genetics contributes directly to the understanding of how to treat human genetic disease. "Not only do we eat a lot of chickens, but they rank right up there with mice when it comes to helping us solve human diseases," Burgess said. Burgess, along with event co-organizers Fiona McCarthy and Susan Bridges, were recently awarded a $1.4 million grant from the National Institutes of Health to further their work on rebuilding the chicken genome map. Learn more.

MSU Meat Science Teams Win Top National Honors

MSU Research Shows 16th-Section Hunting Leases' Effect on K-12 Funding

4-H Projects Help Build MSU Student's Career Dream

One-stop Shop Opens on MSU Extension Fire Ant Web Site
MISSISSIPPI UNIVERSITY FOR WOMEN NEWS


MUW Receives Largest Single Gift Ever at $3.26 Million
A $3.26 million estate recently left to Mississippi University for Women (MUW) will go toward scholarships for students. The gift is the largest single gift ever made to MUW through the MUW Foundation and will provide more than $150,000 per year in perpetuity in scholarships. The Harriett Piper Brenneman Scholarship Fund was established by John Brenneman through his will in honor of his wife, Harriett, who received her master of education from Mississippi State College for Women in 1971 and her bachelor's degree from Dickinson College in Carlisle, PA. She was from Newville, PA, and died Aug. 19, 1982. Dr. Claudia A. Limbert, MUW president, said, "We are so thankful for Mr. Brenneman's generosity to MUW. The Harriett Piper Brenneman Scholarship Fund will be used to further our academic quality by helping students just like Mrs. Brenneman achieve the dream of a college education." Learn more.
MISSISSIPPI VALLEY STATE UNIVERSITY NEWS


Mississippi Valley State University Online
www.mvsu.edu
UNIVERSITY OF MISSISSIPPI NEWS


UM Race, Religion & Reconciliation Exchange Explores Tough Issues
Six University of Mississippi (UM) graduate students are traveling the globe this summer to explore two of the world's most divisive issues: race and religion. Also including students from the University of Ulster in Northern Ireland and Nelson Mandela Metropolitan University in South Africa, the 18-member group gathered July 2 in Washington, D.C., to begin a month long excursion through the three countries. Their goal: to gain a global view of these divisive issues and learn how to reconcile those differences. "All three societies have wounds, and we all have memories," said Douglas Ray of Jackson, who is pursuing a Master of Fine Arts in creative writing at UM. "We struggle to give the proper dignity to the suffering experienced by ourselves and our neighbors, while also taking the necessary steps to build a healed, unified society." After visiting government and cultural sites in Washington, the group came to the Deep South, starting with a tour of the Civil Rights Museum, then to the UM campus in Oxford and the Mississippi Delta. From there, it's onward to Ireland and South Africa, where the students plan to visit similar cultural and historic sites. "I think this is a unique exchange opportunity for our postgraduate students to visit two other very different cultural, social, and political locations," said professor Liam Kelly of the University of Ulster. "Importantly, it is based on the principles of cross-cultural interchange, learning on the ground, and firsthand experience." Learn more.

New Academic Center to Focus on Manufacturing Excellence

Young College Grads Help Break Poverty's Cycle in Mississippi's Mist-Shrouded Delta

Former UPD Officer Sellers Returns as Director of Police, Campus Safety

Award-Winning Poet, Professor Awarded Fulbright to Study in Brazil
UNIVERSITY OF MISSISSIPPI MEDICAL CENTER NEWS


State's First Pediatric Surgeon, Longtime UMMC Faculty Retires
Lorrie Albright's son Avery seemed healthy at birth, but by the time he entered his fourth month of life, she knew something was wrong. "He was pretty much dying, and we couldn't figure out why," she said. Avery had a bloated belly and skinny limbs. Hope arrived at Avery's bed in the form of Dr. Richard Miller, pediatric surgeon and longtime faculty member of the University of Mississippi Medical Center. Avery was diagnosed with Miller's enteritis (a condition named for the doctor treating it), so Miller removed the part of Avery's intestine that died and put the healthy parts together. A child who was supposed to have never lived to see his first birthday has now celebrated 10 of them. Avery's care by Miller moved Albright so much that she decided to join the Blair E. Batson Hospital for Children as a nurse. "It was Dr. Miller that made everything OK," she said. "He was this bald-headed man who came in rubbing his head and stuttering. You didn't know if you liked him or not because he can be gruff. But you either loved him or you didn't, and we loved him to pieces. He's a part of our family." Learn more.

School of Medicine's First Graduate Dies at 78

Call of Teaching Lures Noted Anesthesiologist to Medical Center
UNIVERSITY OF SOUTHERN MISSISSIPPI NEWS


Southern Miss Creates Office of Sustainability
The University of Southern Mississippi is moving full speed ahead on its commitment to becoming more environmentally responsible and is establishing an Office of Sustainability to spearhead those efforts. The newly created office will be a part of the Division of Business and Finance, reporting to Russ Willis, human resources director. "Our goal is to have a sustainability officer in place by mid-July to begin work on getting the office up and running," said Willis. Although the university has had some recycling efforts ongoing for a number of years, President Martha Saunders propelled the larger sustainability effort into motion when she signed the American College and University Presidents Climate Commitment in April. In essence, the commitment calls for participants to counteract climate change by taking steps to make campuses climate neutral. Southern Miss must also complete a Greenhouse Gas Emissions Inventory within one year and develop a plan for carbon neutrality by the second year. The university also is implementing several other sustainability initiatives that will be directed by the new office. Learn more.

Southern Miss Students to Volunteer at Beijing 2008 Summer Olympics

Southern Miss Student Christine Kozlowski Wins Miss Mississippi

Southern Miss Archaeological Field School Exploration of Biloxi, State History

Southern Miss History Award to Honor WWII Hero Jack Lucas
UNIVERSITY OF SOUTHERN MISSISSIPPI GULF COAST CAMPUS NEWS


Southern Miss Gulf Coast Welcomes Local Coffee House to Gulf Park Campus
The University of Southern Mississippi hosted a ribbon-cutting ceremony to welcome Sahvannah's Coffee House to the Gulf Park campus in Long Beach on Tuesday, July 8. The coffee house, which serves PJ's coffee of New Orleans, has opened on the first floor of the Gulf Coast Library. Dr. Pat Joachim, associate provost of Southern Miss Gulf Coast, and Candace Mallow, manager of Sahvannah's Coffee House, shared a few words with guests and cut the ribbon to signify the grand opening of the coffee house. To add to the ribbon-cutting celebration, Sahvannah's Coffee House offered free coffee samples, fruit, and cookies to guests, students, and university employees. "I think Sahvannah's will benefit the Gulf Park campus by providing more variety of beverages and food, but also as a place to sit down and be served instead of going to a vending machine," said Mallow. "We're really excited and hope that everyone will at least come try it out and give us a chance to be a part of the campus and also a part of the community." Learn more.

Southern Miss, MSU Partner to Donate Communication Boards

Southern Miss Gulf Coast Faculty Members Recognized for Contributions in Research, Service, and Teaching

Southern Miss Gulf Coast to Offer Nonprofit Studies Minor, Certification in Fall
ALCORN STATE UNIVERSITY NEWS


Alcorn State Advanced Tech Faculty Publish Article on Intelligent Systems
Two Alcorn State University faculty members from the Department of Advanced Technologies and Systems Research Institute, Dr. Ognjen Kuljaca and Dr. Jyotirmay Gadewadikar, published a peer reviewed article on intelligent systems as part of the 31st International Convention/MIPRO held in Opatija, Croatia. Research was performed in cooperation with Dr. Krunoslav Horvat from the Control Systems Department at Brodarski Institute in Zagreb, Croatia. He presented the paper on May 29. The paper, entitled "Robust Reduced-Order Controllers for Dynamical Systems", presents simulation results on the design of robust reduced-order controllers for dynamical systems. The convention was held May 26 - 30. All accepted papers at the convention went through a blind review procedure and were printed in Conference Proceedings (ISBN 978-953-233-038-0). Learn more.

Alcorn State University Holds Blood Drive on Campus
DELTA STATE UNIVERSITY NEWS


DSU's Capps Archives & Museum Selected for Emergency Planning Program
As participants in Heritage Preservation's pilot Risk Evaluation and Planning Program, museums in Mississippi, Ohio, and Texas will be conducting risk evaluations and developing emergency plans with the assistance of a team of experts during the coming months. Fifteen institutions that represent the diversity of museums in terms of size, location, and collections have been selected to participate in the program. A complete list of participants is posted at www.heritagepreservation.org. The museums care for objects representing the history of archaeology, art, flight, printing, and their local communities. Learn more.

Michael Eubanks Brings Home Another GSC Commissioner's Trophy for Delta State

Former Statesmen Great Sean Spiegel Qualifies for USA Olympic Trials
JACKSON STATE UNIVERSITY NEWS


Jackson State to Host "Get Ready, Class of 2009"
Jackson State University's (JSU) Office of Undergraduate Recruitment is encouraging high school seniors to begin preparing early for their fast-approaching college careers. "Get Ready, Class of 2009," a free informational expo, will give students and parents an opportunity to preview JSU and begin the admissions process before they enter their senior year of high school. The event will be held in the College of Business from 10 a.m. until noon on July 19. Afterward, JSU students in the Tiger P.R.I.D.E. Connection will give campus tours from noon until 2 p.m. The expo serves as an open house for prospective JSU Tigers and their parents. It also will allow them to preview Jackson State on a personal level and begin planning ahead for their future with the university. "We invite prospective students to the event, or students on our mailing lists that have shown an interest in attending JSU," said Tangelia T. Kelly, recruiter and counselor for the Office of Undergraduate Recruitment. "Attending this session will allow incoming students to beat the crowd and have the admissions process run a bit smoother for them." At the event, students will be given information about the admissions process and financial aid, and they will be able to turn in their transcripts to representatives from the admissions office. Students also can speak with representatives from their projected academic and extracurricular departments. Learn more.

JSU's TV23 Features Canadian Football

Harper Named American College Health Association Fellow

Jackson State Doctoral Student Wins Federal Transportation Fellowship

Chanay Promoted to Lead Jackson State's Division of Student Life
MISSISSIPPI STATE UNIVERSITY NEWS


MSU Student Team Wins National Unmanned Aircraft Competition
A Mississippi State University (MSU) team is the victor over students from 13 other universities for a top prize of more than $10,000 in competition to navigate an unmanned radio-controllable aircraft system in a simulated combat zone. MSU's 17-member unmanned aircraft systems group--working under the title "Team Xipiter"--recently took the 2008 Best Flight Award of the Association for Unmanned Vehicle Systems International (AUVSI). The organization's sixth annual student competition took place at Webster Field in St. Inigoes, MD. The challenge involved the identification of ten targets on a mission similar to what might be encountered by a military strike team seeking strategic targets for attack. Team adviser Calvin R. Walker said the MSU group also finished with the highest score ever logged in the event's six-year history. "This team truly is an integrated product team for unmanned aircraft systems," the senior flight engineer at MSU's Raspet Flight Research Laboratory added. With more than 1,400 member companies and organizations in 50 countries, AUVSI is considered the world's largest non-profit organization devoted exclusively to advancing the unmanned systems community. With offices located in Arlington, VA, the organization represents professionals in government, industry, and academia. "The experience gained in this competition will be invaluable for our students' future successes, and it gives them a taste of what lies ahead in the professional world," Walker said. Learn more.

MSU Hosts Expert in U.S.-Europe Anti-Terrorism Efforts

MSU Honors College Members Chosen for First Research Awards

MSU Selects MDOT Administrator for Finance Post

Aldridge Joins MSU Bagley College of Engineering Fundraising Effort


July 13-17 - Mississippi State University's 15th annual 4-H Entomology Camp, often referred to as "Bug Camp," will be at the USM campus in Hattiesburg. The camp offers an intergenerational experience the whole family can enjoy. Learn more.

July 14-17 - Micah Ginn and Matthew Graves, producer-directors in UM's Media and Documentary Projects Center, lead aspiring filmmakers in an Advanced Filmmaking Workshop at the Ole Miss-Oxford Depot. Students write and produce their own short film during the four-day class, covering all aspects of the process. Learn more.

July 17 - MSU hosts crop producers, consultants, and industry representatives at the annual Agronomic Crops Field Day in the Capps Center in Stoneville beginning at 8:30 a.m. Contact Jody Stovall at (662) 686-3216 or jstovall@drec.msstate.edu. Learn more.

July 17 - The Southern Miss Bureau of Business and Economic Research will host "The Economic Outlook: A Mid-Year Assessment for South Mississippi and the Gulf Coast" at the Peoples Bank in downtown Biloxi from 8:30 a.m.-1:30 p.m. Cost for the conference is $45. Call (601) 266-5854 or e-mail janis.may@usm.edu. Learn more.

July 18-19 - The 14th Annual Southern Writers, Southern Writing Graduate Conference at Ole Miss offers graduate students from around the country an opportunity to present their work in Southern studies. The free session is at Barnard Observatory. Learn more.

July 20-24 - The 35th annual UM Faulkner & Yoknapatawpha Conference features five days of lectures and panel discussions exploring how William Faulkner's words have responded to the facts and forces of an evolving world, not so much as reflection or illustration, but as original depiction and interpretation. Learn more.

July 21, 28 - Mississippi State University's Alumni Association and Extension services presents the State of MSU video conference beginning at 5:30 p.m. on each day, where MSU Interim President Vance Watson, athletic director Greg Byrne, and others will speak to MSU Extension offices from across the state. Learn more.

July 22 - Southern Miss will host musicians from across the country at the 2008 Drum Corps International Summer Tour in Hattiesburg. The event starts at 7 p.m. in M.M. Roberts Stadium. Tickets are $20 and may be purchased online at www.DCI.org or at the stadium. Call (601) 266-4990 for more information. Learn more.

Aug. 7 - MSU's annual Beef and Row Crop Field Day will inform producers, Extension agents, and government and industry personnel from 9:00 a.m. until 2:00 p.m. at the Brown Loam Branch Experiment Station near Raymond. Contact Dwayne Wheler at (601) 857-2284 or dwaynew@ext.msstate.edu for more information. Learn more.

Aug. 9 - Mississippi State University's department of housing and residence life presents MVNU2MSU beginning at 8 a.m. MSU faculty, staff, and administration help students move into their residence halls. Learn more.

Aug. 23 - Southern Miss Gulf Coast will host the Southern Miss Jazz and Blues Festival from 2-8 p.m. on the front lawn of the university's Gulf Park campus in Long Beach. The festival will feature live music, local artists, and food vendors. This event is free and open to the public. Learn more.