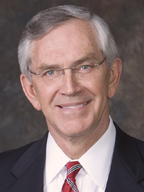 Dr. Thomas C. Meredith

Commissioner Meredith Addresses Financial Aid Conference
Commissioner of Higher Education Dr. Thomas C. Meredith addressed financial aid administrators, loan guarantors, and lenders at the annual meeting of the Mississippi Association of Student Financial Aid Administrators (MASFAA), held this week at the Jackson Marriott Downtown. Commissioner Meredith pointed out that the higher a student's family income, the more likely that student is to gain a bachelor's degree or higher. "For too long, higher education has been perceived as an elitist institution, only admitting membership to those who can pay," he said. "But times have changed. We must overcome this perception and find ways to let more people at every income level through the gate of higher education." Commissioner Meredith outlined several possible solutions, such as providing more need-based financial aid, simplifying the financial aid forms and the application process, and providing more assistance to students and parents who are trying to navigate the financial aid maze. He also stressed the importance of educating students and parents about the actual cost of college, which is generally much less than the perceived cost. "And when examined in terms of value," he added, "a college education is cheap." For more information, contact Director of Student Financial Aid Mary Jane Covington at (601) 432-6791.
Study Shows Correlation between Education and Income
The report, "Diplomas Count: Ready for What? Preparing for College, Careers, and Life after High School," published Tuesday by
Education Week
, reveals that young people entering the workforce will need at least some college to attain decent-paying jobs. The report combines U.S. Department of Labor data with U.S. Census Bureau data to show the proportion of adults nationally and in Mississippi who hold occupations in various "job zones," their median earnings, and their education levels. In Mississippi, where education levels lag the nation, over half of the workforce occupy jobs in the bottom two job zones which require the least education and yield the lowest wages. Despite the increasing importance of education in the labor market, only about 62% of Mississippi students even graduate from high school, placing the state among the bottom ten in terms of graduation rates. The Mississippi Department of Education, however, has committed to cutting the state's dropout rate by half within the next five to seven years. Access the report.
Effect of Dropouts on State's Economy
Census data shows that earning potential increases with education. For example, a Mississippi high school graduate earns, on average, about $4,700 more per year than someone without a high school diploma. A person with some college earns about $4,500 more than a high school graduate, and a person with a bachelor's degree earns nearly $9,800 more than someone with just some college. But very few efforts have been made to document the state public cost of a high school dropout. Pete Walley, Director of the Bureau of Long Range Economic Development Planning in IHL's University Research Center, has used available public data to estimate such costs for the state of Mississippi. Dr. Walley examined the effect of low educational attainment on personal income, state income taxes, state sales taxes, Medicaid costs, incarceration costs, and the costs to business and postsecondary institutions for remediation. His findings reveal an annual loss of $1.8 billion to gross personal income for the state and an estimated net cost to state government of more than $458 million each year. Whereas each person with a high school diploma contributes about $15,000, each person with some college contributes about $19,000, and each person with a bachelor's degree contributes about $74,000 to the economy in a lifetime of work, each person without a high school diploma actually costs the state about $24,000 over a working lifetime. Walley's study is a work in progress, but the report is available in draft form on the IHL website.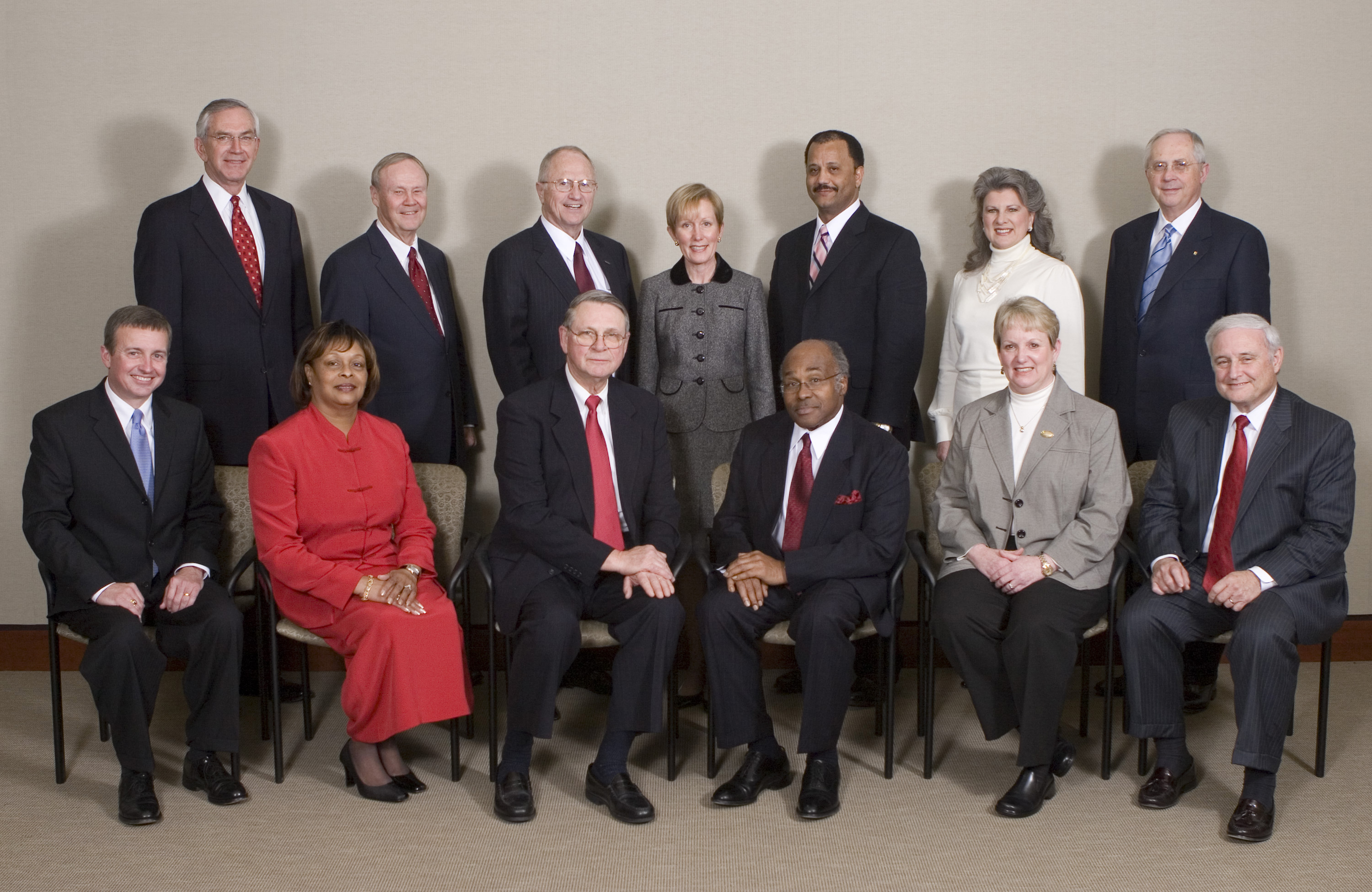 IHL Board of Trustees

June Board Meeting Next Week
The IHL Board will hold its regular monthly meeting next Wednesday, June 20, in the IHL Board Room in the Universities Center, 3825 Ridgewood Road, Jackson, MS, 39211. The full Board will convene at 10:00 a.m. and will then conduct business as a committee of the whole. An executive session may be held in accordance with the Open Meetings Act. As part of the meeting, the Board will hear presentations by Marsha Kelly, Executive Director of the Mississippi Commission for Volunteer Service, regarding the Commission's mission and objectives. The Board will also hear a presentation by Dr. Dan Jones, Vice Chancellor for Health Affairs and Dean of the School of Medicine of the University of Mississippi Medical Center, regarding plans to increase the number of students admitted to the University of Mississippi School of Medicine as well as the number of graduate medical education positions. The Board meeting will be available for real-time viewing via webcast on the IHL website.
Ed. Dept Issues Notice of Proposed Changes to Student Loan Rules
The United States Department of Education has proposed new rules to regulate the student loan industry. Under the proposed rules, which were noticed June 1 on the department's website and will likely take effect in the summer of 2008, colleges and universities would be required to help students select a lender by providing more information, such as interest rates and benefits offered by lenders. In addition to restrictions placed on the relationship between lenders and institutions, colleges and universities would also be required to publish the methods used to compile their preferred-lender lists. The proposal also included changes to the rules related to repayment of Perkins loans. Read the notice of the proposed rules.


Items included in the "University News" section of the System Review are submitted each week by the universities. The news items are listed in rotating alphabetical order by university.
DELTA STATE UNIVERSITY NEWS


Delta State's Durand and West Selected in MLB Draft
For the first time since 2003, Delta State University has had two players taken in the Major League Baseball Draft. Brett Durand and Jareck West did not have to wait long to hear their names called on the second day of baseball's annual amateur draft, as Durand was taken in the eleventh round by the Florida Marlins and West went in the twenty-fifth round to the Oakland A's. Durand, a 6-foot-2 right-handed pitcher from Denham Springs, La., anchored the Statesmen pitching staff this season, going 11-4 with a 1.96 ERA. In 115 innings pitched, Durand allowed just 32 runs on 86 hits with 32 walks and an outstanding 117 strikeouts. He finished the year ranked in the nation's top five in strikeouts and victories. West, a 5-foot-10 centerfielder from Cincinnati, Ohio, led the Statesmen at the plate this season. In 51 games, the speedy West batted .399 with 12 doubles, 12 home runs and 45 RBI. In 188 at-bats, he recorded 75 hits with 60 runs scored. He also swiped 13 of 15 bases and committed just two errors all season in centerfield. Learn more.

Statesmen Add 22 Players to 2007 Football Roster; Fall Camp Set to Begin August 2

Singer-Songwriters to Tell of Mississippi's Role in the Country Scene

Delta State Announces Administrative Changes
JACKSON STATE UNIVERSITY NEWS


Students Attend Youth Summit, Learn Financial Management
On Tuesday, June 12, 300 students from Jackson and surrounding areas attended a Youth Empowerment Summit hosted by the Department of Entrepreneurship and Professional Development in the College of Business at Jackson State University. The summit was designed to teach the students about the importance of financial literacy and responsibility. The featured speaker was Farrah Gray, 22, entrepreneur and author of Reallionaire: Nine Steps to Becoming Rich from the Inside Out. Gray, who became a millionaire at the age of 14 through his venture, Farr-Out Foods, and received his first book deal at 19 years old, told participants that business and financial management are critical to success. "The biggest misconception about black youth is that we don't have the brainpower necessary to run sustainable businesses. We have it. In most situations, we lack the financial resources our counterparts so often inherit from previous generations." Touting investments, he also stressed that everyone needs to have multiple streams of income. "Remember, you can be successful with any investment on this earth, if you know what you are doing." Jeromie Harris said Gray gave useful information. "He spoke about life and basically shared what we all wanted to hear -- how to make money," the 15-year-old Canton, Miss., native said. "I'm pretty good at saving money, but that's because my parents instill that in me. I'd rather have cash over a credit card any day. Learn more.

America Reads Mississippi at Jackson State University

Jackson State Wins 2007 SWAC Commissioner's Cup
MISSISSIPPI STATE UNIVERSITY NEWS


MSU Engineering Team Wins National Fuel-Efficiency Challenge
Mississippi State's Challenge X team placed first overall among 17 other universities Thursday in the third annual national competition to find innovative ways of redesigning a fuel-efficient and environmentally-friendly SUV. The university team of undergraduate and graduate students was awarded the top position overall and in 10 individual categories at the nine-day competition in Milford, Mich. The challenge was to re-engineer a 2005 Chevrolet Equinox crossover sports utility vehicle using advanced propulsion technologies that increase fuel efficiencies and reduce environmental impact while retaining consumer appeal. Organized by General Motors and the U.S. Department of Energy's Argonne National Laboratory, the competition involved more than a dozen evaluations, among them acceleration, off-road performance, greenhouse gas impact, fuel economy, emissions, and consumer acceptability. Oral presentations and technical research papers also were part of the judging. Mississippi State will receive a total of $31,500 in prize money, including $15,000 from the National Science Foundation for the outstanding faculty adviser, electrical and computer engineering professor Marshall Molen. The team designed a "through the road parallel hybrid electric" vehicle with a 1.9 GM direct injection turbo diesel engine fueled by B20 biodiesel. The vehicle increased its fuel economy by 48 percent compared to the original design. Learn more.

MSU Begins 'Maroon Alert' Emergency Announcement System

Mississippi State Floats to National Concrete Canoe Competition

MSU Scholarships Now for State Eagle Scout, Gold Award Winners

MSU Program Provides 'Hands-On' Industry, Education Connect
MISSISSIPPI UNIVERSITY FOR WOMEN NEWS


Biddy Receives Kossen Faculty Excellence Award
William "Peppy" Biddy, chair of the Department of Music and Theatre, recently received the Connie and Tom Kossen Faculty Excellence Award at Mississippi University for Women. Biddy was awarded $5,000 for this honor, which recognizes the role of faculty as the heart of the university. The award was established in 2004 by Tom and Connie Kossen, a 1964 alumna of MUW. Criterion for the award is based on three fundamentals: excellence in teaching, excellence in scholarly or artistic achievement, and excellence in service, preferably both on campus and in communities throughout MUW's service area. Biddy's first assignment at MUW was as a guest artist to direct "Godspell" for the Homecoming musical in 1987. "The musical review which we just presented a few weeks ago (at Homecoming) was exactly 20 years to the day of that performance," he said. Since that first assignment, Biddy was hired as director of theatre and most recently appointed to chair the Department of Music and Theatre under the new academic restructuring. Biddy said there are many enjoyable components to his job. "I enjoy my colleagues both in my department and across campus. I am surrounded by intelligent, hard working, fun people. The creative side of my job is very stimulating. When you work to produce or direct a new show every semester, you must immerse yourself in the subject matter of that play." Learn more.
MISSISSIPPI VALLEY STATE UNIVERSITY NEWS


Valley Breaks Ground For Two New Residence Halls
President Lester C. Newman and other dignitaries broke ground June 6 marking the construction of a new men's residence hall and a new women's residence hall on the Itta Bena campus. The estimated $10.4 million construction projects are the first residential housing projects in more than 35 years on the 57-year-old campus. Each state-of-the-art facility will have 50 rooms with private baths and internet capabilities, including several ADA compliant suites. These dorms offer a unique appeal to students, housing two individuals per suite. The construction projects are financed through tax-exempt public bonds guaranteed by school auxiliary revenues such as student housing monies. The new men's residence hall is located on the front campus overlooking the scenic West Lake. The women's residence hall sits on the regenerated site of the former Sunflower Heights faculty and staff housing unit that once served as the center of what was then a very confined campus. These two projects are among six active construction sites on the university campus. The residence halls were designed by Billes Architect in association with Dale and Associates, Architects P.A. Contractor for the project is Carothers Construction, Inc. Learn more.
UNIVERSITY OF MISSISSIPPI NEWS


FedEx EVP, UM Alum Pledges $500,000 to His Alma Mater
Mike Glenn knows that without private support, the University of Mississippi (UM) wouldn't be enjoying today's success. To help ensure such progress, Glenn, an Ole Miss alumnus who is FedEx executive vice president of market development and CEO of FedEx Services, and his wife, Donna, have pledged $500,000 to the university. "Mike and Donna Glenn's generous gift is only part of their extraordinary service to Ole Miss," said Gloria Kellum, vice chancellor for university relations. "Mike plays a major leadership role and is actively involved as national co-chair in the university's current private fundraising campaign. Their loyalty, service, and generosity are a shining light to the entire Ole Miss family. The money is to be used to support five different areas of the university, including the School of Business Administration Endowment, Residential College Program, UMAA Basketball Campaign, Mike and Donna Glenn Ole Miss First Scholarship Endowment, and the Glenn Family Quasi Endowment. Glenn, who co-chairs the next major capital campaign and serves on the UM Foundation board of directors, wanted to show his support for areas of Ole Miss about which he feels most strongly. He is a graduate of the School of Business Administration. Learn more.

UM Officials, Students Visit Jordan, Hope for Increased Cooperation

UM Announces Executive Director of Research Park

UM Students to Join South African Peers for Leadership Exchange Program

3-D CAD Training Helping Teachers Turn Area Students into Tomorrow's Innovators
UNIVERSITY OF MISSISSIPPI MEDICAL CENTER NEWS


Pressure from All Sides Produces Testimony of UMC Milestones
The history of a life or the history of an institution can be obliterated in an instant. When the last person who remembers is gone, their experiences are lost—unless, of course, that person thinks to record them. Maurine Twiss, the University of Mississippi Medical Center's first public information officer from 1955 until 1978, was in a key administrative position during the formative period of the institution and during the turbulent civil rights era of the 1960s. Luckily for generations hence, she sat down with the late Dr. Robert Currier in 12 free-ranging conversations that he recorded and his wife Marilyn transcribed. Those transcripts have formed a memoir of those years, Pressure From All Sides , the University of Mississippi Medical Center in the 1960s. Learn more.

McKenzie Brings Dedicated Work Ethic, Love of UMC to Interim Director Position

Seltzer Receives Award for Outstanding Service
UNIVERSITY OF SOUTHERN MISSISSIPPI NEWS


Residence Life Facilities Undergo Improvements at Southern Miss
Enhancement of the student experience at The University of Southern Mississippi is the focus of an estimated $400,000 in improvements to existing residence life facilities at the university's Hattiesburg campus. Those improvements include bathroom renovations, new paint, ceiling tile, and carpet in Wilber and Roberts halls; exterior cleaning, sealing, and painting to Hillcrest Hall; and cosmetic upgrades, including paint, fixtures, and partitions for bathrooms in Scott Hall. Crenshaw said the improvements to Scott Hall came in response to requests from the Residence Hall Association student group. "Our goal is to do all we can to maintain and upgrade our facilities so that they exceed their expected life, which many have already done," Crenshaw said. " Other changes for residence life accommodations include assignment of freshmen men to Roberts Hall and freshmen women to Wilber Hall, with the new Village residence facilities set to come online this fall. "With the Village nearing completion, it was a good opportunity for us to make these improvements and changes," Crenshaw said. The Village will provide housing for approximately 350 sorority members of National Pan-Hellenic Conference sororities and the National Pan-Hellenic Council sororities that are recognized student organizations on campus, as well as junior- and senior-level honors students and scholarship recipients. Learn more.

Southern Miss Professor Conducts Research that Helps Support New Legislation for Healthier Schools

Camp Invention Draws Area Youth to Southern Miss for Summer Learning Fun

Statewide Conference Gives Area Teachers "The Write Connection"

Southern Arena Theatre Offers Summer Repertory Fun
UNIVERSITY OF SOUTHERN MISSISSIPPI GULF COAST NEWS


Southern Miss Students and Faculty Take Geography Trip to the Southwest
As 16 students, faculty and staff from The University of Southern Mississippi Gulf Coast loaded into two passenger vans, they prepared for the 22-hour drive to the southwestern United States to learn research methods of documenting prehistoric art and understand Native American culture. When the group arrived for their first day in New Mexico, they began at Tapia Canyon to research the prehistoric art on the canyon's walls. The art varied from petroglyphs, carvings in the rock, to pictographs, pictures drawn on the wall of the canyon. Each person was placed in a team and given one of three responsibilities for working within the canyon. The first group to enter the canyon would scout the walls for any artwork and place a flag to notify the following groups of the location. The second group would locate a flag and, using geographic information system technology, chart the location of the artwork geographically. The final group would locate the same flags and photograph the artwork from as many angles as possible. Jerry Coleman, a geography instructor at Southern Miss Gulf Coast, has conducted each annual trip to the southwest for 15 years. Each group Coleman takes to New Mexico uses Tapia Canyon as a tool for learning how to document the artwork found. "The reason we work in the same community is that we are trying to develop a methodology for researching petroglyphs and pictographs," said Coleman. "The technology is only now catching up with what we've needed." Learn more.

Southern Miss Gulf Coast Wins Awards From State Public Relations Association
ALCORN STATE UNIVERSITY NEWS


Alcorn State University Online
www.alcorn.edu


June 16 - Mississippi Valley State University cheerleaders will host a cheer camp from 9 a.m. until 3 p.m. in the Dance Studio located in R.W. Harrison Gymnasium. Bring a sack lunch, towel, and water bottle. For more information, call (662) 374-9825.



June 16 - The University of Mississippi offers Red and Blue Day 8 a.m. until 1 p.m. for prospective students and their families. The will include admissions information sessions, campus tours, meetings with financial aid representatives, visits to residence halls, and meetings with academic dean representatives. Learn more.

June 17 - The University of Mississippi's Grove Stage is the location for this season's third L-O-U Summer Sunset Series concert at 7 p.m. The free program features Pan Caribbean Jazz Band, directed by UM music professor Ricky Burkhead. The rain location is Fulton Chapel. Learn more.

June 20 - Paula Bohince, the University of Mississippi's first Summer Poet in Residence, will read selected poems at 1 p.m. at the Ole Miss-Oxford Depot. A reception will follow. The event is free and open to the public. Learn more.

June 22-23 - Mississippi State will host a freshman orientation for incoming freshmen and their parents. Freshmen will tour campus, register for classes, and learn about their new life as Bulldogs. Learn more.

June 28-30 - Mississippi Valley State University will hold its 2007 Alumni Convention at the Jackson Hilton located at 1001 County Line Road, Jackson, MS. Registration is $130 until June 15; after that date, registration is $150. For more information, call (662) 254-9993 or e-mail mvsunaa@aol.com.

June 28-Aug. 2 - Southern Arena Theatre at Southern Miss presents its 31st season of repertory theater. The season is made up of three plays running in repertory -- "Fallen Angels," "Shakespeare in Hollywood," and "Voice of the Prairie." For more information, call (601) 266-5418 or 1-800-844-8425. Learn more.

July 5-Aug. 1 - Mississippi Valley State University will offer summer learning and recreational activities for children as part of the Children's Learning in Progress (CLIP) program. Children in grades 1-8 can participate in the CLIP program. For more information, call (662) 254-3625.

July 12 - The University of Southern Mississippi Gulf Coast will have an Issues + Answers lecture at 7 p.m. at the First United Methodist Church in Gulfport. The topic of this lecture is "Religion and Violence." The lecture is free and open to the public.



July 28 - JSU will host "Get Ready 2008" an informational fair from 10 a.m. until 1 p.m. for prospective students at JSU's College of Business. For more information, call (601) 979-1383. Learn more.

September 16-19 - JSU will host the Fourth International Symposium on Recent Advances in Environmental Health Research. For more information, call(601) 979-3743 or email tchounwou@jsums.edu. Learn more.