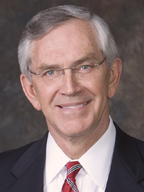 Dr. Thomas C. Meredith

Commissioner Meredith Addresses State of Higher Education
In a presentation on Wednesday at the 17th Annual Leadership Conference for Minority Administrators and 6th Annual Southern Regional Minority Leadership Conference in Tunica, Mississippi, Commissioner of Higher Education Dr. Thomas C. Meredith discussed the state of higher education. "The state of higher education is a crisis state," he said, as he discussed the need for more citizens with a post secondary education to ensure that the region and nation are competitive in the global marketplace. He urged audience members to take action now to ensure that potential students have access to college and the support needed to be successful in college. He discussed the shared responsibility of secondary and post secondary institutions to ensure that students are prepared for college. "We all have a shared responsibility to educate the citizens of our nation, and we will all benefit from our shared success," he said. Secondary school leaders must find a way to reduce dropouts, recruit and nurture "instructional leaders," and improve accountability. Likewise, post secondary institutions have a responsibility to provide some remediation; to better support first-time college students, especially first-generation students; to make the financial aid process easier; to better oversee freshman class attendance; to improve teacher preparation programs; conduct educational research; and to better communicate what students need to know when they come to college.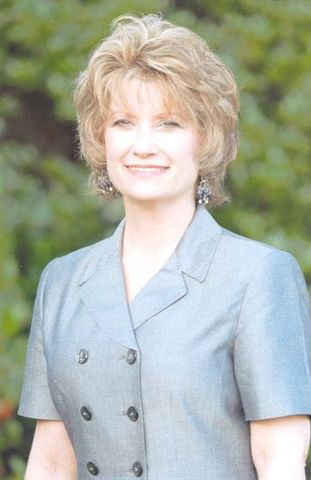 Dr. Lynn House

Asst. Commissioner House Discusses Teacher Prep Redesign
Assistant Commissioner for Academic and Student Affairs Dr. Lynn House participated in a panel discussion of teacher preparation redesign initiatives at the 17th Annual Leadership Conference for Minority Administrators and 6th Annual Southern Regional Minority Leadership Conference on Thursday. Dr. House and her colleagues discussed the critical need for effective K-12 teachers, current teacher preparation strategies, and the initiatives underway to redesign the current strategies. Dr. House is currently coordinating the activities of the Blue Ribbon Committee for the Redesign of Teacher Preparation, which is a joint initiative of the Mississippi Institutions of Higher Learning, the Mississippi Department of Education, the Mississippi Board of Community and Junior Colleges, the Governor's office, state legislators, and the Mississippi Economic Council. Dr. Lynn Cornett, Vice President of the Southern Regional Education Board; Dr. Josephine Posey, Dean of the School of Education at Alcorn State University; and Dr. Patricia Paterson, Director of Teacher Quality Initiatives for the Board of Regents of the University System of Georgia, joined Dr. House on the panel. For more information about Mississippi's teacher preparation redesign efforts, contact Dr. Lynn House.
Commissioner Meredith Honored with SMLC Award
During its Annual Awards Luncheon on Thursday, the Southern Minority Leadership Council (SMLC) honored Commissioner Meredith and five others with SMLC Leadership Awards. Award recipients include Dr. Hank M. Bounds, State Superintendent of Education; Ms. Vickie L. Johnson, Supervisory Attorney for the United States Department of Education; Dr. Jerry Graniero, Director of the Southeastern Equity Center; Dr. Ludwig van Broekhuizen, Executive Director of the SERVE Center at the University of North Carolina; and Dr. Annie P. Wimbish, Superintendent of the Hattiesburg Public School District. The Council honored these individuals for their tireless commitment to education without expectation of reward or acknowledgement. The Southern Minority Leadership Council serves as the executive Design Team for the Annual Leadership Conference for Minority Administrators and the Southern Regional Minority Leadership Conference, which aims to provide secondary school administrators with the latest information and research, practical strategies, and hands-on techniques to ensure a quality education for all students. Learn more about the Southern Minority Leadership Council.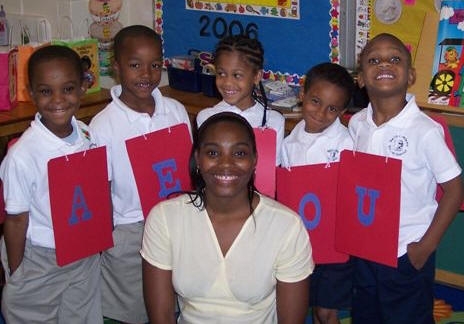 ARM AmeriCorps member Sherry Martin is happy to serve the students at Susie B. West Primary School in the Natchez Adams School District.

America Reads-Mississippi Funded for Tenth Consecutive Year
America Reads-Mississippi (ARM), a literacy based AmeriCorps program administered by the IHL Office of Academic and Student Affairs, recently announced that the program has received grant funding from the Corporation for National and Community Service to continue for the tenth consecutive year and to expand on August 1, 2007. ARM is already the largest AmeriCorps program of its kind in the nation and with the expansion will have 350 AmeriCorps members who serve at 80 elementary and middle schools throughout the state. These schools will be divided into five regions, including the four current regions - Alcorn State University Region, Delta State University Region, Jackson State University Region, and Mississippi State University Region - and the new University of Southern Mississippi Region to be created in August. ARM members tutor pre-K through middle school students in reading and recruit volunteers for literacy activities and community service projects. During this program year, which ends July 31, 2007, ARM members have recruited 13,941 volunteers for 40,476 hours of service to the people of Mississippi. Since many ARM members want to become educators, ARM seeks to increase the number of certified teachers in the state by encouraging members to use their AmeriCorps education award to fund higher education. For information about ARM or to become an ARM AmeriCorps member, contact State Director Randee Williams at (601) 432-6380.
Notice of Real Estate and Facilities Committee Meeting
The IHL Board of Trustees Real Estate and Facilities Committee, chaired by Trustee Scott Ross, will meet next Wednesday, June 6, beginning at 3:30 p.m., in room 935 on the 9th floor of the IHL Executive Office Building, 3825 Ridgewood Road, Jackson, MS, 39211. The committee will discuss issues concerning natural gas service to Alcorn State University. An executive session may be held in accordance with the Open Meetings Act.


Items included in the "University News" section of the System Review are submitted each week by the universities. The news items are listed in rotating alphabetical order by university.
UNIVERSITY OF SOUTHERN MISSISSIPPI GULF COAST NEWS


Mother and Daughter Make Nursing Profession a Family Affair
Dianne Harris and Karee Jimerson have more in common than genetics. The mother and daughter duo also share similar employment, college classes, and the goal of one day advancing their education within the nursing profession. Harris, who works in the medical intensive care unit, and her daughter, Jimerson, who works in the surgical intensive care unit, are both registered nurses at the Ocean Springs Hospital. The women, along with other nurses employed by the Singing River Hospital System, are working to complete their prerequisites in a joint effort created by The University of Southern Mississippi Gulf Coast and the hospital system. This partnership was developed to offer on-site prerequisite courses in a flexible format that is convenient for working nurses. Classes are taught at Singing River Hospital and Ocean Springs Hospital. Before Hurricane Katrina ravaged the Gulf Coast, Harris and Jimerson had discussed completing their prerequisites with Southern Miss in order to continue the RN-BSN program. However, after the storm damaged their homes and altered their lives, all collegiate plans were put on hold. One year following the hurricane, Jimerson approached her mother with the idea of finishing their classes in order to accomplish their goals. Learn more.
ALCORN STATE UNIVERSITY NEWS


Alcorn State University Online
www.alcorn.edu
DELTA STATE UNIVERSITY NEWS


Delta State University Online
www.deltastate.edu
JACKSON STATE UNIVERSITY NEWS


JSU/NASA Educator Resource Center Announces Summer 2007 Workshops
Jackson State University's Educator Resource Center and the National Aeronautics and Space Administration will offer several opportunities this summer for Mississippi and Louisiana educators to enhance teaching skills through a variety of fun workshops. Educators also can receive 0.5 Continuing Education Units for each five-hour workshop on topics that include earth and space science, exploration and aeronautics research. Workshops will be held from 8:30 a.m. until 2:30 p.m. Learn more.

JSU College of Business to Host Youth Empowerment Summit

Payton Center Highlighted in Rec Management Magazine
MISSISSIPPI STATE UNIVERSITY NEWS


Foglesong Reviews First Year at MSU Helm
Reviewing his first year as president of Mississippi State University, Robert H. "Doc" Foglesong says that he's learned the value of patience and has been energized by his interaction with faculty, students, staff, alumni, and friends. "I've been the new kid on the block, and I've logged thousands of miles getting to know the extensive MSU family," said the university's 18th president, named in 2006. "Mississippi State has a presence in every Mississippi county, and our more than 100,000 alumni stretch literally around the globe. This has very much been a year of hitting the ground running and being in as many places as humanly possible," he said. Within weeks of arriving on the Starkville campus in April 2006, Foglesong appointed a cross-campus committee of faculty, staff, and students to build a 10-year strategic plan. Called FutureState 2015, the resulting document yielded more than 100 recommendations, about 70 of which already have been implemented or are substantially under way. The former four-star general adopted a theme of One State, One Team and announced the ambitious goal of becoming the most respected land-grant school in the region. "To some, that seems audacious," he admitted, "but I believe that Mississippi State University has talent and a work ethic that are second to none. After a year, I'm more convinced than ever that this institution can accomplish great things for the state and the region." Learn more.

Mississippi State Graduate Student Wins NSF Fellowship

Mississippi State's Challenge X Team to Nationally Compete

MSU Alum Tony Luczak to Lead MSU Golf Course

Top Business Honor Society at MSU Inducts Students
MISSISSIPPI UNIVERSITY FOR WOMEN NEWS


Students Complete Crossroads Program
Four months of hard work paid off for 47 seventh and eighth graders who attend Lee Middle School. The students recently received certificates of completion from the Crossroads project, which focuses on meeting the academic, social, and emotional needs of program participants. Crossroads Family Night highlighted individual and group achievements including perfect attendance, class awards and performances, Boys & Girls Club awards, and volunteerism. Dr. Suzanne Bean congratulated the students for their hard work. "This is a very special night. We want to say how proud we are of you for sticking with this program. You have grown through your leadership skills and made improvements academically." Bean is project director for Crossroads and director of the Roger F. Wicker Center for Creative Learning. "This project is also special because we have six different agencies in Columbus working together," she added. The effort is being made possible through a $1 million grant from the Mississippi Department of Education Office of Innovation and School Improvement. The community partners include the Roger F. Wicker Center for Creative Learning, the Columbus Municipal School District, Boys & Girls Club of Columbus/Lowndes County, Columbus Arts Council, Lowndes County Youth Court, and Community Counseling Services. Each partner provides a valuable service for the Crossroads participants. Learn more.
MISSISSIPPI VALLEY STATE UNIVERSITY NEWS


Mississippi Valley State University Online
www.mvsu.edu
UNIVERSITY OF MISSISSIPPI NEWS


Oxford Native Is First Graduate of UM Independent Study High School
The University of Mississippi (UM) hosted another graduation ceremony last week, this time for only one student. Currie Martin of Oxford received his diploma as the first graduate of the university's Independent Study High School (ISHS) program. "This is a milestone," said Stephen Beebe, coordinator for UM-ISHS. "Currie is a trailblazer. The Martin family stuck with us through our growing pains ... and we thank them for that." Martin, son of Bill and Carol Martin, is one of Mississippi's top high school tennis players. He was a student at North Delta Academy in Batesville until his own rigorous schedule began encroaching on school time. UM-ISHS offers a full curriculum of semester and full-year courses for students in grades 9-12. Each course is aided by either print or online instruction, and students are taught by licensed instructors, most of whom hold master's degrees. The online courses are designed to provide students with step-by-step instructions, offering detailed self-help activities that allow the student to guide himself through a lesson without the need for immediate instruction from a teacher. Though the program began in 2002, Martin is the first to complete all the requirements for a diploma. Martin said that had he continued on his normal high school schedule, he's not sure where he would be. "Had I ended up in the same place (that I am now), it would have been so much tougher," he said. "There would have been constant work, absolutely no downtime, and so much pressure." Learn more.



Pharmacy Educators Recognized for Teaching, Research Excellence

Surplus Equipment Donation Turns UM Trash into Water Valley Treasure

Spring Honors College Grad Awarded One of Six National Hohenstein Fellowships

Winter Institute to Host Third Annual Summit to Promote Teaching Civil Rights History Statewide
UNIVERSITY OF MISSISSIPPI MEDICAL CENTER NEWS


Jones Encourages Faculty to Embrace New Goals, Vision
Dr. Dan Jones expressed optimism for the institution's future and challenged University of Mississippi Medical Center faculty to continue to embrace a "strong culture" of higher expectations and accountability during the annual spring faculty meeting May 18 in the Norman C. Nelson Student Union. Jones said he has been encouraged by what he has seen this academic year. Most of that encouragement comes from you and what I've seen you doing," he said. "We've embraced the challenge to do what we need to do as a faculty so that we can meet the health workforce needs of our state." Jones pointed to specific faculty contributions that are helping the institution increase class size to meet its long-term challenge of achieving a per-capita health professional count sufficient enough to be in the middle third of national rankings. Learn more.

New Radiology Chair Brings Leadership Experience to Medical Center

New Video Touts Virtues of Washing Hands, Reducing Hospital Infections

Habitat for Humanity Benefits from Energetic UMC Volunteers

More Than 420 Receive Degrees at Medical Center's 51st Commencement


UNIVERSITY OF SOUTHERN MISSISSIPPI NEWS


Anthropologists Excavate 18th Century French Colonial Burial Site
University of Southern Mississippi anthropology graduate students and faculty recently uncovered strong evidence suggesting that Moran's Art Studio in Biloxi was built on one of the oldest French colonial cemeteries in North America. Dr. Marie Danforth, professor, Dr. Amy Young, associate professor, and about a dozen students visited the site during May for a 12-day anthropological dig to finish a two-year process of recovering the remains of French settlers from the early 1700s and artifacts exposed by Hurricane Katrina, which demolished the studio. The dig was funded by a grant from the National Endowment for the Humanities. Facial structures and historical documents suggest who they were, while carbon -14 dating reveals the age of the burial ground. "What we're hoping to do is to remove the bones, study them and try to reconstruct how people lived here in the 1720s," Danforth said. Young worked on the site as an archeologist, digging up artifacts, a crucifix and rosary beads, that could give her a glimpse into past life. While the total skeleton count is at 19, more has yet to be discovered. Young said future digs may be planned to see what lies underneath the rest of the intact foundation on the lot. The skeletons are being transported to Southern Miss in Hattiesburg for study, and Young said she hopes to return them to Biloxi for burial. Learn more.

Southern Miss Receives $1.2M Grant for School Administrator Training

Southern Regional Public Safety Institute Graduates 75th Class

Southern Miss Student Receives Prestigious Fellowship

The Children's Center Plants Tree in Memory of 15-Year-Old


June 1 - Country, gospel, and bluegrass are to be featured at the Gertrude C. Ford Center for the Performing Arts for the second Oxford Sessions, a series of concerts to be videotaped live for a planned series of TV specials celebrating American music. Tickets for the 8 p.m. show are $5 each. Learn more.

June 8 - Mississippi State University welcomes its first of four freshmen orientation sessions, designed to show new students how to navigate campus, register for classes, and find their place at the 129-year-old land grant university. Learn more.

June 11 - 14 - The Annual Church Music Workshop of America is celebrating 31 years with nationally acclaimed musical artists and consultants Byron Cage and the Rev. Dr. Raymond Wise. The workshop will take place at Jackson State University's F.D. Hall Music Center on the main campus. Learn more.

June 17 - 22 - The Frances A. Karnes Center for Gifted Studies at the University of Southern Mississippi will host its annual Leadership Studies Program for students in grades 6-11 on the Hattiesburg campus. For more information, call (601) 266-5236. Learn more.

June 18 - 22 and 25 - 29 - The Percussion Studio in the University of Southern Mississippi School of Music will host Summer Drummin' camps this summer for beginners to advanced drummers, ages 13 and up. For more information on all camps, call Dr. John Wooton at (601) 266-4993. Learn more.

June 24 - 29 and July 9 - 13 - The South Mississippi Writing Project at the University of Southern Mississippi will offer two camps for youngsters in grades 2-7. For more information on "Write Your Heart Out," and "Writing Reading Connections" camps, e-mail southmississippiwritingproject@gmail.com. Learn more.

July 12 - The University of Southern Mississippi Gulf Coast will have an Issues + Answers lecture at 7 p.m. at the First United Methodist Church in Gulfport. The topic of this lecture is "Religion and Violence." The lecture is free and open to the public.