Dr. L. Stacy Davidson, Jr.

Letter from Board President, Dr. L. Stacy Davidson, Jr.
As President of the Board of Trustees of State Institutions of Higher Learning, I am sensitive to the financial needs of our eight public universities as well as the impact a tuition increase has on Mississippi's students and parents.
Increasing tuition is difficult on students. Just as difficult are student buildings without fire suppression systems, campuses without adequate sewer treatment facilities, and classes that can't be offered because there's not enough money to hire professors to teach them.
During its meeting this month, the Board tentatively approved an average $129 per semester tuition increase in an attempt to narrow the $36.6 million gap between what we requested in state support for classroom operations and what was actually received. We also approved a five percent merit-based salary pool for our faculty and staff to make Mississippi's faculty and staff salaries more competitive with those in neighboring states, which average $10,000 more per year. Because we received enough in state appropriations to cover these necessary salary increases, the much-needed dollars generated by the tuition increase will offset the many fixed-cost increases facing our institutions, such as accreditation requirements, insurance, financial aid, and repair and renovation of the largest number of buildings of any state agency.
Even with an increase, Mississippi's tuition is still a bargain. Thirteen Southern states have had higher tuition increases since 2000-01 than Mississippi.
We must make sure we continue to offer our students a quality educational product. Mississippians can't afford anything less.
Dr. L. Stacy Davidson, Jr.
President
IHL Board of Trustees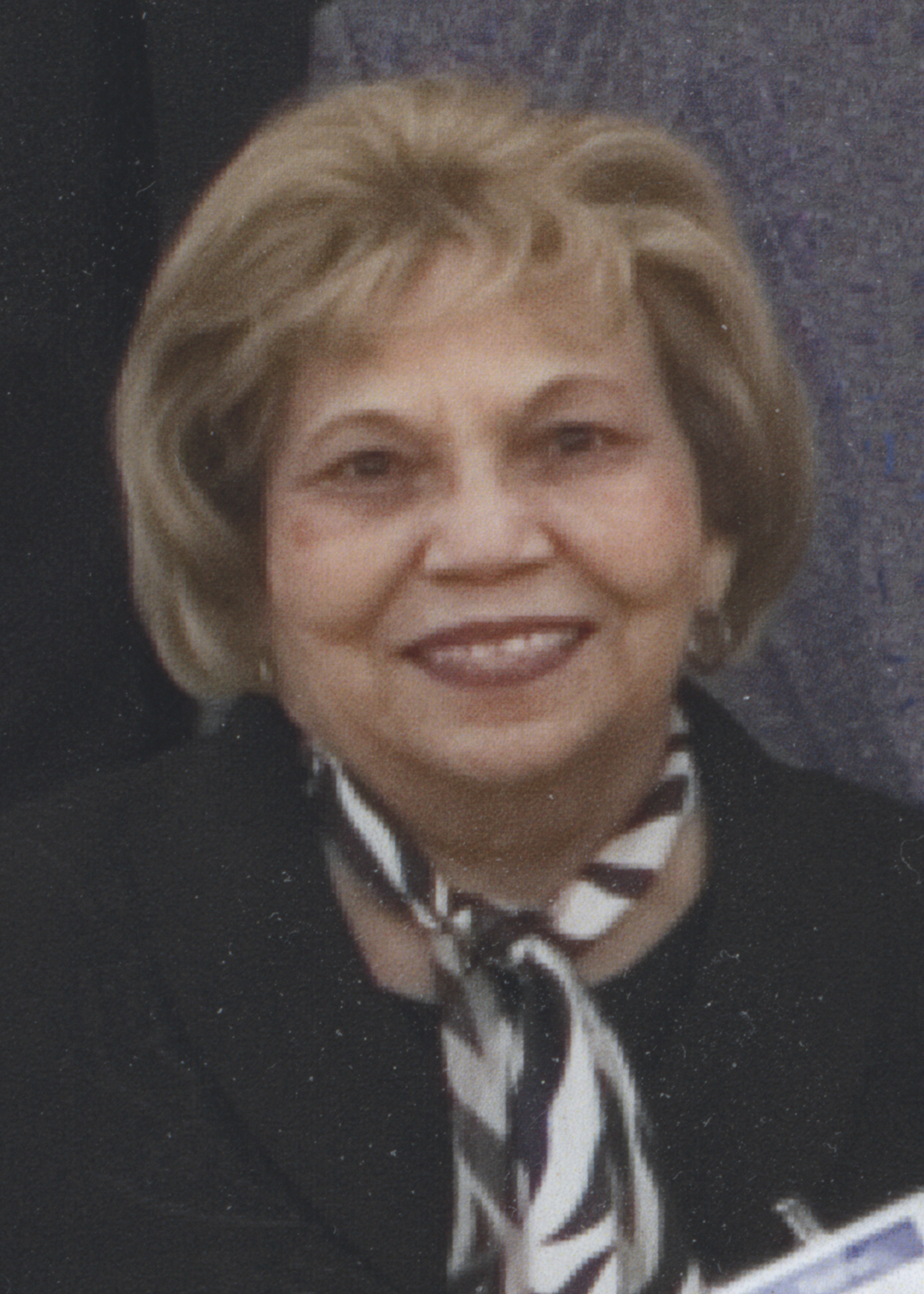 Betty A. Williams

IHL Remembers Former Board Member
Former IHL Board member Mrs. Betty A. Williams died on Monday, May 21, at age 73. The first African-American female to serve on the Board, Williams was appointed in 1976 by Governor Cliff Finch and served until 1988. She led the Board as president in 1987. During her tenure, the state's universities experienced severe funding shortages that threatened to close the doors of some universities. Nevertheless, Williams continued to stress the importance of attracting and keeping good students and quality faculty despite money shortages. University doors didn't close, and she ended her Board term with the state's largest appropriations increase in history at the time. With degrees from Jackson State University and Washington University in Missouri, Williams was an elementary school principal by profession. The funeral service will be held at noon on Saturday, May 26, at Joe Cook Elementary School Auditorium in Columbus.
Economists Say Consumer Confidence Holding Steady
In the May 2007 issue of
Mississippi's Business
, senior researcher and statistician in the IHL Office of Policy Research and Planning Christian Pruett notes that consumer and executive confidence showed little change in the first quarter of 2007 from the previous quarter. Despite slight confidence declines in the manufacturing, retail, wholesale, and construction industries, the Business Confidence Index, which reflects the attitudes of Mississippi executives on the current and future business conditions in the state, increased slightly overall due to increases or no changes in the services; health care; transportation and public utilities; finance, insurance, and real estate; and agriculture industries. The consumer confidence index held steady from last quarter as consumers continue to view their personal and the state outlooks positively. Nevertheless, consumers have expressed concern over rising gas prices. Read
Mississippi's Business
online. For more information about the confidence indexes, contact Christian Pruett at (601) 432-6445.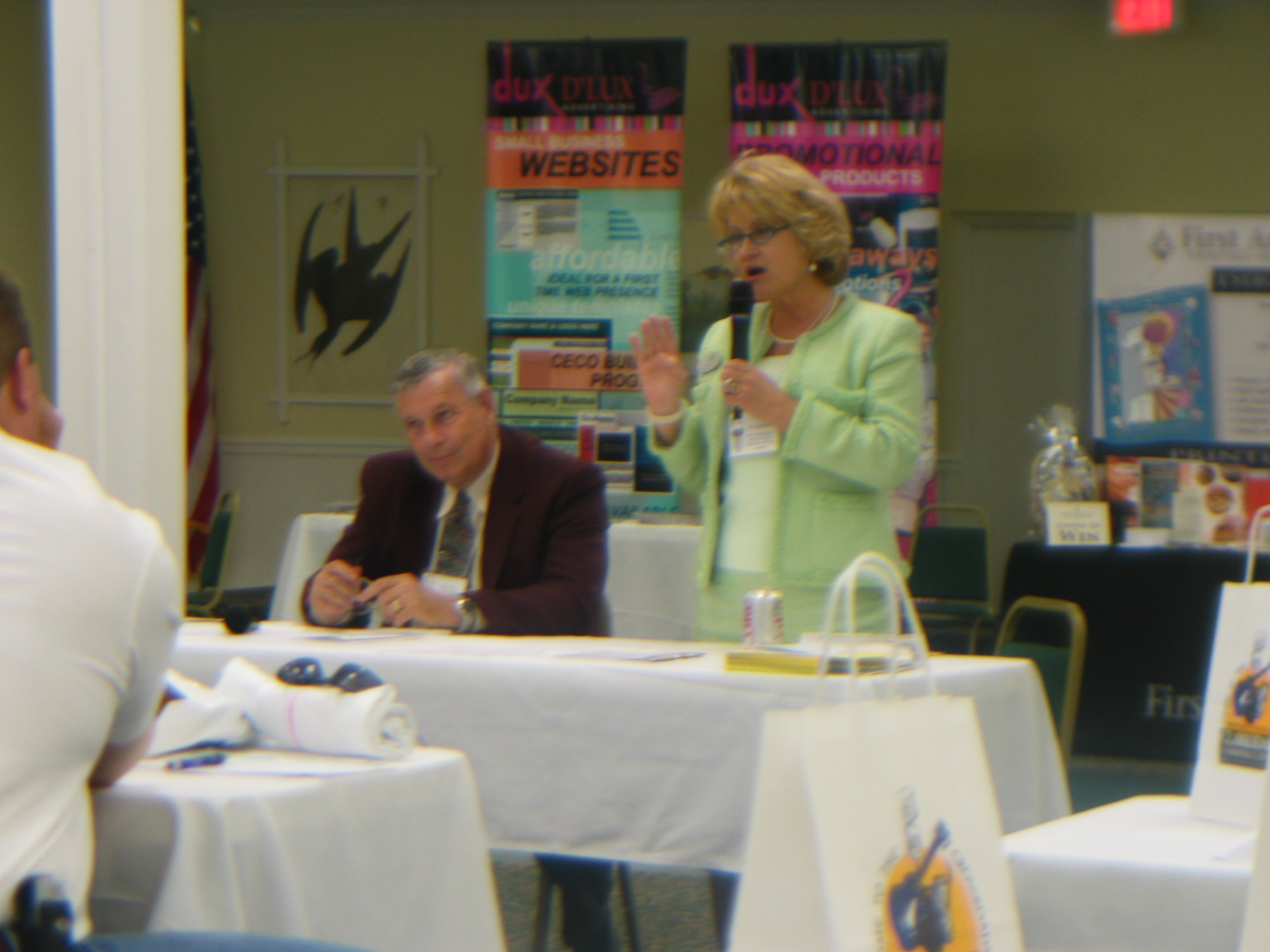 Dr. Lynn House and Dr. Wayne Stonecypher co-present at the CPRAM conference.

Assistant Commissioner House Speaks at CPRAM

Assistant Commissioner for Academic and Student Affairs Dr. Lynn House participated in a discussion at the College Public Relations Association of Mississippi (CPRAM) annual conference in Vicksburg on Monday. The two-day conference brought together communications, media relations, and marketing practitioners, as well as photographers from the two-year and four-year colleges and universities across the state. Dr. House, joined by Dr. Wayne Stonecypher, Executive Director of the State Board for Community and Junior Colleges, discussed ways to produce changes in higher education and the implications such changes could have on society. They addressed the role that public relations practitioners play in helping students and parents understand the value of a college education and encouraging more Mississippians to go to college. The two also talked about the relationships among IHL, the community and junior colleges, and K-12. They agreed that partnerships in education are vital for moving the state forward economically. Learn more about CPRAM.


Items included in the "University News" section of the System Review are submitted each week by the universities. The news items are listed in rotating alphabetical order by university.
UNIVERSITY OF SOUTHERN MISSISSIPPI NEWS


Dr. Martha Saunders Begins Tenure as USM's First Female President
Members of the media greeted Dr. Martha Dunagin Saunders Monday, May 21, at the door of the Aubrey K. Lucas Administration Building to record the beginning of her first day as the ninth president of The University of Southern Mississippi. She is the first woman to hold the position. Media interviews and meetings with students and university cabinet members marked her first day on the job. Saunders, a Mississippi native and Southern Miss alumna, was named president on April 5 by the Board of Trustees of State Institutions of Higher Learning (IHL), following a day-long slate of interviews with numerous campus and community constituency groups. She succeeds Dr. Shelby F. Thames, whose term as president concluded May 20. Saunders' schedule over the next couple of weeks includes more meetings with various vice presidents, university directors, and constituency groups, including the Athletic Foundation Executive Committee, Faculty Senate Officers, and the presidential transition team. A group of 18 student representatives met with Dr. Saunders today for lunch and had opportunities to share their views of the university and to ask questions of the new president. "I'm personally excited that we have a woman president at Southern Miss," said Wren Ward, a speech communication major from Little Rock, Ark., and Panhellenic president. Learn more.

Symphony, Center Reaching Developmentally Disordered Children through Music

Construction Engineering Technology Students Place Fourth at National Competition

Alumni Association Awards Six Legacy Scholarships

Southern Miss to Host 60th Annual Girls State
UNIVERSITY OF SOUTHERN MISSISSIPPI GULF COAST NEWS


USM Gulf Coast Geography Group Studies in Southwestern U.S.
A two-week trip into the past began today for a group of geography students from the University of Southern Mississippi Gulf Coast campus who are on a mission to save prehistoric art in the canyons and mountains of New Mexico. The group of 15 students will conduct a geographic investigation on the recent disappearance of prehistoric Native American carvings and paintings in Bernalillo. Learn more.

Southern Miss Gulf Coast Class in Tapia Canyon

Photos of Southern Miss Gulf Coast Class in Tapia Canyon

Southern Miss Gulf Coast School of Nursing Takes Sim Man to Visit Gulfport High School
ALCORN STATE UNIVERSITY NEWS


Alcorn State University Online
www.alcorn.edu
DELTA STATE UNIVERSITY NEWS


DSU Announces Winners of Foundation Awards for Staff Excellence
In an initiative geared to recognizing individual staff members who have made outstanding contributions to the university, their colleagues, or the university's relations with communities in the region, the Delta State University Foundation funded "Awards for Staff Excellence in Service" this year. The University announced the award's inaugural winners today, with Patsy Burchfield, Jessie Eatmon, Becky Foster, Ann Giger, Judy Godbold, Deborah Moore, and Jane Waldrop all earning honors. Delta State President Dr. John M. Hilpert explained, "The purpose of these awards is to encourage and recognize the outstanding achievements of our staff at Delta State. We are appreciative to the Foundation for supporting the awards." Award winners will each receive a $3,000 cash prize, as well as a commemorative plaque which will be presented at the Foundation Board's spring meeting. Learn more.

Delta State Celebrates One of the Largest Commencement Exercises in School's History

Delta State Places Six on South Central Region 2007 Rawlings /American Baseball Coaches Association All-Region Team
JACKSON STATE UNIVERSITY NEWS


Former Black Activist Comes to Jackson
Jackson State University's (JSU) Jake Ayers Institute for Research and the Executive PhD Program in Urban Higher Education will host a book signing with David Hilliard at 5 p.m. on June 7 at the Mississippi e-Center @ JSU. Refreshments will be provided. David Hilliard, a founding member and Chief of Staff of the Black Panther Party, is an incomparable authority on the life, legacy, and intellectual history of Black Panther leader Huey P. Newton. Indeed, no other scholar of or direct participant in the Black Liberation Movement of the 1960s and 1970s offers a more intimate understanding of Newton's activism and ideas. First as childhood classmates and later as young adult comrades in the African-American freedom struggle, Hilliard enjoyed a close association with Newton that endured throughout the Black Panther leader's lifetime. For additional information, contact (601) 979-2434. Learn more.

Register Now For Kids Kollege Summer Camps

2007 Rick Comegy Summer Football Camps
MISSISSIPPI STATE UNIVERSITY NEWS


Mississippi State Shows Fifth-Grade Journalists University Life
A group of fifth-graders recently traded in their daily school routine to work at Mississippi State University as journalists - learning about eggs, a college radio station, engineering, and the university's mascot. Students from Ward-Stewart Elementary School in Starkville left their classroom for a day of asking questions and learning about a range of topics, from how chickens grow from eggs to daily habits of the university's bulldog mascot to gears in computerized machines. About 20 students in Debbie Vanderford's fifth-grade class visited the department of poultry science; the College of Veterinary Medicine; a robotics lab in the Swalm School of Chemical Engineering; WMSV, the university's radio station; and the State Fountain Bakery. As part of the campus trip, students were assigned to write a short piece about each part of campus they visited. Each student reporter walked around campus with a pen, reporter's notebook, and bulldog lapel pin, which served as a press pass for the day. The "reporters" explored many possible career fields as they took notes and asked questions. Learn more.

MSU-Meridian Faculty Member Again Tapped for National Role

MSU Announces June Dates For 'Fun with Food' Day Camp
MISSISSIPPI UNIVERSITY FOR WOMEN NEWS


MUW Alumna Working at FCC during Summer
When Mary Kathryn Kirkpatrick, a Mississippi University for Women (MUW) class of 2005 graduate, mailed her resume and a cover letter to the Inspector General's Office of the Federal Communications Commission (FCC) for a clerkship position in Washington, D.C., she wasn't sure anything would happen. "It was just a whim," the Amory native remembers. "I in no way expected to get the job." But she did get the job, beating out around 90 other applicants. Kirkpatrick was one of only 35 interviewed in Washington. She said she got the call a few days later, telling her she got the position. "We were proud of her," said her mother, Mary Jo Kirkpatrick, who serves as the chair of the associate nursing program at MUW. "She's just the kind of person [that] when she decides she wants to do something, she's going to do it." Kirkpatrick, who will finish law school at Ole Miss in May 2008, said that when she came to MUW, she wasn't sure what major would be right for her. Again, on a whim, she signed up for the communication program. In one of his classes, communication chair Dr. Martin Hatton discussed FCC law, which ignited Kirkpatrick's interests. Learn more.

Business Week Celebrates 30 Years
MISSISSIPPI VALLEY STATE UNIVERSITY NEWS


MVSU Students Assist in Gulf Coast Rebuilding Efforts
Mississippi Valley State University (MVSU) students, faculty, and staff spent time recently on the Mississippi Gulf Coast to assist in the rebuilding efforts of the storm-battered area as part of the Community Service Learning Alternative Breakaway. The Alternative Breakaway Program places students in communities to engage in community service and experiential learning, according to Theresa Rash, director of Community Service Learning. "Overall, I felt the trip was a good experience for not only me, but for the students also," Rash said. "I was able to see the devastation first hand and gathered that there is still so much more to be done, the efforts definitely don't stop." Armon Kelly, a rising sophomore from Florissant, Missouri, said, "More than anything, I was most moved by the people who had lost everything, from their material possessions to family members, but still were able to welcome us with open arms and a comforting spirit despite what they had been through." MVSU assisted the Volunteer Coordinating Center in completing the building of its offices. The coordinating center serves as the nucleus for most volunteer rebuilding. For one student, it was because of Katrina that he came to Valley. Raymond Henry, 33, was a resident of New Orleans when Katrina struck in 2005. Henry said the trip to the coast helped him shut the door to a traumatizing experience. "For a long time I didn't want to see it (the damage)," said Henry, a sophomore social work major.

UNIVERSITY OF MISSISSIPPI NEWS


UM Awarded $635,000 Grant for ROTC Chinese Training
The University of Mississippi (UM) is among four universities nationwide awarded more than $2 million in grants from the U.S. Department of Defense to develop language and culture programs targeting ROTC students. UM is to receive $635,000 over the next three years for the new ROTC Language and Culture Program to train cadets and midshipmen in Chinese. The program is one step in a series of initiatives designed to improve the overall foreign language capability of future military officers. "The University of Mississippi is truly playing a critical role in our nation's vital effort to create a cadre of professionals who are proficient in Chinese and knowledgeable of Chinese culture," said Donald Dyer, chair of the modern languages department. UM officials applied for the competitive grant in January 2007 and learned last month the school had been selected, along with Indiana University, San Diego State University and University of Texas at Austin. The other universities' programs are to concentrate on different languages, including Arabic, Russian, and Farsi. Three ROTC cadets have been accepted into the intensive Chinese program this summer, including Sara Stevens, a sophomore from Hernando who transferred to UM in January because of the Chinese program. "Not many people know Chinese these days," Stevens said. "I know this new program will be challenging, and I'm excited about it. This is what I've wanted to do for a long time." Learn more.

Honors College Student Chosen for Environmental Leadership Summit

Concepts for Personalized News Web Site, Weekly Newspaper Win Gillespie Competition

Computational Hydroscience Center Seminar Focuses on Disaster, Crisis Management

Poetry by MFA Grad in Creative Writing Wins National Literary Review Competition
UNIVERSITY OF MISSISSIPPI MEDICAL CENTER NEWS


Accountant, Lawyer Finds Medicine Career Path a Perfect Fit
Becoming a doctor wasn't in Houston Graves' immediate future when he graduated from high school. "I wasn't sure what I wanted to do at 18 years old," he said. After earning a degree in accounting at the University of Mississippi, Graves decided to try out the business world. But after a year working as an accountant at Arthur Anderson in Memphis, he decided he wanted something more. "I had thought about law school so I applied and I got accepted to the law school at Ole Miss," he said. "I loved studying the law." But the Batesville native said something was missing. And after a summer clerkship at a law firm in Jackson, he quickly realized practicing law was not the career path he really wanted to take. After talking with his uncle, a general and vascular surgeon in Oxford, and his cousin, a urologist in Jackson, Graves decided to go back to school – this time to get his prerequisites for medical school. Learn more.

Desire to Help Others Lures Business Grad to Dental Profession

Busy Wife, Mother Achieves Goal of Entering Nursing Profession

"Survivor" Contestant's Determination, Grit Brings Success in Dental Hygiene Program

UMC Nurses Praised for Dedication, Compassion to Their Profession


May 25 - A close-up look at the planets and beyond is available to amateur stargazers during an open house at the University of Mississippi's Kennon Observatory. The viewing, set for 8:30 until 10 p.m., is to look at Venus, the moon, Saturn and Jupiter. The event is free, and families with children are welcome. Learn more.

May 29 - 31 - Mississippi Valley State University will hold registration for Summer Session I on Tuesday, May 29. Classes will begin on Thursday, May 31. Learn more.

June 6 - University of Southern Mississippi (USM) Recreational Sports will host Hattiesburg's inaugural Let's Go Walkin' Mississippi community walk beginning at 10 a.m. at the Payne Center on the Southern Miss campus. USM President Martha Saunders and Hattiesburg mayor Johnny DuPree will host the event. For more information call (601) 266-5408.Learn more.

June 11 - 14 - The Annual Church Music Workshop of America is celebrating 31 years with nationally acclaimed musical artists and consultants Byron Cage and the Rev. Dr. Raymond Wise. The workshop will take place at Jackson State University's F.D. Hall Music Center on the main campus. Learn more.

July 12 - The University of Southern Mississippi Gulf Coast will have an Issues + Answers lecture at 7 p.m. at the First United Methodist Church in Gulfport. The topic of this lecture is "Religion and Violence." The lecture is free and open to the public.

July 15 - 21 - Delta State University's Delta Music Institute (DMI) will be hosting its first summer camp. A six-day interactive experience for students age 15-18, the camp will feature three music career tracks that will be integrated, culminating in a recording and showcase performance. For more information call (662) 846-4579. Learn more.

June 18 - 22 - A five-day institute for K-16 teachers of the Japanese language is scheduled at the University of Mississippi, with priority given to applicants from Mississippi and adjoining states. The Japan Foundation pays tuition, hotel, and some transportation costs for teachers who complete the course. Learn more.

June 27 - 29 - The third annual Civil Rights Education Summit, hosted by the William Winter Institute for Racial Reconciliation at the University of Mississippi, promotes teaching the civil rights movement across the curriculum in schools statewide. The public is invited to attend and there is no registration fee. Learn more.