Board Approves Inflationary Tuition Increases
In a unanimous decision during its regular monthly meeting on Thursday, the IHL Board approved for first reading annual resident tuition increases to help offset inflationary costs and an increase in state funding of only 1.2 percent for the coming fiscal year. "The Board understands the financial burden a tuition increase places on our students and parents," said Board President Amy Whitten. "However, our universities have received level or declining funding through state appropriations for seven of the last nine years. These minimal tuition increases will at least help our institutions partially offset budgetary inflation costs." The following annual resident tuition increases were approved by the Board today for 30-day review per Board policy 702.04C:
Alcorn State University: $175 (4.0%) increase to $4,498 annually
Delta State University: $201 (4.7%) increase to $4,449 annually
Jackson State University: $157 (3.5%) increase to $4,634 annually
Mississippi State University: $172 (3.5%) increase to $5,150 annually
Mississippi University for Women: $214 (5.1%) increase to $4,423 annually
Mississippi Valley State University: $158 (3.6%) increase to $4,575 annually
University of Mississippi: $173 (3.5%) increase to $5,107 annually
University of Southern Mississippi: $181 (3.7%) increase to $5,096 annually
In other news, the Board approved the allocation of state appropriated funds among the universities based on the Board's funding formula. At the Commissioner's recommendation, the Board also approved the use of Atlanta-based executive search firm Baker and Associates LLC as the search consultant for the current Mississippi State University presidential search.
Board Approves Priority List of Facilities Needs
Also during its monthly meeting, the IHL Board approved a priority list of facilities needs. The list of 31 projects, totaling $243,289,579, will be presented to the Legislature during the 2009 Legislative Session. The needs include fire suppression systems at Mississippi University for Women; a campus security project at Jackson State University, and various building renovations throughout the System. With more than 1,600 buildings under its care, Mississippi's University System has the largest inventory of buildings of any state agency, and 60 percent of the buildings are more than 25 years old. As with any aging building, repairs and renovation can be costly. To address the ongoing cost, in 2008 the System asked the Legislature for $99 million in recurring dollars and $130.7 million in bond money. Although the Legislature did not grant the request for recurring dollars, it did provide $29.7 million in bonds. The Board will continue to request recurring dollars for facilities maintenance but recognizes the propensity of the Legislature to provide bond money in lieu of capital renewal. For this reason, the Board determined the approved priority list of facilities needs for the System to assist the Legislature in their funding decisions. For more information, contact Assistant Commissioner of Real Estate and Facilities Harry Sims.
Current and past Doctoral Scholars pose with Commissioner of Higher Education Dr. Thomas C. Meredith. Pictured from left to right are Dr. Natasha Satcher, Dr. Teresa Taylor, Kari Copeland, Elizabeth Udemgba, Davida Crossley, Marcus Golden, April Butler Tanner, Dr. Meredith, Dr. Barbara Patrick, Daphne R. Chamberlain, Dr. Latonya Clay, and Derrick Cherry.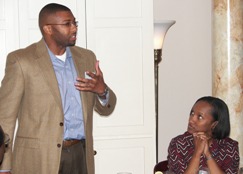 Derrick Cherry, a doctoral candidate at Mississippi State University, shares his personal experience with the Doctoral Scholars program, while past program participant Dr. Teresa Taylor listens.

Event Highlights Mississippi's SREB Doctoral Scholars Program
During an intimate reception and dinner on Thursday, May 15 in Jackson, minority doctoral candidates, participating in the Southern Regional Education Board (SREB) Doctoral Scholars Program, had the opportunity to interact with past program participants, graduate school deans, and Commissioner of Higher Education Dr. Thomas C. Meredith. The evening was designed to highlight the Doctoral Scholars Program and bring the program's Mississippi stakeholders together. The Doctoral Scholars Program seeks to increase the representation of minorities in college faculty ranks by providing scholarships and networking opportunities to minority doctoral candidates. Commissioner Meredith delivered the evening's keynote address, after which the current Doctoral Scholars asked questions of past program participants. The evening concluded with personal testaments from program stakeholders. Since its inception, the Mississippi SREB Doctoral Scholars Program has served 57 doctoral candidates. Of these, 19 are currently in the program. Of 33 graduates, 84 percent are employed in education. The program, which is part of the national Compact for Faculty Diversity, was developed with support from the Pew Charitable Trusts and the Ford Foundation. For more information, contact IHL Director of Student Affairs Pearl Pennington.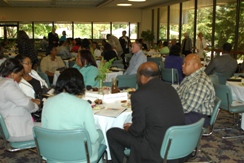 GEAR UP Mississippi stakeholders gather for an end of year celebratory lunch.

GEAR UP Mississippi Luncheon Celebrates Success
GEAR UP Mississippi celebrated success and the end of the academic year at a luncheon at the Jackson State University e-Center on May 12. Maggie Wade, news anchor of Jackson's NBC affiliate WLBT, delivered the keynote address; GEAR UP staff provided program highlights and thanked partners. The GEAR UP program, which aims to give students the tools and experiences they need to continue their education after high school, has served more than 6,000 students in 48 schools and 32 school districts over the last six years. GEAR UP Mississippi began working with this year's seniors when they first entered seventh grade. Since that time, they have diligently nurtured this cohort, providing tutoring and academic support; family and community engagement opportunities; financial aid assistance; and teacher professional development. GEAR UP Mississippi is a federally funded program that operates under the auspices of the IHL Office of Academic and Student Affairs. The program is a partnership of the State Board for Community and Junior Colleges and the Mississippi Department of Education. For more information, contact GEAR UP Mississippi Director Dr. Di Ann Lewis.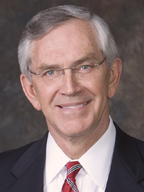 Dr. Thomas C. Meredith

Commissioner Meredith Re-Elected President of NASH
During the annual conference of the National Association of System Heads (NASH) in April, Mississippi Commissioner of Higher Education Dr. Thomas C. Meredith was re-elected as NASH president for the seventh straight year. NASH is an organization of chief executives of the nation's 52 public higher education systems, whose primary goal is to improve the governance of public higher education systems. The association also seeks to improve and coordinate education efforts from pre-kindergarten through university. Commissioner Meredith has been a champion of the NASH "Access to Success" initiative, aimed at closing by at least half the gaps in both college-going and degree completion that separate low-income and minority students from others. Prior to his appointment as commissioner of Mississippi's public university system in 2005, Dr. Meredith served as chancellor of the university system of Georgia and chancellor of the university system of Alabama. Dr. Meredith also served as president and professor of education at Western Kentucky University in Bowling Green. He has spent nearly his entire professional career in education, providing leadership in senior-level university administrative positions, fulfilling the challenging position of high school principal, and teaching at the university and secondary school levels. Learn more about Dr. Meredith and NASH.

Items included in the "University News" section of the System Review are submitted each week by the universities. The news items are listed in rotating alphabetical order by university.
JACKSON STATE UNIVERSITY


Hamer Institute Hosting Workshop for Middle and High School Students
The Fannie Lou Hamer National Institute on Citizenship and Democracy is hosting a week-long workshop on the civil rights movement for 20 middle and high school students July 7-12 on the main campus of Jackson State University. The workshop's theme, "The Southern Civil Rights Movement: The Pivotal Role of Young People," will explore the contributions and sacrifices made by young people during the 1950s and 1960s. The sessions also will examine how American democracy is an evolving concept, changing throughout its history in response to the demands of engaged citizens of all ages. The students will learn about the achievements of ordinary people who stood against oppression and struggled to bring full civil rights to all Americans. "The young people of the '50s and '60s can serve as role models for today's youth," says Leslie Burl McLemore, a founder of the Hamer Institute in 1997. "Today's young people can see that violence is not the answer by examining the remarkable achievements of the young people from another era." For more information, call McLemore at (601) 979-1561. Learn more.

JSU Department of Urban and Regional Planning Honors Outstanding Students

Jackson State University Student Crowned Jackson's Miss Hospitality

Norman Hutchins and Myrna Summers Headline JSU's Church Music Workshop
MISSISSIPPI STATE UNIVERSITY


MSU Grad Wins Jeopardy Championship
Recent MSU graduate Joey Beachum catapulted himself and his alma mater to the national stage on May 16 when he realized his lifelong dream of competing on his favorite game show--and walked away with the $100,000 top prize. The Saltillo native emerged victorious after beating out more than 14,000 hopefuls in preliminary screening and competitions to be one of 15 contestants in the College Championship series of the long-running television game show "Jeopardy!" Beachum rose above contestants from 14 other colleges and universities in episodes taped in April at the Kohl Center on the campus of the University of Wisconsin-Madison to win the championship. "The experience was nothing short of an amazing once-in-a-lifetime opportunity," said Beachum. His fondest memory was having his fiance, Nicole Dilg, in the audience for his victorious moment. "Right before the final scores were revealed, I looked out into the crowd and saw Nicole watching me live my dream--I will never forget that," he said. Beachum graduated from Mississippi State two weeks ago with a perfect 4.0 grade point average in political science. An ROTC student at MSU, he now is second lieutenant in the U.S. Air Force. His favorite pastimes include playing soccer and baseball. He is currently teaching himself how to play the piano and violin. When asked what he'll do with his winnings, Beachum said, "We have a wedding coming up in a couple of years, so I definitely need to save for that..." Learn more.

MSU Research Leader Honored by National Engineering Peers

MSU Math Major Selected for Summer Study in Far East

Myers Named MSU College of A &S Leader

Bethany Stich of MSU Named to Miss. Heritage Trust Board
MISSISSIPPI STATE UNIVERSITY DIVISION OF AGRICULTURE, FORESTRY AND VETERINARY MEDICINE NEWS


MSU Hosts Regional Forestry Equipment Show
The biennial Mid-South Forestry Equipment Show is celebrating its 25th year of showcasing the timber industry's newest technology and machinery. The oldest and largest live woods demonstration of forestry equipment in the nation is at Mississippi State University's John W. Starr Memorial Forest, just south of Starkville on Highway 25. With more than 6,000 people from 20 states and two Canadian provinces attending the last show in 2006, this year's show, scheduled for June 6-7, promises to be just as popular. The latest developments of companies, such as Bandit, Barko, Caterpillar, John Deere, Rotobec, Tigercat, and Stribling Equipment, will be on display. "The Mid-South Forestry Equipment Show offers opportunities for loggers, landowners, and foresters to continue their education by attending one of the many lectures offered during the two-day event," said Charles Burkhardt, show manager and Mississippi State University's forest supervisor. A new event this year will provide individuals a chance to see woody biomass conversion into energy. The "Woody Biomass: Fueling the Future" workshop is scheduled for the day before the show, June 5. Learn more.

MSU Scientists Help Watch for Deadly Bees

MSU Soybean Rust Monitors Look at Kudzu

MSU Analysts: Cotton Holds Promise, Just on Fewer Acres

MSU Workshop Teaches Teachers about Butterflies
MISSISSIPPI UNIVERSITY FOR WOMEN NEWS


Scholarship Fund to Help Non-traditional MUW Students
A scholarship fund has been established in honor of Dr. Delene Lee, a former professor of education and human sciences at Mississippi University for Women. An anonymous student endowed the Dr. Delene Willis Lee Scholarship Fund to assist other non-traditional students living in a 40-mile radius of MUW with preference given to students from Lowndes County. In her remarks, the student stated, "'Invocation in education' best describes Dr. Lee. She came to The W at a time when no one had ever made an effort to support working women and encourage them to consider their jobs as 'careers' rather than just a means to add to the family income." Lee was credited for implementing and directing the Leadership Program for Women, which emphasized education and career development for women. "The major goal of the program was to provide a nurturing environment to encourage adult women to return to college to build leadership and management skills," according to Dr. Gary Bouse, vice president for institutional advancement. During her time at MUW, Lee served as vice president for financial affairs and interim president. She later accepted a position at Piedmont College in Demorest, GA, as vice president for finance and administration, where she worked for 10 years. Learn more.
MISSISSIPPI VALLEY STATE UNIVERSITY NEWS


Summer Registration Under Way at MVSU
Mississippi Valley State University will hold registration for first summer session on Tuesday, May 27 at the Lackey Recreation Center from 8 a.m. to 8 p.m. Registration also will be held May 27 at the Greenwood Center from 5:30 p.m. to 7:30 p.m. Registration will continue at the Greenville Higher Education Center on Wednesday, May 28, with registration from 5:30 p.m. to 7:30 p.m. Classes will begin on Thursday, May 29. Learn more.
UNIVERSITY OF MISSISSIPPI


Campus Lawnmowers Being Switched to Environmentally Friendly Biodiesel
The scent of fresh-cut grass may be accompanied by the aroma of fried catfish, chicken, or potatoes at the University of Mississippi this summer. The Landscape Services Department and Mississippi Mineral Resources Institute (MMRI) have joined forces to experiment with using more environmentally friendly fuel in campus lawnmowers. One mower is running on a blend of biodiesel made from used cooking oil and regular diesel, and plans call for switching all mowers to this fuel by the end of summer. The move comes about a month after Chancellor Robert Khayat signed the American College & University Presidents' Climate Commitment. The transition to biodiesel for landscape services is the first of many changes coming to campus operations, said Jeffrey McManus, director. "We're kind of the guinea pig," he said. "We're a good group to experiment on because we have a wide variety of equipment that is used daily on campus." For the past two weeks, the department has operated one of its riding lawnmowers on a mix of biodiesel fuel and petroleum diesel, he said. MMRI produced the biodiesel using vegetable oil offered for recycling by local restaurants. The long-term goal is to slowly decrease the amount of regular diesel until the machines can run on 100 percent biofuel. All of the university's mowers could be powered by a mixture of biofuel by the end of the summer, McManus said. (Video report available with full story.) Learn more.

Junior in Liberal Arts Awarded Scholarship for 10-Month Study of Japanese Language in Osaka

Four Honors Students Set to Report from Democratic and Republican National Conventions

Marine Biologist Lands NSF Grant to Study Coral Reefs, Wins Freshman Teaching Award

History Doctoral Student Receives Prestigious Fellowship to Explore Civil Rights at Rust College
UNIVERSITY OF MISSISSIPPI MEDICAL CENTER


UMMC's 52nd Commencement set for Friday
The University of Mississippi Medical Center's 52nd annual Commencement is scheduled for 10 a.m. on Friday, May 23, at the Mississippi Coliseum in Jackson. University of Mississippi Chancellor Robert Khayat and Dr. Dan Jones, vice chancellor for health affairs, will address an estimated 3,000 guests at the two-hour ceremony for graduating physicians, dentists, nurses, allied health professionals, and graduate students in the health sciences. There are 490 candidates for degrees. Learn more.

Jones Lauds Faculty's Efforts to Make Purposeful Changes

Nelson Order Recognizes Medical Center Faculty for Teaching Excellence

Dentistry Students Fete Top Educators at Hembree Awards Banquet

Cancer Program Exceeds Standards, Receives CoC Commendation
UNIVERSITY OF SOUTHERN MISSISSIPPI


Dr. Lance Nail Selected as Dean for Southern Miss College of Business
Alabama native Dr. Lance Nail has been named dean of the College of Business at The University of Southern Mississippi, effective July 1. Nail has served as chair of the Department of Finance, Economics and Quantitative Methods for the past five years at the University of Alabama at Birmingham School of Business. He joins Southern Miss following the retirement of Dr. Alvin Williams, who has served as interim dean for the past year. "Dr. Nail comes to us with high praise from those with whom he has worked in the past," said Southern Miss President Martha Saunders. "He is a hardworking problem-solver with a strong vision for the College of Business." Nail said he is honored and excited to join Southern Miss. "President Saunders has clearly expressed her belief that Southern Miss and the Gulf Coast region deserve and demand a preeminent College of Business," said Nail. "There exists tremendous potential at Southern Miss, and I feel fortunate to have been asked to work with all of the college's stakeholders to develop programs and people in the College of Business at the University of Southern Mississippi." Learn more.

Southern Miss Students Win Gold Student ADDY Award at Regional Competition

Dr. Michael DeArmey Named Moorman Distinguished Alumni Professor

Southern Miss Selects New Dean of University Libraries

Southern Miss Professors Co-author Handbook on Communication Disorders
UNIVERSITY OF SOUTHERN MISS GULF COAST NEWS


Southern Miss Gulf Coast Graduates First Bachelor of Social Work Students
Weeks before Hurricane Katrina damaged the Mississippi Gulf Coast, the first group of students were admitted into the new Bachelor of Social Work degree program at The University of Southern Mississippi Gulf Park campus. The students who made history enrolling in the inaugural program graduated May 10. The Bachelor of Social Work degree program was brought to the Gulf Park campus in order to meet the needs of students desiring to pursue the degree near their Gulf Coast homes. Southern Miss Gulf Coast offered the master of social work degree for years prior to the introduction of the undergraduate program. Dr. Tom Osowski, assistant professor in the School of Social Work, said the trauma from Hurricane Katrina has allowed this group of students to practice their social work skills. Acting as a support group for each other, the students have been able to use these skills for their field practice. "They have come together like a family," Osowski said. Learn more.

Southern Miss Gulf Coast Student Overcomes Setback from Hurricane to Graduate

Students and Faculty Represent Southern Miss Gulf Coast at Las Vegas Conference
ALCORN STATE UNIVERSITY NEWS


Alcorn Professor Publishes Short Story
Alcorn State University Associate Professor Dr. Peter R. Malik had a short story published in the 2007 issue of the Publications of the Mississippi Philological Association (MPA) which was issued in April 2008. Dr. Malik presented the story, entitled "Forever Man," at the MPA's 2007 annual conference which was held in January of 2007. In November of 2007, Dr. Malik spoke at the national conference of the National Council of Teachers of English (NCTE) that took place in New York City. Dr. Malik's presentation at NCTE was entitled "Top 10 Tips for Teaching Research (for the Teacher and the Student)." Earlier this year, Dr. Malik presented a short story entitled "Transcript No. 37: Clem Strickland on Grace Filling" at the 20th Century Literature Conference in Louisville, Kentucky. Dr, Malik joined the Department of English and Foreign Languages at Alcorn in 1998. He previously taught at Louisiana State University and the University of Nevada-Las Vegas. He also has had many years experience in private industry as a corporate communications director. Dr. Malik teaches technical writing at Alcorn. He is the primary advisor for students majoring in English with a concentration in professional writing. Learn more.

Alcorn State University Appoints Interim Chief of Police

Dr. Linda H. Godley Named Dean of the School of Nursing
DELTA STATE UNIVERSITY NEWS


Delta State Honors Ferriss with Honorary Degree
Delta State President Dr. John Hilpert hooded Dave "Boo" Ferriss, bestowing one of the highest honors - an honorary Doctor of Public Service degree. Delta State's legendary baseball coach Dave "Boo" Ferriss was awarded the honorary degree as part of Delta State's 81st Spring Commencement Service inside Walter Sillers Coliseum on campus. Of the honor, Ferriss commented that "Delta State has had a great impact on my life." Learn more.

Delta State's Outstanding Faculty and Staff Awards Announced

William McKinley Cash Scholars Program Established at Delta State

Delta State's Noland Named a Finalist for Cellular South Ferriss Trophy


May 23-June 13 - Mississippi State University's Mitchell Memorial Library presents "A River Unleashed: The 1927 Mississippi Flood," on display on the second and third floors of the library. The free exhibit, open to the public, details the natural disaster through photographs and maps. Learn more.

May 27 - Classes begin for both the first and full summer terms at the University of Mississippi. Learn more.

May 27-June 24 - Southern Miss offers graduate art education courses this summer. Learn more.

June 1-5 - The Natural Resources Summer Camp will be on the Mississippi State campus. Sponsored by MSU's College of Forest Resources and the Mississippi Forestry Commission, the camp is open to rising 9th through 12th graders. Learn more.

June 2 - The first week of Rebel Quest, a pilot day camp for children entering the 2nd through 7th grades, begins on the Ole Miss campus. Each week's games and activities revolve around a specific theme and are led by qualified UM and community instructors. Registration is $110 per session. Learn more.

June 4-8 - Mississippi State University's Meridian Campus presents "Tony N' Tina's Wedding" dinner theater at the Riley Center. The Off Broadway show, introduced about 20 years ago, involves audience interaction for a night of enjoyment. For more information, call the Riley Center box office at (601) 696-2200. Learn more.

June 5 - Jackson State University President Ronald Mason, Jr. will be among four to receive the Whitney M. Young, Jr. Service Award at 6 p.m. Thursday, June 5, at the Mississippi e-Center @ JSU. For more information, call (601) 540-6380. Learn more.

June 12 - The Vegetable Twilight Tour (5:30-8:00 p.m.) is open to growers, marketers, educators, and researchers at the Mississippi Agricultural and Forestry Experiment Station Truck Crops Branch in Crystal Springs. For more information, contact William Evans at (601) 892-3731 or wbe1@msstate.edu . Learn more.

June 13 - The Oxford Shakespeare Festival kicks off its 2008 season with Much Ado About Nothing . Performances run through June 29 in the Ford Center Studio Theatre. Tickets, $12 for adults and $10 for senior citizens and children, are available by calling (662) 915-7411. Learn more.

June 15-19, July 13-17 - MSU's 15th annual 4-H Entomology Camps, often referred to as "Bug Camp," will be June 15-19 at Crow's Neck Environmental Center in Tishomingo County and July 13-17 at the University of Southern Mississippi in Hattiesburg. For more information, contact John Guyton at (662) 325-3482 or jguyton@cfr.msstate.edu . Learn more.

Summer 2008 - Southern Miss is hosting several new camps this summer. Learn more.