Board Supports Work Option to Offset Proposed Tuition Increase
During its regular monthly meeting on Wednesday and Thursday, the Board of Trustees of State Institutions of Higher Learning (IHL) expressed support for a plan that would allow students at each of the state's eight public universities to work campus jobs at a wage-rate of approximately $10/hour to offset a proposed increase in tuition. The Board approved for first reading annual resident tuition increases ranging from $165 to $328 per year to offset the financial demands facing Mississippi's eight public universities, such as accreditation requirements, increased utility costs, and repair and renovation, among others. In response to lower levels of state funding, universities nationwide have been forced to increase tuition significantly since 2000-2001. Yet, in comparison to the other 15 states that make up the Southern Regional Education Board (SREB), Mississippi has experienced the third lowest tuition increase in this time period.
The following annual resident tuition increases and fuel surcharges will be voted on next month:
Alcorn State University: $165 increase to $4,280 annually, plus a $43 fuel surcharge
Delta State University: $238 increase to $4,206 annually, plus a $42 fuel surcharge
Jackson State University: $251 increase to $4,433 annually, plus a $44 fuel surcharge
Mississippi State University: $319 increase to $4,869 annually, plus a $49 fuel surcharge
Mississippi University for Women: $273 increase to $4,167 annually, plus a $42 fuel surcharge
Mississippi Valley State University: $168 increase to $4,373 annually, plus a $44 fuel surcharge
University of Mississippi: $328 increase to $4,885 annually, plus a $49 fuel surcharge
University of Southern Mississippi: $318 increase to $4,866 annually, plus a $49 fuel surcharge

Contact Assistant Commissioner for Finance and Administration Dr. Linda McFall at (601) 432-6732 for more information about tuition.

Board Approves 5 Percent Merit-Based Salary Pool
Also during its meeting this week, the Board approved a System-wide 5 percent merit-based salary pool for faculty and staff, as well as a legislatively-mandated $6,000 increase per FTE for nursing faculty. The pay increases are desperately needed to ensure that Mississippi universities are able to attract and retain quality faculty to remain competitive in the national and global academic arenas. In 2000, the average Mississippi university faculty member earned $5,939 less than the average faculty member at another southern state university. In 2006, the average Mississippi university faculty member earned $9,893, or approximately 15 percent, less. Of the seven land-grant high research universities in the SREB, Mississippi State pays its faculty the lowest salaries. Of the 26 other high research universities in the SREB, Jackson State and Southern Miss pay the lowest salaries, and the University of Mississippi is in the bottom six in terms of faculty salaries. Alcorn State, Delta State, Mississippi Valley State, and Mississippi University for Women are also at the very bottom of their rankings in terms of faculty salary. For more information about faculty salaries, please contact Assistant Commissioner for Finance and Administration Dr. Linda McFall at (601) 432-6732.
Board Approves Priority List of Facilities Needs
During the two-day meeting, each university president submitted to the Board a list of their top three facilities needs, which totaled $255,381,799 for the System. Clearly, the needs are dire. With 1,693 buildings under its care, Mississippi's University System has the largest inventory of buildings of any state agency, and 60 percent of the buildings are more than 25 years old. As with any aging building, the price for repairs and renovation can be costly. To address the ongoing cost, in 2007 the System asked the Legislature for $92.4 million in capital renewal as recurring dollars rather than bond money. Although the Legislature did not grant the request for recurring dollars, it did provide a generous $126 million in bonds. Although the System will continue to request recurring dollars for facilities maintenance in future years, the System also recognizes the propensity of the Legislature to provide bond money in lieu of capital renewal. For this reason, the Board considered the safety and health of students to determine a priority list of facilities needs for the System. The needs include fire suppression systems at Mississippi University for Women; wastewater/sewer treatment facilities at the University of Mississippi; and ADA compliance at Jackson State University; among others. The list of 29 projects, totaling $130,750,000, will be presented to the Legislature during the 2008 Legislative Session.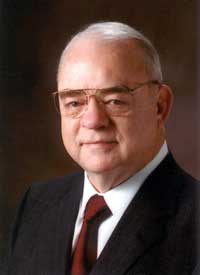 Dr. Shelby Thames

Commissioner, Board Honor Outgoing President Thames
On Thursday, the Board joined Commissioner Meredith in recognizing outgoing University of Southern Mississippi President Dr. Shelby Thames for his service to Southern Miss and to the state. Among other successes, in the five years that Dr. Thames has led the university, Southern Miss has more than doubled its external funding dollars from $50 million in 2001 to $102 million in 2006, which is the highest level of research funding the institution has ever experienced. His commitment to innovation and commercialization can be seen in the form of a new $30 million Innovation and Commercialization Park now underway, which is expected to have a strong influence on the economic landscape of South Mississippi. "They say that leaders are made, not born, and that hard times define true leaders," said Commissioner Meredith. "The same can be said for Dr. Thames' swift response within days of Hurricane Katrina." In the wake of the worst natural disaster in our country's history, Dr. Thames made his way to the Coast and stood in the back of a pickup truck in the parking lot of Long Beach High School to let the Southern Miss family know that although they had lost much, they had not lost their spirit or their resolve. Under his leadership, in just a few short weeks, classes had resumed on the Coast and university employees never missed a paycheck. Dr. Thames, who is quick to say he is not retiring, will soon exchange his presidential robe for a lab coat. The brilliant scientist will remain at Southern Miss to continue his work on polymers and other high-performance materials. Dr. Martha Saunders has been named the new president of the University of Southern Mississippi.
IHL Assistant Commissioner for Facilities Retires
After nearly 20 years with IHL, Assistant Commissioner for Real Estate and Facilities Frank Alley has announced his plans to retire in June. Mr. Alley began with IHL in 1988 as Director of New Construction. Previously he worked for the Mississippi State Building Commission, the Mississippi State Park Commission, and the United States Air Force. He received his undergraduate degree from Delta State University and his masters degree from Louisiana State University. "Frank has not only done an incredible job for the Board, but he is well thought of at the Capitol, at the Bureau of Buildings, and throughout state government," said Commissioner Meredith, who went on to wish Mr. Alley well in his retirement.


Items included in the "University News" section of the System Review are submitted each week by the universities. The news items are listed in rotating alphabetical order by university.
UNIVERSITY OF MISSISSIPPI MEDICAL CENTER NEWS


Revolutionary Procedure Repairs VSD without Open Heart Surgery
Dr. Makram Ebeid, associate professor of pediatrics, is among the first in the Southeast to close a hole in the lower pumping chamber of a child's heart without performing open heart surgery. An 8-year-old girl who was born with a hole in her heart or what is known as a ventricular septal defect (VSD) needed the hole repaired in the lower pumping chambers of the heart. Ebeid is one of a very few physicians in the United States certified to close muscular VSDs using nonsurgical techniques. In a healthy heart, a wall separates the left and right ventricles, the heart's two pumping chambers. The left ventricle pumps oxygen-rich blood to the rest of the body. The right ventricle takes in the blood that has circulated through the body and sends it on to the lungs to be re-oxygenated. Learn more.

Dentistry Dean Lecturer Links Taste, Smell to Quality of Life

Nelson Lecturer: Ounce of Prevention More Than Pound of Cure for Obesity

Administrative Affairs Implements "Wildly Important Goals"
UNIVERSITY OF SOUTHERN MISSISSIPPI NEWS


Groundbreaking Held for Southern Miss Innovation and Commercialization Park
What promises to be just the beginning of bigger things to come at the University of Southern Mississippi's Innovation and Commercialization Park was the focal point of a groundbreaking ceremony May 14 for the park's first facility. University and public officials, including U.S. Sen. Thad Cochran, joined for the event to mark the site of the new 50,000 square foot National Science Formulation Laboratory, which will include state-of-the-art lab equipment and instrumentation. It is designed to provide the space needed for companies to convert the work of university researchers into high-demand products for industry. "This is an important day in the life of the Innovation and Commercialization Park," said Southern Miss President Dr. Shelby Thames. "We appreciate the hard work and commitment of Sen. Thad Cochran and our congressional delegation to secure this initiative." The laboratory will support throughput formulation and formulation science for addressing issues in such areas as marine composites, coatings, smart films, and a myriad of other applications while developing and disseminating the enabling techniques required to sustain American competitiveness in high performance materials and polymers. Learn more.

Kathleen Koch Addresses Southern Miss Graduates

Pierce-Safe Technologies Wins Annual Invent Your Future Competition

Southern Miss CSRW Announces 2007 Stipend Competition and Essay Competition Winners

School of Nursing Inducts New Members into Honor Society
UNIVERSITY OF SOUTHERN MISSISSIPPI GULF COAST NEWS


Long Beach School District Students Provide Art to Southern Miss Collection
Students from the Long Beach School District are making art from dishes found in The University of Southern Mississippi Gulf Park campus dining hall after Hurricane Katrina. The art teachers will have their students design the plates in unique ways. Mary Kippes, an art teacher from Long Beach Middle School, is having her students decoupage their plates and platters by using pictures of the damage and loss incurred from Hurricane Katrina. The students will glue the computer-printed pictures and decorative tissue paper to the plates, complete with a coat of varnish to preserve the artwork. "This project allows you to put your own style to the plates and at the same time remind you of what you've been through," said seventh-grader Justin Foucha. The plates, along with documents and artifacts salvaged from Hurricane Katrina, will be on display at the Katrina Research Center, located on the third floor of the library at the Gulf Park campus. "Southern Miss is very excited and committed to have the Katrina Research Center become a world class center of excellence that preserves and exhibits important Mississippi historical materials related to Katrina, Camille, and other disasters," said Dr. Raymond Scurfield, director of the Katrina Research Center and associate professor of social work at Southern Miss Gulf Coast. "Also, we are developing a comprehensive information data bank to provide academics, students, and the general public easy access to information of interest." Learn more.

  View Pictures of the Southern Miss Gulf Coast 2007 Commencement Ceremony
ALCORN STATE UNIVERSITY NEWS


Alcorn State University Alumna Nominated for Player Alumni Hall of Fame
In 2004 Honda Campus All-Star Challenge (HCASC) established a program to acknowledge former HCASC players who have succeeded in their chosen career and life paths and to facilitate their becoming mentors for the current generation of HCASC players. Thus, the Honda Campus All-Star Challenge Player Alumni Hall of Fame was created. The year 2007 Player Alumni Hall of Fame inductees are: Shayla Thomas-Patton (Alcorn State University), Brian Ross (Florida A&M University), Dr. Stephen Nurse-Findlay (Tuskegee University), Eric Conn (American Honda Motor Co., Inc.), and Dr. Marvin Young (Prairie View A&M University).  Shayla Thomas-Patton graduated from Alcorn State. Shayla played Honda Campus All-Star Challenge in its inaugural year, 1990. A Nursing graduate, Shayla has specialized in oncology and rural home medical care in Texas and Mississippi. She earned her Legal Nurse Consultant (LNC) certificate in May 2002. In September 2006 Shayla became a Quality Improvement and Education Coordinator for Home Health Care of Mississippi, which places her in charge of evaluating and initiating quality of care audits and chart reviews on the clients the company serves. Shayla received Certified Professional Coder (CPC) credential in October 2006. Learn more.

Alcorn MBA Graduate Receives Wall Street Journal Student Achievement Award
DELTA STATE UNIVERSITY NEWS


 Delta State Celebrates One of Its Largest Commencement Exercises
It was a historic day inside Walter Sillers Coliseum Saturday, as Delta State University celebrated its 80th Spring Commencement with one of its largest graduating classes in the school's history. Close to 500 degrees were conferred in front of a capacity crowd.  Numerous master's and bachelor's degrees were awarded through the College of Arts and Sciences, the College of Business, the College of Education, and the School of Nursing. One doctor of education degree and 12 educational specialist degrees were also conferred during the commencement exercise. Commencement speaker Dr. Belle S. Wheelan, President of the Commission on Colleges of the Southern Association of Colleges and Schools delivered an uplifting and inspirational keynote address that drew a standing ovation. She opened her address by asking the graduates to put their programs on the floor, to sit up tall on the edge of their seat, and when she said, to stand up and scream "Hallelujah." Wheelan laughed, "In the years to come, you may not remember your commencement speaker's name, but you will remember she had you on the edge of your seat, screaming 'Hallelujah!'" Also, on the day, Delta State bestowed on two of its alumni the University's highest honor–an honorary degree. Dr. James (Jim) T. Rogers and Dr. Patricia (Patsy) A. Thrash, both leaders in the field of higher education, were conferred with the fourth- and fifth-ever honorary degrees presented by Delta State. Learn more.

Delta State Announces Inaugural Winners of Foundation Awards for Staff Excellence in Service

Delta State University Outstanding Staff and Faculty Awards Announced

Delta State to Play Host to Cellular South Ferriss Trophy Presentation, May 21

Delta State is Arkansas Bound After Receiving the No. 2 Seed in the NCAA South Central Regional
JACKSON STATE UNIVERSITY NEWS


 JSU Grad to Participate in Oxford Round Table
A three-time Jackson State University graduate is one of 40 educators worldwide selected to participate in the distinguished Oxford Round Table in England. Já Hon Vance, an English professor at Baltimore City Community College in Maryland, will make a presentation this summer and fall titled "The Historical, Religious, and Spiritual Presence of Historically Black Colleges and Universities that Enhanced the Quality of Life for African Americans/Blacks in America." "I want the world to know that in 2007, HBCUs are not dead, we are not handicapped, we are not in intensive care," said Vance, who received a bachelor's in English literature and education in 1993 from JSU. "They are thriving, vibrant, intellectual institutions constantly paving the way for African Americans to enhance their lives," said Vance, who also earned two master's degrees from Jackson State, one in English literature and composition in 1997, the other in educational administration and supervision in 1998. Since 1989, the Oxford Round Table has convened to consider major issues in contemporary educational policy in the United States, United Kingdom, and other selected countries, according to its Web site. Its purpose, the site says, is to promote human advancement and understanding through the improvement of education. Being selected to present at the Round Table is the academic equivalent of earning an Oscar or an Emmy, said Vance, who also will be a trainer and a facilitator in Oxford. Learn more.

JSU's Walter Payton Recreation and Wellness Center is Now Offering Citywide Community Memberships
MISSISSIPPI STATE UNIVERSITY NEWS


 MSU Anthropology Major Wins Regional Award for Research
A Mississippi State graduate student is being honored for her work with an electron microscope in research associated with Southeastern Native American tribes. Jennifer L. Seltzer of Starkville, a graduate student in applied anthropology, recently received the Southeastern Microscopy Society's Ruska Award for Student Research. Microscopy includes any technique for producing visible images of structures or details too small to otherwise be seen by the human eye, using a microscope or other magnification tool. Organized in 1964 at Emory University, the society is a scientific organization for professional microscopists working in the life, medical, and physical sciences. The Ruska award is a memorial to the husband-and-wife team who were key figures in the design of early electron microscopes. Seltzer presented the findings of her study and answered questions from others attending the organization's annual meeting in Gatlinburg, Tenn. In completing her investigation, the former Clarksville, Tenn., resident utilized Mississippi State's electron microscope to examine wood charcoal found at the Lyon's Bluff site in Oktibbeha County. She was able to confirm that the recovered material was from the Osage orange tree, which previously has been associated with southwestern tribes but was not known to exist in the East Mississippi area at the time. Learn more.

FBI 'Profile' Fits MSU Graduate Student Seeking Career as Profiler

Riley Receives Honorary Doctor of Science from MSU

Forest Landowners Honor MSU Extension Forester

MSU Cafeteria to Begin Single-Price Meal Pricing
MISSISSIPPI UNIVERSITY FOR WOMEN NEWS


MUW Grad Lands Dream Job in Nashville
Jade Bennett, who recently graduated from Mississippi University for Women with a bachelor of fine arts in interior design, will begin later this month working at Randall Dover Architects in Nashville, Tenn., as the lead interior designer. With the goal of being an interior designer at an architectural firm that specializes in commercial projects, this is a dream come true for Bennett, who is originally from Corinth. She and her husband Jim have been living in Starkville since they were married 9 months ago. "As an interior designer who hoped of doing commercial design, I knew I would have to move to a metropolitan area," said Bennett. "Nashville is a beautiful city with a lot to offer and is still fairly close to my family in Corinth. Jim and I are so thrilled to begin our lives together and really go for our dreams." She and her husband were thrilled when she received the job offer. "I was very excited and felt so lucky to have been given such an amazing opportunity," she said. "I knew that my experiences at The W had made this possible for me, and I was so grateful for everyone that had helped me along the way. My family and husband have also been the rocks in my life that support and motivate me to go for everything I want in life." Learn more.
MISSISSIPPI VALLEY STATE UNIVERSITY NEWS


Mississippi Valley State University Online
www.mvsu.edu
UNIVERSITY OF MISSISSIPPI NEWS


Teacher Corps Graduate Leads Inner-City School to National Competition
An inner-city high school in Jackson has defeated the odds--its quiz bowl team has won statewide competition and its students have raised enough money to cover the team's expenses to travel to Chicago for the National Academic Quiz Tournaments competition later this month. The winning team is from Murrah High School, where nearly all of the students participate in free or reduced-cost lunches, so it's easy to understand the degree of poverty that exists among the student body. While there are other schools in the Jackson Public School District with greater challenges, Murrah "still faces the many problems a typical inner-city school must tackle," said the school's quiz bowl coach Dave Jones, a graduate of the Mississippi Teacher Corps (MTC) program at the University of Mississippi. "It just so happens that the quiz bowl team somehow and miraculously brought together the cream of the crop to create a truly memorable year," said Jones, who earned his bachelor's degree from Notre Dame and is a 2005 graduate of UM's Teacher Corps Program. A native of Endwell, N.Y., he has taught Latin at Murrah since then. MTC is an alternative teacher certification program. Since 1989, more than 400 MTC participants at UM have reached an estimated 80,000 students in critical-needs school districts in the Mississippi Delta and urban Jackson. Learn more.

Mathematics Students Fare Well Against Peers from Ivy Institutions

Two Professors Receive ORAU Faculty Enhancement Awards

Senior Wins Regional Contest for Essay in Russian

FedEx CEO Frederick W. Smith Lauds Role of Higher Education in Shaping Modern Life


May 17 - 18 - Mississippi State presents an economic development forum showing areas the university can assist with economic and community development efforts. A line-up of MSU resources will focus on capabilities, past outreach efforts, and future initiatives. For more information, contact Bill Martin at (662) 325-0513. Learn more.

May 18 - The University of Mississippi, in coordination with the Oxford fire and police departments, the Lafayette County Emergency Management director and Baptist Memorial Hospital-North Mississippi, is conducting an emergency preparedness drill on the Oxford campus.   For more information, call (662) 915-7236. Learn more.

May 24 - Jackson State University's Office of Alumni and Constituency Relations will host the 2007 JSU Retiree Spring Fling at
11 a.m. The luncheon and fashion show will be held at the Jacob Reddix Campus Union. For more information, call (601) 979-1634, or email Lashonda Levy.

June 11 - 14 - The Annual Church Music Workshop of America is celebrating its 31 years with nationally acclaimed musical artists and consultants Byron Cage and the Rev. Dr. Raymond Wise. The workshop will take place at Jackson State University's F.D. Hall Music Center on the main campus. Learn more.

July 8 - 27 - The University of Southern Mississippi is hosting a Summer Program for Academically Talented Youth for students in grades 7-10. For more information, visit  the program website or call (601) 266-5236 or (601) 266-5246. Learn more.