Site Selected for Additional Southern Miss Campus on Coast
During its regular monthly meeting on Wednesday, the IHL Board of Trustees discussed several pieces of land and unanimously selected the Cross Creek property in Long Beach, Mississippi, as the preferred site for an additional campus of the University of Southern Mississippi. "After ten months of diligent searching and consideration, I am confident the Board has chosen the best possible location for the additional Southern Miss campus," said Commissioner of Higher Education Dr. Thomas C. Meredith. "This is a long-term, historic decision that will directly impact generations of Mississippians." In June of 2006, the Board began seeking land for the establishment of an additional Southern Miss campus that would be centrally located, easily accessible, and highly visible to serve as a constant reminder that education is the key to a brighter, more prosperous future. After considering multiple sites, the Board solicited the help of Broaddus & Associates Innovative Project Management and Consulting firm to narrow the search. With the help of the consultants, the Board narrowed its search to the three best sites - Cross Creek, located on I-10; Tradition, located at the intersection of Highway 67 and Highway 605; and Gulfport, located on Highway 49 in Gulfport. After carefully evaluating each piece of property on the criteria of location, visibility, size, accessibility, cost, growth controllability, suitability and availability of adjacent land, environmental and geotechnical factors, and disaster recovery capabilities, the Board, in accordance with the consultants' recommendation, selected Cross Creek as the best site for the project. Click here to learn more about Cross Creek and to view the report submitted to the Board by Broaddus & Associates.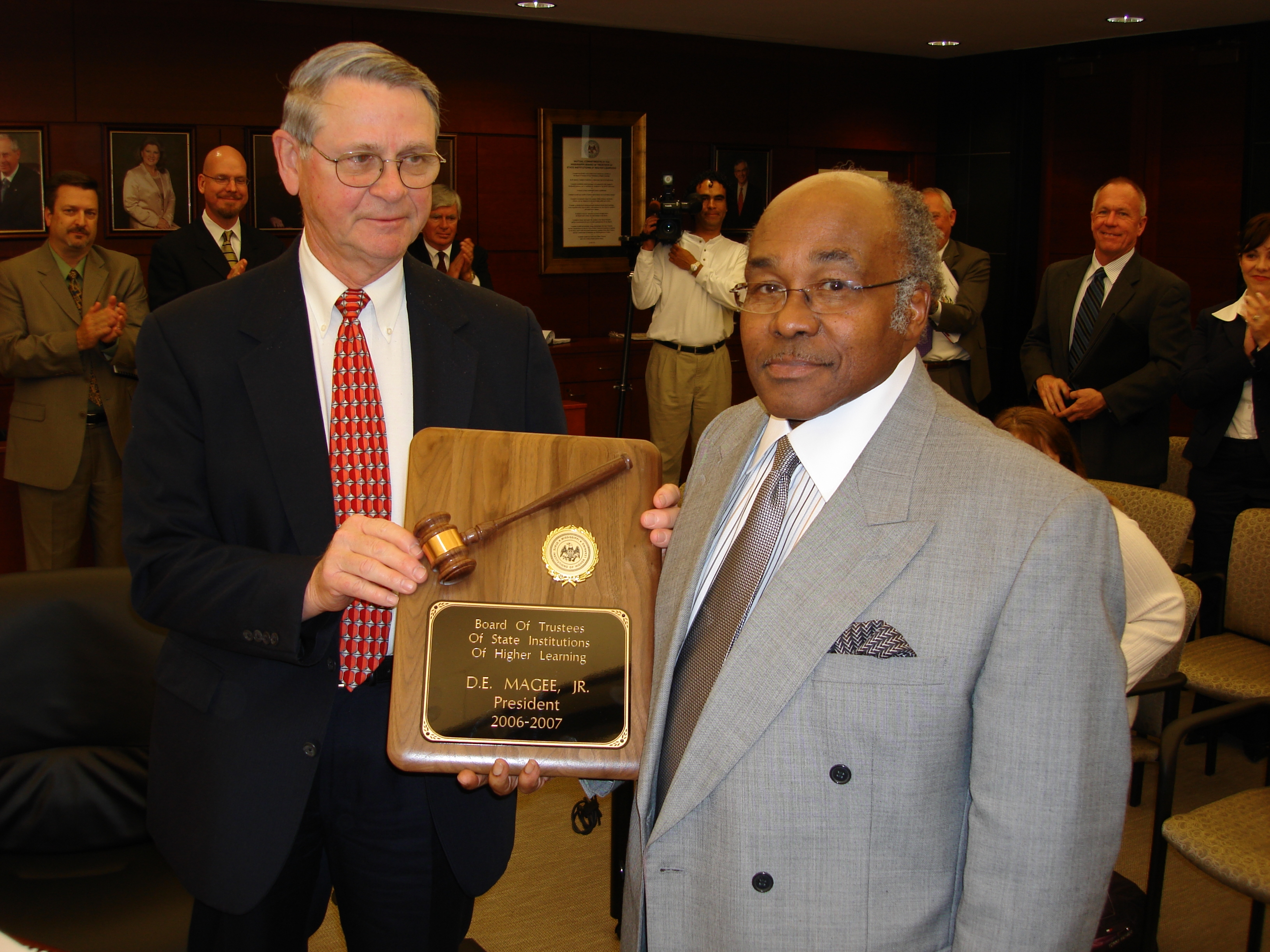 Incoming Board President Dr. L. Stacy Davidson, Jr. gives outgoing Board President Dr. D.E. Magee, Jr. a plaque in appreciation for his distinguished year of service.
IHL Board members dine with 2006-2007 Student Government Association leaders.

Board President Passes Gavel; Board Honors SGA Leaders
At the conclusion of the April meeting of the IHL Board of Trustees on Wednesday, outgoing Board President Dr. D.E. Magee, Jr., passed the gavel to incoming Board President Dr. L. Stacy Davidson, Jr., who will effectively take the reigns on May 8. Dr. Davidson thanked Dr. Magee for his distinguished year of service as Board President, and lauded his role in leading the Board through searches for new institutional executive officers at Alcorn State University and the University of Mississippi; through a Legislative Session that positively resulted in a 14 percent increase in appropriations; and through a change in the IHL governance model. "Dr. Magee provided a steady hand at the wheel, for which we are most grateful," said Dr. Davidson. IHL Board members also honored the state's Student Government Association and student newspaper leaders in a luncheon at the University of Mississippi Medical Center on Wednesday. The luncheon was an opportunity for the Board to thank the student officers for their service to their institution and the state and to hear the students' ideas as the Board moves forward. Learn more about the members of the IHL Board of Trustees.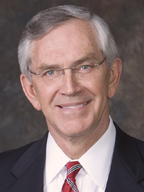 Dr. Thomas C. Meredith

Commissioner Meredith Quoted in Article about Public Trust in Higher Ed
The article, "Public Higher Education and the Public Trust," which appeared in the November 2006-January 2007 edition of
Public Purpose
, the magazine of the American Association of State Colleges and Universities, questions whether or not the public has confidence in higher education. Mississippi Commissioner of Higher Education, Dr. Thomas Meredith is among those that weighed in on the matter. Legislators have withdrawn funds from higher education, explains Dr. Meredith, because they believe it can support itself. Perhaps this reflects "too much confidence." Some experts disagree with Dr. Meredith about the current health of public trust, but all seem to believe that higher education can strengthen the public trust by being more transparent, honest about processes and decisions, accountable for state and federal resources, and more aggressive about letting people know how higher education benefits the public. Dr. Meredith adds that higher education must go beyond the good that higher education is already doing and "do a better job of being out across our states, engaged in true public service." Click here for a PDF version of the magazine.
System Community Responds to Virginia Tech Tragedy
Mississippi's University System wishes to express heartfelt sympathy for the entire Virginia Tech community and all who have suffered in the wake of Monday's tragedy. The family, friends, students, faculty, and staff of Mississippi's universities have responded in a number of meaningful ways to the horrible events that took place on the Blacksburg campus. In response to Virginia Governor Timothy Kaine's invitation for communities to observe this day [Friday] as a day of mourning, several of Mississippi's universities held or will hold ceremonies in remembrance of the week's events. Delta State held a Memorial Observance today at 11, which began with the chiming of the carillon. Among other activities at Mississippi's institutions, the Jackson State Student Government Association held a Candlelight Vigil Thursday evening, and the University of Mississippi held a memorial service Wednesday evening. IHL Board President Dr. D.E. Magee, Jr. also took time during the Board's April meeting on Wednesday to remember those affected by the shootings. Mississippi's universities are encouraged to continue to demonstrate love and support for the Virginia Tech community.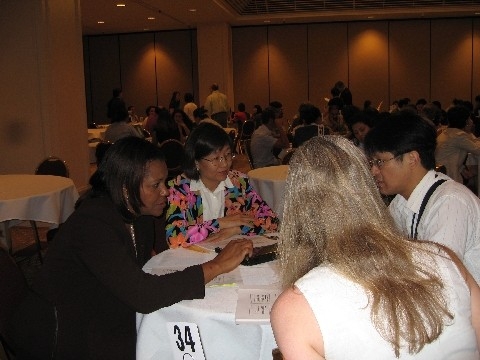 Pearl Pennington and Dr. Ying Wang discuss the MVSU Summer Institute for Reading Teachers.

IHL Staffer Presents Paper on Improving Teacher Quality
IHL Director of Student Affairs Pearl Pennington recently traveled with federal grant support to Hawaii for the International Society for Language Studies Annual Conference. Pennington and Dr. Ying Wang, a professor of education at Mississippi Valley State University (MVSU), co-presented information about the MVSU Summer Institute for Reading Teachers, a four-week workshop for in-services teachers, designed to improve content knowledge and teaching strategies. The MVSU Summer Institute, now entering its fourth year, has produced positive measurable results. It is among ten programs in the state to receive funding through the No Child Left Behind: Improving Teacher Quality Grant Program. The program, which recently awarded a total of $1.2 million, is designed to help the state abide by the No Child Left Behind Act of 2001, which requires reform of traditional teacher training, innovative expansion of alternative routes to teacher licensure, and more effective in-service training and professional development for teachers currently in the classroom. For more information, contact Pearl Pennington in the IHL Office of Academic and Student Affairs.


Items included in the "University News" section of the System Review are submitted each week by the universities. The news items are listed in rotating alphabetical order by university.
MISSISSIPPI STATE UNIVERSITY NEWS


Three MSU Students Receive Montgomery Leadership Awards
Three Mississippi State University (MSU) seniors are the first recipients of the university's G.V. "Sonny" Montgomery Leadership Award. The annual $5,000 scholarships were presented Friday, April 13, by representatives of the Meridian-based Montgomery Foundation and MSU President Robert H. "Doc" Foglesong. The recognition program was initiated by the foundation earlier this year both as a memorial to the longtime congressman and a way to honor outstanding students in the Air Force and Army Reserve Officers Training Corps, as well as the recently formed Appalachian Leadership Honors Program. Montgomery, a 15-term U.S. representative from Meridian, was a 1944 Mississippi State graduate. He died in 2006. Selected for the inaugural scholarships are Joshua S. Burnett of Saucier, Aaron R. Rice of Sumrall, and Christopher S. Walker of Newton. "This honor encourages leadership development and recognizes leaders with an academic scholarship," said foundation president Robert "Bob" Bailey. "These three young men have made a personal commitment to the core values of honor, respect, integrity, selfless service, personal courage, and excellence in all endeavors." Foglesong said he is proud to have the scholarships honor a long-time friend and MSU alumnus who was a champion of military veterans' rights. Learn more.

MSU Offers Distance-learning Graduate Engineering Degree

MSU Education Honor Society Again in Top Tier

National Black Engineers' Leader Encourages Students to Succeed

MSU Architecture Summer Camp Dates Announced
MISSISSIPPI UNIVERSITY FOR WOMEN NEWS


MUW Nursing Student Hired at Johns Hopkins
When she was diagnosed with a neuromuscular disorder in high school, Mississippi University for Women (MUW) nursing student Rose Andrews never imagined that one day she would be hired at one of the most prestigious pediatric hospitals in the country so she could give bedside care to other hurting children. Andrews of Columbus, who will graduate from MUW in May with a bachelor of science in nursing, will be working at Johns Hopkins Hospital in its pediatric intensive care unit. She is the second MUW nursing student to recently be hired by Johns Hopkins. Rosemary Munyiri, a 2005 graduate, was hired to the medical surgical floor and has been promoted to charge nurse. "Since I was a sick kid, I guess you could say that I somewhat understand sick children in a way that many may not," Andrews said. "I know when they say I can't feel my arm or when they are so tired that they barely can move what that feels like. I wasn't as sick as most of the kids that I see, but I feel for them." Not only does she enjoy working with children, but Andrews feels it is her calling. "I just knew in my heart when I started nursing school that I wanted to work with the pediatric population," she said. "I guess you could say it's a calling." Learn more .
MISSISSIPPI VALLEY STATE UNIVERSITY NEWS


Mississippi Valley State University Online
www.mvsu.edu
UNIVERSITY OF MISSISSIPPI NEWS


Law Students Win Second in Regional Moot Court Competition
Two University of Mississippi (UM) law students recently teamed in national moot court competition and beat students from some of the best law schools in the nation. Michael Dodge and Eric McAdamis won second place in the North American Regional of the Manfred Lachs Space Law Moot Court Competition March 31 at Georgetown University Law Center in Washington, D.C. The UM team beat students from Georgetown University Law Center, New York University, Cornell Law School, McGill University Institute of Air and Space Law, University of North Carolina-Chapel Hill, University of Missouri-Columbia, and St. Thomas University School of Law. The winning team was from the George Washington University School of Law. "We are very proud of Michael and Eric," said Joanne Gabrynowicz, law research professor and director of the National Remote Sensing, Air, and Space Law Center at UM. "They did a remarkable job competing against teams from some of the best law schools in the nation. Their excellent work clearly continues UM's long legacy in space law." The competition was fierce as law school students across the nation went head to head with prepared oral arguments in a mock trial setting. "When the organizer announced that our team would compete in the championship round, the blood literally drained from my face," said Dodge. "This competition was the most time-intensive project that I have ever worked." Read more.

Distinguished Harvard Professor is Edwin Savage Lecturer April 20

Band Director Recognized as 2006-07 Campuswide Outstanding Teacher

Sorority Chapter Sponsors Campus Bone Marrow Donor Registration

Maine Sen. Collins to Deliver Public Address on Homeland Security, Meet Students April 27
UNIVERSITY OF MISSISSIPPI MEDICAL CENTER NEWS


MRI-Guided Breast Biopsy Provides UMMC Patients Peace of Mind
When Fay Ivey of Brandon was diagnosed with breast cancer in March and told she needed to schedule a mastectomy as quickly as possible, she experienced a wide range of emotions, including apprehension, anxiety, and fear of the unknown. That fear was compounded when her mammogram revealed calcium deposits in her other breast. With a mastectomy already scheduled in April, Ivey was faced with the possibility of having to undergo two surgical procedures if the second lesion proved cancerous as well. To address her concerns as quickly as possible, Dr. Amy Coleman, University of Mississippi Medical Center assistant professor of radiology, turned to the Medical Center's latest tool for breast cancer detection: magnetic resonance imaging (MRI) followed by an MRI-guided breast biopsy. Read more.

Cardiologists Talk Race, Health Disparities at JHS Lectures

UMC Chaplain Wins Approval From Peers for Outstanding Leadership

Growing Population Triggers Increased Call Volume for Poison Control
UNIVERSITY OF SOUTHERN MISSISSIPPI NEWS


Southern Miss Nursing Grads Increase Pass Rate on National Exam
The University of Southern Mississippi's School of Nursing graduating class for December 2006 has achieved a 97.6 percent first-time pass rate on the national licensing test, the RN-NCLEX. The test is required for a nurse to become licensed. Dr. Katherine Nugent, director, said this percentage reflects a steady increase and may be an indication of the overall pass rate for the year, which will be announced after the May graduating class members receive their results. Last year, the yearly pass rate was 86.8 percent. The national pass rate of all students taking the exam averages 88 percent, Nugent said. "It's looking good," she said. "The faculty in the School of Nursing has worked diligently over the past three years to identify issues impacting student performance and to implement best practices within the curriculum to strengthen students' knowledge for entry-level practice." The December percentage includes test results from 42 students from the Southern Miss Hattiesburg campus. The school's Meridian campus only offers courses for already practicing nurses, and the Gulf Coast campus students graduate in May. The School of Nursing has approximately 450 students in programs located in Hattiesburg, the Mississippi Gulf Coast, and Meridian and will celebrate its 40th anniversary this year. Learn more.

Southern Miss Dance Program Honored at Festival

Learning Institute Working Toward $1Million Endowment

Southern Miss Fraternity Reaches Fund-raising Milestone

Seven Inducted into M-Club Alumni Association Hall of Fame
ALCORN STATE UNIVERSITY NEWS


Alcorn State to Host its Third Annual Multi-Cultural Festival
In a celebration of institutional as well as regional diversity, Alcorn State University will host its third annual Multi-cultural Festival on Friday, April 27, from 2 until 6 p.m. in the Jack Spinks Stadium parking lot on the institution's main campus in Lorman, Mississippi. Dr. Clinton Bristow, Jr., late president of Alcorn State University, was the founder of the Festival and the event is now named after him, the Alcorn State University Clinton Bristow, Jr. Multicultural Festival. This event is designed to bring the university and community together by bringing a "taste" of different places to Alcorn State. The Multi-cultural Festival also serves to further dispel the myth associated with Historically Black Colleges and Universities by demonstrating how diverse Alcorn State really is with its ever-growing international student contingency. The university also boasts several faculty and staff from the international community as well. A variation of "taste-of-the-town" events found in major metropolitan areas across the United States the Festival will feature foods from several international and American communities, arts, crafts, fashion, music, dance, contests, and games. Students, faculty, and staff from Argentina, Guyana, India, Kenya, Russia, Uzbekistan, Vietnam, and the United States, will represent their culture at the Festival. The Multicultural Festival is a wonderful opportunity for the general community to enjoy a fun day at the Academic Resort. The event, which includes food, refreshments, prizes, and fun, is free and open for the public.

Alcorn State University Responds to the Virginia Tech Tragedy
DELTA STATE UNIVERSITY NEWS


Delta State Names McClain Director of Athletics, Effective July 1
At a press conference held Thursday inside the Chadwick-Dickson Field House, Delta State University announced the hiring of its next director of athletics. Jeremy McClain will assume the position, effective July 1. Following a national search process, McClain was selected as the "recommended finalist" by the Delta State athletic director search committee, chaired by Dr. Rose Strahan. McClain then participated in two open meetings – one on campus with faculty, staff and students; and one at the Cleveland-Bolivar County Chamber of Commerce with interested community members – in which, he introduced himself, presenting his resume and vision for the Delta State athletic department, before answering questions from those in attendance. "Jeremy has shined consistently throughout this process. He has shown tremendous character, readiness, and capability; and ultimately, he proved he was the right person for the job," Delta State University President Dr. John M. Hilpert offered. "I am confident he will lead the Delta State athletic department with diligence and drive. We look forward to enjoying continued successes under Jeremy's leadership." Learn more.

History of the Delta State Nursing Program Exhibit Opens at the Charles W. Capps, Jr. Archives and Museum

Country Superstar Kathy Mattea to Perform at Delta State's BPAC

Delta State's Brett Durand Named National Pitcher of the Week
JACKSON STATE UNIVERSITY NEWS


NSBE, Lanier High to Host Educational Walk
Jackson State University and the University of Southern Mississippi's chapters of the National Society of Black Engineers are joining teams with Lanier High School for A Walk for Education at 9 a.m. Saturday, April 21. The walk increases awareness of the opportunities available through education particularly in the fields of science, technology, engineering and math, or STEM. Volunteers will go door-to-door near Lanier High School and the surrounding area handing out bags filled with information about higher education, the ACT, GRE, SAT, and GED tests, the NSBE, financial aid, and other resources. For more information contact Jon Lee at (301) 562-7518. Learn more.

JSU Hosts Free Jazz Concert


Apr. 21 - Mississippi State University's College of Arts and Sciences presents its foreign film festival beginning at 6 p.m. in the Lee Hall Auditorium. The first film, "Bella Martha," is followed by "Love Me If You Dare" at the free event. For more information, contact Jennifer Rupinski at (205) 559-1764. Learn more.

Apr. 21 - A spring celebration from 1-4 p.m. in the Grove at the University of Mississippi provides games and other activities for elementary-age children and all young-at-heart attendees. Sponsored by Rebel Rally, a community service organization, the event will includes a drive for school supplies for Lafayette County schools. Learn more.

Apr. 21 - 22 - The Southern Miss Steel Band, Percussion Ensemble, and Samba Band will present a "Rhythms of Summer" concert at 7:30 p.m. on April 21 and at 2 p.m. on April 22 at the Mannoni Performing Arts Center in Hattiesburg. Tickets are $10 for adult general admission. Call (601) 266-5418 or (800) 844-8425. Learn more.

Apr. 23 - Mississippi State's Lyceum Series presents "The Canadian Brass" at 7:30 p.m. in Lee Hall Auditorium. The brass quintet performs classical pieces and offers lively dialogue and theatrical effects. Admission for MSU students is free, but tickets cost up to $15 for others. Learn more.

Apr. 24 - Popular American composer Eric Whitacre, known for his groundbreaking work featuring soloists, orchestra, chorus, and electronica, joins the University of Mississippi's student vocal ensembles and the Symphonic Band for a 7 p.m. concert in the Ford Center for Performing Arts. Call (662) 915-7411 for tickets. Learn more.

Apr. 24 - 25 - Mississippi State's Risk Management, Insurance, and Financial Planning program hosts its annual Insurance Day beginning at 4 p.m. Tuesday. The program includes a range of speakers, including Oliver North, Gov. Haley Barbour, and Insurance Commissioner George Dale. For more info, call (662) 325-7475. Learn more.

Apr. 26 - Delta State's Division of Biological and Physical Sciences will host the first annual Dean Spradling Environmental Sciences Seminar Series. The event is free and open to the public. For more information, contact Jeffrey Duguay at (662) 846-4242.

Apr. 26 - Jackson businessman Leland R. Speed will give the 2007 Distinguished Entrepreneur lecture at Southern Miss. The 2:30 p.m. lecture is set for the Shelby Thames Polymer Science Auditorium in Hattiesburg. Learn more.

Apr. 26 - 27 - The Jackson State University Center of Excellency in Minority Health presents "Principles of Public Health Surveillance." Yigzaw Belay, Public Health Program Director of the Tennessee Department of Health will be featured speaker. The program is slated for 10 a.m. until noon in Conference Room 245 at the Jackson Medical Mall. Learn more.

Apr. 27 - Popular country singer Kathy Mattea performs at 8 p.m. in the Ford Center for the Performing Arts to kick off Oxford's annual Double Decker arts festival. Tickets are $20 to $23. Call the University of Mississippi Box Office at (662) 915-7411. Learn more.

Apr. 27 and 29 - The University of Southern Mississippi Gulf Coast Civic Chorale will present two concerts for the spring semester. The first concert will be held at the First United Methodist Church of Gulfport on April 27 at 7 p.m. The second concert will be held at the Fine Arts Auditorium of the Mississippi Gulf Coast Community College's Jefferson Davis Campus on Switzer Road on April 29 at 2 p.m. For more information, call Southern Miss Marketing and Public Relations at (228) 865-4573. Learn more.

Apr. 29 - Delta State's spring choir concert featuring the Chamber Singers, Chorale, and Delta Singers will be held at 3 p.m. in the Delta and Pine Land Theatre of the Bologna Performing Arts Center. The events are free and open to the public. For more information, contact the music department at (662) 846-4615.

June 15 - Program coordinators of Delta State University's third annual Reaching Out to Mississippi: Education in Action (ROMEA) conference, to be held September 25-26, are soliciting submissions of abstracts for papers, workshops, and posters for possible inclusion in the program. All submissions received by June 15 will be considered, and presenters will be notified by July 15 as to whether their presentations have been accepted. For more information, contact the program committee.