Mississippi among Finalists for Lumina Foundation Grant
Mississippi is on a short list of states being considered for participation in the Making Opportunity Affordable grant program, sponsored by Lumina Foundation for Education and Jobs for the Future. Of the 37 states that submitted a letter of interest in December, Mississippi is among a select group receiving further consideration. Ten states will be selected to receive a one-year $100,000 planning grant, after which five states will be selected to receive up to $500,000 for four years. The grants are designed to help states advance a productivity agenda in higher education by developing goals, policies, and practices that produce more degrees at a lower cost per degree. The ten state finalists will be announced in April, and representatives from these states will attend a training academy in June. Mississippi's strong grant team includes Dr. Thomas C. Meredith, Commissioner of Higher Education; Dr. Hank Bounds, State Superintendent of Education; Dr. Eric Clark, Executive Director of the State Board for Community and Junior Colleges; Dr. Jason Dean, Vice President of Economic Policy for the Mississippi Economic Council and Chief Operating Officer for Momentum Mississippi; Dr. Harold Fisher, Executive Director of the Mississippi Association of Independent Colleges; Mr. Johnny Franklin, Education Policy Advisor in the Office of Governor Haley Barbour; Mr. Donald Pendergrast, Director of Instruction for the Mississippi Private School Association; and a number of support members. Dr. Lynn J. House, IHL Assistant Commissioner for Academic and Student Affairs, will coordinate the grant for Mississippi, if selected. Lumina Foundation for Education is an Indianapolis-based, private foundation dedicated to expanding access and success in education beyond high school.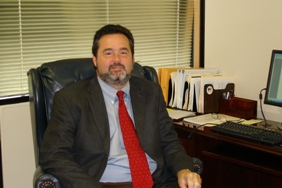 Mitchell Adcock, Director of Internal Audit

IHL Welcomes Adcock as Director of Internal Audit
IHL is pleased to announce that Mitchell Adcock, former chief administrative officer at the Mississippi State Department of Health, has accepted the position of director of internal audit in the IHL Executive Office. "Mitchell brings a proven record of leadership and experience to IHL that will enable us to continue to work together and improve the effectiveness and efficiency of our operations," said Commissioner of Higher Education Dr. Thomas C. Meredith. As director of internal audit, Adcock will oversee the department which is responsible for conducting operational, financial, compliance, and information systems audits, preparing audit work papers and permanent files, applying professional audit techniques, documenting findings, and recommending solutions to findings. Adcock earned his bachelor of accountancy from the University of Mississippi and holds certifications as a Certified Public Accountant, Certified Internal Auditor, Certified Fraud Examiner, and Certified Public Manager. Adcock's other past work experiences include serving as assistant director of the Mississippi Ethics Commission; director of performance audits, Office of the State Auditor, senior evaluator for the Legislative Evaluation and Expenditure Review (PEER) Committee; and Medicare in-charge and internal auditor for Blue Cross Blue Shield of Mississippi. Contact Mitchell Adcock.
Financial Reporting Workshop Held for University Administrators
The IHL Executive Office of Finance and Administration coordinated a professional development workshop, entitled "University Financial Reporting for Public Institutions," March 11-12. Dr. Mary L. Fischer, professor of accounting and coordinator of the Graduate Business Program in the Department of Business Administration at the University of Texas at Tyler, presented the workshop. Chief financial officers, controllers, and other financial staff from all eight public universities participated in the workshop and explored issues related to accounting information-recognition and recording and current operating, lending, financing, and plant activities. Contact Cheryl Mowdy, IHL director of support operations, for more information.

Items included in the "University News" section of the System Review are submitted each week by the universities. The news items are listed in rotating alphabetical order by university.
UNIVERSITY OF MISSISSIPPI NEWS


Groundbreaking Held for New UM Law School Building
The threat of bad weather that forced an indoor groundbreaking for the new University of Mississippi law school facility Saturday did not dampen the excitement surrounding the event. Applause, smiles, and laughter filled the first floor mall of the current law school as a handful of officials ceremoniously turned dirt in a rectangular box to signify the official beginning of the new building's construction. More than 200 law alumni, students, faculty, and friends were on hand for the event. "You see old men dream dreams," said William F. Goodman, Jr., co-chair of the national steering committee. "But at this moment, we are all dreaming one collective dream: a law school with new opportunities, respect, and reputation." Goodman joined Chancellor Robert Khayat, Dean Samuel M. Davis, IHL President Stacy Davidson, law alumnus Al Povall, former provost Carolyn Ellis Staton, architect Jim Ely, Law School Student Body president Parker Wiseman, and Black Law Student Association representative Roslyn Griffin in the groundbreaking. The site for the new facility on Coliseum Drive has been cleared, and bids on the construction are expected in early April. The $50 million facility, with an opening date of fall 2010, is to provide state-of-the-art classrooms and space for clinics. The building will ensure the continued success of the law school, Davis said. "As I often say, no institution stays great or gets better by standing still," he said. Learn more.

New Seminar Course Increasing Awareness of Global Warming

Fourth-graders Learn About Court, Trials during Visit to UM

University-Oxford Airport Provides Needed Service, Fuels Local Economy

Southern Studies Professor Selected for Distinguished Lectureship Program
UNIVERSITY OF MISSISSIPPI MEDICAL CENTER NEWS


UMMC Med Students Enjoy Most Successful Match Day in Three Decades
On a crisp morning of a vernal equinox that marked the arrival of spring, another annual rite of passage played out in the School of Medicine at the University of Mississippi Medical Center. Senior medical students found out where they would go for specialty training by opening letters with their matches and sharing the results with family, friends, and faculty during a Match Day 2008 ceremony at the Norman C. Nelson Student Union March 20. According to the National Resident Matching Program (NRMP), the organization that conducts the match, senior medical students nationwide enjoyed the most successful match in 30 years. Learn more.

NAB Recognizes Natchez Radio Station

Award-winning Southern Remedy Radio Show Makes Television Debut

Conerly Policy, Ethics Symposium Heralds Presidential Debate Series
UNIVERSITY OF SOUTHERN MISSISSIPPI NEWS


Martha Saunders Inaugurated as Southern Miss' Ninth President
Anyone wondering who the University of Southern Mississippi thinks it is need only ask its president, Dr. Martha Saunders. Inaugurated Friday, March 28, as Southern Miss' ninth institutional leader, Saunders answered that question clearly and passionately in her address at a ceremony marked by academic tradition and music performed by Southern Miss faculty and students. "In its 98th year, Southern Miss is a place characterized by five distinct forces bridging us from where we have been to where we will go," she said, citing those forces as a spirit of humanity, a powerful sense of self efficacy, a balance between the collective good and the good of the individual, a traditional culture, and a diverse culture. "These forces have been with us since the very beginning," she said, adding that "Southern Miss is a place that has always and will continue to meet, head on, the intellectual and human issues of the day." Saunders praised past university presidents for their contributions to the institution, and for their leadership in the face of economic and enrollment challenges brought on by World Wars and the Great Depression and, most recently, Hurricane Katrina. To overcome future challenges and provide its students the education they need to achieve their goals, Saunders said the university community must be united. Learn more.

Students Honored for Achievements during Southern Miss' Founders Day

Southern Miss Eagle Institute for School Leaders set for April 21-23

Southern Mississippi Area Health Education Center to Address Climate Change Impact on Health

Southern Miss' DuBard School Receives $100,000 Gift from McMahan Family
UNIVERSITY OF SOUTHERN MISSISSIPPI GULF COAST NEWS


Gulf Coast Ambassador Series Concert Features Piano Quartet
The University of Southern Mississippi Symphony Orchestra's Gulf Coast Ambassador Series will present the Impromptu Piano Quartet in concert at 7 p.m. on Tuesday, April 8, in the auditorium of the Advanced Education Center on the Southern Miss Gulf Park campus in Long Beach. The performers include: Stephen Redfield, violin; Alexander Russakovsky, cello; Hsaiopei Lee, viola; and Theresa Sanchez, piano. The quartet will perform Franz Schubert's Adagio and Rondo Concertante, D. 487 and Johannes Brahms' Piano Quartet No. 1 in G Minor, Op. 25 . This concert is free and open to the public. For more information about the concert, call (228) 865-4573. Learn more.

Southern Miss Gulf Coast Employees Recognized for Service to University

Southern Miss Stennis Recognizes Employees for Service
ALCORN STATE UNIVERSITY NEWS


Alcorn Hosts Russian Exchange Students April 1-May 4
Alcorn State University (ASU) School of Agriculture, Research, Extension and Applied Sciences (AREAS), Global Programs, and the University Relations Office organized a visit from one of the oldest agricultural schools in Russia, Voronezh State Agricultural University (VSAU.) This trip is part of the five-year Agreement of Cooperation between ASU and VSAU signed on September 18, 2007. The group of eight agricultural economics majors and one professor arrived on April 2 and will be staying on the main campus through May 4. During their stay, the Russian visitors will attend classes at the Department of Agriculture, visit local farms and agricultural industry sites, meet with Alcorn students, faculty, and staff, learn about local history, and visit several cities in the state of Mississippi. This visit initiates the implementation of the Agreement of Cooperation and will be followed by a reciprocal visit of Alcorn students to Russia, joint research projects, and collaboration of the faculty and administrators. Learn more.

Alcorn State University Places 2nd in National Competition

Alcorn State Faculty and Students Implement International Development Project in West Africa

Athletes, Football Players to Clean Up Campus
DELTA STATE UNIVERSITY NEWS


Third Annual Arts in April Festival Arrives at Delta State
April at Delta State University brings a focus on the arts across the campus. The DSU Special Programs Committee sponsors the month-long Arts in April Festival that celebrates the visual arts and performances, focusing on student artistry. Learn more.

DSU 27th Annual F.E. Woodall Spring Conference Set for April 9

Delta State to Host Annual Delta International Film and Video Festival

DSU's Jennifer Rushing Claims First Ever Cellular South Gillom Trophy
JACKSON STATE UNIVERSITY NEWS


McHenry to Serve on Harvard Medical School Science Diversity Board
William E. McHenry, executive director of the Mississippi e-Center @ Jackson State University, has been selected as a member of the Advisory Board for the Josiah Macy Jr. Foundation-funded Harvard Medical School Center for the Study of Diversity in Science. McHenry, also a professor of organic chemistry at JSU, was among nine people from across the country selected March 13 to serve on the prestigious board. The center will study issues and questions related to the recruitment, retention, and career advancement of underrepresented minorities in the biomedical and behavioral sciences. "This particular center will help bring about meaningful changes among the diversity of individuals majoring in sciences," said McHenry, a former program officer for the National Science Foundation. "Right now, America is facing a shortage of individuals majoring in science - especially African Americans, Hispanics and American Indians - at a time when China and India are developing a competitive science and technology workforce." McHenry was the first national director for the federal government's Alliances for Minority Participation, a program designed to attract minority students to science, technology, engineering, and mathematics fields. He also served as the assistant commissioner for Academic and Student Affairs for the Board of Trustees for the Mississippi Institutions of Higher Learning. Learn more.

Students Showcase Projects at Science, Engineering Fair at JSU

JSU First University in State to Offer Earth Systems Science Degree

Jackson State University Receives $75,000 Gift from AT&T Foundation
MISSISSIPPI STATE UNIVERSITY NEWS


School Violence Expert Speaks at MSU
A nationally recognized researcher and authority on school violence discussed "Kids and Guns: Why They Do It" at Mississippi State's Mitchell Memorial Library auditorium. Professor David C. May, an alumnus of the university, is a Center for School Safety Research Fellow in the department of safety, security, and emergency management at Eastern Kentucky University. He holds a 1997 MSU doctorate in sociology, with emphasis in criminology. May is the author of numerous articles about responses to school violence, perceptions of the severity of correctional punishments, and adolescent fear of crime and weapon possession, as well as two books examining gun ownership and possession among male delinquents. His campus presentation is sponsored by the MSU department of sociology, anthropology, and social work and its criminal justice and corrections program. Learn more.

MSU Shows Help N.E. Miss. Students See Science Come 'Alive'

'Tearing Down Walls' Focus of MSU Unity Week Activities

'World' Gathering for Weekend International Fiesta at MSU
MISSISSIPPI STATE UNIVERSITY DIVISION OF AGRICULTURE, FORESTRY AND VETERINARY MEDICINE NEWS


MSU College of Veterinary Medicine Opens Doors for 24th Annual Event
MSU's College of Veterinary Medicine (CVM) opens its doors from 8:30 a.m. until 3:30 p.m. on April 4 and 5 for the 24th annual open house at the Wise Center, located on the south side of campus off Spring Street. Ashley Allen, open house chairman and president of MSU's Student Chapter of the American Veterinary Medical Association, said older students often take the opportunity to talk to veterinary students and faculty about career paths. They can ask questions about CVM admission procedures, the course work, and the field of veterinary medicine in general. "Younger students enjoy seeing a variety of animals and demonstrations they would not typically see. The petting zoo will contain some common animals, and the animal show will allow veterinary students to show off some of their unique and exotic pets," Allen said. "The canine agility demonstration will be a learning opportunity for people interested in behavior training at home or for competitive purposes." Allen said the steer with a hole in its side, often called the Holey Cow, is a fun way for students to learn about the digestive tract of ruminants. The poultry science department will have an incubation and hatching display of baby chicks. Admission is free. For more information, call the CVM Office of Outreach and External Affairs at (662) 325-1103. Learn more.

MSU Extension Specialist Sees Shortage of Soybean Seeds

MSU Animal Health Center Serves Nearly 9,000 Patients Annually

MSU's Starr Forest Demonstrates Six Decades of Productive Timber Management
MISSISSIPPI UNIVERSITY FOR WOMEN NEWS


MUW Student Awarded Graduate Fellowship
Yuji Inoue of Miyazaki, Japan, a senior accounting major at Mississippi University for Women, has been awarded an appointment as a graduate council fellow in the Graduate School at the University of Alabama for the 2008-2009 academic year. In his letter offering Inoue this appointment, Dr. David Francko, assistant vice president for academic affairs and dean of the Graduate School, stated "the graduate council fellow is the most competitive and highly regarded award offered by the university and is offered in recognition of the record you (Inoue) have established thus far in your academic career." The award carries a full out-of-state tuition scholarship, paid student health insurance, and a generous monthly stipend. "I feel exceptionally honored," Inoue said. "At the University of Alabama, being recognized as a graduate council fellowship scholar is one of the most excellent awards a graduate applicant can receive. However, I feel a heightened responsibility as much as I feel honored. Among many bright students, the University of Alabama chose me as one of the fellowship scholars. Therefore, I need to be more careful with my actions, because they will represent not only the University of Alabama as a fellowship scholar but also MUW as a graduate." Learn more.
MISSISSIPPI VALLEY STATE UNIVERSITY NEWS


MVSU's Annual Founder's Week and Gala Set for April 21-26
Rhythm and blues will permeate the Harrison HPER Complex on April 25 when Mississippi Valley State University holds the 9th annual James Herbert White Preeminence Awards and Scholarship Gala. The evening event will feature 2005 Vocal Group Hall of Fame inductees, The Chi-Lites. Inducted into the Vocal Group Hall of Fame in 2005, The Chi-Lites hail from Chicago. During the 1970s, they racked up 11 Top Ten R&B singles, including romantic ballads such as "Have You Seen Her" and "Oh Girl." The group continues to tour throughout the world, singing their powerful R&B hits. The men will take the stage during MVSU's biggest fundraising event of the year. A silent auction will begin at 5:30 p.m. and features autographed sports memorabilia, art, jewelry, and other items. During the gala, MVSU Interim President Roy C. Hudson will recognize outstanding university supporters with Preeminence Awards. The event gets under way at 7 p.m. Tickets for the black-tie affair are $75. During the annual Founder's Breakfast, attendees will hear Blake Wilson, president of the Mississippi Economic Council. Wilson is only the third executive of the State Chamber of Commerce in 50 years. He came to MEC in 1999 from the Florida Chamber of Commerce where he served as executive vice president. For ticket information, please contact the University Cashier at (662) 254-3313, or for information, contact the Office of Public Relations at (662) 254-3578. Learn more.

Black Males Conference Scheduled for April 4

MVSU International Week Set for April 14-18


Apr. 1-22 - The annual University of Southern Mississippi Student Art Show will be presented at the Museum of Art to honor the next generation of visual artists. An opening reception and awards ceremony is planned from 4-6 p.m. on April 4. Learn more.

Apr. 4 - The Southern Foodways Alliance at UM is hosting the first of four dinners celebrating the release of the book Cornbread Nation 4: The Best of Southern Food Writing at City Grocery restaurant in Oxford. The Shells, Swine, and Sweets dinner is open to the public and features a three-course meal for $35. Learn more.

Apr. 4-5 - MSU's Delta Futures is a series of health-care career camps to recruit young people into medical professions to ease a continual shortage of trained personnel in the region's health-care system. The third of three camps is scheduled for Holmes County State Park in Durant. Learn more.

Apr. 5 - The Jackson State athletics department will hold its annual spring football game at 1:30 p.m. at Mississippi Veterans Memorial Stadium. Before the '08 spring game is played JSU will stir the echoes of former Tiger greats with a "Legends" flag football game at 10 a.m. Learn more.

Apr. 5 - Coach Mike Bianco and the Ole Miss baseball team are scheduled to lead the 10th annual Jean Jones Walk/Run for Cancer fundraiser at UM. The event, which begins at 8 a.m., raises money for the Baptist Hospital Cancer Institute Patient Assistance Fund. Learn more.

Apr. 5 - Mississippi State University's College of Veterinary Medicine presents its 24th annual open house from 8:30 a.m. to 3:30 p.m. at the Wise Center. The public is invited to see animals and demonstrations. Learn more.

Apr. 6 - Mississippi State University's Meridian campus presents the opera, The Mikado, at 4 p.m. at the Riley Center in downtown Meridian. The Mikado delivers a satiric look at love triangles and political hypocrisy in the fairy-tale setting of ancient Japan. Learn more.

Apr. 7 - Mississippi State University's Lyceum Faculty Chamber Series presents the Golden Triangle Brass at the Chapel of Memories at 7:30 p.m. Called a "Brass Bonanza featuring the talents of four MSU brass faculty," the event is free for MSU students. Learn more.

Apr. 7-11 - Jackson State University will celebrate National Public Health Week on the main campus. Events include a 2K Walk, health expo, and research symposium. For more information, contact Erica Jordan at (601) 979-8806 or erica.m.jordan@jsums.edu . Learn more.

Apr. 7-11 - Jackson State University will celebrate International Week on the main campus. Events include an international film festival, a bazaar, and a model United Nations. Learn more.

Apr. 8 - The University of Southern Mississippi Symphony Orchestra's Gulf Coast Ambassador Series will present the Impromptu Piano Quartet in concert at 7 p.m. in the auditorium of the Advanced Education Center on the Southern Miss Gulf Park campus in Long Beach. This is a free concert. Learn more.

Apr. 12 - The Broadway hit A Year with Frog and Toad comes to the UM Ford Center for the Performing Arts. The Tony Award-winning children's musical is part of the Ford Family Friendly Series introduced in fall 2007. Tickets for the 3 p.m. show are $15 for general admission and $7 for children under age 18. Learn more.

Apr. 13 - Traditional classical music meets the sizzling sounds of jazz as the five-piece Boston Brass perform at The University of Southern Mississippi at 6 p.m. at the Mannoni Performing Arts Center on the Hattiesburg campus. Learn more.

Apr. 15-16 - MSU is co-sponsoring the 38th Annual Mississippi Water Resources Research Conference in Jackson. Ten sessions will cover topics including Delta water resources, sedimentation, groundwater, coastal and wetlands, water supply, surface water quality, agriculture, modeling, and invasive species. Learn more.

Apr. 21 - During the annual MVSU Founder's Breakfast, attendees will hear Blake Wilson, president of the Mississippi Economic Council. Wilson is only the third executive of the State Chamber of Commerce in 50 years. Tickets are $10 and may be purchased by calling (662) 254-3578. Learn more.

Apr. 22 - Delta State University will present the St. Petersburg Ballet in Romeo and Juliet in the Delta and Pine Land Theatre of its Bologna Performing Arts Center at 7:30 p.m. For ticket information, please call the Box Office at (662) 846-4626, or, to order tickets online, go to http://bolognapac.ticketsxchange.com/index.asp . Learn more.

Apr. 24 - MSU's one-day Natural Resources Workshop focuses on outdoor businesses for farmers, landowners, and resource managers. The event begins at 8 a.m. in Benndale in George County. Early registration ($25 fee) is recommended because of space limitations. To register, call (662) 325-3133. Learn more.