Board to Determine Preferred IEO Candidates in Meetings Tuesday
The Board of Trustees of State Institutions of Higher Learning (IHL) will meet next Tuesday, March 27, beginning at 10:00 a.m. in the IHL Board Room in the Universities Center, 3825 Ridgewood Road, Jackson, MS, 39211, to discuss the candidates for the next president of Alcorn State University. Afterwards, the Board will hold a second meeting, beginning at 12:30 p.m., also in the IHL Board Room, to discuss the candidates for the next president of the University of Southern Mississippi. A public announcement regarding the preferred candidates will follow the second meeting. Representatives from the Alcorn State and Southern Miss Search Advisory Committees will participate in their respective discussions with the Board of Trustees, Commissioner of Higher Education Dr. Thomas C. Meredith, and search consultant Dr. Jan Greenwood. For both meetings, an executive session may be held in accordance with the Open Meetings Act. For more information on the presidential search process, including a timeline of events, visit the Institutional Executive Officer Search Process website.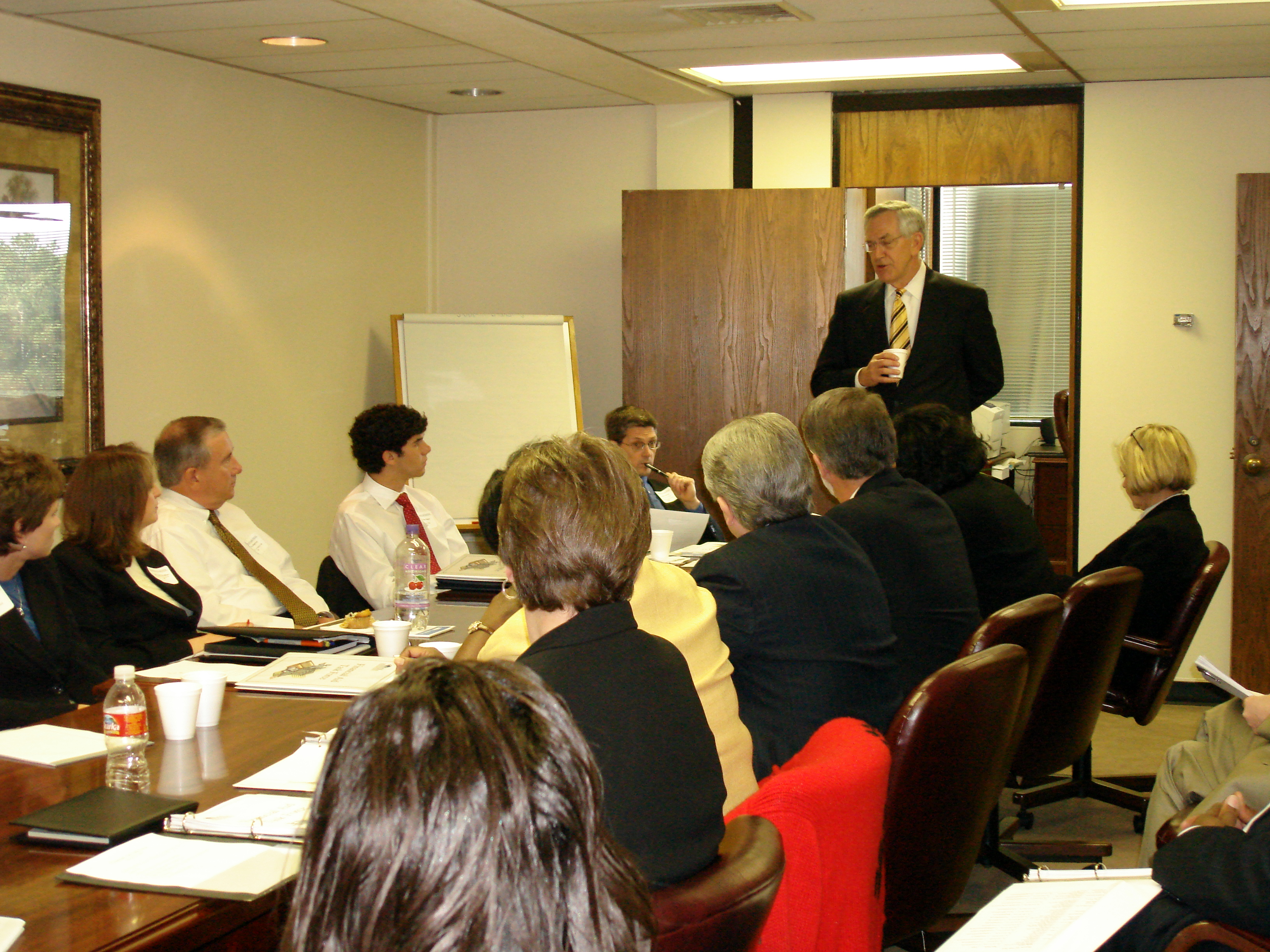 Commissioner Meredith charges Financial Aid Task Force to make recommendations for improving access to Mississippi's universities.

Financial Aid Task Force Convenes
On behalf of the Board of Trustees, Commissioner Meredith has convened a financial aid task force to assess current state and institutional financial aid policies and programs to determine ways to increase access to universities and improve student success. The IHL Board aims to increase the number of Mississippians with a university degree, because a well-educated population is crucial to the future well-being of the state. Nevertheless, only 16.9 percent of Mississippians currently have a bachelor's degree or higher, compared to 24.4 percent of the nation's population. "Financial aid plays a vital role in helping Mississippi students attain their educational goals," said Commissioner Meredith. "Approximately 80 percent of all undergraduates receive some form of financial assistance." The task force, which met Tuesday for the first time, is expected to submit their recommendations by late April for consideration by the Board in May. Dr. Bucky Wesley, Vice President for Student Services at Mississippi University for Women, is chairing the 19-member task force of representatives from each of the state's eight public universities as well as IHL Executive Office staff members. For more information, contact Assistant Commissioner for Finance and Administration Dr. Linda McFall at (601) 432-6732.
IHL Emails Now Easier to Remember - @mississippi.edu
The executive office of the Board of Trustees of State Institutions of Higher Learning (IHL) recently announced the location of its new home on the Internet, www.mississippi.edu. In conjunction with the move, all executive office employees have acquired new email addresses as well, username@mississippi.edu. The new addresses are much more intuitive and easier to remember than the previous addresses, www.ihl.state.ms.us and username@ihl.state.ms.us, which will continue to work. Visit IHL online for information about the Board of Trustees, the universities, financial aid information, statistical reports and other public information, and the latest news on Mississippi's public university system.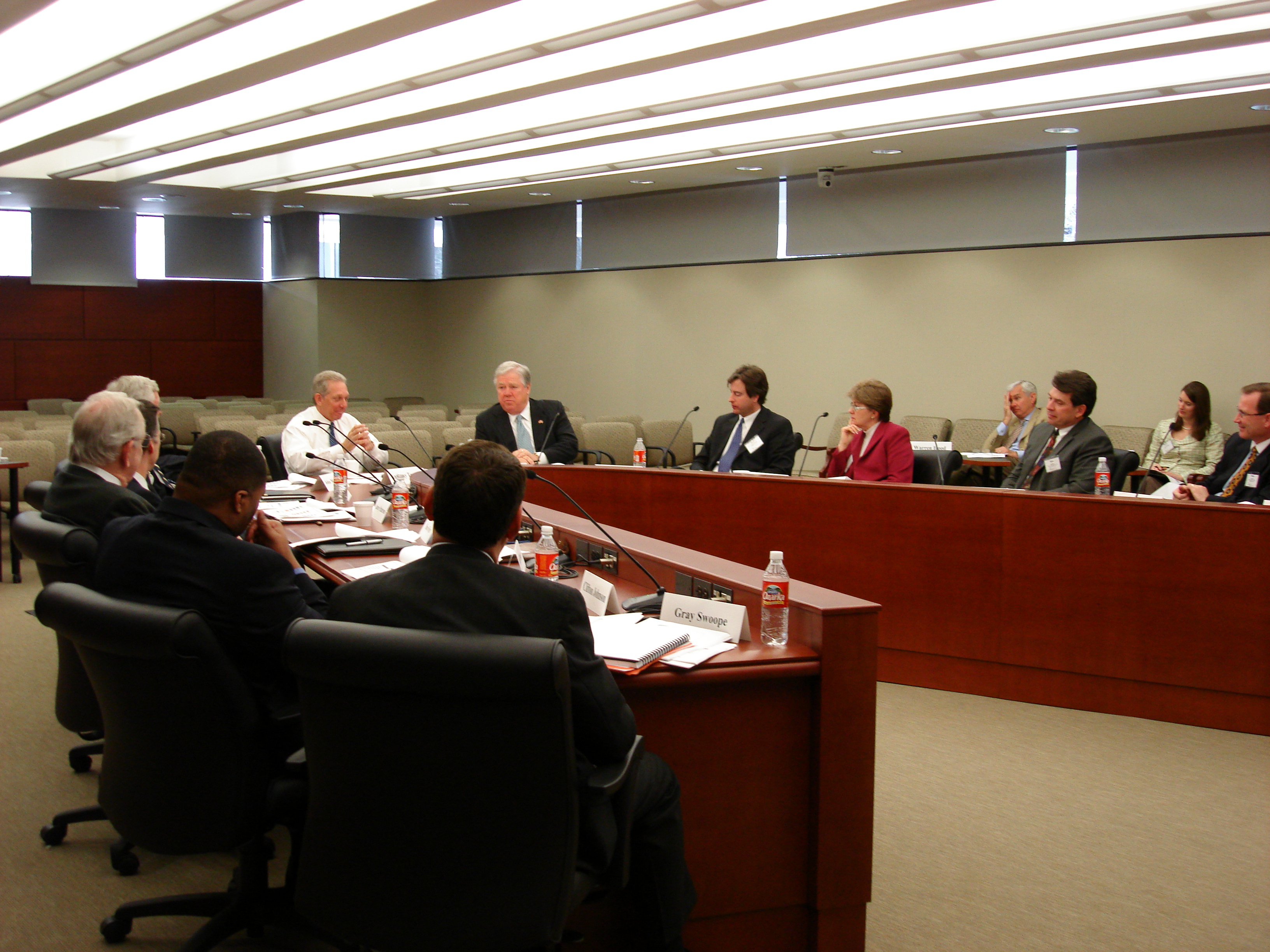 Momentum Mississippi steering committee holds quarterly meeting.

Momentum Mississippi Steering Committee Holds Quarterly Meeting
The Momentum Mississippi steering committee held its quarterly meeting with Mississippi Governor Haley Barbour on Tuesday, March 6, in the IHL Board Room in the Universities Center. Momentum Mississippi was established by Governor Barbour in 2004 to boost the state's economic future in part by implementing the plans laid out in Blueprint Mississippi, which was chaired by University of Mississippi Chancellor Robert Khayat. The organization is chaired by Anthony Topazi, CEO of Mississippi Power Company, and made up of approximately 135 members representing the public and private sectors. The primary role of the steering committee is to develop strategies and recommendations for action by the legislature and other policy makers. IHL University Research Center Bureau of Long-range Economic Development Planning Director Pete Walley provides technical staff support for the steering committee. At Momentum Mississippi's annual board meeting held in November, Governor Barbour announced his support of Momentum Mississippi's Technology Development and Transfer Committee's recommendation to request $4 million to aid research and development at the state's public universities. The money would help researchers develop practical commercial applications for use by businesses in the state. The committee is chaired by Chancellor Khayat and Ambassador John Palmer, founder of SkyTel. Learn more about Momentum Mississippi.


Items included in the "University News" section of the System Review are submitted each week by the universities. The news items are listed in rotating alphabetical order by university.
UNIVERSITY OF SOUTHERN MISSISSIPPI NEWS


Southern Miss Launches New Summer Study Courses in France, Tibet
Students at The University of Southern Mississippi will have new opportunities for international study this summer with the addition of two new programs in France and Tibet. From May 13 to June 1, students will travel to Tibet for the "Religion in Tibet" program under the direction of Dr. Daniel Capper. Once there, students will reside in an environment full of sacred mountains, lakes, temples, and monasteries. Paris is the destination June 8 to June 28 when students may participate in two courses. In "France and the World Wars," students will tread the battlefields of both World Wars and explore museums and historic sites of Paris under the direction of Dr. Michael Neiberg from the Department of History. Through "American Exile: Expatriate Writers in Paris," students will study the works of Ernest Hemingway, Gertrude Stein, F. Scott Fitzgerald and Langston Hughes and will be immersed in the world of art and culture these authors sought after and found throughout the 1920s. Drs. Ellen Weinauer and Jonathan Barron from the Department of English are professors for the course. For more information, contact the Center for International Programs at (601) 266-4344. Learn more.

Southern Miss Gulf Coast School of Nursing Receives $100,000 Gift

Southern Miss Students Win Kennedy Center Acting Competition

Southern Miss Honors Faculty Members with University Excellence Awards for Teaching, Service

Beyond Walter Reed: The Full Tragedy of Lessons Unlearned from Vietnam to Iraq
ALCORN STATE UNIVERSITY NEWS


Alcorn State Student Becomes Semi-Finalist of Writing Competition
Alcorn State University student, Ja'Net Blackmon, was among nine semi-finalists of the Writers of Passage Essay Competition sponsored by the Sallie Mae Fund and the National Association for Equal Opportunity in Higher Education (NAFEO). Ms. Blackmon's work was chosen from 200 submitted essays. On March 16, 2007, she went to Washington D.C., to present her essay in front of a panel of judges. The topic of the essay is "How HBCUs Are Uniquely Suited to Prepare Diverse Students to Compete in Today's Global Economy." "It was a great honor for me to participate in the Writers of Passage Competition. I was the only person from the state of Mississippi among semi-finalists," said Ms. Blackmon, a native of Greenwood, Mississippi. This is the second year that Alcorn State University students have successfully participated in the competition. Last year's participant, Michael Brokington, was among the winners. Learn more.
DELTA STATE UNIVERSITY NEWS


Delta State to Dedicate Crawford Center; Ferriss Museum to Open Saturday
A perennial powerhouse in Division II athletics, Delta State University boasts some of the finest athletic facilities in the nation, and this Saturday, March 24, those facilities are only going to get better. Delta State will officially dedicate the Robert L. Crawford Center this Saturday at 11 a.m. at the Statesmen baseball complex. Made possible through a generous gift by former Delta State baseball player, John Crawford, his wife, Beth, and his mother, Mabel, the Crawford Center will bear the name of John's father, Robert, who was an ardent supporter of the Statesmen program. As the main entrance and exit point for all future Statesmen baseball games at Dave "Boo" Ferriss Field, the facility has allowed for expanded restroom and concession areas, an umpire's locker room and a merchandising stand. Most significant, though, the Crawford Center houses The Dave "Boo" Ferriss Museum. "Inning by Inning: A Life in Baseball, The Dave "Boo" Ferriss Museum" chronicles the former long-time Statesmen head coach's illustrious career – including photos and personal memorabilia from his early days at Shaw High School, to a young man at Mississippi State, to the height of his career with the Boston Red Sox, to his days at the helm of his beloved Delta State program. Learn more.

Delta State to Present Annual Cranford Memorial Lecture

Delta State to Present International Business Symposium

BPAC to Welcome 'Willy Wonka'

Delta State's Jennifer Rushing Named to Kodak/WBCA NCAA Division II All-American Team
JACKSON STATE UNIVERSITY NEWS


JSU Sponsors 'ABC's of Excellence in Childlife Management'
Jackson State University's (JSU) College of Lifelong Learning will take on school violence against young children during the "ABCs of Excellence in Childlife Management" conference, March 29-30 at the Mississippi e-Center @ JSU. "We are all trying to reduce violence in schools around the nation," states Dr. Johnnie Mills-Jones, dean of JSU's College of Lifelong Learning. "School violence has continued to escalate in recent years." While many conferences on this topic focus on teenagers, Mills-Jones says this particular event will target issues surrounding younger children from infancy to age 8. "Our belief is that we must begin at an early age to train children to live peacefully." She adds, "We do that by focusing on the family and on character education at the earliest stages." The conference is a two-day event. Teachers, counselors, caregivers, parents, and social service workers are invited to attend behavior and management workshops, learn character education concepts and update CPR, first aid, and violence prevention methods. They may also train with Diane Dodge, founder and president of Teaching Strategies Inc. and lead-author of The Creative Curriculum, a popular series of books and other resources used by many preschool teachers. Learn more.

OPERA/SOUTH Presents 'The Magic Flute'

2nd Annual Conference of the Veterans of the Civil Rights Movement
MISSISSIPPI STATE UNIVERSITY NEWS


Weekend Scholar Conference at MSU to Include Public Events
Some 30 scholars of military and diplomatic history and international relations will gather at Mississippi State University this weekend. The university's first regional International Security and Internal Safety Conference is focusing on a variety of issues from the 19th century to the present. Maj. Gen. Harold Cross, adjutant general of Mississippi, will discuss the Mississippi National Guard's responsibilities during a Saturday, March 24, program. His keynote address begins at 9 a.m. Randall B. Woods, a University of Arkansas history professor, will deliver the closing address, "The Politics of the Personal: LBJ and the Dominican Republic," at 10:45 a.m. Sunday, March 25. He has written numerous books, including a prize-winning biography of longtime Arkansas senator J. William Fulbright and LBJ: Architect of American Ambition (Cambridge University Press, 2006). The public programs featuring Cross and Woods will take place in the Rogers Auditorium of McCool Hall. The conference brings together historians and political scientists from throughout the Southeast to present research papers on topics that include the North Atlantic Treaty Organization, Cuba, the Cold War, the 1950s, and the current global war on terror. Learn more.

Lou D'Abramo of MSU Honored for Shellfish Industry Contributions

Brass Quartet + Chapel of Memories = Inspirational MSU program

RFK Jr. Bringing Environmental Message to MSU Next Month

MSU Student Design Team Wins Regionally, Looks to Repeat Nationally
MISSISSIPPI UNIVERSITY FOR WOMEN NEWS


Spectator Garners Awards at Journalism Conference
Mississippi University for Women student Laura Tubb took top honors for news reporting at the recent Southeastern Journalism Conference (SEJC) in Birmingham, Alabama. Tubb, who is from Macon, won first place in the Best News Reporter category for her stories about administration/alumni relations and two facilities management employees who were injured while conducting electrical work in Painter Hall. Dr. Marty Hatton, chair of the Department of Communications, said, "This is a tremendous honor and a sign that our students are doing great things. I'm really proud of The Spectator. It indicates that our students are living up to high standards." Tubb, who currently serves as editor of The Spectator, the campus newspaper, said, "This is a huge accomplishment…. Journalism is an ever-changing adrenaline rush. It takes a lot of time, but it's something that makes a lasting impact on people. Nothing makes me happier than knowing someone is reading the paper. I believe in what we do here." Other students who placed in the contest were Casey Parkman, who placed eighth in the Arts and Entertainment Writing category, and Rita Johnson who placed ninth in the Arts and Entertainment Writing category. Learn more.
MISSISSIPPI VALLEY STATE UNIVERSITY NEWS


Mississippi Valley State University Online
www.mvsu.edu
UNIVERSITY OF MISSISSIPPI NEWS


New STARTALK Program to Provide Chinese Immersion for High School Students
More than two dozen high school students get a chance to become proficient in Chinese this summer through Mississippi STARTALK, a new federally-funded program at the University of Mississippi (UM). UM officials learned recently that the school has been awarded $94,500 to launch the intensive Chinese summer program. "We are ecstatic about the prospect of having as many as 30 high school students from Mississippi on our campus this summer studying intensive Chinese," said Donald Dyer, chair of the Department of Modern Languages. "The STARTALK program will provide us with a unique opportunity to be innovative and to enhance what has become a deep curriculum in the study of Chinese language and culture here at the University of Mississippi. Very few, if any, states are doing the kinds of things we are in Chinese language instruction at the high school and college level, and we are all very proud of that." UM is among 34 institutions in 22 states and the District of Columbia selected for a STARTALK program this summer. About half the institutions are concentrating on Chinese, the other half on Arabic. "I think people are becoming aware of our university in terms of new language instruction," Dyer said. "We are the only STARTALK awardee in the South. People are noticing what we're doing here at Ole Miss." Besides this new summer program, UM is home to the Language Flagship Program in intensive Chinese, which began in 2003 and offers the state's only academic major in Mandarin Chinese. Read more.

State's First Public Policy Studies Program to be Offered Beginning this Fall

Mississippi Historical Society Recognizes Library Archivist for Preservation Work

English Professor Galef Publishes First Poetry Collection

Dutch Author Visits UM to Gather Info for Travel Guide
UNIVERSITY OF MISSISSIPPI MEDICAL CENTER NEWS


University of Mississippi Medical Center Online
www.umc.edu


Mar. 5 - 26 - "The Art Department Collects: Art, Objects and Treasures in the Collection of our Faculty" is currently on display in the Wright Art Center Gallery at Delta State University. The exhibit is free and open to the public.

Mar. 24 - Michael Feldman brings his popular public radio quiz/comedy show "Whad'Ya Know?" to the Ford Center for the Performing Arts for a live broadcast. Tickets for the show, which starts at 9:30 a.m., are $25-$50 at the University of Mississippi Box Office at (662) 915-7411. Learn more.

Mar. 26 - Mississippi State University will host a speech by a former homeless man turned successful entrepreneur and motivational speaker at 7 p.m. in Humphrey Coliseum. Christopher Gardner, whose story was told in the movie titled, "The Pursuit of Happyness," will discuss parts of his fascinating life story. Learn more.

Mar. 27 - Mississippi State University's Pre-Law Society will honor Mississippi Court of Appeals Chief Judge Leslie D. King during a public program in the John Grisham Room in the Mitchell Memorial Library at 11 a.m. Also, a one-hour legal roundtable discussion will take place at 2 p.m. in 160 Bowen Hall. Learn more.

Mar. 27 - 28 - More than 900 students in grades 1-12 are headed to Ole Miss to show off their knowledge of scientific principles and the results of careful observations at the 19th annual Region VII Science and Engineering Fair. The fair is open to the public, 8 a.m. - 4 p.m. both days in Tad Smith Coliseum. Learn more.

Mar. 28 - Nobel Prize-winning author Derek Walcott visits the University of Mississippi for a free public lecture at 7 p.m. in the Ford Center for the Performing Arts. The event is sponsored by the University Lecture Series and the Sally McDonnell Barksdale Honors College. Learn more.

Mar. 28 - 30 - Southern Miss will host the 40th annual Fay B. Kaigler Children's Book Festival, which will feature a variety of author and illustrator presentations and seminars. Cost is $170 for all three days. Call Karen at (601) 266-4510 for more information. Learn more.

Mar. 29 - Apr. 1 - The University of Southern Mississippi Repertory Dance Company will present its Spring Dance Concert at the Mannoni Performing Arts Center in Hattiesburg. Times are 7:30 p.m. each day, and a 2 p.m. matinee is set for April 1. General admission tickets are $15. Call (601) 266-4994 for more information. Learn more.

Mar. 30 - Delta State University's Department of Social Work will serve as host to a continuing education workshop for all area social workers and related helping professionals. To receive a registration form or more information, please call (662) 846-4407 or email mtullos@deltastate.edu.

Mar. 30 - Apr. 1 - Mississippi State University presents Super Bulldog Weekend, filled with class reunions, socializing, cookouts, baseball, football, and an all-around good time. To see the list of events happening in association with the annual tradition, visit the website. Learn more.

Apr. 11 - 12 - Delta State University will present its Third Annual Research and Scholarship Symposium in the Henry J. Jacob Conference Center of James M. Ewing Hall on campus. For more information, contact John Green at (662) 846-4069 or (662) 846-4334. Learn more.


May 5 - The University of Southern Mississippi Symphony Orchestra will host Patti LaBelle, Dionne Warwick and Patti Austin among others in a concert tribute to award-winning music composer Tena Clark in Hattiesburg. Tickets start at $20. Call the Southern Miss Ticket Office at (800) 844-8425. Learn more.