Governor Barbour Appoints Four New IHL Board Members
In a press conference on Thursday, Governor Haley Barbour announced the names of the four new trustees who will commence ten-year terms on the IHL Board in May. Governor Barbour's appointments include Dr. Douglas W. Rouse of Hattiesburg; C.D. Smith, Jr., of Meridian; Alan W. Perry of Jackson; and Christy Pickering of Biloxi. Current IHL Board members, in town for their regular monthly meeting, attended the news conference eager to learn the names of their newest colleagues. In accordance with state law, the nominees will be submitted to the Mississippi Senate for confirmation. View the Governor's press release to learn more about the nominated trustees. The Board of Trustees is the constitutional governing body of the State Institutions of Higher Learning, and Board members represent each congressional district. Trustees Thomas Colbert of Jackson, Roy Estess of Carriere, D. E. Magee, Jr., of Jackson, and Virginia Shanteau Newton of Gulfport, will conclude their 38 combined years of service to the Board in May. Learn more about the IHL Board of Trustees.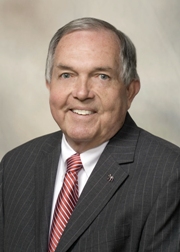 Dr. Vance H. Watson

Board Names Watson MSU Interim President; Initiates IEO Searches
Following the IHL Board's regular monthly meeting on Thursday, the Board announced its unanimous decision to name Dr. Vance H. Watson as Interim President at Mississippi State University (MSU), following the resignation of Dr. Robert H. "Doc" Foglesong. "Dr. Watson is the perfect choice as Mississippi State's interim leader," said IHL Board President Dr. L. Stacy Davidson, Jr. Dr. Watson will begin working in transition, with a specific start date and salary to be determined. In addition, the Board also announced the initiation of the institutional executive officer search processes at both Mississippi State University and Mississippi Valley State University. Although exact timeframes have yet to be announced, both searches will start shortly. "I'm honored by the confidence the Board has shown in my abilities to lead the institution I've served for more than four decades," said Dr. Watson. "I look forward to working closely with faculty, students, staff, alumni, and others in our state to keep Mississippi State moving forward." A Missouri native, Dr. Watson began his tenure at the land-grant institution in 1966 as an assistant professor of agronomy. During his 42-year career, he has held successively responsible positions, including a variety of leadership roles in the areas he now heads. Learn more about Dr. Watson.
Commissioner, Legislators Discuss IEO Search
Commissioner of Higher Education Dr. Thomas C. Meredith met with legislators at the Capitol on Wednesday to discuss the IHL Board's institutional executive officer (IEO) search process. Commissioner Meredith walked the legislators, media, and interested public in attendance through the 21-step search and selection process, explaining that the process itself is representative of the university community and transparent, even though candidate names are kept confidential. Keeping the names of applicants confidential ensures a wider, deeper pool of candidates, since sitting presidents are often unwilling to subject their current institutions to the scrutiny of a public search process. The Board's search process, which reflects the current trends in higher education executive hiring practices, includes a Search Advisory Committee made up of 25 or more representatives of university and community constituent groups. This Search Advisory Committee is actively involved in the process by reviewing candidate applications and recommending candidates for interviews by the Board Search Committee. This Search Advisory Committee also self-selects approximately 7 members to serve on the Interview Search Advisory Committee, which participates in the interviews and remaining phases of the process. Learn more about the IEO search process.
University System Represented at 2nd Annual Course Redesign Conf.
With 17 participants from the institutions and the IHL Executive Office, Mississippi's public university System was well-represented at the Redesign Alliance Second Annual Conference in Orlando, FL, this week. The conference, sponsored by the National Center for Academic Transformation (NCAT), brought together faculty, administrators, and staff from institutions and systems that have already engaged in or are embarking on large-scale course redesign projects. The conference featured sessions on the nuts and bolts of course redesign, best practices, and personal testimonies. In one of two plenary panels, Commissioner of Higher Education Dr. Thomas C. Meredith discussed Mississippi's participation in the course redesign process, and, speaking from his position as president of the National Association of System Heads (NASH), outlined the national need for course redesign. Mississippi's Course Redesign Initiative is just one aspect of IHL's Strategic Initiative to increase the number of baccalaureate graduates of even higher quality. The redesign initiative will raise the level of student success by improving learning outcomes and reducing instructional costs through the redesign of large-enrollment, multi-section courses, based on the proven, effective methods developed by NCAT. IHL plans to award as many as 15 grants of up to $50,000 in support of course redesign projects. For more information, contact IHL Assistant Commissioner for Academic and Student Affairs Dr. Lynn J. House.

Items included in the "University News" section of the System Review are submitted each week by the universities. The news items are listed in rotating alphabetical order by university.
MISSISSIPPI UNIVERSITY FOR WOMEN NEWS


MUW Hosts Food Service Workshop for National Guard Team
The Mississippi Army National Guard has enlisted help from Mississippi University for Women's Culinary Arts Institute. Members of a composite team from the Mississippi Army National Guard recently were on campus to sharpen their skills as they look ahead to the annual Philip A. Connelly Awards Program. The Mississippi Army National Guard is an active participant in the Connelly Awards Program, which is conducted by the Department of the Army and is co-sponsored by the International Food Service Executive Association. MUW is co-sponsoring the program, which is intended to promote additional unit participation, reward Connelly winners, and prepare units for regional and national competition. Chef instructors Erich Ogle and Joshua Oubre offered their expertise and hands-on instruction to the team as part of a two-day food service workshop. MUW's highly regard Culinary Arts Institute is one of the few programs of its kind in the nation offering a baccalaureate degree. The venture was made official with the signing of a memorandum of understanding. Distinguished guests who were on campus to participate in the ceremony were Brig. Gen. Ben Gaston, 1st Lt. Andy Thaggard, and Sgt. Brett Holloway. Learn more.
MISSISSIPPI VALLEY STATE UNIVERSITY NEWS


Mississippi Valley State University Online
www.mvsu.edu
UNIVERSITY OF MISSISSIPPI NEWS


UM Scientist's Work to Aid Shrimpers Draws International Honor
Faced with foreign imports and rising fuel costs, commercial shrimpers in the Gulf of Mexico are facing some hard times, but a University of Mississippi marine scientist hopes to enable shrimpers to be more productive, as well as environmentally friendly, by reducing bycatch. "When targeting a certain species, there's always other species that get caught in the nets, which is bycatch," said Glenn Parsons, professor of biology. "Not only do fishers have to spend more time sorting their catch, they also end up with dead and dying species." Bycatch from shrimpers in the Gulf of Mexico is among the highest in the United States. Parsons has worked over the past five years to develop a device that releases nontargeted species, such as juvenile red snapper, from shrimping trawls. Fifteen designs later, his bycatch reduction device has proven successful in reducing the amount of red snapper bycatch. "At a time when the shrimp industry is enduring tough economic challenges, cheap imported shrimp, high fuel costs, and pressing environmental issues, it is gratifying to know that there are people like Dr. Parsons, with his extensive knowledge and experience, willing to spend the time improving both my industry and the overall health of the Gulf of Mexico," said Steve Bosarge, owner of Bosarge Boats & Dockside Seafood in Pascagoula. Parsons work has been recognized by the World Wildlife Fund as a runner-up in its 2007 International Smart Gear Competition, which includes a $10,000 award. Learn more.

Honors College Sophomore Class Bonds While Volunteering in Chicago

Ole Miss Invites Review of Self-Study of Athletics

Catalog Librarian to Receive Grant to Survey Film Libraries in Paris

Internship Program for Accountancy Students Places 68 Seniors Across U.S. and in London
UNIVERSITY OF MISSISSIPPI MEDICAL CENTER NEWS


"Changing the Face of Medicine" Recognizes Local Legends
The contributions of women to the profession of medicine served as the backdrop for the grand opening of the "Changing the Face of Medicine: Celebrating America's Women Physicians" exhibit, and Mississippi's five "local legends" were the stars of the program. The Mississippi female physicians honored had no idea that they would become more than spectators at the March 6 opening, but before a crowd of about 150 people at the Jackson Medical Mall Thad Cochran Center, Dr. Helen Barnes, Dr. Jeanette Pullen, Dr. Nell Ryan, and Dr. Helen Turner walked to the podium to receive the accolade. Dr. Lessa Phillips, the fifth honoree, was unable to attend. Learn more.

Nation's Largest Radiothon Nets More Than $350,000 for Batson Hospital
UNIVERSITY OF SOUTHERN MISSISSIPPI NEWS


Southern Miss Presidential Inauguration Activities Set for March 24-28
In the same week that The University of Southern Mississippi reaches the 98th anniversary of its founding, it will mark another milestone with the inauguration of its first female president. Dr. Martha Dunagin Saunders will be inaugurated as its ninth president at 2 p.m. on March 28 in Bennett Auditorium on the Hattiesburg campus. The installation ceremony is the capstone of several inaugural events that will take place during the week of March 24-28. A Hattiesburg native, Saunders returned to take the helm of her alma mater on May 21, 2007, as its first female president. She previously was chancellor of the University of Wisconsin-Whitewater, the first woman to hold that position. "It is truly an honor for me to be selected president of my alma mater," said Saunders. "The inauguration will give me the opportunity to express again these sentiments to our faculty, staff, students, and supporters, as well as to outline the vision we, as the Southern Miss family, have for our great university in the coming years." The installation ceremony will feature the pomp and circumstance of an academic procession of dignitaries, along with a keynote speech by Saunders. Dr. Joe Paul, vice president for Student Affairs, will serve as master of ceremonies. An inauguration committee co-chaired by Dr. Aubrey Lucas, president emeritus, and Dr. Stan Hauer, professor of English, has been working since last October making plans for the festivities. Learn more.

Southern Miss Offers Southeast's First Oral Intervention Program

USA Today Features Editor, Southern Miss Alum Offers Insights to Students

Southern Miss Offers Semester Abroad Program in Granada, Spain

Southern Miss Symphony, Pointer Sisters to Join for Performance March 29
UNIVERSITY OF SOUTHERN MISSISSIPPI GULF COAST NEWS


Student Government Association Helps Humane Society of South Mississippi
Justin Miller, treasurer of the Student Government Association at The University of Southern Mississippi Gulf Coast, passed one of many donations from the organization's recent supply drive for the Humane Society of South Mississippi to Ellen Buntyn, the society's director of operations. The SGA and the College of Arts and Letters at Southern Miss Gulf Coast collected a variety of dry pet food, canned pet food, treats, cat litter, and puppy training mats from faculty, staff, and students. These items were delivered to the humane society on March 14. Learn more.
ALCORN STATE UNIVERSITY NEWS


Alcorn State Student Receives Outstanding Agronomy Student Award 2007
Alcorn State University student Martina Garda, a junior plant and soil major from Adolfo Gonzales Chaves, Buenos Aires Province, Argentina, received the Outstanding Agronomy Student Award 2007. She was nominated by her professors, Drs. Patrick E. Igbokwe and OM P. Vadhwa of the School of Agriculture, Research, Extension and Applied Sciences. The Outstanding Agronomy Student Award is annually administered by Alcorn State University and Mississippi State University. It goes to a student who has the highest GPA and the highest nomination out of agronomy majors of both schools. Garda received her award on February 13 at the Mississippi Chapter American Society of Agronomy meeting, which took place at Mississippi State University. She received the plaque with distinction and a monetary gift. Garda said that she never hoped to get the award and was very surprised and proud to know that she won. "I have never imagined receiving such high distinction! I worked hard and studied and was being responsible because it is my personal goal, not because I was hoping for an award, but it is very nice to be recognized like that. Alcorn State University opened its doors for me and included me in the family, which gave me an opportunity to express myself and become successful," commented Garda. She also said that she has many people to thank for helping her during her tenure at Alcorn, including but not limited to her professors Drs. Igbokwe and Vadhwa. Learn more.
DELTA STATE UNIVERSITY NEWS


DSU Lady Statesmen to Face California (Pa.) at NCAA Elite Eight
The top-ranked and undefeated Lady Statesmen (32-0) of Delta State University are set to make their twelfth appearance in the NCAA Elite Eight after claiming the South Region Championship in thrilling fashion, 62-44, over Valdosta State on Monday at Walter Sillers Coliseum. It's Delta State's first trip to the women's basketball Elite Eight since the 2000. Learn more.

Born to Read Returns to Delta State Campus for Fourth Consecutive Year

The Hit Musical "Chicago" Will Dazzle Audiences at the DSU Bologna Performing Arts Center

DSU Swimming and Diving Teams Wrap up NCAA Championships in Missouri
JACKSON STATE UNIVERSITY NEWS


JSU First University in State to Offer Earth Systems Science Degree
The Jackson State University Department of Physics, Atmospheric Sciences, and Geoscience will begin offering a Bachelor of Science degree in Earth systems science in fall 2008. The Commission on Colleges' Southern Association of Colleges and Schools approved the new degree program earlier this month. The Mississippi Institutions of Higher Learning Board of Trustees approved it in November 2007. "The new degree offering will be the first in Earth systems science in Mississippi and the only one at a historically black college or university in the country," said Quinton L. Williams, chair of the department. "As we move towards a low-carbon economy, jobs will be created to deal with difficult environmental issues," Williams said. "JSU students will have a global view and the special science background needed to fill this high-wage segment of the workforce." "The new Earth systems science degree program is a wonderful addition to our program offerings," added Mark G. Hardy, dean of JSU's College of Science, Engineering and Technology. "This cutting-edge program is unique to HBCUs and will prepare students for emerging careers in the Earth sciences." Williams said the program was added because the biggest challenges humans will face in this century will be related to the Earth's environment. Learn more.

Alice Walker, Harry Belafonte Speakers at Mississippi Civil Rights Movement Conference

JSU Seeks Judges for Regional Science, Engineering Fair

Jackson State Captures 2008 SWAC Basketball Tournament Title
MISSISSIPPI STATE UNIVERSITY NEWS


MSU Home of Future Engineers, Architects, Vets. . .and Attorneys?
When Todd Butler enrolled at Mississippi State-Meridian out of East Central Community College, the possibility of attending law school always was in the back of his mind. Growing up in Morton, Butler developed interests in history and politics early on, but it wasn't until the second half of his studies in business at the university campus that he was fully prepared to take the leap into law. His story is not unique, despite the fact that the land-grant institution he attended long has been known for agricultural and engineering programs, and also--in more recent times--architecture and veterinary medicine. In fact, nearly 100 MSU graduates currently are attending the law schools of Mississippi College and the University of Mississippi. Jim Rosenblatt, MC's law dean, has high praise for MSU grads choosing to prepare for the legal profession at his school. "We are proud of our students who come from Mississippi State," said Rosenblatt. "They not only are good students, but active participants in the range of organizations and activities offered by our school. They hold our highest leadership positions, are active contributors to student life, and have earned substantial academic scholarships." Todd Butler and several fellow law students credit many aspects of their MSU educational experiences with preparing them for the highly competitive and intense demands of a law school environment. Learn more.

MSU Templeton Festival Weekend: Ragtime, All the Time

MSU's Carl Small Town Center Program Presents Design Workshop for Public Officials

Scruggs Scrutinizer to Headline MSU Insurance Day
MISSISSIPPI STATE UNIVERSITY DIVISION OF AGRICULTURE, FORESTRY AND VETERINARY MEDICINE NEWS


MSU Report Reveals Hidden Property Value in Recreation
Housing prices are sagging, but Mississippi landowners may need to look no further than their backyards to find hidden property value, according to a recent Mississippi State University study. Properties throughout the state with outdoor recreational opportunities were shown to increase in value, particularly in the Mississippi Delta. Recreational uses increased land prices by an average of $333 per acre or 36 percent of the property value. Scientists in MSU's Forest and Wildlife Research Center worked on the study with the Mississippi Chapter of the American Society of Farm Managers and Rural Appraisers. "We surveyed appraisers representing 100 properties totaling about 33,000 acres," said Daryl Jones, associate professor in the Department of Wildlife and Fisheries. The total sales value of the properties with recreational opportunities was more than $41 million. Appraisers reported that the sales value of the same properties without recreational uses would have been about $31 million, Jones added. "Recreational opportunities like hunting, fishing, camping, and bird watching, brought an additional $10 million to the state's economy in 2006," Jones said. The most desired characteristics were bottomland hardwood forests, mixed pine-hardwood forests, and wildlife supplemental food plots. "The findings indicate that land buyers are seeking these forest types and are willing to pay higher property prices to acquire them for wildlife-related recreation," Jones said. Learn more.

MSU Veterinarian Helped Push National Animal Welfare Effort

MSU Professor Addresses Science and Trust in the Wildlife Arena

4-H Bug Camp Teaches Insect Identification and Scientific Method


Now-Apr. 18- The Jackson State University Department of Art will hold its 10th annual juried student exhibition in the first floor art gallery of the Dollye M.E. Robinson Building. For gallery information, call (601) 979-2040 or 2395. Learn more.

Mar. 24 - Mississippi State University's Gender Studies Program and Holmes Cultural Diversity Center present Vanita Gupta, who will deliver a speech, titled "Injustice Anywhere Is a Threat to Justice Everywhere: Civil Rights and Women's Rights in the 21st Century," at 7 p.m. in Lee Hall Auditorium. Learn more.

Mar. 24 - Noetic Technologies will host a patent workshop. Learn more.

Mar. 25 - The MSU Extension Service's 4-H therapeutic riding program is taking applications for riders and volunteers. The spring session runs each Tuesday from March 25 through April 29 at the Mississippi Horse Park. Contact Mary Riley at (662) 325-1695, or mriley@ext.msstate. Learn more.

Mar. 26 - Mississippi State University's College of Forest Resources presents the Southeastern Natural Resources Graduate Symposium at 3 p.m. at the Franklin Center for Furniture Manufacturing and Management. This gathering will allow graduate students to make research presentations and network. Learn more.

Mar. 27 - Delta State University will present "The Very Hungry Caterpillar" in the Delta and Pine Land Theatre of its Bologna Performing Arts Center at 7:30 p.m. For ticket information, please call the Box Office at (662) 846-4626, or order tickets online. Learn more.

Mar. 27 - Mississippi State University's Colvard Student Union presents a ribbon cutting at 4 p.m. at the facility for its official grand opening since renovations were completed. A short reception will follow. Learn more.

Mar. 27-28 - JSU's College of Lifelong Learning will tackle the topics of culturally appropriate character development and instruction during the ABCs of Childlife Management Conference at the Universities Center, 3825 Ridgewood Road. For more information, call (601) 432-6234 or visit http://www.jsums.edu/cll/abc.htm. Learn more.

Mar. 28 - The internationally renowned Empire Brass concert band performs at 8 p.m. in the UM Ford Center for the Performing Arts. Part of the university's famed Artist Series, the concert offers tickets priced at $27, $24, and $12 for various seating. Learn more.

Mar. 29 - Ole Miss invites prospective college students and their parents to campus for annual Spring Visit Day. One of the largest recruitment programs of the year, Spring Visit Day is an opportunity for potential students to tour the campus, learn about academic programs, and meet faculty and students. Learn more.

Mar. 29 - Tom and Dick Smothers, with nearly 50 years of performing under their belts, bring lots of jokes and a touch of nostalgia to the UM Ford Center for the Performing Arts. Tickets for the 8 p.m. performance are $35, $32, and $29 for various seating. Learn more.

Mar. 30 - Delta State University will present "Chicago" in the Delta and Pine Land Theatre of its Bologna Performing Arts Center at 3:30 p.m. For ticket information, please call the Box Office at (662) 846-4626, or order tickets online. Learn more.

Mar. 31 - Southern Miss is taking applications for the Summer Gifted Studies program until March 31. Learn more.

Apr. 4-5 - At the Mississippi State University College of Veterinary Medicine Annual Open House every age group can experience live animal demonstrations and exhibits. Admission is free. Pre-registration, especially for groups, is strongly recommended. To schedule tours, call (662) 325-1103. Learn more.

Apr. 7 - MSU's April 16 home-based business workshop will be linked by video conference in Biloxi, Cleveland, Raymond, Verona, and on the Starkville campus. The registration deadline is April 7. The fee is $20 per person. Contact Elizabeth McTaggart at (662) 325-8632 or emctaggart@fsnhp.msstate.edu.Learn more.

Apr. 17-20 - MUW homecoming weekend will feature reception and dinner with master chef Jose Gutierrez on Thursday and Blues & Barbeque on Friday. Events are open to the public with the purchase of a ticket. For more information, call the Office of Alumni Relations at (662) 329-7295. Learn more.