Final Interviews Held for Alcorn State University President
The final round of interviews for the next president of Alcorn State University was held on Thursday. The Board of Trustees, representatives of the Alcorn State Search Advisory Committee, Commissioner of Higher Education Dr. Thomas C. Meredith, and search consultant Dr. Jan Greenwood participated in the interviews (step 14 of the search timeline ). Next steps include the Board's announcement of the preferred candidate (step 15 of the search timeline), who will be invited to the Lorman campus on April 3 to participate in a full day of open interviews (step 16 of the search timeline ). Members of the Alcorn State community will participate in the open interviews and will submit to the Board their personal feedback on the preferred candidate (step 17 of the search timeline). If the on-campus interview does not result in a new university president, the search will continue. Keep up with search on the IHL Institutional Executive Officer Search website.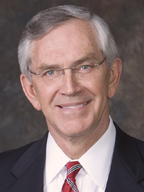 Commissioner of Higher Education Dr. Thomas C. Meredith

Commissioner Meredith Re-elected President of NASH
During the annual conference of the National Association of System Heads (NASH) held last weekend, Mississippi Commissioner of Higher Education Dr. Thomas C. Meredith was re-elected as president, a position he has held since 2002. NASH is an organization of chief executives of the nation's 52 public higher education systems whose primary goal is to improve the governance of public higher education systems. The association also seeks to improve and coordinate education efforts from pre-kindergarten through the university level. Commissioner Meredith is well-suited for service to such an organization. Prior to his appointment as commissioner of Mississippi's public university system in 2005, he served as chancellor of the university system of Georgia and chancellor of the university system of Alabama. Dr. Meredith also served as president and professor of education at Western Kentucky University in Bowling Green. He has spent nearly his entire professional career in education, providing leadership in senior-level university administrative positions, fulfilling the challenging position of high school principal, and teaching at the university and secondary school levels.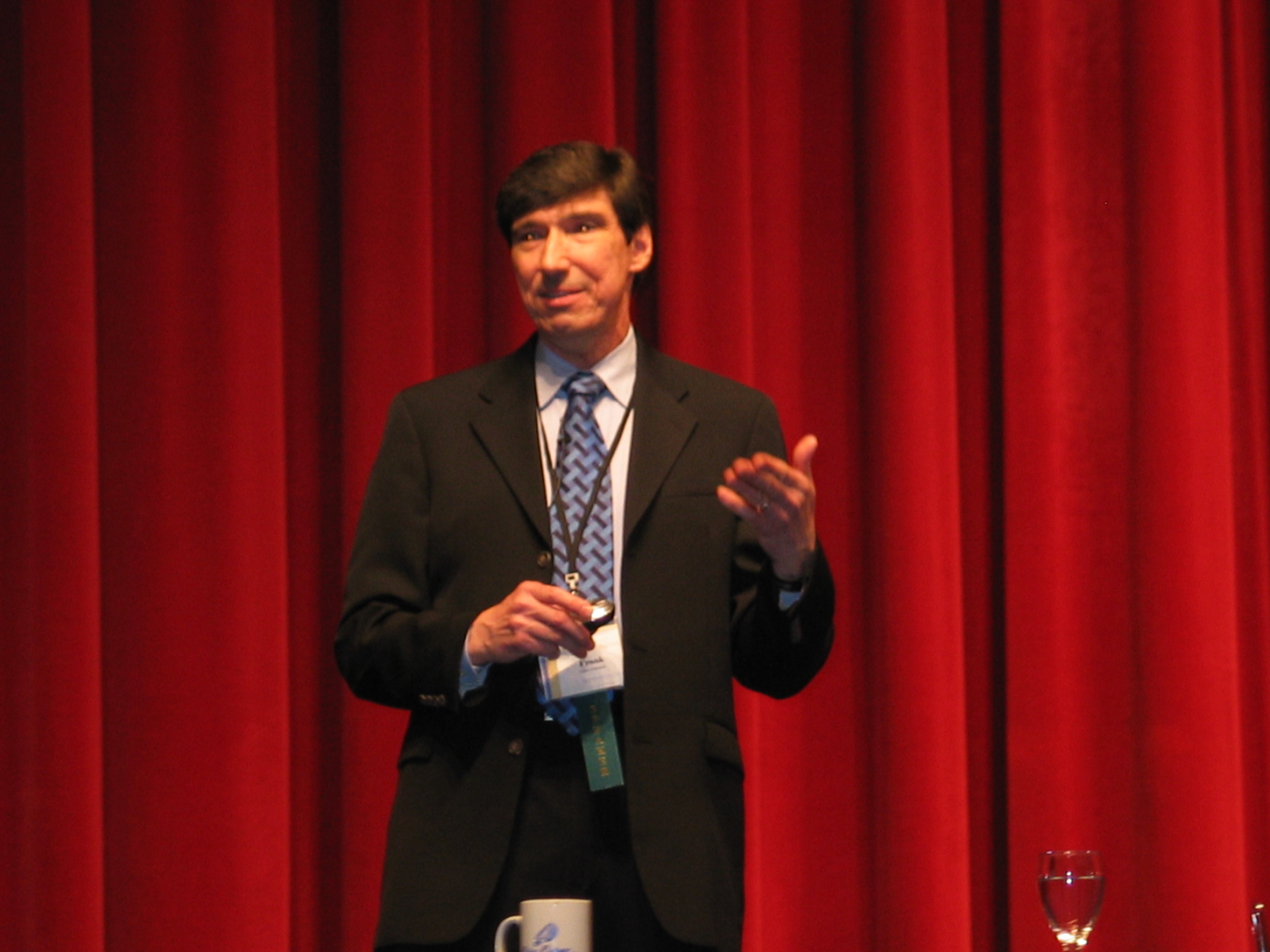 Dr. Frank Prochaska delivers the keynote address.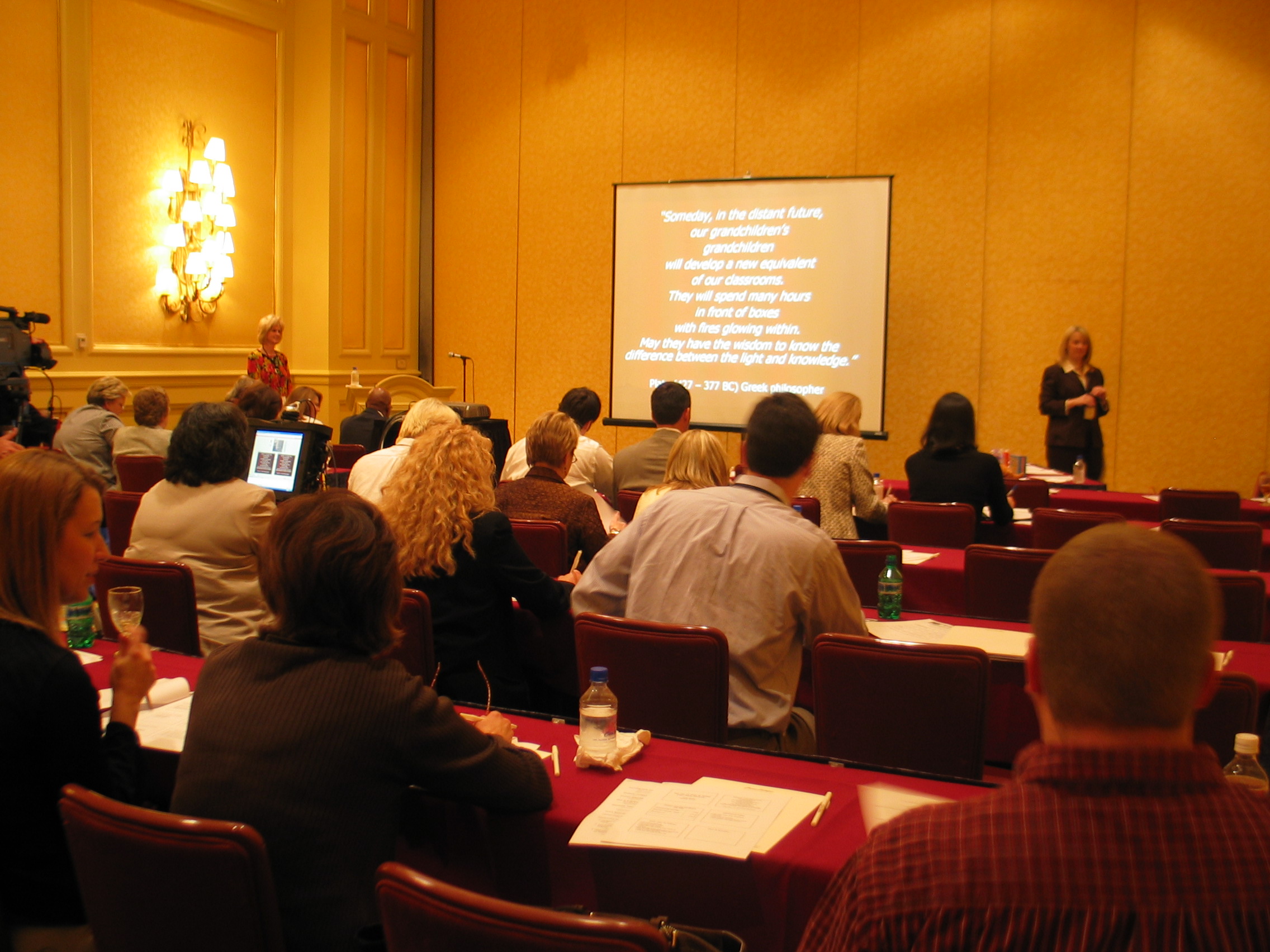 Conference attendees participate in one of 35 conurrent breakout sessions.

Creating Futures through Technology Conference a Success
The eleventh annual Creating Futures through Technology Conference and Trade Show was held February 25-27 at the Beau Rivage Resort and Casino in Biloxi. The theme of the conference, "Building Minds and Community," reflected upon the regional rebuilding efforts that have taken place since Hurricane Katrina hit the Gulf Coast in 2005. Dr. Frank Prochaska, executive director of the University of North Carolina Teaching and Learning with Technology Collaborative, delivered the keynote address in which he described the 21st century learner, shared current topics in teaching and learning in North Carolina, and explored the implications of these things for the 21st century faculty member. (Dr. Prochaska's presentation is available for viewing on the conference website. Click on webcast.) Over the course of the conference, the 350 participants were able to choose from 35 concurrent sessions on topics dealing with education, innovation, partnerships, vision, and specific technologies offered by exhibitors as well as network during the conference lunches and receptions. The conference, a joint effort of IHL and the State Board for Community and Junior Colleges , was coordinated in part by IHL Executive Office staff members Dr. Dennis Watts, who also served as conference committee chair, Ms. Janice Hightower, and Mr. Bill Marshall.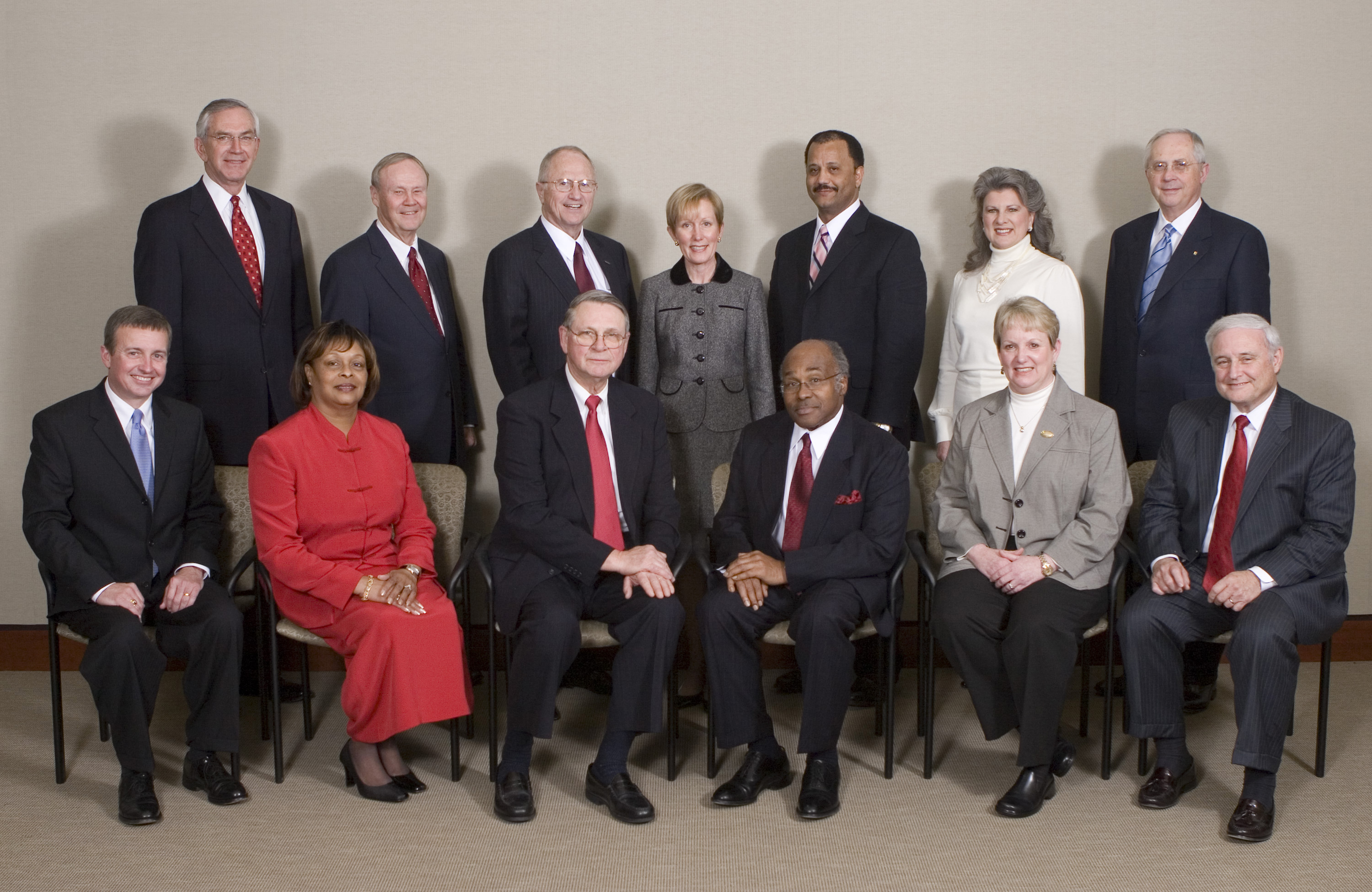 Board of Trustees of State Institutions of Higher Learning

IHL Board to Hold Regular Monthly Meeting Next Wednesday
The Board of Trustees of State Institutions of Higher Learning (IHL) will hold its regular monthly meeting next Wednesday, March 14. The Board will meet in the IHL Board Room in the Universities Center, 3825 Ridgewood Road, Jackson, MS, 39211. The full Board will convene at 8:30 a.m. and will then conduct business as a committee of the whole. Various Board committees, including Budget, Finance, and Audit; Real Estate and Facilities; and Legal will meet as part of the Board meeting. The Board meeting will be available for viewing in real-time via live webcast on the IHL website. An Executive Session may be held in accordance with the Open Meetings Act.


Items included in the "University News" section of the System Review are submitted each week by the universities. The news items are listed in rotating alphabetical order by university.
UNIVERSITY OF MISSISSIPPI NEWS


Faculty Offered New Option to Hone Classroom Teaching Skills
The new University of Mississippi (UM) Center for Excellence in Teaching and Learning provides faculty members with resources to help fine-tune their classroom performance. Under the auspices of the Provost's Office, the center is only a phone call away for faculty members wanting to learn how they can better relate to students. According to Provost Carolyn Staton, the center is expected to make three immediate contributions to the university's intellectual environment: reiterate UM's commitment to educational excellence, offer quality support for all faculty and graduate students wishing to enhance their instructional methods, and encourage partnering and resource sharing across disciplines. "Over the last 10 to 15 years, most research universities have created teaching centers," Staton said. "Like other institutions of higher learning, the University of Mississippi will benefit significantly from the creation of a Center for Excellence in Teaching and Learning." The center is directed by Johnny Lott, who comes to UM from the University of Montana, where he was professor and chair of mathematical sciences, as well as director of the Center for Teaching Excellence. While the UM center is designed to enhance a professor's classroom instruction style, it ultimately benefits the students, Lott said. "The center will work with faculty members to promote good teaching and learning at Ole Miss," he said. "Those who ultimately receive the better end of the deal, of course, are our students." Read more.

Journalism Chair Discusses Future of Print Journalism This Weekend on CBS News 'Sunday Morning'

IHL Approves New Master's Programs in Social Work and Criminal Justice

Ole Miss Concert Singers Selected to Perform at ACDA National Convention March 7-10

First Women's Athletics Scholarship Established at Ole Miss Honoring Coach Ross
UNIVERSITY OF MISSISSIPPI MEDICAL CENTER NEWS


State-of-the-art Simulation Suite Boosts Dental Education to "Next Level"
During a ribbon-cutting ceremony February 23 on the fifth floor of the School of Dentistry, the University of Mississippi Medical Center unveiled what Dean James Hupp called "the finest simulation suite in the country." "It is going to take what is already a wonderful program for educating future dentists to the next level," Hupp said. "Now that we have built this facility, we are leaders and that is the way it should be." Stocked with state-of-the-art computer models and the most up-to-date equipment and information available, the Preclinical Suite features a patient care simulation clinic and preclinical laboratory. The simulation clinic is designed to help first- and second-year dental students train on lifelike models located at 36 stations. Third-year students also will use the clinic to prepare for their state board dental licensure examinations. Read more.

JHS Celebration of Life Emphasizes Importance of Family Health History

ACD Regent Challenges Dental Students to Honor "Contract" with Society

Visiting Lecturer Recalls Guyton's Legacy, Discusses Cardiovascular Research
UNIVERSITY OF SOUTHERN MISSISSIPPI NEWS


Southern Miss Opens Math Zone
The University of Southern Mississippi has implemented a new method of teaching introductory math courses that college officials hope will help eliminate students' fear of the subject while resulting in higher passing rates. The College of Science and Technology and the Department of Mathematics have created the Math Zone, a computer-based learning system that allows students the opportunity to learn at their own pace while receiving more individualized instruction. More than just a computer lab, the Math Zone is also a program designed to improve the low success rate in introductory math classes by targeting freshmen with poor math skills or those students who delay taking math classes until later in their college career. "Nationally in math education it has been demonstrated that computer-based, active learning is more effective than the standard lecture format," said Dr. Rex Gandy, dean of the College of Science and Technology." "Individual attention is the main focus of the Math Zone," said Janice Fletcher, Math Zone coordinator and instructor in the Department of Mathematics. "We have professors, instructors, and graduate student or undergraduate student tutors available in the lab at all times so that students can receive immediate answers to their questions." For more information about the Math Zone, call 601.266.5824. Learn more.

Iowa Visitor a Fixture at Annual Book Festival

Southern Miss Students Win Kennedy Center Acting Competition

European Historian to Lecture at Southern Miss

Center of Higher Learning to Host Southern Miss Informational Session
ALCORN STATE UNIVERSITY NEWS


Bellsouth (now AT&T) Presents a Check to Alcorn State Honors Curriculum Programs
On February 26, Mr. Michael Walker, Director of External Affairs of BellSouth (now AT&T), presented the Honors Curriculum Program at Alcorn State University with a check for $5,000. The presentation took place at the office of Dr. Lillie Jones, interim director of the Honors Curriculum Program. During his visit to campus, Mr. Walker also met with Dr. Donzell Lee, assistant vice president of academic affairs and former Honors Curriculum Program director. The Honors Curriculum Program plans to use the funds to assist students involved in the Honors program with international and domestic travel, and attendance of various conferences. It will also be used to invite speakers to campus to address Honors students. Learn more.
DELTA STATE UNIVERSITY NEWS


Delta State Fellow Goes to Washington
Self-described as "intense yet fair; consistent and thoughtful," Ryan Betz sounds as if he could be talking about the next, great political leader, and perhaps he is. Recently selected as Delta State University's 2007 Congressional Fellow, Betz has been working and will continue to work until May in the nation's capitol as an aide in Senator Thad Cochran's office. Sponsored by Delta State with support from the Delta Council and Senator Cochran's office, the Congressional Fellowship program allows Fellows the opportunity to experience first-hand the workings of the Congress while developing knowledge of public policy issues that directly affect the Delta region. Learn more.

Born to Read Returns to Delta State Campus

Delta State Sponsoring Trip to Turkey as Part of Summer Semester

Champions Again! Lady Statesmen Claim Back-to-Back GSC Titles
JACKSON STATE UNIVERSITY NEWS


JSU Celebrating 27th Annual School of Social Work Month
Jackson State University's(JSU) School of Social Work, College of Public Service, is celebrating the 27th Annual School of Social Work Month in March. Workshops and a banquet will be held Tuesday, March 20, at the Mississippi e-Center @ JSU, 1230 Raymond Road. The theme is "Hope + Health: Help Starts Here." Registration will begin at noon, with the opening session beginning at 1 p.m., featuring Kristi Plotner, a licensed clinical social worker and director of Mental Health Services for the Division of Medicaid. In addition, a field agency expo will be held from noon-2:30 p.m. The events will continue with workshops from 2:30-4:30 p.m. featuring representatives from Our Family Home Hospice, St. Dominic-Jackson Memorial Hospital, the University of Mississippi Medical Center, and JSU's School of Social Work and Southern Institute for Mental Health Advocacy, Research and Training. The deadline to register is Wednesday, March 14. For more information, contact Betty Reed at (601) 979-2631 or School of Social Work/BSW Program, Jackson State University, P.O. Box 18740, Jackson, MS, 39217. Learn more.

JSU'S Trent Lott Center Hosting Geospatial Data Course
MISSISSIPPI STATE UNIVERSITY NEWS


'Come on and hear ...' Templeton Ragtime Festival at MSU
Internationally recognized ragtime performers will call Mississippi State University (MSU)home for a few days later this month during what organizers expect to become an annual event for enthusiasts of America's first style of music. To be held March 23-25, the Templeton Ragtime Festival will bring some of the world's best ragtime performers for a series of events celebrating the historic musical genre. The public event will include a blend of major and mini concerts, as well as seminars and question-and-answer sessions led by the artists. Tours of the Charles H. Templeton Music Museum in Mitchell Memorial Library also are scheduled. Well-known musicologist David A. Jasen of New York City, author of a new encyclopedia on ragtime and dozens of earlier books on the subject, serves as a festival consultant. Jasen, also a professor of communication arts at the C.W. Post Campus of Long Island University, said he worked to assemble at MSU "the best ragtime festival in the United States." The Templeton Collection, which includes some 22,000 pieces of sheet music and 192 items dating to the late 1800s, helped shape his vision for the celebrations. Learn more.

Norfolk Southern Exec Helps MSU Students See Leadership 'Tracks'

MSU Game Day Web Site to be Live for Super Bulldog Weekend

Brian Engelland of MSU Tapped for Marketing Management Honor

Regional Agronomy Professionals Honor MSU Students
MISSISSIPPI UNIVERSITY FOR WOMEN NEWS


MUW Nursing Students Give TLC to Trinity Residents
Mississippi University for Women nursing students have helped take the mileage off the feet of some residents at the Trinity Place Retirement Community for about 15 years. The community outreach continued this semester with three foot care clinics offered by students in the Associate of Science Nursing Program. Three rotations were also held in the fall. Students saw approximately 40 to 50 residents a day, allowing the residents to have their feet soaked and observed for lesions and their toenails trimmed. "Keeping people on their feet is so important," said Dr. Suzanne Bennett, assistant professor of nursing, noting that immobility leads to weight gain, poor circulation, and bedsores. Bennett added that these clinics are important because the feet are often neglected when patients go to the doctor. She said students also benefit from seeing seniors who are feeling well. "It's so important for the students to see the elderly outside the acute health care setting and not hooked up to machines," Bennett said. Gerald Scallions, program director for the retirement community, said the residents look forward to the foot care clinics and sign up early to schedule their appointments. "The best part of this is the interaction with the young people and listening to the conversation. Our residents know the students are coming here to learn and practice. It's a two-way street," he said. Learn more.
MISSISSIPPI VALLEY STATE UNIVERSITY NEWS


Mississippi Valley State University Online
www.mvsu.edu


Mar. 15 - The internationally known Dayton Contemporary Dance Company performs at the University of Mississippi as part of a regional dance conference. The 7:30 p.m. performance "color-ography, n. The Dances of Jacob Lawrence" takes place at the Ford Center for the Performing Arts. Learn more.

Mar. 16 - The Mississippi Horse Park at Mississippi State University will host the Royal Hanneford Circus at 2 p.m. For more information, contact Allison McNamara at (662) 325-9350. Learn more.

Mar. 19 - "Be a UM Student for a Day" offers high school seniors the chance to attend classes with Ole Miss students, participate in information sessions, take a campus tour, eat lunch in the Student Union, visit a residence hall, talk with a student panel, and meet with campus representatives. Learn more.

Mar. 20 - Mississippi State University will host a Brazilian festival featuring pianist Sergio Gallo. The 7:30 p.m. performance will be at Giles Architecture Building. For more information about the Brazilian Festival or the pianist performance, contact Rosangela Sebba at (662) 325-3070. Learn more.

Mar. 21 - A University of Mississippi graduate returns home to host a creative writing workshop in conjunction with the 2007 Oxford Conference for the Book. Margaret-Love Denman, director of the creative writing program at University of New Hampshire, plans to hold a daylong session at the Downtown Grill. Learn more.

Mar. 24 - The OPERA/SOUTH and Jackson State University will present 'The Magic Flute' by Wolfgang Amadeus Mozart at 7 p.m. Saturday, March 24, at the Rose Embly McCoy Auditorium. For information, call (601) 979-2700. Learn more.

Mar. 26 - Mississippi State will host a speech by a former homeless man turned successful entrepreneur and motivational speaker at 7 p.m. in Humphrey Coliseum. Christopher Gardner, whose story was told in the movie titled, "The Pursuit of Happyness," will discuss parts of his fascinating life story. Learn more.

Mar. 27 - Alcorn State University Concert Choir Homecoming concert will take place at 7p.m. at the First Presbyterian Church in Port Gibson, MS. Learn more.

Mar. 28 - Delta State's History Club and History 601 will present "Paradise Road," a true story of women who used music to survive the horrors of a World War II Japanese prison camp at 7 p.m. in the Recital Hall of the Bologna Performing Arts Center. Admission is free and open to all.

Mar. 29 - 30 - Jackson State University's College of Lifelong Learning will host 'The ABC's of Excellence in Childlife Management.' For more information, call (601) 432-6234. Learn more.

Mar. 30 - Delta State University's Department of Social Work will serve as host to a continuing education workshop for all area social workers and related helping professionals. To receive a registration form or more information, please call (662) 846-4407 or email mtullos@deltastate.edu.

Apr. 11 - 12 - Delta State University will present its Third Annual Research and Scholarship Symposium in the Henry J. Jacob Conference Center of James M. Ewing Hall on campus. For more information, contact John Green at (662) 846-4069 or (662) 846-4334. Learn more.