ASU and USM Search Committees Hold Referencing Meetings, Offer Updates
The IHL Board Search Committee for the next president of Alcorn State University, chaired by Board President Dr. D.E. Magee, Jr., and the Board Search Committee for the next president of the University of Southern Mississippi, chaired by Trustee Robin Robinson, met separately this morning to hear the results of candidate background and reference checks. Alcorn and Southern Miss Search Advisory Committee representatives participated in their respective meetings with their Board Search Committee, Commissioner of Higher Education Dr. Thomas C. Meredith, and search consultant Dr. Jan Greenwood.
In other search-related news, Trustee Robinson and Commissioner Meredith sent a memo to the Southern Miss community on Monday, lauding the Southern Miss Search Advisory Committee for narrowing the list of candidates to an exceptional pool, and providing an update on the search process. According to the memo, the next step in the Southern Miss presidential search process will be a final round of interviews, which will involve the full Board of Trustees and representatives of the Search Advisory Committee. The Board will then determine the preferred candidate, who will be invited to campus on April 5 to participate in a full day of interviews. At the end of that day, the Board will review all the information they have gathered and will make a decision regarding the next Southern Mississippi president. On Wednesday, Dr. Magee and Commissioner Meredith sent a similar memo to the Alcorn State University community regarding the Alcorn presidential search. On-campus interviews for the preferred Alcorn State University presidential candidate will be conducted on April 3. Keep up with Alcorn State University and the University of Southern Miss presidential searches on the IHL Institutional Executive Officer Search website.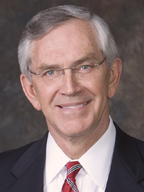 Commissioner of Higher Education Dr. Thomas C. Meredith

Commissioner Selected by U.S. Department of Education to Lead Discussion on Cost of Higher Education

Commissioner Meredith has been selected by the U.S. Department of Education to head a working group responsible for developing recommendations on how to make information about college costs more available to the public. Commissioner Meredith is one of five working group leaders who will present action steps to approximately 300 academicians, elementary and secondary school leaders, business leaders, and philanthropists at a national higher education summit scheduled for March 22 in Washington, D.C. "The ability to more effectively communicate the cost of a college degree is one part of an important national dialog on the accessibility of higher education," said Dr. Meredith. In addition to Commissioner Meredith's working group on college cost and openness, other groups are focusing on such topics as aligning K-12 curricula with college and university requirements; increasing need-based student aid; measuring student-learning outcomes; and providing higher education to nontraditional students. The working groups and the corresponding summit, "A test of leadership - Committing to Advance Postsecondary Education for All Americans," have been convened by U.S. Secretary of Education Margaret Spellings to directly address the recommendations made in the September 2006 report of the Secretary's Commission on the Future of Higher Education.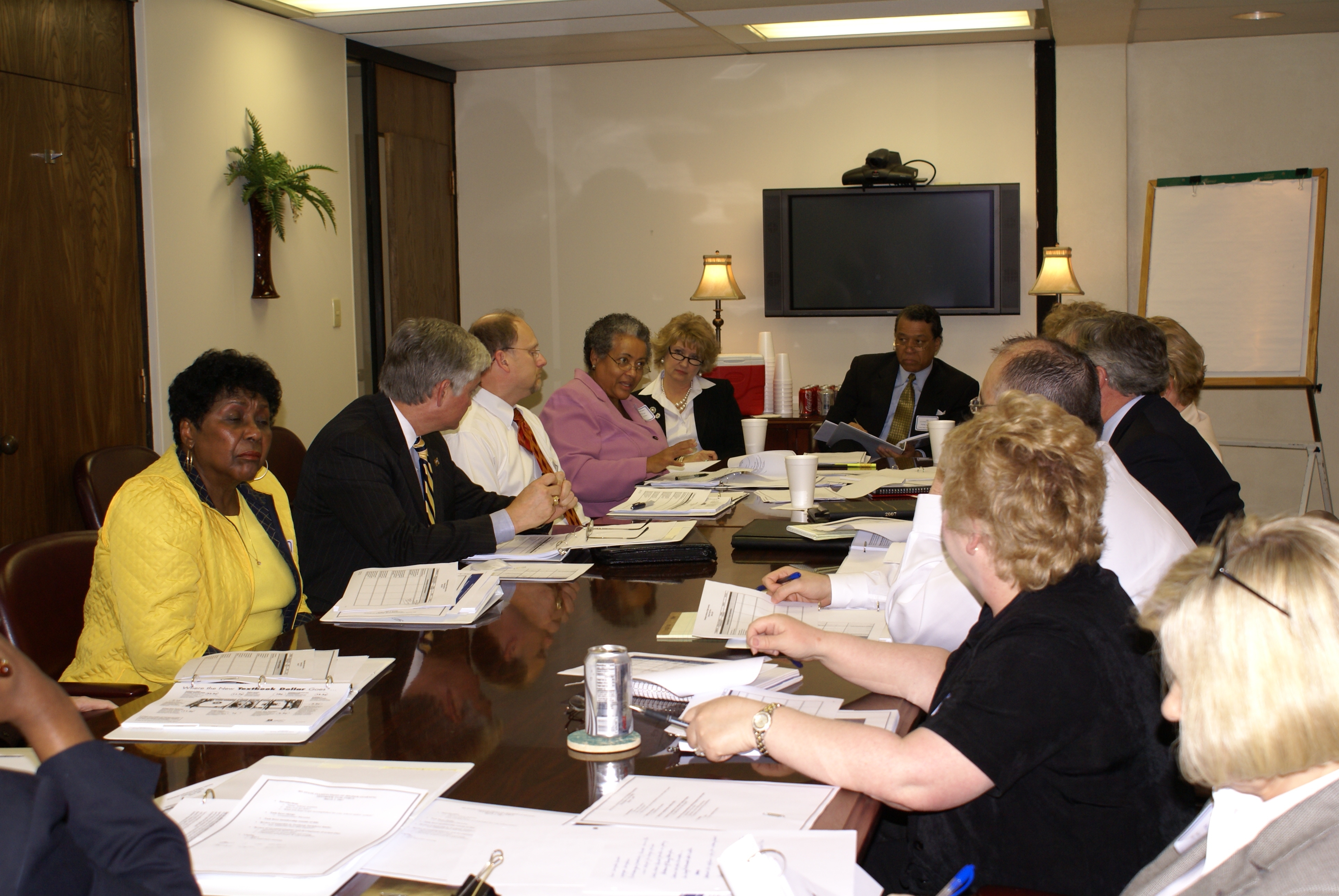 The Textbook Task Force met Thursday to discuss ways to reduce textbook costs for Mississippi students.

Textbook Task Force Convenes
The increasing cost of textbooks at institutions of higher education is a national problem affecting students. The prices have risen to the point that some students are opting not to purchase textbooks at all, a decision which will ultimately affect the quality of education they receive. The IHL Board of Trustees wants to improve the number and quality of graduates at Mississippi's universities. This goal cannot be reached if students cannot afford all aspects of their education. Commissioner Meredith has taken the first step toward addressing the problem by convening a Textbook Task Force to explore ways to make textbooks more affordable for Mississippi's students. The task force, made up of representatives from each of the state's eight public universities and IHL Executive Office staff members, convened on Thursday. The task force will submit their recommendations by April 11 for consideration by the Board of Trustees in May. For more information about the Textbook Task Force, contact Assistant Commissioner of Finance and Administration Dr. Linda McFall at (601) 432-6732.
GEAR UP Mississippi Awards Fifteen $500 Scholarships
GEAR UP Mississippi recently awarded $500 scholarships to 15 students who submitted outstanding essays in response to the question, "How will you convince your classmate not to drop out of school?" The essay contest was launched by GEAR UP to support the Mississippi Department of Education's goal to reduce the state's 31 percent dropout rate by half in the next five to seven years. GEAR UP students receiving the scholarships include, from Columbus High School, Erick Brown, Michelle Pilate, and Kelsey Thompson; from Drew High School, Quinton Smith; from Greenwood High School, Ashley Martin; from Hattiesburg High School, Hallie Paul; from John F. Kennedy High School, Robin Johnson; from Lanier High School, Tekita Franklin and Harold Millsap; from Meridian High School, Ashley Betts, Holly Corbitt, Derick Sullivan, and Amy Tolleson; from Ruleville Central High School, Rashae Appleberry; and from South Pike High School, Jasmine Allen. GEAR UP (Gaining Early Awareness and Readiness for Undergraduate Programs) is a program designed to increase the number of low-income students who are prepared to enter and succeed in college. Currently, over 5,600 eleventh grade students from 47 high schools are involved in GEAR UP Mississippi and have been since the seventh grade. For more information about GEAR UP Mississippi, contact Director Di Ann Lewis at (601) 432-7801 or visit the GEAR UP website.


Items included in the "University News" section of the System Review are submitted each week by the universities. The news items are listed in rotating alphabetical order by university.
MISSISSIPPI VALLEY STATE UNIVERSITY NEWS


Mississippi Valley State University Online
www.mvsu.edu
UNIVERSITY OF MISSISSIPPI NEWS


Sea Grant Law Center Awards $550,000 in Grants for Legal Research
The National Sea Grant Law Center, housed at the University of Mississippi, has awarded $550,000 in competitive grants for legal research and outreach projects as part of the center's 2007 grant competition. The 11 funded projects address marine issues relevant to the National Sea Grant Program's mission of conducting research, education, training, and extension projects to foster environmental stewardship, long-term economic development, and responsible use of America's coastal, ocean, and Great Lakes resources. The grant competition program is funded by the National Sea Grant College Program and administered by the National Sea Grant Law Center. The projects will develop courses to improve understanding of wetlands and fisheries laws; study the governance structure of the new Northwest Hawaiian Islands National Monument, working waterfront laws in Maine, and the public trust doctrine in South Carolina; and organize workshops on cooperative harvesting agreements and community-based management. Stephanie Showalter, director of the center, said she was impressed with the number and quality of the proposals received. "The overwhelming response to our grant competition underscores the great need for non-advocacy legal research and training to help coastal managers and the public understand and utilize existing legal frameworks designed to protect fragile coastal resources," she said. Read more.

Engineering 207, Oxford High Students Give Salvation Army Center Makeover

Physics Professors Herald Descent of Giant CMS Magnet at CERN

UM Selected by Northwest Airlines to Launch World Travel Scholarship Program

UM Mourns Death of Renowned Historian Winthrop Jordan
UNIVERSITY OF MISSISSIPPI MEDICAL CENTER NEWS


Simultaneous Cochlear Implants Restore More Natural Hearing
Surgeons at the University of Mississippi Medical Center are among the first in the nation to restore hearing in children by performing simultaneous bilateral cochlear implants. According to Dr. Jeffrey D. Carron, UMC associate professor of otolaryngology and communicative sciences, cochlear implants have routinely been placed in one ear at a time. But he said a growing body of research suggests simultaneous cochlear implants significantly help language skills by stimulating more areas of the brain. "The natural way for humans to hear is with two ears," Carron said. "For people who are born deaf or become deaf in both ears, the bilateral cochlear implant is the closest thing we can offer to natural hearing." Read more.

Mississippi Legislature Recognizes UMC's Calvert, Stewart for Academic Excellence

Medical Center Investigators Help Study Communities' Role in Disaster Recovery

Pharmacology Society Recognizes UMC Associate Professor for Outstanding Support
UNIVERSITY OF SOUTHERN MISSISSIPPI NEWS


Recording Artist Patti Austin Joins United in Song Tribute Concert
Oscar- and Grammy-nominated singer Patti Austin will join an all-star lineup of performers who will include Patti LaBelle and Dionne Warwick for a May 5 benefit concert with The University of Southern Mississippi Symphony Orchestra. The "United in Song" concert is a tribute to award-winning music composer producer Tena Clark and her music. A 1976 Southern Miss graduate and native of Waynesboro, Mississippi, Clark is the founder, CEO, and chief creative officer of DMI Music & Media Solutions in Pasadena, California. Clark has written for film and television with credits that include Where the Heart Is, Hope Floats, My Best Friend's Wedding, French Kiss, and Twins and has penned gold and platinum-selling songs for some of the music industry's leading artists. Superstars LaBelle and Warwick will perform one or two of Clark's hits during the concert. Austin, another artist who has worked with Clark over the years, comes to the lineup, bringing a career that has crossed all musical genres, with 16 solo albums and performances of her award-nominated hit songs on the Grammys and the Oscars. Learn more.

End of the World Linkages Between Islam, Christianity Topic of Fairchild Lecture

Dramatists' Guild of America Honors Southern Miss Students

European Historian to Lecture at Southern Miss
ALCORN STATE UNIVERSITY NEWS


Congressman Thompson, Alcorn State, and Monsanto Announce Partnership
On February 22, Mississippi Congressman Bennie Thompson, Alcorn State University (ASU), and Monsanto Company announced a partnership that will include other 1890 institutions to provide more opportunities for students interested in pursuing professions in agriculture. The partnership will also provide greater access for black farmers to the latest technologies and best on-farm practices in growing cotton and vegetables. Monsanto will initially work with Alcorn State University to establish cotton and vegetable demonstrations with local black farmers in order to narrow the gap in technology adoption among black farmers. The demonstration plots will also provide a component for university student research, bolstering opportunities for students interested in agriculture careers. The program will strive to establish similar partnerships with other 1890 universities including Tuskegee University in Alabama, University of Arkansas at Pine Bluff, and Southern University and A&M College in Baton Rouge, Louisiana. "Alcorn State University has been selected as the lead institution for this project," said Carl Casale, Monsanto Executive Vice President. "We are looking to ASU leadership to enlist broad support for this program so that black farmers and students can realize enhanced benefits and opportunities across several agricultural crops." Learn more.
DELTA STATE UNIVERSITY NEWS


Delta State's Foundation Honors Six in Teaching, Service and Research
In its continued effort to recognize the dedicated and professional faculty at Delta State University, the Foundation announced the 2007 recipients of the Excellence in Teaching, Research and Service Faculty Prizes recently. Dr. Phyllis Bunn, professor of office administration; and Dr. Clifton Wingard, associate professor of mathematics, were honored with the Excellence in Teaching Prize. John Ford, assistant professor of English, and Dr. Nina Baghai-Riding, associate professor of biology and environmental science, were honored with the Excellence in Research Prize; while Margaret Tullos, professor of social work, and Emily Weaver, university archivist and assistant professor of library services, were honored with the Excellence in Service Prize. Learn more.

Torgerson and Jennings Represent Delta State at HEADWAE

'Tapestry' Released by Delta State Language and Literature Faculty

Delta State's 'Confidante' Winners Announced

Statesmen and Lady Statesmen Relish Opportunity to Defend Gulf South Conference Titles
JACKSON STATE UNIVERSITY NEWS


JSU Unveils Newest Residence Hall, Campbell Suites
Jackson State University held a grand opening ceremony Tuesday, February 27, for Campbell Suites, a modern residence hall that can house up to 442 students and offers the option of two-, three- or four-bedroom suites. During the 11 a.m. event, Jackson State President Ronald Mason, Jr., called the completion and opening of the facility an "enhancement" that builds on Jackson State's existing legacy of greatness. Following the ceremony that included a ribbon cutting, more than 50 attendees got to tour the building. Junior English major Kristian Weatherspoon said she opted to become a resident of Campbell Suites because she was bored with regular dorm life and wanted something different. "I'm about to graduate and begin life on my own soon," Weatherspoon said. "The set-up here is more adult-like. It is very close to an apartment, only cheaper." The new student housing accommodations also are fully carpeted, and each suite boasts a bathroom, hotel-style locks/security system, and a vanity area. Also included in the hall's amenities are community kitchens, study rooms, and a laundry facility. The structure is located along the Gibbs-Green Plaza next to the dining hall and is named for a former school called Campbell College. Campbell Suites has separate buildings for male and female students. Students have occupied the new facility since its completion in January. Learn more.

Searcy Wins Title, Miss JSU-Elect 2007-08

Terry, Mississippi Native Elected SGA President 2007-08

Alferdteen Harrison Nominated for IHL's Black Educator of the Year Award
MISSISSIPPI STATE UNIVERSITY NEWS


New MSU Honor Code Emphasizes Student Integrity
A university honor code recently adopted by Mississippi State is designed to institutionalize a campus culture of integrity and personal responsibility, according to President Robert H. "Doc" Foglesong. "This is a big step forward in emphasizing the value Mississippi State places on academic and individual honesty," he said, adding that the new policy has been under development for the past two years. Under the leadership of Bill Kibler, vice president for student affairs, a campus-wide committee of faculty, students, and staff developed a detailed structure defining academic misconduct. Sanctions for dishonesty and an academic integrity intervention program also were established by the group. "It is a comprehensive approach that has been endorsed by the MSU Faculty Senate, Student Association, and administrative leadership," Kibler said. "This was a team effort, and the results are very consistent with our university's emphasis on leadership and character." Formally approved recently by Foglesong, the code reads: "As a Mississippi State University student I will conduct myself with honor and integrity at all times. I will not lie, cheat, or steal, nor will I accept the actions of those who do." Kibler said faculty members will include the code with every class syllabus. Learn more.

MSU Pre-Law Society Selects Chief Judge Leslie King for '07 Award

MSU Graduate Students Sweep Research Competitions

MSU Kappa Deltas to 'Stand Up' for Child Abuse Prevention

Students Named in Mississippi State Who's Who
MISSISSIPPI UNIVERSITY FOR WOMEN NEWS


 Crossroads Program Targets Over 200 Students
Collaboration among seven community organizations has targeted more than 200 seventh and eighth graders who are considered to be academically at-risk. Of those students, almost half have been enrolled in the comprehensive support program called Crossroads. The program takes place outside regular school hours and focuses on meeting the academic, social, and emotional needs of program participants. This effort is being made possible through a $1 million grant from the Mississippi Department of Education Office of Innovation and School Improvement. Mississippi University for Women is serving as the lead institution for Crossroads, which will be funded over five years, according to Dr. Suzanne Bean, project director and director of the Center for Creative Learning at MUW. The strength of this program lies in the collaborative effort of so many stakeholders. Each of these organizations has at the heart of its mission to support the youth of Lowndes County and Columbus. Dr. Martha Liddell, Columbus Municipal School District director of elementary curriculum, assessment, and innovative programs, said some of their students tend to struggle with reading, language, and mathematics. "Having this additional support will give them a better chance to succeed academically," she said. Learn more.


Feb. 26 - Mar. 30 - Mississippi State University's McComas Hall Department of Art Gallery will host a photo exhibition, "Brian Ulrich: Not If But When." The exhibit is free and open to the public. For more information, call the Department of Art at (662) 325-2970. Learn more.

Mar. 3 - Wilma Mankiller, former chief of the Cherokee Nation of Oklahoma, delivers the keynote address for the seventh Isom Student Gender Conference at the University of Mississippi. Her speech, "Context is Everything: The Changing Role of Native American Women," is set for 12:30 p.m. in the Student Union Ballroom. Learn more.

Mar. 5 - Jackson State University's Medgar Evers/Ella Baker Civil Rights Lecture Series will focus on the role of media in the Mississippi Civil Rights Movement at 6:30 p.m. in Lecture Room 266 of the Dollye M.E. Robinson Liberal Arts Building. Learn more.

Mar. 6 - Mississippi State University will host Anita Hill, a professor of social policy, law and women's studies, as part of the university's Women's History Month observance. Hill will discuss "Gender and the Legal System" during the 7 p.m. public program in Lee Hall auditorium. Learn more.

Mar. 6 - The third in a series of community outreach programs presented by the University of Mississippi Center of Research Excellence in Natural Products Neuroscience focuses on Alzheimer's disease. "Alzheimer's - Its Effects on the Family" is set for 6:30 p.m. at the Oxford Conference Center. Learn more.

Mar. 7 - 14 - The Alcorn Concert Choir is going to give appreciation concerts to honor the memory of Dr. Clinton Bristow, Jr., the late president of Alcorn. The choir will be singing in churches and high schools in St. Louis, Missouri, and Chicago, Illinois. Learn more.

Mar. 8 - Delta State University's Division of Counselor Education and Psychology will present its 26th Annual F.E. Woodall Spring Conference for Helping Professions. This one-day workshop is a terrific opportunity to network with other counselors and receive CEU credit hours. For more information, call (662) 846-4364.

Mar. 9 - Mississippi State University's Mitchell Memorial Library will host a workshop on tips and tricks to using the search engine Google. For more information, contact Deborah Lee at (662) 325-0810. Learn more.

Mar. 22 - Natchez area alumni of Delta State University will have a chapter meeting (location to be announced at a later time), which includes a social at 6:30 p.m. followed by dinner at 7 p.m. Learn more.

Mar. 22 - 24 - Notable authors, editors, and publishers gather with educators, literacy advocates, and book lovers for panel discussions, readings, and scholarly presentations at the 14th annual Oxford Conference for the Book, sponsored by Ole Miss. This year's event focuses on the late Larry Brown. Learn more.

Mar. 24 - OPERA/SOUTH and Jackson State University will present The Magic Flute by Wolfgang Amadeus Mozart at 7 p.m. at the Rose Embly McCoy Auditorium. For information, call (601) 979-2700. Learn more.

Mar. 29 - 30 - Jackson State University's College of Lifelong Learning will host "The ABC's of Excellence in Childlife Management." For more information, call (601) 432-6234. Learn more.

Apr. 11 - 12 - Delta State University will present its Third Annual Research and Scholarship Symposium in the Henry J. Jacob Conference Center of James M. Ewing Hall on campus. For more information, contact John Green at (662) 846-4069 or (662) 846-4334. Learn more.