IHL Facilitates Nursing Student Retention Conference
Approximately 200 nurse educators gathered in Jackson this week for a statewide conference, themed "A Multidimensional Approach to Student Retention in Nursing Programs." The conference, held Thursday and Friday at the Hinds Community College Nursing and Allied Health Center, was designed to help educators in undergraduate Registered Nurse (RN) programs develop strategies for raising the retention rate of students in the state's nursing programs. Dr. Veronica Abdur-Rahman, director of the Bachelor of Science in Nursing (BSN) program at Spalding University, shared her extensive experience in the areas of student retention and progression, through a series of talks. She led discussions on "Academic and Non Academic Challenges of Retaining Students in Nursing Programs," "Exploring Relevance of Developing and Using At-Risk Student Profiles," and "Integrating Academic Enhancement Strategies to Facilitate Student Retention." Dr. Patricia Spurr, education consultant with the Kentucky Board of Nursing, co-presented the integration piece and led discussions on "Evaluating Relevance of Implementing a Comprehensive Retention and Progression Model," and "Describing Programmatic Challenges of Implementing Student Retention and Progression Policies." Mississippi's nursing programs are working hard to produce quality nursing graduates to meet an increasing demand for nurses in the state. "By improving retention and graduation rates, we ultimately increase our capacity," said IHL Director of Nursing Education Dr. Martha Catlette. "We know that there are multiple reasons why student nurses drop out, but we want to be sure we are doing all we can to help them be successful." The conference was the result of collaboration between the Mississippi Council of Deans and Directors of Schools of Nursing, the IHL Office of Academic and Student Affairs, and the State Board for Community and Junior Colleges. For more information, contact Dr. Martha Catlette.

Commissioner, Universities Address Senate Appropriations Committee
Commissioner of Higher Education Dr. Thomas Meredith and the institutional executive officers addressed the Senate Appropriations Committee during a hearing on Monday. Commissioner Meredith outlined the IHL Board's strategic initiative to increase the number of baccalaureate graduates of even higher quality in the state, and highlighted what more university graduates could do for the state economically. He then explained the system's funding formula and stressed the importance of fully funding the formula to meet the needs of the universities. He presented the system's fiscal year 2009 funding request and answered questions related to tuition and financial aid. The eight universities then addressed the committee members to explain what adequate, stable funding means for the campuses. IHL had the opportunity to present similar information to the House Appropriations Committee earlier this month. For more information about IHL's FY 2009 appropriations request or this week's discussions, please contact Assistant Commissioner for Governmental Relations and Legislative Liaison Dr. Jim Borsig. Read an overview of the System's FY 2009 legislative request.
IHL to Address House Ways and Means Committee Next Week
IHL will have another opportunity to communicate the System's needs to legislators next week. IHL will present the System's fiscal year 2009 capital facilities request to the House Ways and Means Committee next Tuesday. Mississippi's University System owns and maintains 1,611 buildings and 43 percent of the total state building square footage, considerably more than any other state agency. Sixty percent of these building are over 25 years old and in great need of basic repairs, maintenance, and improvements to remain safe and adequate. IHL is requesting $130.75 million in bond money to address the priority building needs of the System. For more information about IHL's capital request, contact IHL Assistant Commissioner for Real Estate and Facilities Harry Sims.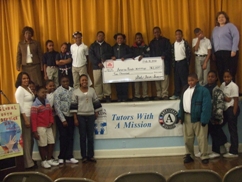 State Farm Insurance presents planning grant check to America Reads - Mississippi.

America Reads - Mississippi Named Youth Service Day Lead Agency
America Reads-Mississippi (ARM), the largest AmeriCorps Program in the state, has been named Mississippi Lead Agency for the 19th Annual Global Youth Service Day (GYSD). In this role, ARM will mobilize more than 5,000 young people to participate in the service days, April 25 - 27, 2008. Every year, millions of youth in the United States and in more than 100 countries plan simultaneous service events and service-learning projects to celebrate Global Youth Service Day. In support of this effort, State Farm Companies Foundation, the primary sponsor of GYSD 2008, is making a substantial commitment to the Lead Agency Program. On behalf of State Farm Insurance, public affairs specialist Susan Lamey made a $2,000 planning grant check presentation to America Reads-Mississippi on Monday, February 18, at George Elementary School in Jackson. Nikitna Barnes, ARM special projects coordinator, Ms. Mary Ann Bailey, George Elementary School principal, and Jr. Citizen Corps Club students received the check. To find out more about this project or locate a service site, contact Nikitna Barnes at 601-432-6110.

Items included in the "University News" section of the System Review are submitted each week by the universities. The news items are listed in rotating alphabetical order by university.
JACKSON STATE UNIVERSITY NEWS


Jackson State Development Foundation Unveils Historic Redevelopment Project
Jackson State University's Development Foundation has unveiled a redevelopment project designed to promote mixed-income affordable housing, while transforming and uplifting blighted neighborhoods surrounding the campus. The comprehensive, multimillion-dollar plan includes residential, commercial, and retail construction that will infuse funds into the local economy while creating safe, clean neighborhoods. Jackson State University President Ronald Mason, Jr. said when completed, the redeveloped area also will boast outlets for shopping, restaurants, and recreational amenities such as bike paths, parks, and green space. It also will include rental town homes and additional student housing. But, the highlight, he said, will be the affordable, new home ownership options, such as single-family dwellings. "Somebody who makes $40,000 a year would be able to buy a house that in this market would cost you $225,000 by the time it's all said and done," Mason said. Those initially targeted for the housing would be university, state, and city employees. Others targeted for the redeveloped communities would be first responders, such as police and fire officials, he said. Much of the 50-acre area included in the planned development includes some of the 73 tax-abandoned and neglected parcels of land the university received in 2007 from the state of Mississippi. Learn more.

JSU Residence Hall Association Receives 'School of the Year' Distinction

JSU/NASA Educator Resource Center Announces Spring 2008 Workshops

JSU Seeks Judges for Regional Science, Engineering Fair
MISSISSIPPI STATE UNIVERSITY NEWS


Byrne Named MSU's Athletic Director
Greg Byrne, who has served since 2006 as Mississippi State's associate athletic director for development and external affairs, is the university's new athletic director. His appointment was approved Thursday, Feb. 21, by the Mississippi Board of Trustees of State Institutions of Higher Learning. The appointment will be effective no later than July 1, said MSU President Robert H. "Doc" Foglesong, who announced the selection following a six-month search that began last August. "We promised to move expeditiously to fill this position with the best candidate possible, and with Greg we have done that," he said. "He brings both experience and respect to his new role at Mississippi State." Longtime athletic director Larry Templeton, who has served since 1987 in the position, will become a special assistant to Foglesong until no later than June 30. "Larry Templeton has spent his life committed to Mississippi State University, and we wish him well as he finally gets a chance to relax and step into the next phase of his life," said Foglesong. He said he expects a seamless transition as Byrne moves into his new role. "We're incredibly blessed to have Greg Byrne step into this position," he said. "He has been deeply engaged in MSU for the last two years, and he brought me a strategic plan that will enable us to move to the next level in athletics." Learn more.

MSU Fraternity Organization Garners Awards for 2007 Achievements

Public Programs at MSU Focus on Computer Security

MSU Announces Creation of Bodron Education Scholarship

Professor and Author Honored by His Peers
MISSISSIPPI STATE UNIVERSITY DIVISION OF AGRICULTURE, FORESTRY AND VETERINARY MEDICINE NEWS


Mississippi State University Division of Agriculture, Forestry and Veterinary Medicine Online
www.dafvm.msstate.edu
MISSISSIPPI UNIVERSITY FOR WOMEN NEWS


AT&T Grants $25,000 Toward MUW Teaching Circles
A $25,000 gift from AT&T Mississippi will support faculty development at Mississippi University for Women through Teaching Circles. The Teaching Circles are a new initiative developed by Dr. Sandra Jordan, provost and vice president for academic affairs, and MUW President Claudia A. Limbert. Jordan said, "The Teaching Circles promote the idea that teaching is a scholarly endeavor. Thanks to the generous support of AT&T, we'll be able to continue this initiative designed to improve teaching, create a community of scholars who value the development of knowledge about teaching and learning, and provide opportunity for colleagues to learn from each other." C.D. Smith, regional manager for AT&T, said, "AT&T is pleased to provide this support to the Teaching Circles initiatives at MUW." The funding will help the initiative with further resources it needs to develop and investigate techniques to improve teaching and student learning. Money also will go toward advancing and executing inventive approaches to teaching in a more effective learning environment. Jordan added, "This initiative provides faculty an opportunity to meet in groups to reflect together on a very particular aspect of their teaching." The groups consist of various faculty members with a designated chairman over each circle. The chairman is in charge of proposing a written statement to the provost at the end of the semester and presenting the proposal to the MUW faculty. Learn more.
MISSISSIPPI VALLEY STATE UNIVERSITY NEWS


Mississippi Valley State University Online
www.mvsu.edu
THE UNIVERSITY OF MISSISSIPPI NEWS


UM Literacy Instruction Center to Host Reading Conference
A reading conference for elementary school administrators and teachers, scheduled for Monday, March 3, at the University of Mississippi, will address issues related to instructing diverse learners in reading. The inaugural "Reaching Our Diverse Learners" conference, coordinated by the university's Center for Excellence in Literacy Instruction, "is designed to assist teachers and administrators in providing research-based instructional strategies to help students learn to read more effectively," said Angela Rutherford, CELI director and assistant professor of elementary education. "This is the first conference sponsored by the new center, and it's the only reading conference of its type in north Mississippi," Rutherford said. "We hope to address issues related to instructing diverse learners as these learners negotiate the tasks of learning to read and reading to learn." Robert Cooter, Jr., distinguished professor of urban literacy research at the University of Memphis, delivers the keynote address at 9 a.m. His research focus pertains to research-based reading instruction for children living in poverty. The conference also includes a luncheon featuring an address by Claiborne Barksdale, CEO of the Barksdale Reading Institute in Oxford, and presentation of the CELI Children's Literature Award to children's author Laurie Parker of Starkville. Afternoon conference sessions are to address assessment, comprehension, early literacy, vocabulary, and literature. Learn more.

Journalism Student Awarded State Public Relations Assn. Scholarship

Two Business School Faculty Given New Titles, Added Responsibilities

Women's History Month Includes Gender Conference, Women's Day Speaker

Alum's Gift of Music Lives on in Gifts of Scholarship and Rare Flutes
THE UNIVERSITY OF MISSISSIPPI MEDICAL CENTER NEWS


New Center Offers Glimpse at Future of Health Care Training
Medical professionals trained at the University of Mississippi Medical Center may one day have the capability of saving a patient's life without ever having treated a live person. A new simulation center lets students and professionals hone vital health care skills without having to practice on live patients. Located in the classroom wing, the Medical Advanced Skill and Simulation Center provides a safe environment that lets trainees concentrate on improving their ability to perform critical procedures and allows instructors to focus on training without having to worry about patient outcomes. Learn more.

Ceremony Recognizes Record Number of Scientists for Research Funding

Longtime PT Chair's Bequest Helps Department Improve Training, Care
THE UNIVERSITY OF SOUTHERN MISSISSIPPI NEWS


Southern Miss Develops Human Performance Exchange Program to Brazil
By this time next year, a group of University of Southern Mississippi students may be learning their human performance and recreation (HPR) curriculum from a sunny classroom in the south of Brazil. College of Health officials are in negotiations with the Universidade do Sul de Santa Catarina for the development of the School of Human Performance and Recreation Brazil Educational Cultural Exchange. This will be the first Southern Miss international exchange program initiated by an entity within the College of Health. Two human performance and recreation professors are scheduled to travel to Brazil for further talks in March. The school has already received a number of visits from representatives of the Brazilian university. "This brings an understanding of challenges found in other countries, an appreciation for opportunities in this country, and an understanding of global sport and physical activity," said Dr. Susan Hubble Burchell, the HPR interim director. Besides developing the exchange program, Dr. Dan Drane, the school's assistant director, said he and other faculty members will conduct research in Brazil on how sports can be used to help disadvantaged youth. Learn more.

Lyman to Join Southern Miss Leadership Team as Provost

Southern Miss School of Nursing to Hold Gala Recognizing 40 Years of Excellence

Student Printz Staffers Earn Awards in Regional Journalism Competition

Southern Miss Offers Study Abroad Program in Tibet
THE UNIVERSITY OF SOUTHERN MISSISSIPPI GULF COAST NEWS


Southern Miss WLPI to Host Cruise and Learn
The faculty and staff of the Jack and Patti Phillips Workplace Learning and Performance Institute (WLPI) at The University of Southern Mississippi Gulf Park campus will host the Cruise and Learn program for students and industry professionals aboard a Carnival cruise ship to Mexico, June 23-28. The WLPI Cruise and Learn program, "Coaching and Mentoring in the Workplace," will feature Dr. Sandra Dugas, a professional executive coach and adjunct faculty member for the Southern Miss Department of Economic and Workforce Development. Dugas will provide "interactive, experiential learning activities that attendees will take part in." "Cruise and Learn really serves two purposes," said Dr. Heather Annulis, assistant director of the WLPI. "One, it can be taken as an elective for master's and doctoral students so long as their advisers approve the cruise for academic credit. Second, it serves a broader audience, such as human resource development professionals or anyone responsible for creating a positive culture within an organization." Learn more.
ALCORN STATE UNIVERSITY NEWS


Executive Assistant to the President/Chief of Staff Announced
Alcorn State University President Dr. George E. Ross announced the hiring of Mrs. Brenda T. Square as his Executive Assistant/Chief of Staff and welcomed her to Alcorn State University in his memo of February 19. Square will provide senior-level leadership in the Office of the President with responsibility for managing and setting the tone for communication from the Office of the President. She will coordinate, manage, and build internal relationships and ensure follow-through. Mrs. Square understands the importance of implementing policy and procedure within an organization to guarantee both structure and protocol. Her strong communication, administrative, and human relations skills will be an asset in the revitalization and establishment of ASU as the premier university in the state of Mississippi and the nation. She will also oversee and assist Dr. Ross in the leadership, management, and coordination of intercollegiate athletics, public relations, development and fundraising, governmental relations, and IHL Board meetings and related functions. Learn more.

Alcorn State Advanced Technology Student Passes the CCNA Exam
DELTA STATE UNIVERSITY NEWS


Delta State to Hold Dedication Ceremony for the Louis Baioni Conference Center
The Delta State University College of Business will hold a dedication ceremony for The Louis Baioni Conference Center on Thursday, Feb. 28, at 2 p.m. in Room 132 of Broom-Kenner Hall on the campus. The center was established by the Delta State University Alumni Foundation in honor of Mr. Louis Baioni for his service to the university. Learn more.

Delta State's Wright Art Center Gallery to Present New Exhibit

Delta State to Host Mike Wiley in His One Man Show 'Dar He: The Lynching of Emmett Till'

Delta State University's Top-Ranked Lady Statesmen Set for GSC Battle with Golden Suns


Feb. 29 - The University of Southern Mississippi Gulf Coast and the Sun Herald present U.S. Representative Gene Taylor for the Issues + Answers lecture, "The Insurance Crisis: A Case for Multi-Peril Coverage," at 7 p.m. in the Advanced Education Center auditorium in Long Beach, Miss. Learn more.

Feb. 29 - March 1 - Hundreds of high-school and junior-high students flock to the University of Mississippi to share their knowledge of the classics and compete in assorted competitions at the Junior Classical League State Convention. Other activities include readings and lectures. Learn more.

March 1 - Southern Miss officials and national sorority representatives will hold formal dedication ceremonies for the university's newest women's residence complex on the Hattiesburg campus at 2 p.m. For more information, call (601) 266-4491. Learn more.

March 1-2 - The Southern Miss production of "Songs for a New World" is underway at the Martha R. Tatum Theatre in Hattiesburg. Shows are at 7:30 p.m. on March 1, and 2 p.m. on March 2. For tickets, call (601) 266-5418 or (800) 844-8425.



March 3 - The National Council of Negro Women, Inc. ASU Student Chapter hosts the "Importance of African American Studies" lecture by Harold E. Charles from 6:30 to 8:30 p.m. in the Math & Science Building, Room 107. Learn more.

March 3 - Mississippi State University's Stennis-Montgomery Association presents a Third Congressional District candidate debate at Lee Hall at 7 p.m. The free event organized by the student organization will allow candidates for the open seat to discuss differences. For more information, call (662) 325-3328. Learn more.

March 4 - Mississippi State University's College of Business and Industry presents career chats in McCool Hall from 8 a.m. to 7 p.m. This gathering brings MSU business alumni and business professionals to campus to share their career paths and advice to business students. Learn more.

March 4 - Mississippi State University's Lyceum Series presents Preservation Hall Jazz Band at 7:30 p.m. in Lee Hall Auditorium. Admission for the concert is free to MSU students with an I.D., $15 for adults, $10 for senior citizens, and $8 for children ages 3-12. For more information, call (662) 325-4201. Learn more.

March 4 - The critically acclaimed St. Petersburg Ballet Theatre's performance of "Romeo and Juliet" comes to the University of Mississippi Ford Center for the Performing Arts at 8 p.m. Tickets are $27, $24, and $12. For more information, call (662) 915-7411. Learn more.

March 6 - Award-winning poet Kim Addonizio visits Ole Miss as part of the John and Renee Grisham Visiting Writer Series. She is to give a 7 p.m. reading in Bondurant Hall auditorium and sign books immediately following the event, which is free to the public. Learn more.

March 7 - The Southern Miss School of Polymers and High Performance Materials will host a polymer science high school recruitment day from 9 a.m. to 3 p.m. on the Hattiesburg campus. The event is for high school juniors and seniors. To register, call (601) 266-4868. Learn more.

March 7-April 18 - The University of Mississippi Medical Center's Rowland Medical Library presents the national traveling exhibition, "Changing the Face of Medicine: Celebrating America's Women Physicians," at the Jackson Medical Mall. Learn more.

March 12 - Jackson State University is sponsoring the 28th Annual Social Work Month Workshops and Dinner Celebration at the Mississippi e-Center @ JSU, located at 1230 Raymond Road. Learn more.

March 30 - Delta State University will present "Chicago" in the Delta and Pine Land Theatre of its Bologna Performing Arts Center at 3:30 p.m. For ticket information, please call the Box Office at (662) 846-4626, or order tickets online at http://bolognapac.ticketsxchange.com. Learn more.