USM Board Search Committee Conducts Preliminary Interviews
The Board Search Committee for the next President of the University of Southern Mississippi will be meeting Friday, February 23, and Saturday, February 24, to conduct round one interviews. Representatives from the Southern Miss Search Advisory Committee will participate in the preliminary interviews with the Board Search Committee, Commissioner of Higher Education Dr. Thomas C. Meredith, and search consultant Dr. Jan Greenwood. After the final interviews are complete (step 14 of the search timeline), the Board will invite the preferred candidate to the Southern Miss campus in Hattiesburg for open, day-long interviews. Members of the Southern Miss community, who participate in the open interviews, will be given the opportunity to provide the Board their personal feedback on the preferred candidate. If the on-campus interview does not result in a new university president, the search will continue. The Board Search Committee hopes to reach a decision on the new university president by early April. Keep up with search on the IHL Institutional Executive Officer Search website.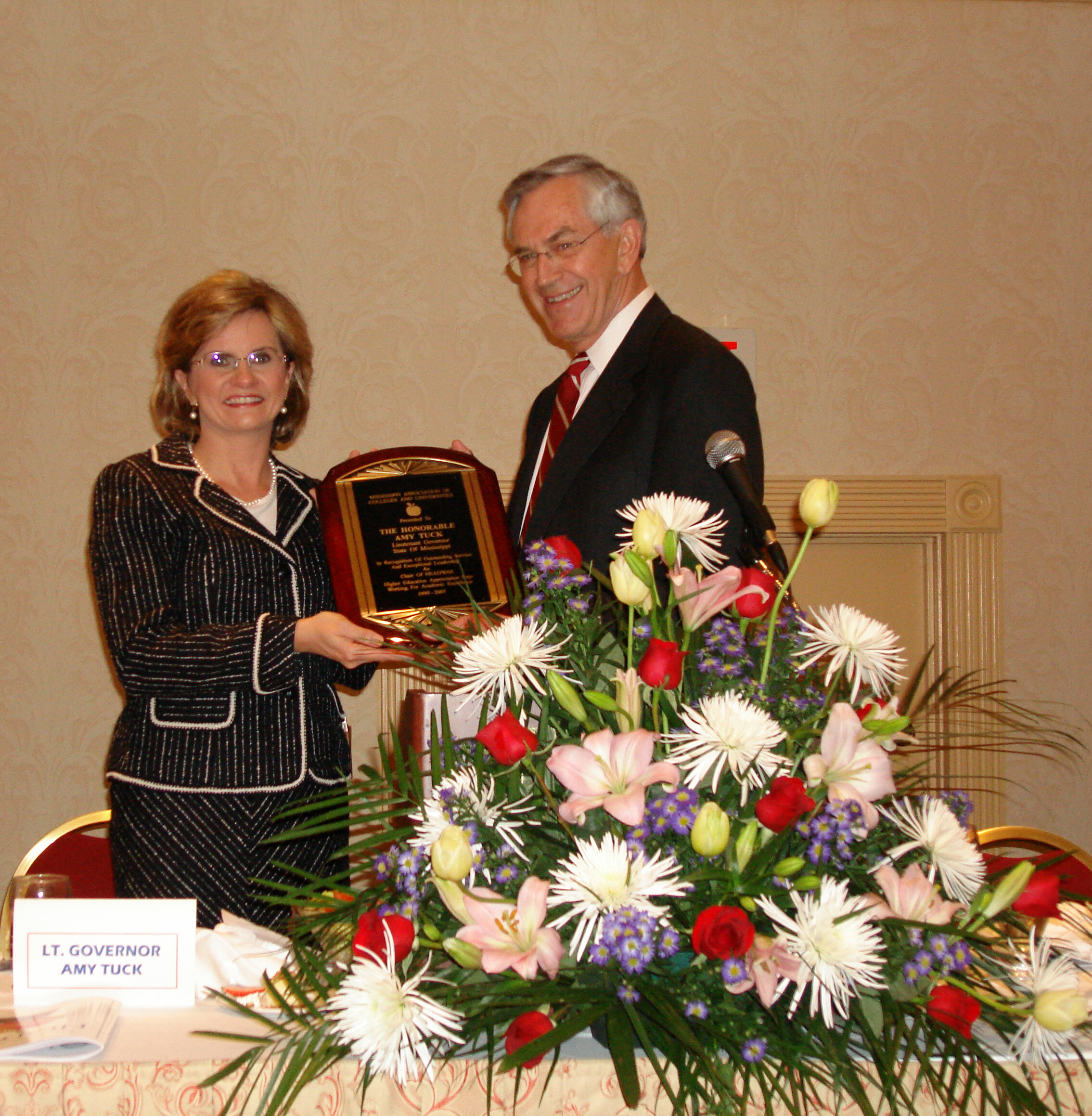 Commissioner Meredith presents Lt. Gov. Tuck with a plaque of appreciation for her support of HEADWAE.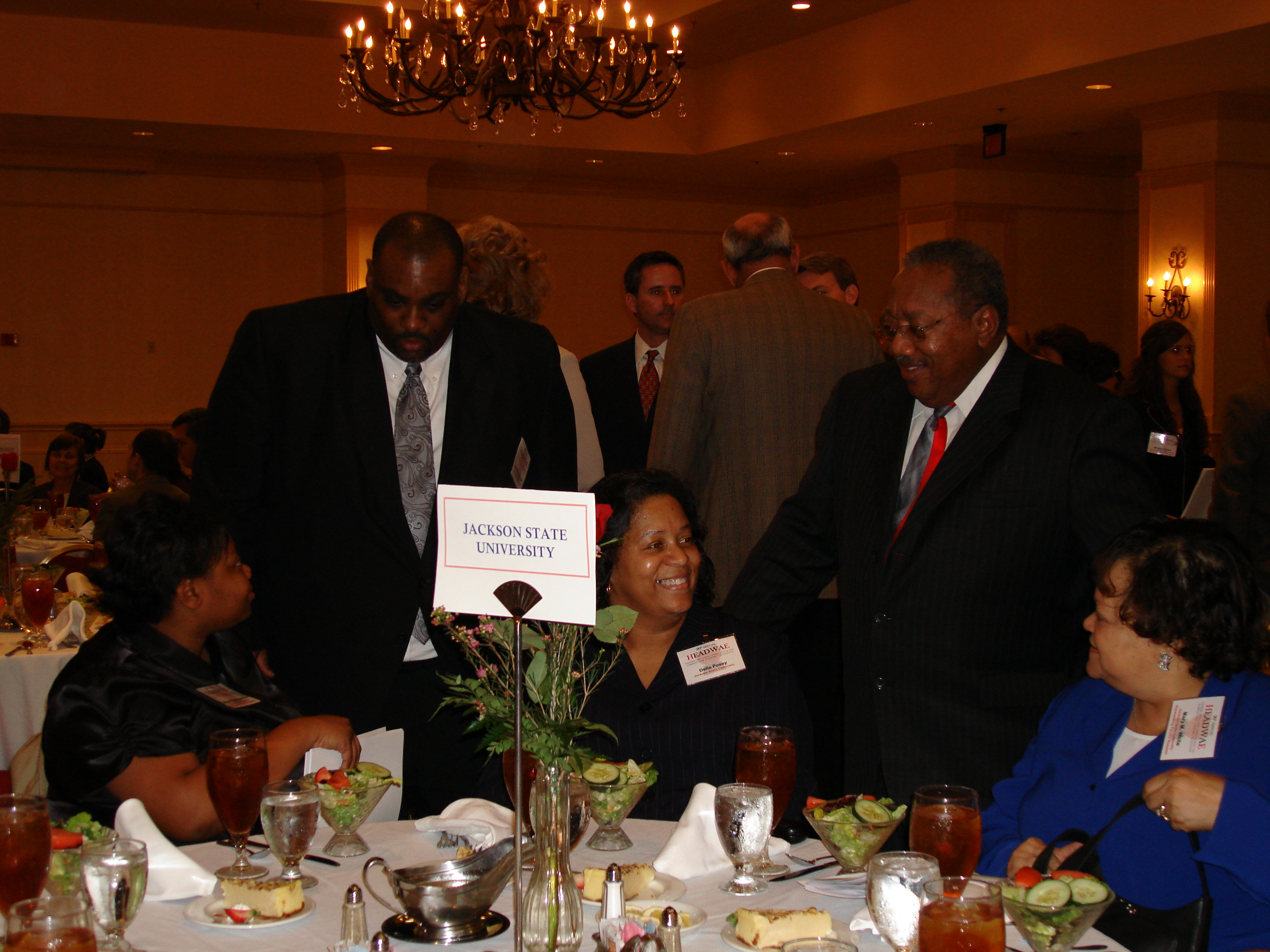 HEADWAE honorees from Jackson State University mingle with representatives before the luncheon.

Students, Faculty Honored at HEADWAE Luncheon
Seventy-two students and faculty members from Mississippi's 36 public and private colleges and universities were recognized for their academic achievements on Tuesday during the 20th Annual Higher Education Appreciation Day/Working for Academic Excellence (HEADWAE) awards luncheon. The honorees were invited to the State Capitol, where they were introduced before the Senate and House of Representatives. They participated in a tour of the Capitol before heading to the Jackson Marriott Downtown for the awards luncheon. Bay St. Louis native and Southern Miss alumna Kathleen Koch, now a CNN general assignment correspondent based in Washington, D.C., delivered the keynote address, in which she challenged the honorees to discover their passions in life and to never settle for just meeting someone else's low expectations. At the conclusion of the luncheon, Commissioner Meredith recognized the Mistress of Ceremonies, Lieutenant Governor Amy Tuck, for her dedication to education and her lengthy service as chairman of the HEADWAE committee.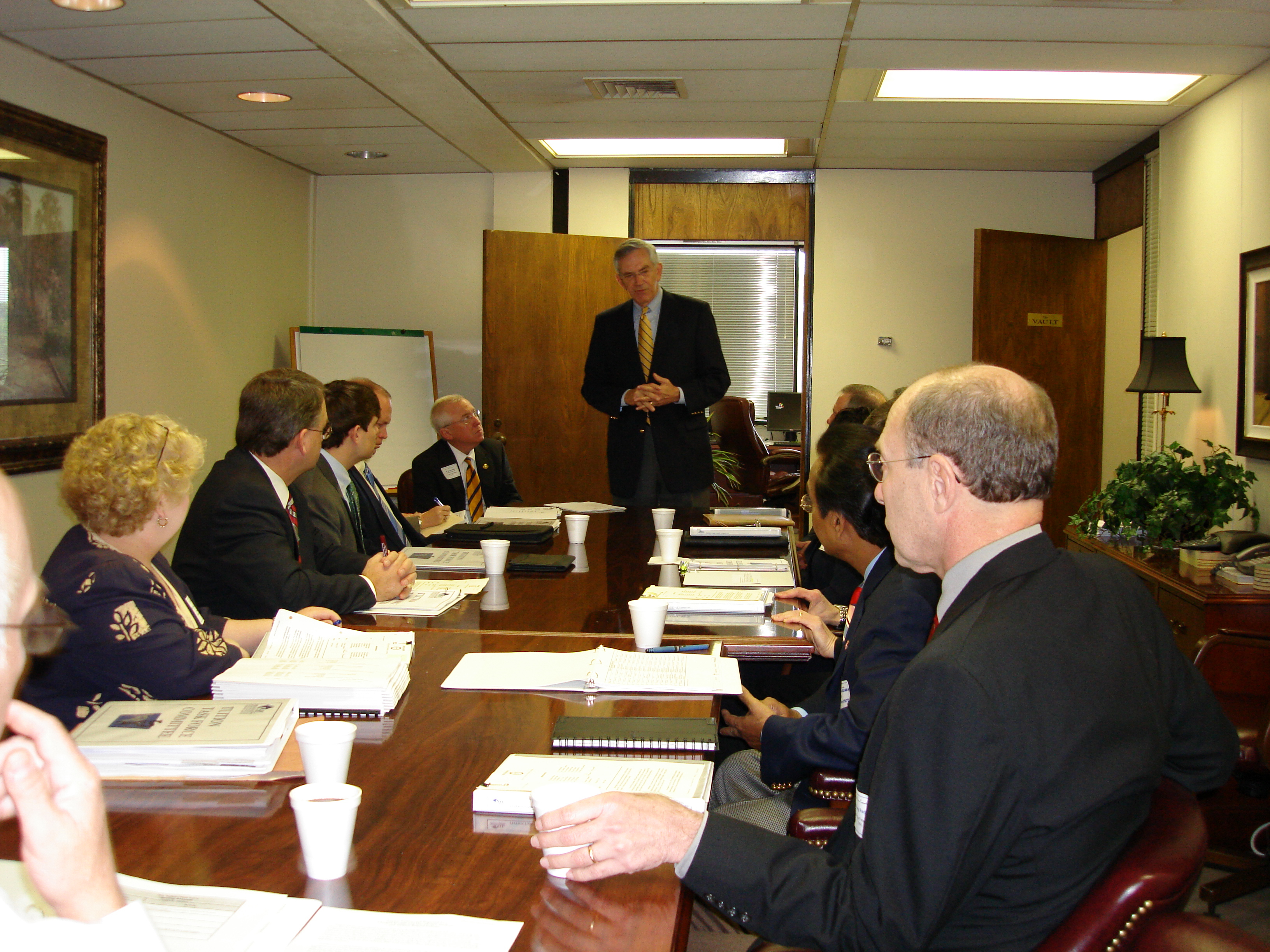 Commissioner Meredith welcomes members of the Tuition Task Force.

Tuition Task Force Convenes
Between 2000 and 2006, as a result of state revenue shortages, the Institutions of Higher Learning received relatively level or declining state-appropriated funds. To make up for lost funding and to service ever-increasing numbers of students, the universities, with Board of Trustees approval, have been forced to increase tuition by approximately 50 percent since 2000. Unfortunately, any increase dissuades some students from seeking a university education. Commissioner Meredith has convened a task force to think creatively about tuition and to consider any and all options for making a university education affordable to those who want one. Dr. Joe Paul, vice president for student affairs at the University of Southern Mississippi, will chair the task force, and the IHL Office of Finance and Administration, under the leadership of assistant commissioner Dr. Linda McFall, will provide staff support for the task force. Members of the task force include students, faculty, and senior level administrators representing the state's eight public universities as well as IHL Executive Office staff members. The Tuition Task Force held its first meeting on Wednesday and is expected to submit its recommendations by mid-March for consideration by the Board of Trustees at their April meeting. For more information, contact Assistant Commissioner of Finance and Administration Dr. Linda McFall at (601) 432-6732.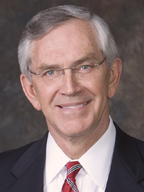 Commissioner of Higher Education Dr. Thomas C. Meredith

Commissioner Speaks to International Educators
Commissioner Meredith participated in the Mississippi Association of International Educators (MAIE) Conference as the luncheon speaker on Thursday. MAIE is a group of faculty, staff, and administrators responsible for various aspects of international education, such as English-as-a-second-language teaching or administration, international student services, and study abroad programming. In his remarks, the Commissioner discussed the importance of international education to the state and gave an overview of how many international students choose to study in Mississippi and how many Mississippi students study abroad. "It is crucial for our students and citizens to have a thorough understanding of the world beyond Mississippi's borders," he told attendees. "We can ensure that we are prepared by supporting study abroad programs for Mississippi's students, by welcoming international students in our state, and by internationalizing our campuses." International students, he explained, are often the brightest of their nations. Many students elect to remain in the United States once they graduate, where they make tremendous contributions to our culture. International students are also good for the economy, he argued. The Institute of International Education estimates that international students contribute approximately $13.5 billion to the U.S. economy each year, about $36.4 million of which benefits Mississippi directly.


Items included in the "University News" section of the System Review are submitted each week by the universities. The news items are listed in rotating alphabetical order by university.
MISSISSIPPI UNIVERSITY FOR WOMEN NEWS


Columbus Resident Earns MUW Degree after 15 Years
David J. Johnson of Columbus, who earned a bachelor's degree in general business from Mississippi University for Women (MUW) in December, did so by taking one or two courses each semester for 15 years. Describing education as "continuous" and his experience at MUW as "great" because his professors "realized the uniqueness of the non-traditional student," Johnson said he learned a lot more than just general business during his years at MUW. He said he learned how to experience "debt freedom," "the importance of physical exercise, nutrition, and mental health on the body, mind, soul, and spirit of the individual," and "that the true issues of life come from the heart." An employee of Omnova for 35 years, Johnson took courses through the company's tuition reimbursement program, which paid for each course because he made a letter grade of C or above. In addition to working at Omnova, he has served as a pastor for 17 years. He has been at Salem M. B. Church in Carrollton, Alabama, for the past eight years where he has used the computer skills he learned at MUW to teach a computer class in his church as a ministry to elderly members. Learn more.

Former Student Body President Returns to His Alma Mater
MISSISSIPPI VALLEY STATE UNIVERSITY NEWS


Mississippi Valley State University Online
www.mvsu.edu
UNIVERSITY OF MISSISSIPPI NEWS


High School Students Have Hurling Good Time at Trebuchet Competition
As hundreds of high school students armed with creative catapults lined opposite ends of the University of Mississippi Indoor Practice Facility, images of medieval battles easily came to mind. But it was fluorescent tennis balls – not boulders – that sailed through the air Tuesday evening. With each hurl, teams either shouted victory whoops as they advanced to the next round or wailed cries of defeat as they were counted out. This was the scene at the Trebuchet-Building/Tennis Ball Hurling contest, which highlighted annual Engineering Week activities at Ole Miss. Twenty-nine teams representing 18 schools registered to participate in the event. "Each participating high school formed a team of three to five students to design and construct a trebuchet to hurl tennis balls," said Peter Sukanek, chair and professor of chemical engineering. "First-, second-, and third-place awards were presented in the categories of distance, height, and design." Starkville Academy emerged the big winner in the competition. The five-man team placed first in all three categories. Second-place winners were Saltillo (in both the height and distance categories) and Desoto Central High School of Southaven (design). Placing third were Oxford Middle School (height), St. Andrews Episcopal School (distance) and Leflore County Vocational School of Greenwood (design). Read more.

Legal Studies Department to Offer Counter-Terrorism Training for Law Enforcers

Center for Documentary Projects Gets Grant for 'Highway 61 Radio Show'

Marijuana Research Program Featured on HDNet's 'Dan Rather Reports'

New Women's Organization Forming for Outdoor Adventure, Empowerment
UNIVERSITY OF MISSISSIPPI MEDICAL CENTER NEWS


Cancer Panel Examines State's Health Challenges during UMC Visit
The President's Cancer Panel came to the University of Mississippi Medical Center's conference center in the Jackson Medical Mall Thad Cochran Center on February 12 for a public meeting about research and policy on tobacco use and second-hand smoke. The day long meeting's topic was "Promoting Healthy Lifestyles to Reduce the Risk of Cancer," and invited speakers from around the country presented research and offered recommendations to the panel, which is charged with overseeing the National Cancer Program and reporting annually to the president of the United States. Current members of the panel who attended the meeting are Dr. LaSalle D. Leffall, Jr., chairman and professor of surgery at Howard University; Dr. Margaret Kripke, executive vice president and chief academic officer at M.D. Anderson Cancer Center; and Lance Armstrong, seven-time Tour de France winner and cancer survivor. Read more.

Fogarty International Center Funds Signaling Pathway, Protein Mistargeting Study

Hawxby Values Patient Relationships in Building UMC's Transplant Program

Minimed School Provides Health Information for Public, Employees during March
UNIVERSITY OF SOUTHERN MISSISSIPPI NEWS


Southern Miss GCRL Opens Registration for Summer Marine Biology Classes
College students applying for the 2007 Summer Field Program at The University of Southern Mississippi's Gulf Coast Research Laboratory (GCRL) will have a firsthand look at Gulf of Mexico plants, animals, and habitats. "Students will have the opportunity to explore the northern Gulf -- from sharks, dolphins, and whales to marine ecology," said Dr. Jeffrey Lotz, chair of coastal sciences, the Southern Miss department that coordinates the academic program. "Students enrolled at colleges and universities from throughout the United States as well as local students come to earn college credit at the GCRL in the summer," Lotz said. "This summer will mark the sixtieth year that the Lab has offered marine field courses. Courses offered May 29 through June 20 are marine biology, marine mammals, shark biology, and marine ichthyology. June 21 through July 13 courses are oceanography, marine invertebrate zoology, marine ecology, and marine biology for teachers. Students who attend both terms can earn up to 12 semester hours of science credit. Options are also available for upperclassmen to conduct independent research under the direction of a GCRL scientist. The Gulf Coast Research Laboratory is part of the university's School of Ocean and Earth Sciences within the College of Science and Technology. For information call (228) 872-4200, e-mail gcrl@usm.edu , or visit the Gulf Coast Research Laboratory online.   Learn more.

College of Business Alum to Share His Passion for Entrepreneurship and Life

Roots Reunion Live Radio Show Set for March 3 at Saenger Theater

Southern Miss Choir to Tour Region

Polymer Science Alum Wins Prestigious International Award
ALCORN STATE UNIVERSITY NEWS


Alcorn State University Faculty Receives Black History Recognition
Dr. Carolyn Dollar received recognition by the IHL Board on Thursday, February 15, during the Board's celebration of Black History Month.  She was recognized for positive advancement of diversity on campus and in the community.  Learn more.   See photo: Left to right: Mr. Bob Owens, Chair, Black History Month Committee, IHL Board of Trustees; Dr. Carolyn Dollar, Assistant Professor, Department of Nursing; and Dr. Malvin Williams, Interim President, ASU.
DELTA STATE UNIVERSITY NEWS


Delta State to host Mississippi Delta Women's Leadership Conference
Delta State University, in partnership with Viking Corporation, will play host to the highly anticipated Mississippi Delta Women's Leadership Conference, Monday, February 26, with a post-conference event to be held Tuesday, February 27 at the Alluvian Hotel in Greenwood.  Set to a theme of "Life in Balance," this year's conference will both celebrate and explore "the balancing act" a woman's life can be, as women today have more choices and opportunities than ever before. Keynoting the event will be Gail Sheehy, nationally-acclaimed, bestselling author of 15 books, including her most well-known selection, Passages, which stayed on The New York Times bestseller list for three years and has been reprinted in 28 languages. To register, please contact Special Projects at Delta State at (662) 846-4023 or visit the conference website.   Learn more.

Watson Crowned Miss Delta State University

KODO: The Heartbeat of Japan Coming to Cleveland

'In Their Own Words: The History of Delta Black Farmers' Opens at Capps Archives and Museum

Statesmen Climb Three Spots to No. 5 in Latest Collegiate Baseball Newspaper Poll
JACKSON STATE UNIVERSITY NEWS


JSU Establishes Schools to Honor Physics Grads
Jackson State University has officially established a scholarship in honor of two outstanding physics graduates who died in November. The Kristy and Trista Physics Scholarship is named for Kristy Lorrine Murray, 23, of Hazlehurst, Mississippi, and Trista Danielle Martin, 22, of Magnolia, Mississippi. They were killed November 17, 2006, in Pennsylvania when, en route to an airport to return home for Thanksgiving, their vehicle swerved to avoid hitting a deer. The high school salutatorians graduated with honors from Jackson State in May 2006 and were pursuing doctorates in materials science and engineering at Pennsylvania State University. Dr. Quinton L. Williams, chair of JSU's Department of Physics, Atmospheric Sciences, and Geoscience, said the scholarship honors their hard work, commitment, and achievements. "It will offer deserving minority female students with similar backgrounds the opportunity to continue the journey that they were unable to complete due to their deaths," Williams said. "It is extremely important that we support this scholarship because scholarships played an integral part in them being able to accomplish what they did," added Williams, president of the National Society of Black Physicists. Murray had served as president of JSU's Society of Physics Students and also was Miss Sophomore. Martin was active in the society and her sorority, Delta Sigma Theta. Learn more.

JSU Presents 21st Annual Gladys P. Norris National Piano Festival

Four JSU Students Receive Scholarship from Math Alliance

Jackson State's Radio Station Becomes First in State to Go Digital

JSU Hosts National African American Music Conference
MISSISSIPPI STATE UNIVERSITY NEWS


MSU Employees Put Health Issues in 'Motion'
Valerie Tate and four co-workers walked into the Joe Frank Sanderson Center on Mississippi State's campus earlier this week with ideas of making the university's recreational center something akin to their second home. Even better than familiarizing themselves with campus facilities, the group of women - the self-described "Caramel deLites"- aims to make healthy exercise and good nutrition a way of life during the next 12 weeks and the rest of their lives. They're part of the more than 650 MSU students, faculty, and staff who signed up for Bulldogs in Motion, a new program designed to help people develop healthy living habits to practice for life. Tate, outreach coordinator for MSU's Division of Academic Outreach and Continuing Education, said her family history of high blood pressure, weight issues, and diabetes forced her to watch her and her two daughters' health and lifestyle. Staff at the Sanderson exercise complex already have weighed hundreds of participants of Bulldogs in Motion, part of an umbrella program called Mississippi in Motion recently endorsed by Gov. Haley Barbour.  Each participant received a pedometer to track progress they make. Learn more.

MSU Names 'Black History Month' Educator

Sony Art Executive, 'Open Season,' Director to Speak at MSU

Caltech Research Engineer to Lead 2007 Henry Lectureship at MSU

Safety, Health Summit Focuses on Delta Issues


Feb. 22 - 24 - The Alcorn State University National Alumni Association's 2007 Mid-Winter Conference is right around the corner! It will take place at the Jackson Marriott-Downtown in Jackson, MS. Learn more.

Feb. 24 - McDevitt Scholar's Day at Mississippi University for Women is designed for community college transfer students who meet certain criteria to visit campus and compete for top scholarships. The event will take place from 7:30 a.m. until 1 p.m. in Cochran Hall. Learn more.

Feb. 25 - Mississippi State University presents The Wiggles, called the world's number one preschool band, performing at Humphrey Coliseum. Tickets are $18 to $35 each and available at all Ticket King outlets, the MSU Athletic Ticket Office and www.ticketweb.com. For more information, call (662) 325-4201. Learn more.

Feb. 25 - Mississippi State University presents a performance by the university's symphonic band at McComas Hall. For more information, contact Jatonya Ferrow at (662) 325-2713. Learn more.

Feb. 25 - The American Magic Lantern Theater comes to the University of Mississippi Museum and Historic Houses for four free shows featuring an authentic 1890s visual extravaganza with stories, comedy, and songs. Learn more.

Feb. 25 - Mar. 4 - The Department of Theatre and Dance at The University of Southern Mississippi presents "Light Up the Sky," a classic American comedy that contrasts the glamorous onstage life with the neurotic offstage antics of creating a Broadway show. For details and tickets call (601) 266-5418 or (800) 844-8425. Learn more.

Feb. 26 - Mar. 2 - The Mississippi University for Women Department of Health and Kinesiology will host its annual Women's Health Awareness Week. Various events will be scheduled to bring attention to women and health. More than 60 vendors will participate in the health fair on February 28 in the Bubble.

Feb. 28 - Faculty, alumni, students, and others associated with Mississippi State University will celebrate the institution's 129th birthday on the Drill Field on campus. For more information contact the MSU Alumni Association at (662) 325-7000. Learn more.

Feb. 28 - Mar. 2 - The University of Mississippi Medical Center has set its 6th annual Mississippi Miracles Radiothon, a benefit for the Blair E. Batson Hospital for Children. Volunteers are needed to answer phones and take pledges during 2-1/2 hour shifts between 7 a.m. and 7 p.m. To volunteer, call (601) 984-1105.

Mar. 1 - 4 - University of Mississippi theatre arts students get cheeky in "Noises Off!" a British play about the effects of mixing work and relationships, set for Fulton Chapel. Tickets, at $10 for adults, $8 for children and seniors, and $6.50 for Ole Miss students, are available by calling (662) 915-7411. Learn more.

Mar. 2 - Contemporary philosopher, author, interior designer, and speaker Alexandra Stoddard gives an inspirational lecture and reading at 10 a.m. in the J.D. Williams Library's Faulkner Room at the University of Mississippi. The event is free. Learn more.

Mar. 5 - Dr. David Cook, assistant professor of religious studies at Rice University and an expert on Jihad (Muslim holy war) and martyrdom, will speak on Muslim traditions concerning the end of the world in this second of three lectures on Islam and Muslim traditions. For more information call (601) 266-4518. Learn more.

Mar. 30 and Apr. 1 - The 2007 Delta International Film and Video Festival showcases the work of independent film and video artists. Learn more.

Apr. 11 - 12 - Delta State University will present its Third Annual Research and Scholarship Symposium in the Henry J. Jacob Conference Center of James M. Ewing Hall on campus. For more information, contact John Green at (662) 846-4069 or (662) 846-4334. Learn more.