AT&T Mississippi check presentation (left to right): Dr. Thomas C. Meredith, Commissioner of Higher Education; Jennifer Rogers, IHL Communications and Marketing Associate; Scott Cook, AT&T Mississippi Account Manager; Mayo Flynt, AT&T Mississippi President; Amy Whitten, Vice President of the Board of Trustees; Lisa Hathorn, AT&T Mississippi Director of Public Affairs; and Annie Mitchell, IHL Director of Media Relations, Communications and Marketing.

IHL Receives $57K Grant from AT&T for Scholarship Search Tool
During its regular monthly meeting on Thursday, the IHL Board received a generous grant in the amount of $57,500 from AT&T to build a comprehensive scholarship search tool as part of its new statewide college access website. The search tool will allow students and their parents to search for all types of scholarships - state, federal, institutional, and private - available to them at Mississippi colleges and universities. Users will be able to search by keyword if they know the name of the scholarship they are looking for. They may also complete a brief profile, and the search tool will display a list of the scholarships for which the student is eligible. The college access website, which will simplify the process of preparing for, selecting, applying to, and paying for college, is just one of several IHL Board initiatives designed to increase the number of baccalaureate graduates of even higher quality in the state. Mr. Mayo Flynt, President of AT&T Mississippi; along with Lisa Hathorn, AT&T Director of Public Affairs; and Scott Cook, AT&T Account Manager, presented the check to Vice President of the Board Trustee Amy Whitten and Commissioner of Higher Education Dr. Thomas C. Meredith. For more information about the website, the scholarship search tool, or the AT&T grant, contact IHL Communications and Marketing Associate Jennifer Rogers.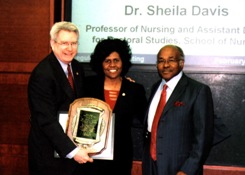 Dr. Sheila Davis, 2008 Black History Month Educator of the Year
Ms. Ora Reed, 2008 Black History Month Community Honoree

IHL Board Celebrates Black History Month
Also during its meeting on Thursday, the IHL Board celebrated Black History Month by honoring university and community members who have made significant contributions to diversity. The Board's Black History Month Committee, chaired by Trustee D.E. Magee, Jr., named Dr. Sheila Davis, Professor of Nursing and Assistant Dean for Doctoral Studies in the School of Nursing at the University of Mississippi Medical Center, the 2008 Black History Month Educator of the Year. Ms. Ora Catherine Reed, renowned pianist, singer, and cultural ambassador for Mississippi, was named the Board's 2008 Black History Month Community Honoree. In addition, the Board gave certificates of appreciation to the following institutional nominees: Dr. Dovi Alipoe, Professor of Agricultural Economics and Director of Global Programs at Alcorn State University; Ms. Georgene Clark, Assistant Professor of Diversity Activities and Coordinator of Compositions at Delta State University; Dr. James Maddirala, Associate Vice President for Academic Affairs and Student Life at Jackson State University; Dr. Stephen Middleton, Professor of History and Director of African American Studies at Mississippi State University; Dr. Albert E. Myles, Extension Professor of Community Research Development in the Agriculture Economics Department at the Mississippi State University Division of Agriculture, Forestry and Veterinary Medicine; Ms. Towanda Williams, Assistant Director of Career Services for Student Life at Mississippi University for Women; Dr. Marvin Haire, Interim Director of the Delta Research and Cultural Institute at Mississippi Valley State University; Mr. Derek Horne, Associate Athletic Director for External Operations at the University of Mississippi; and Ms. Vrita H. Delaine, Assistant to the Vice President for Student Affairs at the University of Southern Mississippi. For more information about the Board's celebration of Black History Month, contact IHL Public Affairs Coordinator Clotee Lewis.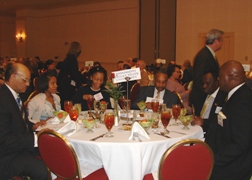 Mississippi Valley State University HEADWAE honorees enjoy a luncheon in their honor.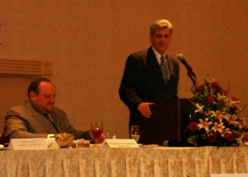 Lieutenant Governor of Mississippi Phil Bryant delivers the luncheon keynote address, while Master of Ceremonies Senator Terry Burton looks on.

Students, Faculty Honored at HEADWAE Luncheon
Seventy-two students and faculty members from Mississippi's 36 public and private colleges and universities were recognized for their academic achievements on Tuesday during the 21st Annual Higher Education Appreciation Day-Working for Academic Excellence (HEADWAE) program. The honorees were invited to the State Capitol, where they were introduced before the Senate and House of Representatives. They participated in a tour of the Capitol before heading to the Jackson Marriott Downtown for the awards luncheon. "The Mississippi Legislature, the corporate community, and others involved in higher education are given the opportunity to recognize the academic achievements of outstanding students and faculty at our institutions of higher learning," said former Mississippi Lieutenant Governor Amy Tuck, who served as Chair of HEADWAE for eight years. "These honorees, through their personal and academic achievement, demonstrate that a quality education can be found right here in Mississippi's colleges and universities." The Honorable Phil Bryant, Lieutenant Governor of Mississippi and Chair of HEADWAE, delivered the luncheon keynote address. Senator Terry Burton oversaw the celebration as the Master of Ceremonies. For more information, contact IHL Coordinator of Student Affairs Gloria Miller at (601) 432-6422.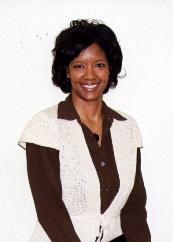 Ronjanett Taylor, Program Director, America Reads - Mississippi AmeriCorps program

Taylor New Director of America Reads - Mississippi AmeriCorps Program
Ronjanett Taylor has been hired as the new Program Director for the America Reads - Mississippi (ARM) AmeriCorps program. Taylor is no stranger to IHL, having held the position of Assistant State Director for ARM from 2000 to 2006. Before moving to Mississippi in 2000, Taylor was the Director of Minority Student Services at the University of Central Arkansas in Conway, Arkansas. The impact and vision of America Reads - Mississippi are what encouraged her to return. America Reads - Mississippi is a federal grant program that combats the literacy problem in Mississippi by training and placing 350 AmeriCorps member volunteers in 80 schools across the state. These "Tutors With A Mission" serve full-time during the day tutoring students in reading. ARM members also organize community service projects and teach students about civic engagement and emergency preparedness. Most ARM members want to become certified teachers; this is ARM's way of helping to decrease the state's critical teacher shortage. At IHL, ARM operates under the Office of Academic and Student Affairs. Ronjanett Taylor may be reached at (601) 432-6380.

Items included in the "University News" section of the System Review are submitted each week by the universities. The news items are listed in rotating alphabetical order by university.
DELTA STATE UNIVERSITY NEWS


Delta State's Delta Music Institute to Host Hip Hop Conference
The Delta Music Institute, a recording arts and music industry studies program at Delta State University, will host the first Delta Hip Hop Conference: "Bridging The Gap From Blues To Rap," on Thursday, Feb. 28, on the campus. The conference will begin at noon in room 115 of Broom Hall with a brown bag lunch and panel discussion, "The Roots of Hip Hop: From Dozens and Snaps to Beats and Raps," which will give an overview of the development of hip hop music and its connection with the blues. Learn more.

Delta State's Year of Delta Heritage Unveils New Blues Exhibit

Delta State Receives President's Honor Roll Award for Service

Top-Ranked Lady Statesmen Focused on Team Goals
JACKSON STATE UNIVERSITY NEWS


Jackson State's HEADWAE Recipients Receive Honors
A Jackson State University student and teacher were honored during the 21st annual Higher Education Appreciation Day - Working for Academic Excellence program on Feb. 19. Carrine Bishop, associate professor and chair of the Department of Educational Leadership, and Thomas L. Wallace, a 53-year-old civil engineering major from Forkville, Miss., were among more than 100 students and faculty members honored by the Mississippi legislature during the program at the Marriott Downtown. Bishop was nominated by Daniel Watkins, dean of the College of Education and Human Development. "I nominated her for three reasons," said Watkins. "She taught me when I was going through the program, she made sure that all her students were able to exit the program, and she can adapt to any situation." Bishop took the lead when her department underwent changes and has had a positive impact on the lives of her students. "A student came to me and told me that without the guidance of Dr. Bishop, she wouldn't have been able to make it through the program," Watkins added. Learn more.

Jackson State Collects Items to Benefit Victims of Domestic Violence

Juanita Sims Doty Scholarship Fund Increases

JSU, Make-A-Wish, BankPlus Partner to Make Student's Dream Come True

JSU Seeking Judges for Regional Science, Engineering Fair
MISSISSIPPI STATE UNIVERSITY NEWS


MSU Administrator, Jackson Native Honored by National Peers
Mississippi State's associate provost is being included in the inaugural class of Fellows of the Institute of Biological Engineering (IBE). Jerry Gilbert will be honored during the IBE's March 8 meeting in Chapel Hill, N.C. A 19-year faculty member at the university, he also is associate vice president for academic affairs. Gilbert was a charter member when the IBE formed in 1995. A Jackson native and Jackson Preparatory School graduate, he and the other 2008 Fellow-designates will be recognized for their many professional contributions to the field. Gilbert holds a 1977 bachelor's degree in biological engineering from MSU and a 1982 doctorate in biomedical engineering from Duke University. Before returning to MSU, he served on the faculties at North Carolina State University and the University of North Carolina. His research has focused primarily in the areas of bone modeling, orthopedic biomechanics, osteoporosis modeling, and biocompatibility of biomaterials. His work has been funded by the National Institutes of Health and National Science Foundation. Learn more.

MSU Game-day Web Site Now Up for Super Bulldog Weekend

Nevada Author Coake to Discuss His Works During MSU Program

Big Slice of New Orleans Comes 'Blowin' in' to MSU in Early March
MISSISSIPPI STATE UNIVERSITY DIVISION OF AGRICULTURE, FORESTRY AND VETERINARY MEDICINE NEWS


Senior Adults Reap Rewards as Volunteers with MSU Extension's 4-H Program
For two Mississippi women, 140 years of combined service to the state 4-H program is not enough. Lucille Williams, 89, of Canton and Thelma Wood Harris, 90, of Natchez, are among the 7,500 adult volunteer leaders serving 101,000 youth enrolled in Mississippi 4-H. Even at their age, these women have no intention of slowing down. Both women were born in a period of the state's history when no 4-H program existed for black children. A network of Extension Negro home demonstration agents working within the black community laid the foundation for such a program to later fall into place. Agents taught families how to use every available resource on the farm to make food, clothing, toiletries, furnishings, and medicine. The lessons evolved into organized meetings for youth and adults. Agents also urged young people to better their communities through education, service, and opportunity. Their commitment resulted in a 4-H program for black children. "My first agent, Ethel Robinson, and many other Extension leaders within the black community had strong character and set an example to follow," Harris said. An important pioneer in the 4-H movement for black children was Flora Parrish, who was home demonstration agent in Madison County. Williams remembered the persistent effort Parrish exerted to organize 4-H clubs and establish a recreational outdoor camp to strengthen the ability of volunteer leaders to provide additional learning activities. Learn more.

Mississippi State University Study Shows Value in Landowners' Backyards

MSU Delta Research Combats Costly Cotton Insects

MSU Consumer Specialists Warn about Payday Loans
MISSISSIPPI UNIVERSITY FOR WOMEN NEWS


Google Apps to be Introduced to MUW Students
Mississippi University for Women's Information Technology Services (ITS) recently announced that it will be introducing Google Apps to students in March 2008. MUW will be the first university in Mississippi to implement the service. The program will offer access to free services such as email, the ability to create and edit a personal calendar, instant messaging, on-line storage to save important projects and documents and programs similar to Office products. Advantages of the applications are that students can access the services from any computer with an Internet connection. "We believe that Google Apps leverages our existing investments and allows the university to provide extraordinary technology to our students," Larry Jones, MUW director of ITS, said. The new applications provide students with more network storage space. This solves the problem of emailing files to one's own email account or saving it onto a jump drive. Marco Obaid, assistant director of ITS and network administrator, added, "Google Apps offers the latest and greatest cutting-edge technology to our students. Students will also be able to access these services from anywhere, including their mobile phones (granted the cell phone service plans include data plans)." Google Apps includes four services - Gmail, Google Calendar, Google Talk, and Google Docs. Learn more.
MISSISSIPPI VALLEY STATE UNIVERSITY NEWS


Civil Rights Activist Gene Young Will Speak at MVSU Black History Event
Longtime Mississippi civil rights activist Gene C. Young will be the featured speaker at Mississippi Valley State University's annual Black History Convocation on Feb. 26 at 10 a.m. in the H.G. Carpenter Auditorium. At a young age, Dr. Young was an active participant in the civil rights movement from the March on Washington to sitting behind jail bars. He has seen every aspect of the civil rights movement. During the March on Washington, Dr. Young and two of his brothers heard Dr. Martin Luther King deliver the famous "I Have a Dream" speech. Dr. Young received his undergraduate degree from Jackson State University and his master's degree and doctorate from University of Connecticut in Storrs. While at the University of Connecticut, he was arrested for protesting the teaching of genetic inferiority during a library sit-in. Among his many honors, Dr. Young was awarded a gold medal by the Mississippi Association of Broadcasters for reading excerpts of the "Letters from a Birmingham Jail." He was also featured in a documentary which aired on The History Channel, titled "Saving Our History: Voices of Civil Rights." Throughout the years, Dr. Young has worked in numerous capacities within higher learning institutions and the community. He is a former director of black studies at Bradley University, acting director of the Margaret Alexander Walker National Research Center at Jackson State, and former chairman of the board of directors of the West Jackson Community Development Corporation. Learn more.
THE UNIVERSITY OF MISSISSIPPI NEWS


UM, Oxford Habitat for Humanity Chapters Team Up to Build Home
It's been more than 30 years since Barbara Walker owned a home, but thanks to Habitat for Humanity chapters at Ole Miss and in Oxford, Walker is about to get her second shot at home ownership. After more than a year of construction, her new home just east of Oxford is nearly complete, and the 58-year-old UM custodian hopes to move in this spring with her two grandsons. "Owning a home again wasn't really on my mind," Walker said. "This is really a blessing." Habitat for Humanity is a nonprofit organization that works with volunteers to build affordable housing in this country and around the world. Although homes are not given away, they are built, priced, and sold at the lowest possible cost to the owner-occupant, who must qualify for an interest-free mortgage and repay it if approved. "Applicants must be screened and approved, just like a traditional loan," said Darryail Whittington, construction superintendent for the Oxford-Lafayette chapter. "So far, we've been able to get people into homes under $40,000. There's nowhere in Oxford where you can get a house for that." Habitat volunteers come from every walk of life: faculty and students, young and old, black and white, rich and not-so-rich. Yet all the differences melt away as they work side by side on the paneling of Walker's future home. Among those students is Austin Sumrall, a sophomore mechanical engineering major from McComb. Over several volunteer Saturdays, he's painted walls, put flooring down, and moved a dirt pile. Learn more.

Alum's Debut Book Reveals Untold African-American History of Washington

New Law Student Externship Offer Hands-on Work with State's Court of Appeals

UM Offers Workshops to Train Counseling Professionals in Play Therapy

Alumnus Creates Ole Miss First Scholarship to Honor Mentor
THE UNIVERSITY OF MISSISSIPPI MEDICAL CENTER NEWS


Diabetes, Obesity Experts Discuss Strategies at UMC Conference
It is only fitting that leading experts in heart disease, obesity, and diabetes gathered at the University of Mississippi Medical Center's Conference Center in the Jackson Medical Mall Thad Cochran Center to discuss the metabolic syndrome plaguing the country. That's because Mississippi is "ground zero" for obesity, heart disease, and diabetes, earning the unfortunate distinction of ranking at the bottom nationwide in these areas. University of Mississippi Health Care's Diabetes and Metabolism Program and the Delta Health Alliance hosted the conference, "Engaging Minds, Bodies and Hearts: Successful Community-based Intervention in Diabesity and Cardiovascular Disease," Feb. 11-12. More than 400 health professionals attended the conference. Learn more.

Mississippi Nurses Association Fetes UMC Dean, Nurses
THE UNIVERSITY OF SOUTHERN MISSISSIPPI NEWS


Southern Miss Science Education and Engineering Programs Rated in Top 10 Nationally
The University of Southern Mississippi College of Science and Technology's science education and engineering programs have been rated in the top 10 nationally, according to an index measuring the scholarly output of faculty members at colleges and universities. Academic Analytics' findings were the subject of an article in the Nov. 16, 2007, edition of The Chronicle of Higher Education. In the article, the most recent index examines the productivity of 164,843 faculty members in 7,400 programs at 357 institutions. The Chronicle published data on the top 10 in 172 disciplines. At Southern Miss, the Center for Science and Mathematics Education was rated seventh in science education, and the School of Polymers and High Performance Materials was rated eighth in the category of "other" engineering. The indicators included publications, citations, number of grant awards, and total dollars of grant awards. "These rankings are particularly significant as Academic Analytics has taken a very quantitative approach as opposed to some other types of rankings that rely more on subjective input," said Dr. Rex Gandy, dean of the Southern Miss College of Science and Technology. "These top 10 rankings are indicative of the high quality faculty we have in the College of Science and Technology." Learn more.

Southern Miss Student Gets Honorable Mention Nod on USA Today Academic Team

Canadian Students Spend Spring Break Volunteering with Southern Miss

Southern Miss to Host Women in Higher Education Conference

Pre-service, In-service Educators Invited to Feb. 28 Forum at Southern Miss
THE UNIVERSITY OF SOUTHERN MISSISSIPPI GULF COAST NEWS


Southern Miss Gulf Coast to Offer Bachelor's Degree in Marketing
The College of Business at The University of Southern Mississippi Gulf Coast will offer a bachelor's degree in marketing beginning in the fall 2008 semester. The program, which will mirror the program on the Hattiesburg campus, is expected to accommodate the schedules of all students. "We try to put students who are taking particular courses at particular times in a certain flow of classes so that they build on each other," said Dr. Tony Henthorne, chair of the Department of Tourism Management, professor of marketing, and executive editor of the publication, Journal of Tourism: An International Research Journal on Travel and Tourism . "We are looking at how best to sequence the timing of the classes so that we reach the largest student base that we have - both the traditional and non-traditional students." The new marketing major will allow the university to respond to the ongoing demand for marketing-related skill sets on the Gulf Coast says Dr. Alvin Williams, interim dean and professor in the College of Business. Learn more.
ALCORN STATE UNIVERSITY NEWS


Fine Arts Department Presents Faculty Recital
The Fine Arts Department of Alcorn State University proudly presents a faculty recital featuring pianist Dr. Bernardo Scarambone. Dr. Scarambone has been working at the university since August 2007. A native Brazilian, he is considered to be one of the country's premier pianists and has performed recitals and concerts throughout Europe, South America, and the United States. After earning his bachelor's degree from the Federal University of Rio de Janeiro, Brazil, Dr. Scarambone received a scholarship for the pursuit of his master's degree at Indiana University followed by his doctoral degree from the University of Houston. Awarded 13 prizes in national and international competitions, and continuing an active career of performing, Dr. Scarambone will perform on Thursday, February 21, offering works by Bach, Beethoven, Chopin, and Nobre in his first recital as part of the Alcorn State University faculty. Learn more.


Feb. 22 - The University of Southern Mississippi Gulf Coast will host a piano concert by two graduate students from the School of Music. Mary Chung and Amanda Virelles will perform at 7 p.m. in the auditorium of the Advanced Education Center on the Gulf Park campus in Long Beach. Learn more.

Feb. 25 - Mississippi State University's Department of Art presents the Japanese brush painting of Tsugako Shimada in Griffis Hall. The free exhibit will run until March 21. For more information, contact the Art Department at (662) 325-2970. Learn more.

Feb. 25-26 - The Oxford branch of the American Association of University Women hosts its annual Jan Hawks Memorial Book Sale in the lobby of the University of Mississippi Student Union from 8 a.m. to 3 p.m. All proceeds go to the AAUW Educational Foundation. Learn more.

Feb. 26 - Mississippi State University's Holmes Cultural Diversity Center presents Black History Month Jeopardy at 6 p.m. in the Colvard Student Union. For more information, contact Jerrie Bishop at (662) 325-2033. Learn more.

Feb. 28 - Mississippi State University's Holmes Cultural Diversity Center presents a documentary by Adrena Ifill as part of the university's Black History Month activities. Fore more information about the free showing of the film in McCool Hall Taylor Auditorium, call (662) 325-2033. Learn more.

Feb. 28 - Mississippi Valley State University Office of Admissions will host a Counselors Workshop at 8:30 p.m. in the Student Union Annex. For more information, call (662) 254-3347.



Feb. 28 - Caroline Herring, a University of Mississippi Southern studies alumna, known as a pre-eminent storyteller of the Gothic South, performs at Thacker Mountain Radio at Off Square Books in Oxford at 5:30 p.m., followed by a show at Proud Larry's (211 South Lamar Blvd.) at 8 p.m. Learn more.

Feb. 29 - The University of Southern Mississippi Gulf Coast and the Sun Herald present U.S. Representative Gene Taylor for the Issues + Answers lecture, "The Insurance Crisis: A Case for Multi-Peril Coverage," at 7 p.m. in the Advanced Education Center auditorium in Long Beach, Miss. Learn more.

March 1 - Bobbie Wrenn Banks, a member of the Women's Action for New Directions, leads a program on the federal budget titled "Women In Charge of the Money" at 12:30 p.m. in Bryant Hall, Room 209. The free program is sponsored by the Sarah Isom Center for Women and Gender Studies. Learn more.

March 1 - Guitarist Suzy Elkins will be among performers at the Roots Reunion Live Radio Music Show presented by the Southern Miss Center for Oral History and Cultural Heritage. The show starts at 7:30 p.m. at Hattiesburg's Saenger Theater and features blues, gospel, folk, and country music. For more information, call (601) 266-4574. Learn more.

Mar. 4-7 - MSU's Greenhouse Tomato Short Course at the Eagle Ridge Conference Center in Raymond will benefit greenhouse vegetable growers and horticulturists. Registration is $125 in advance or $150 at the door. Contact Rick Snyder (601) 892-3731 or RickS@ra.msstate.edu . Learn more.

Mar. 18 - The MSU Extension Service's 4-H therapeutic riding program is taking applications for riders and volunteers. The spring session runs each Tuesday from March 25 through April 29 at the Mississippi Horse Park. Volunteer training is March 18. Contact Mary Riley at (662) 325-1695, or mriley@ext.msstate . Learn more.

Through March 20 - The exhibit, "Retrospective Show of an African-American Photographer," at the Southern Miss Museum of Art showcases the work of photographer and Hattiesburg native Earlie Hudnall. Admission is free. For more information, call the Museum of Art at (601) 266-5200.Learn more.

March 27-28 - Jackson State University's Trent Lott Geospatial and Visualization Research Center will sponsor a two-day course about the principles of manipulating and displaying spatial data. Learn more.

Mar. 30 - Delta State University will present "Chicago" in the Delta and Pine Land Theatre of its Bologna Performing Arts Center at 3:30 p.m. For ticket information, please call the Box Office at (662) 846-4626, or to order tickets online, go to http://bolognapac.ticketsxchange.com . Learn more.

April 4-5 - At the Mississippi State University College of Veterinary Medicine Annual Open House every age group can experience live animal demonstrations and exhibits. Admission is free. Pre-registration especially for groups, is strongly recommended. To schedule tours, call (662) 325-1103. Learn more.