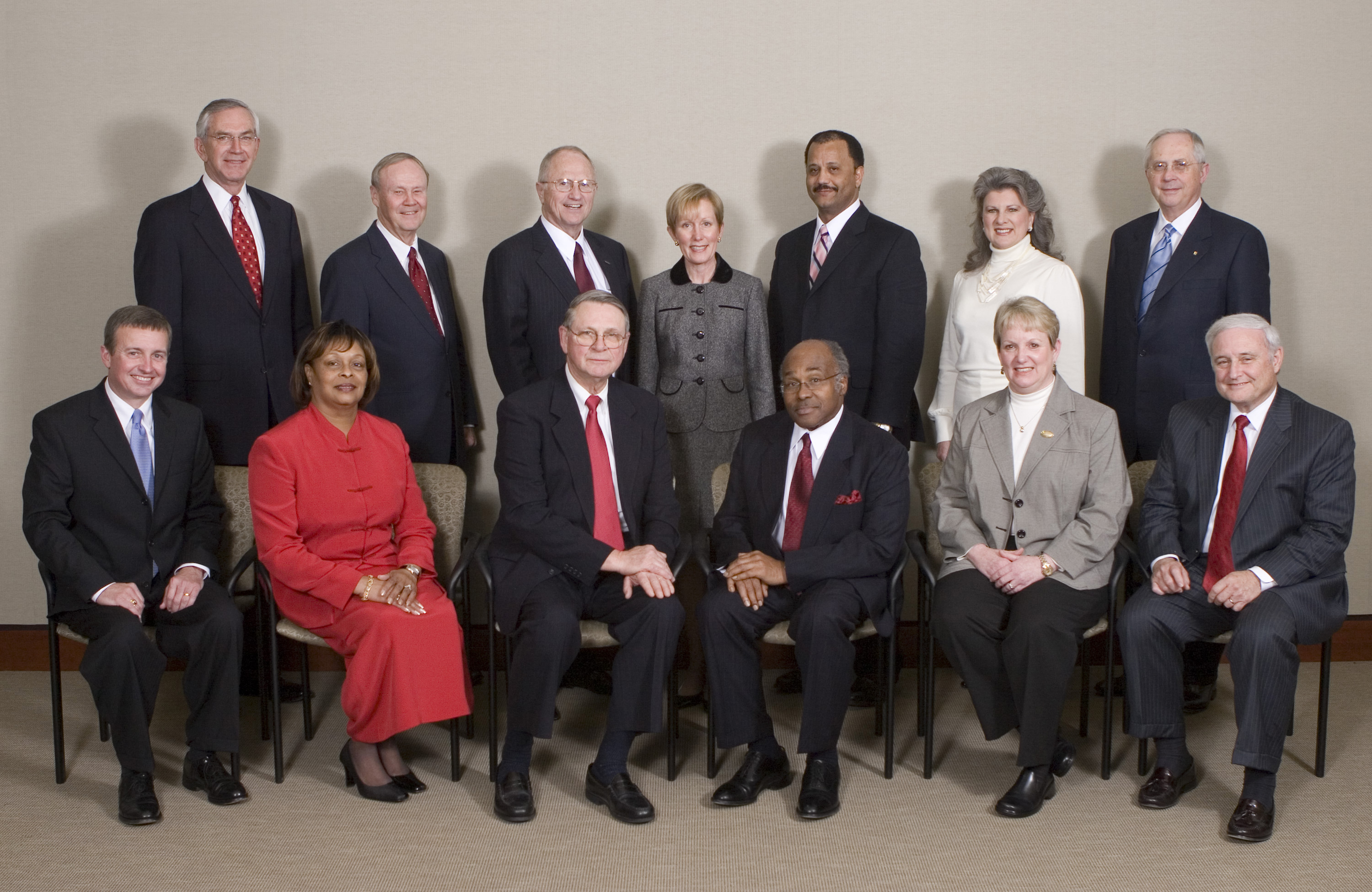 Board of Trustees of State Institutions of Higher Learning

Board Approves New Degree Programs During Monthly Meeting
During its regular monthly meeting, the Board of Trustees of State Institutions of Higher Learning (IHL) approved several new degree programs, including the Bachelor of Science in Building Construction Science degree program within the College of Architecture, Art, and Design at Mississippi State University; the Master of Criminal Justice degree program within the Department of Legal Studies in the School of Applied Sciences at the University of Mississippi; and the Master of Social Work degree program within the Department of Social Work in the School of Applied Sciences at the University of Mississippi. Following a report by Broaddus & Associates, the consulting firm hired by the Board to review land options for the additional University of Southern Mississippi campus to be established on the Gulf Coast, the Board announced that it has closed the solicitation of sites for the additional Southern Miss campus. Further detailed analysis to be performed by the consulting firm was ordered so a fully informed decision can be reached as soon as possible. The next regular meeting of the Board of Trustees will be held Wednesday, March 14, 2007, in the IHL Board Room. Learn more and visit IHL online.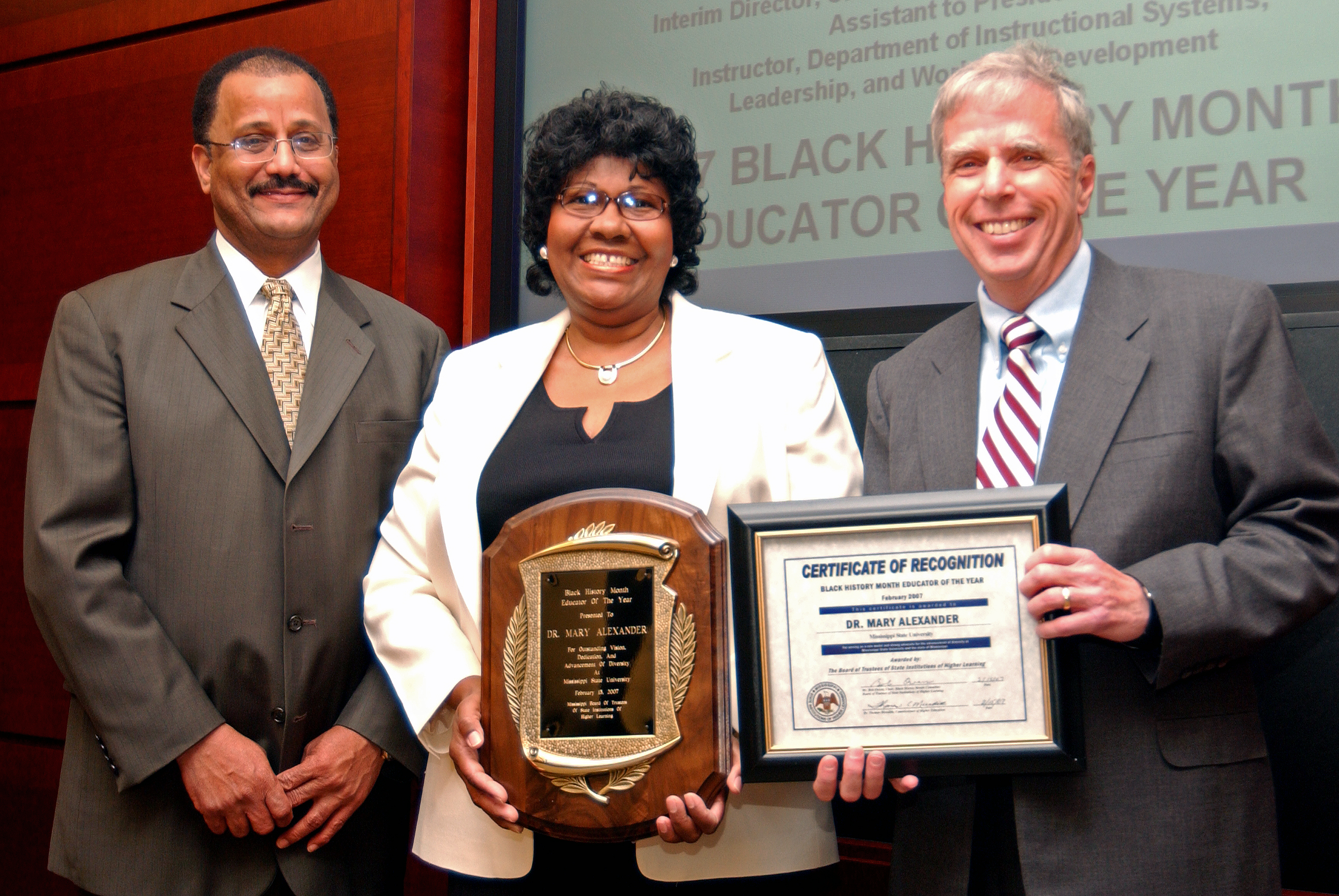 L-R: Trustee Bob Owens, Chair of the Board's Back History Month Committee; Dr. Mary Alexander, 2007 Black History Month Educator of the Year; Dr. Robert H. "Doc" Foglesong, President of Mississippi State University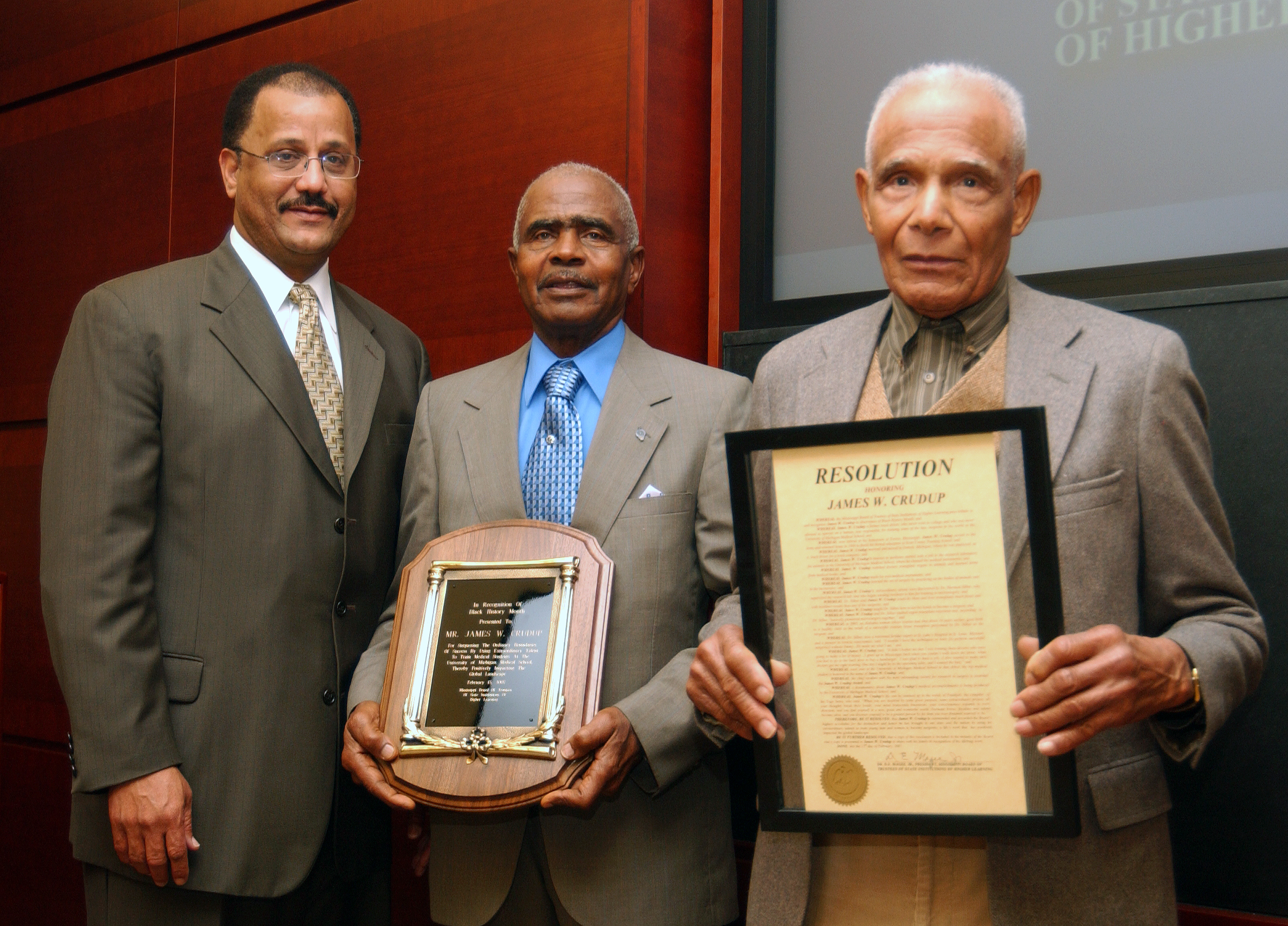 L-R: Trustee Bob Owens, Chair of the Board's Black History Month Committee; Mr. James W. Crudup, 2007 Community Honoree; Mr. Albert Moore, brother of James Crudup

Board Recognizes University Educators in Celebration of Black History Month
In celebration of Black History Month, on Thursday, the IHL Board led by Trustee Bob Owens, Chair of the Black History Month Committee, honored individuals at each of the state's public universities who have significantly contributed to the positive advancement of diversity on campus. The honorees included Dr. Carolyn Dollar of Alcorn State University; Ms. Carla Johnson of Delta State University; Dr. Alferdteen Harrison of Jackson State University; Dr. Walter N. Taylor of the Mississippi State University Division of Agriculture, Forestry and Veterinary Medicine; Ms. Iika T. McCarter of the Mississippi University for Women; Representative Robert G. Clark of Mississippi Valley State University; Dr. Charlotte Fant of the University of Mississippi; Dr. Stanley V. Smith of the University of Mississippi Medical Center; and Dr. Curtis J. Austin of the University of Southern Mississippi. Of the honorees, the Board selected Dr. Mary Alexander, Mississippi State University's interim director of the Office of Diversity and Equity Programs, assistant to the President, and instructor of instructional systems, leadership, and workforce development, as the 2007 Black History Month Educator of the Year. The Board also honored Mr. James Crudup, a Forest, Mississippi native, as the 2007 Community Honoree. Mr. Crudup, a former truck driver, learned medical theory from books and taught himself to perform surgery. After his surgical talents were discovered, he spent the remainder of his working career teaching medical students at the University of Michigan Medical School how to perform surgeries. He is also considered a pioneer in the field of microsurgery.
Dr. Charles Coble Addresses Blue Ribbon Committee
Dr. Charles Coble, a partner in North Carolina's The Third Mile Group, LLC and former vice president for policy programs and studies of the Education Commission of the States, addressed the Blue Ribbon Committee for the Redesign of Teacher Preparation (BRC) in a meeting on Tuesday. In addition to discussing economic factors that have forced changes in general education and teacher preparation, Dr. Coble stressed the importance of partnerships between universities and schools. He also outlined the top ten needs for improving teacher preparation and the strategies for addressing those needs, as identified by the North Carolina initiative to redesign teacher preparation. Following Dr. Coble's presentation, the BRC broke into six teams to assess the current state of teacher preparation in Mississippi. This exercise was a natural follow-up to last month's efforts to identify the ideal teacher for Mississippi's schools. On March 6, the BRC will hear from Dr. William Reaves, executive director of the Center for Research, Evaluation and Advancement of Teacher Education. The Committee will also seek to identify the barriers that exist between the current state of teacher preparation in Mississippi and the ideal. The BRC is a joint initiative of IHL, the Mississippi Department of Education, the Mississippi Board of Community and Junior Colleges, the Governor's office, state legislators, and the Mississippi Economic Council. For more information, contact IHL Assistant Commissioner of Academic and Student Affairs Dr. Lynn House.
IHL Meets with House Appropriations Committee
Members of the IHL Board of Trustees, the institutional executive officers, and Commissioner Thomas C. Meredith met with the House Appropriations Committee Thursday to underscore the importance of higher education in Mississippi and to plead IHL's case for increased funding. Trustee Ed Blakeslee of Gulfport discussed IHL's request for $92.4 million for repair and renovation of the System's facilities, 60 percent of which are over 25 years old. Trustee Aubrey Patterson of Tupelo explained the System's formula for determining how much it requires from the state legislature to operate every year. He noted that the universities desperately need $52.2 million more than the legislature appropriated last year in order to keep the eight main campuses and 12 satellite campuses operating efficiently. Trustee Robin Robinson of Laurel highlighted the urgent need for merit-based faculty and staff salary increases and urged the representatives to commit to a minimum five percent salary increase for three years. Ms. Robinson noted that the average faculty salary in Mississippi is nearly $10,000, or 15 percent, less than the average faculty salary in the neighboring southern states. Trustee L. Stacy Davidson, Jr., of Cleveland explained the need for a state-funded scholarship fund to help two-year college students transfer to the university to complete their baccalaureate degrees. Currently only about 22 percent of the students who enter Mississippi's community and junior colleges transfer to the state's public universities. Commissioner of Higher Education concluded IHL's presentation by exploring the many benefits of higher education. At its most basic, more education means more money for the state and a better quality of life for all Mississippians, he said.


Items included in the "University News" section of the System Review are submitted each week by the universities. The news items are listed in rotating alphabetical order by university.
MISSISSIPPI STATE UNIVERSITY NEWS


MSU Expands Leadership Program with Academic Minor
A recently approved addition to Mississippi State University's (MSU) curriculum will offer a minor in leadership studies to qualified students taking coursework in a specified program of studies. Part of a "leadership continuum" established by university President Robert H. "Doc" Foglesong, the new academic component is among a variety of initiatives designed to help students from high school through graduate school develop critical leadership skills. In addition to an academic leadership component, the "continuum" also includes the G. V. "Sonny" Montgomery Chapter of the Appalachian Leadership Honors Program for second- and third-year MSU students, a "Young Guns" program for rising high school seniors and a "Day One" experience for entering MSU freshmen. The three programs, along with additional components being developed for athletes and graduate students, were conceptualized by Dr. Foglesong, a retired four-star Air Force general. "We believe leadership should extend from the cradle to the chief executive's office, and we believe higher education has a pivotal role to play in fostering leadership skills," Foglesong said. The new academic minor – available to entering freshmen and transfer students – will include courses in ethics, social sciences, and communication. Each participating student must also complete an off-campus internship. Learn more.

'Jane Eyre' Dramatization Next in Annual MSU Lyceum Series

MSU Researcher Assists with Survey Showing Support for R-rating for Films Showing Tobacco

Libba Andrews of MSU Heads Southeast Education Support Group

MSU, Area Musicians to 'Band' for Weekend Concert at University
MISSISSIPPI UNIVERSITY FOR WOMEN NEWS


Grandson of Gandhi to Speak at MUW
Arun Gandhi, the grandson of legendary spiritual leader Mohandas K. Gandhi, will address students of the Ina E. Gordy Honors College at Mississippi University for Women on Thursday, February 22 at 6:30 p.m. The event will be held in the Nissan Auditorium, located in Parkinson Hall. Gandhi was born in apartheid-era South Africa, and because of confrontations he had and his desire to fight back, he was sent to visit his grandfather at the age of 12. During his 18-month stay with his grandfather, Gandhi experienced firsthand the philosophy of nonviolence, which set a foundation for the rest of his life. After arriving in the United States in 1988, Gandhi and his wife founded the M. K. Gandhi Institute for Nonviolence, located at Christian Brothers University in Memphis. The Institute's mission is to "foster understanding of nonviolence and to put the philosophy to practical use through workshops, lectures, and community outreach programs." Gandhi has spoken before hundreds of colleges and universities, as well as corporate and civic organizations. He's spoken in various countries, including Croatia, France, Ireland, Holland, Lithuania, and Nicaragua. Learn more.
MISSISSIPPI VALLEY STATE UNIVERSITY NEWS


MVSU Celebrates Grand Opening of Business Education Building Feb. 19
Mississippi Valley State University (MVSU) will cut the ribbon marking the grand opening of the new Business Education Building on Monday, Feb. 19 at 10 a.m. The building, located on Medgar Evers Street on the east end of campus, marks the first new academic building on the Itta Bena campus in 32 years. Constructed on the site of the former business building, the $10.6 million facility has six classrooms that seat 50 students, one 75-student classroom, two computer labs with seating for 40, a 150-seat tiered presentation auditorium, an office administration lab, reading room, student lounge, workrooms and faculty and administrative offices. The four-story building will serve as academic home to nearly 300 business major undergraduates and 52 graduate students seeking master of business administration (MBA) degrees. The MBA program began in Fall of 2006. Following the ceremony, a tour of the facilities will take place. The public is invited to attend the program and tour. "Based on increased enrollment in the business administration curriculum and with advanced projection for the master in business administration degree, the new building was envisioned," said Dr. Dae S. Lee, dean of MVSU Professional Studies. Learn more.
UNIVERSITY OF MISSISSIPPI NEWS


Mathematics Chair Chosen for National Project in Course Redesign
A University of Mississippi (UM) professor, interested in helping ensure that mathematics education evolves to benefit from new technology, has been chosen to participate in a national effort in course redesign. Tristan Denley, chair and professor of mathematics, is among 20 scholars chosen by the National Center for Academic Transformation for its Redesign Scholars Program in mathematics, statistics and computer science. The three-year national project, funded in part by the Fund for the Improvement of Post-Secondary Education, is intended to facilitate the exchange of ideas, experiences, resources and strategies among higher education institutions. Having redesigned UM's mathematics curriculum over the last couple of years to include computer-aided learning, Denley plans to share his ideas, as well as learn from others. A significant effort in the department's course redesign is the student lab, Computer Aided Learning in Mathematics (CALM), which opened last year. While Denley says mathematicians agree that the best way to learn mathematics is by doing it, computer-aided learning, such as the CALM lab, creates an improved learning environment for students. "Since our course redesign, our students are able to take the new skills that they have seen in lectures and try them out on individualized problems, and get instant feedback on any errors that they might make," he explained. Read more.

Pharmacy Professors Collaborate to Complete Late Colleague's Book

Angela Davis Urges Students to Seek, Make Changes

NFSMI Building to be Named to Honor Former Chancellor Turner

Nominations Open Until March 1 for Campuswide Top Teacher Award
UNIVERSITY OF MISSISSIPPI MEDICAL CENTER NEWS


Annual Event "Brightens" the Smiles, Lives of Underserved Children
Bundled in winter coats and hats, children from Johnson and Galloway Elementary schools in Jackson walked single file into the University of Mississippi School of Dentistry on February 2 for free comprehensive oral evaluations. They left with more than just brighter smiles. They, and other children around the state, received dental kits filled with toothbrushes, toothpaste, floss, hygiene aids and health information for their families. It was Give Kids a Smile Day/National Children's Dental Access Day, an American Dental Association-sponsored national program. For some of the children, this was the first time they had received any dental services; and for that reason, Mississippi Senator Hillman Frazier of Jackson praised the event. Read more.

Parillo Draws on Expertise to Consolidate University Physicians' Practice Plan

Loscalzo Set to Deliver the Arthur C. Guyton Distinguished Visiting Lecture
UNIVERSITY OF SOUTHERN MISSISSIPPI NEWS


Southern Miss Film Program to Move to Gulf Coast
The University of Southern Mississippi's film program will move from Hattiesburg to the university's Gulf Coast Student Service Center in Gulfport in August 2007, the first step in the university's plan to build a full-scale academic program in entertainment industry studies on the coast. The relocation of the film program and the creation of an Entertainment Industry Center are designed to capitalize on the state's efforts to attract the entertainment industry to the coast, according to Denise von Herrmann, interim dean of the College of Arts and Letters. "The film program's move is the first step toward the creation of an academic center that will prepare students for work in the entertainment industry," von Herrmann said. Film students generally complete their major in a two-year sequence of courses that includes cinematography, editing, scriptwriting, film theory, and film history. The film program is part of the School of Mass Communication and Journalism. A new academic undergraduate major in entertainment industries, introduced on the Hattiesburg campus last fall, will join the film program on the coast once a new facility is built, von Herrmann said. "The plan is to build a state-of-the-art facility on the Gulf Park campus," she said. Learn more.

Southern Miss Faculty Member Honored by Spain's University of Jaen

Southern Miss Student Newspaper Staff Wins Awards

40th Annual Children's Book Festival Set for March 28-30 at Southern Miss

ShareCare Program Targets Elderly Impacted by Hurricane Katrina
ALCORN STATE UNIVERSITY NEWS


High School Aspiring Musicians Visit Academic Resort with Former Ms. Alcorn
On February 12, a group of students and faculty members of Madison Palmer High School of Marks, Mississippi, visited Alcorn State University. Among the chaperones was Kimberly Morgan, one of the brightest and most celebrated of Alcorn's alumni, Ms. ASU 2004-2005, who is currently a music teacher in Madison Palmer High School. Within a year from graduating from Alcorn, she brought her students to savor the atmosphere of the academic resort, renowned for its professional values and lifelong experiences. The visit started with a tour of the campus facilities and lunch. The highlight of the visit was a Concert Choir performance. Ms. Morgan sang with the choir during her entire tenure at Alcorn. The student group enjoyed a wonderful performance, and Ms. Morgan herself stepped in, took the lead and sang the breathtaking note in one of her favorite gospels "Order My Steps." Meanwhile, some of the high school students, aspiring vocalists and musicians, got a chance to be auditioned by the Fine Arts Department faculty. When the trip was drawing to its end, Ms. Morgan confessed she was so delighted to see her alma mater that this deja-vu feeling rendered her tearful. She said she was happy that her students had a chance to visit Alcorn State and she hoped some of them will come here to pursue their degrees. Learn more.
DELTA STATE UNIVERSITY NEWS


Hilpert Resting Comfortably after Knee Surgery
Delta State University President, Dr. John M. Hilpert is resting comfortably following left knee replacement surgery Wednesday. Performed by Dr. Walter Shelton of Mississippi Sports Medicine at River Oaks Hospital in Jackson, Hilpert is expected to be in the hospital for a few days, with additional recovery time at home. With knee replacement surgery, regular physical therapy is necessary to aid in the healing process. "I thank everyone for their prayers and well wishes, and I look forward to getting home," Hilpert relayed. During Hilpert's absence, Delta State Provost and Vice President for Academic Affairs, Dr. John Thornell will be the senior administrator responsible for the university's day-to-day operations. Learn more.

'In Their Own Words: The History of Delta Black Farmers' Opens at Delta State's Capps Archives and Museum

Local Artists to Showcase Talents in the BPAC's 'Delta Review'

Delta State to Host Women's Leadership Conference, Nationally-Acclaimed Sheehy to Keynote

Lady Statesmen Continue Climb in National Rankings
JACKSON STATE UNIVERSITY NEWS


Study Reveals JSU'S Economic Impact On Metro Jackson
A recent study by Jackson State University (JSU) researchers estimates that JSU has had an economic impact that more than exceeds its cost to taxpayers. JSU's tax subsidy was approximately $33.8 million, 2004 figures show. However, recent research indicates that in the Jackson metro area, JSU had approximately $170.1 million in output, which is the production of goods and services. It also produced 2,086 jobs and $56.4 million in labor income. The study, titled "The Economic Impact of Jackson State University," was released this month in The MURC Digest , a publication of JSU's Mississippi Urban Research Center. "To the extent that JSU as a project creates benefits that exceed its costs, it improves the economic status quo by affecting favorable changes in the allocation of goods and services that determine the well-being of households in the state of Mississippi, the relevant regional economy and the city of Jackson," researchers wrote. JSU President Ronald Mason, Jr., said that Jackson State, as a nearly $200 million company in the heart of Mississippi's capital city, is an economic driver. "We are a big business and the study shows that." Learn more.

JSU'S CSET Hosting Lecture Series, Retirement Gala

JSU Presenting 2007 Technology Fest

JSU Seeking Judges for Science, Engineering Fair

JSU Celebrating 67TH Annual Song Festival


Feb. 8 - Mar. 9 - The University of Southern Mississippi Museum of Art will feature two simultaneous exhibitions of contemporary printmaking. The exhibitions are "Sprawl", a collection of works by University of Northern Iowa professors Tim Dooley and Aaron Wilson and "Native Perspectives on the Trail: A Contemporary American Indian Art Portfolio," featuring prints by 15 American Indian artists. Learn more.

Feb.16 - 17 - Mississippi State University's Riley Center in Meridian will host Lyle Lovett, John Hiatt, Joe Ely, and Guy Clark during a two-day concert. Tickets are $62 and $68. For more information call the box office at (601) 696-2200. Learn more.

Feb. 18 - Mississippi State University's Department of Music will feature faculty recitals at Starkville's Episcopal Church of the Resurrection, 105 North Montgomery St. Lana Johns and Leanne Fazio will perform on flute and organ. For more information, contact Lana Johns at (662) 325-2873. Learn more.

Feb. 19 - Delta State University's Delta Chamber Players will perform in concert at 7:30 p.m. in the Recital Hall of the Bologna Performing Arts Center. The concert is free and open to the public. For more information, please call the Delta State music department at (662) 846-4615.

Feb. 19 - 24 - Mississippi State University will hold a number of events throughout the week to celebrate National Engineers Week. All engineering students and faculty are invited to attend the events sponsored by the Engineering Student Council. For more information contact Christina Matson at (662) 717-0254. Learn more.

Feb. 20 - Delta State University will presents trombone soloist Micah Everett in a guest artist recital at 7:30 p.m. in the Recital Hall of the Bologna Performing Arts Center. The concert is free and open to the public. For more information, please call the Delta State music department at (662) 846-4615.

Feb. 20 - American pianist Paul Kenyon performs at 8 p.m. at the University of Mississippi in Nutt Auditorium at Scruggs Hall as part of the Piano Series at Ole Miss. Learn more.

Feb. 21 - Mississippi Valley State University hosts Black History Convocation, featuring speaker Roslyn Brock, vice president of the NAACP, at 10 a.m. in the H.G. Carpenter auditorium.

Feb. 21 - Jackson State University's Division of Student Life/Student Life Counseling Services will sponsor, "Roar for Healthy Minds and Bodies: A JSU Wellness Fair" from 9 a.m. to 3 p.m. at the Jacob L. Reddix Campus Union. For more information, call Frankie Pellerin at (601) 979-2203. Learn more.

Feb. 21 - 24 - Jackson State University's Department of Speech Communication and Theater will present the comedy, "One Monkey Don't Stop No Show" at 7:30 p.m. at the Rose McCoy Auditorium. There will be a special performance for local schools at 10 a.m., Friday, Feb. 23. Admission is $5. For more information, call (601) 979-8612. Learn more.

Feb. 23 - The University of Mississippi presents the powerful and innovative repertory group Hubbard Street Chicago in performance at the Ford Center for the Performing Arts. The 8 p.m. show features new works by international choreographers, including Marguerite Donlon, William Forsythe and Artistic Director Jim Vincent. Learn more.

Feb. 24 - Disney characters from "Cinderella Kids" and "The Jungle Book Kids" come to life on stage in "Discover Theater!" at the University of Mississippi's Ford Center for the Performing Arts. The hour-long production, set for 1:30 and 6 p.m., is about six kids exploring their imaginations through theater. Learn more.

Feb. 26 - Mar. 2 - The Mississippi University for Women Department of Health and Kinesiology will host its annual Women's Health Awareness Week. Various events will be scheduled to bring attention to women and health. More than 60 vendors will participate in the health fair on Feb. 28. Learn more.

Mar. 7 - 14 - The Alcorn State University Concert Choir is going to give appreciation concerts to honor memory of Dr. Clinton Bristow, Jr., the late president of Alcorn. The choir will be singing in churches and high schools of St. Louis, MO, and Chicago, IL. Learn more.

Apr. 11 - 12 - Delta State University will present its Third Annual Research and Scholarship Symposium in the Henry J. Jacob Conference Center of James M. Ewing Hall on campus. For more information, contact John Green at (662) 846-4069 or (662) 846-4334. Also, you may visit the Faculty Research Committee website.

Apr. 12 - Mississippi Valley State University hosts Spring Transfer Day on the Itta Bena campus. For more information, contact Admissions at (662) 254-3347.