In the wake of yesterday's shooting at Northern Illinois University, Mississippi Commissioner of Higher Education Dr. Thomas Meredith issued the following statement on behalf of the Board of Trustees of State Institutions of Higher Learning:
"The IHL Board extends our deepest sympathies to the Northern Illinois University family in this very difficult time. Our hearts ache for the families and friends of those lost and for the community as it deals with this tragedy."
Strategic Initiative Summit: State Needs More Baccalaureate Grads
On Wednesday, February 13, approximately 300 university representatives, community and business leaders, IHL Board members, and executive office staff gathered at Jackson's TelCom Center for a Strategic Initiative Summit focused on increasing the number Baccalaureate graduates of even higher quality in the state. Kati Haycock, president of The Education Trust, led the morning session with a discussion of the serious national need for improved quality in higher education for all students and expanded opportunities for minority and low-income students. State Economist and IHL Assistant Commissioner for Planning and Research Dr. Phil Pepper then provided a detailed analysis of how higher education benefits the state economically. For every state dollar invested in education, he explained, the state loses 29 cents on high school dropouts, gains 21 cents on high school graduates, gains 49 cents on citizens with some college education, and gains $1.13 on baccalaureate graduates. "The most effective economic development tool in the state of Mississippi is the education of its people," said Dr. Pepper. IHL Assistant Commissioner for Community and Junior College Relations Dr. Reginald Sykes offered Summit participants a look at the "pool of potential," noting that universities in the state can improve the transfer rate by creating a culture of transfer, reducing barriers to transfer, and offering more need-based aid, among other things. Mississippi Commissioner of Higher Education Dr. Thomas C. Meredith delivered the luncheon keynote address, in which he outlined three shifts that have impacted higher education in recent years and challenged Summit participants to make sure that every university student is successful in completing their degree. Click here to read the Commissioner's comments. Visit the Strategic Initiative website for more information and to access all Summit presentations. Contact Assistant Commissioner for Governmental Relations Dr. Jim Borsig for more information.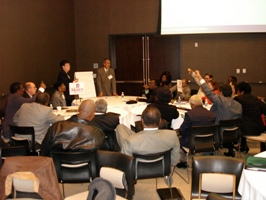 The Alcorn State University team takes an up or down vote during the SWOT analysis exercise at the Strategic Initiative Summit.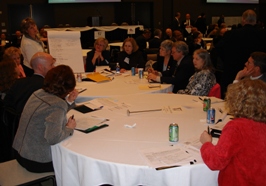 The Mississippi University for Women team discusses the universities strengths, weaknesses, opportunities, and threats.

Universities Drive System-wide Strategic Initiative
Wednesday afternoon, as part of the IHL Board's Strategic Initiative Summit, teams of university faculty and administrators identified university-specific strengths, weaknesses, opportunities, and threats (SWOT). The SWOT analyses were conducted as part of the process of developing university-level strategies that will enable the System to meet the Board's goal to increase the number of Baccalaureate graduates of even higher quality in the state. The Board first framed its plans for the Strategic Initiative in October 2007, and the institutional executive officers began preliminary reviews on their campuses in November. A System-wide steering committee and university planning teams were named in January. Moving forward, the universities will submit action plans and stretch goals in late March 2008, the review will be completed by the end of April, and the stretch goals and action plans will be considered by the Board of Trustees in June. For more information about the System Strategic Initiative, contact Assistant Commissioner for Governmental Relations Dr. Jim Borsig.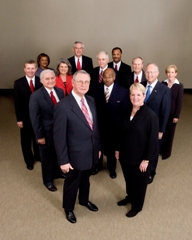 IHL Board of Trustees

IHL February Board Meeting Next Week
The IHL Board will hold various committee meetings next Wednesday, February 20, and its regular monthly meeting on Thursday, February 21. On Wednesday, the Gulf Coast Committee will meet at 1:00 p.m.; the Real Estate and Facilities Committee will meet at 1:45 p.m.; the Budget, Finance and Audit Committee will meet at 2:15 p.m.; the Educational Policies and Programs Committee will meet at 2:45 p.m.; and the Governance Committee will meet at 3:45 p.m. All committees will meet in the IHL Board Room in the Universities Center, 3825 Ridgewood Road, Jackson, MS, 39211. On Thursday, the Board's regular monthly meeting will begin at 8:30 a.m., also in the IHL Board Room in the Universities Center. Various Board committees, including Educational Policies and Programs; Budget, Finance, and Audit; Real Estate and Facilities; Governance; Legal; Gulf Coast; and Strategic Planning will meet as part of the Board meeting. In addition, the Board will receive a generous donation from AT&T to use toward its comprehensive higher education website, currently in development. The Board will also celebrate members of the university community during its annual Black History Month recognition program, and will hear a presentation on economic development from Dr. Alice Clark, vice chancellor for research and sponsored programs at the University of Mississippi. For all committee meetings and the Board meeting, executive sessions may be held in accordance with the Open Meetings Act. The meeting will be available for viewing in real-time via live webcast on the IHL website.

Items included in the "University News" section of the System Review are submitted each week by the universities. The news items are listed in rotating alphabetical order by university.
ALCORN STATE UNIVERSITY NEWS


Alcorn State University School of Nursing Faculty Achievements
Ms. Sarah Ware, a Department of Baccalaureate faculty member in the School of Nursing, authored the article "Developing a Self-Concept of Nurse in Baccalaureate Nursing Students," which was recently accepted for publication in the International Journal of Nursing Education Scholarship. Dr. Diane Blanchard's article "Retention of Registered Nurses in Specialty Areas" has been accepted for publication in Nurse Manager. Dr. Blanchard is a Graduate Department faculty member in the School of Nursing. Learn more.

Alcorn State Completes Emergency Management Certification

Former Miss Alcorn State University Wins Miss Black Louisiana USA 2008
DELTA STATE UNIVERSITY NEWS


John Grisham Makes an Indelible Mark on Delta State University Athletics
It was an event 34 years in the making and what an event it turned out to be! Over 600 attended "John Grisham on American Treasures: Books, Baseball, and 'Boo'" on Monday night at the Bologna Performing Arts Center on the campus of Delta State University. The event brought together the best of the literary world, John Grisham, with one of baseball's greatest ambassadors, Dave "Boo" Ferriss. Learn more.

Delta State Admissions Hosting DSU Day

Delta State Hosts 2008 New South Intercollegiate Swim Conference Championships
JACKSON STATE UNIVERSITY NEWS
Jackson State University Online
www.jsums.edu
MISSISSIPPI STATE UNIVERSITY NEWS


Japanese 'Suiboku-Ga' Art Form Making Southern Debut at MSU
A centuries-old type of Japanese brush painting will be on display for the first time to the American public during a Feb. 25-March 21 exhibition at Mississippi State. Artist Tsugako Shimada will be in attendance for opening events in Giles Hall, home of the College of Architecture, Art and Design. Titled "Tsugako Shimada Suiboku-Ga Ten," the month-long display in the building's main gallery of her Suiboku-Ga, or sumi-e, creations is being sponsored by the university's art department, Starkville Area Arts Council, and Starkville art patrons Robert and Lucy Phillips. A public reception in Shimada's honor will be held in the gallery 5:30-7:30 p.m. on Feb. 28. Additionally, Shimada will demonstrate her techniques on the Feb. 27 during a 3:30-5:00 p.m. program also open to the public in 122 Giles, the Fazio Jury Room. The exhibition features large paper screens and framed images of vast seasonal landscapes. "Sublimity and serenity are moods achieved by Mrs. Shimada's virtuosic performances of hand, mind, and heart," said art professor Brent Funderburk. "The works represent dramatic but tranquil visions of the interaction between natural and manmade environments in her native Japan." Lucy Phillips, a personal friend and student of Shimada, said this particular art form "is almost inaccessible to foreigners." Students must apprentice themselves to a teacher, with the techniques passed down through generations only from personal instruction, she explained. Learn more.

MSU Helping 'Homegrown' Talent Find Careers Close to Home

MSU Well-represented at High-voltage Research Conference in China

Paul Grimes of MSU to Lead Economic Educators Group
MISSISSIPPI STATE UNIVERSITY DIVISION OF AGRICULTURE, FORESTRY AND VETERINARY MEDICINE NEWS


MSU-Coordinated Dixie National Sale Nets $242,000 in Scholarships
Buyers set two records on Feb. 7 as they purchased at auction the 37 champion sale animals raised last year by 4-H and FFA youth in Mississippi. The Dixie National Sale of Junior Champions raised $242,234 for the youth. Buyers broke the previous price per pound records by a dollar each for hogs and lambs, and matched the record for steers. Dean Jousan, 4-H livestock specialist with the Mississippi State University Extension Service, said the money raised will help the youth fulfill college and career goals. "The Sale of Junior Champions is a way to reward the kids who have worked hard through the year with their market animal projects," Jousan said. "The buyers are more than willing to support a good cause, and that's what they're doing when they support our youth." The Barbours were on hand to buy several market animals. "The 4-H program and the FFA program instill in young people what we all want instilled in our young people," Marsha Barbour said. "The children learn responsibility and respect for their animals and their peers. The kids here give up so much to get where they are." Learn more.

MSU Graduate Student Tracking the Crow of the Sea

MSU-Tested Gauges Can Reduce Rice Production Water Use

MSU Faculty Member, Student Take Top Regional Honors
MISSISSIPPI UNIVERSITY FOR WOMEN NEWS


MUW Center for Creative Learning Appropriated $292,000
The Roger F. Wicker Center for Creative Learning located at Mississippi University for Women was recently appropriated $292,000 to continue its mission of providing innovations in teaching, learning opportunities, service and educational research. Since its inception in October of 2004, the Wicker Center has provided programs and services to more than 60 school districts and 40 counties in Mississippi, according to Dr. Suzanne Bean, director. More than 4,500 students and 1,700 teachers have benefited from these programs and services. The center also has served more than 1,500 parents of K-12 students. Bean said the idea of the center is that learning never stops. "Through the center, we are helping people of all ages discover and rediscover the joy of learning." The center's goals are to develop and implement research-based programs and services for K-12 learners; to strengthen parenting skills and foster involvement for parents of K-12 learners; to provide teachers with professional opportunities and effective strategies for differentiating instruction; and to connect communities with schools through partnerships for learning. Funded by a congressionally-directed grant, the facility is named after Congressman Roger F. Wicker, who was very instrumental in helping MUW to secure monies to establish it. Learn more.
MISSISSIPPI VALLEY STATE UNIVERSITY NEWS


MVSU Named to President's Higher Ed Community Service Honor Roll
Mississippi Valley State University is among 391 schools to receive presidential recognition for extraordinary contributions to service in their communities in the second annual 2007 President's Higher Education Community Service Honor Roll. Community service is incorporated into the curriculum at The Valley. Freshmen students must volunteer 60 hours of community service. Transfer students must volunteer 40 hours of community service. "Our mission at Valley is to inspire, encourage, and support students and faculty in their pursuit of academic excellence," said Theresa Rash, director of MVSU's Office of Community Service/Service Learning. "To be recognized on the federal level is an honor. But, in turn, it has been an honor for these students to participate in civic engagement and build lifelong community relationships," Rash said. Recently, MVSU students worked in the Ninth Ward in New Orleans, an area devastated by Hurricane Katrina. Last spring, students worked on the Mississippi Gulf Coast in areas also destroyed by the hurricane. In addition, students work throughout the Mississippi Delta in a variety of projects, including Habitat for Humanity, the Boys and Girls Club, literacy programs, and volunteer tax preparation services, to name a few. Learn more.
UNIVERSITY OF MISSISSIPPI NEWS


UM Enters Partnership with Jordan University of Science and Technology
On its name alone, it's not hard to figure out which academic fields are emphasized at the Jordan University of Science and Technology (JUST). But thanks to a burgeoning relationship with the University of Mississippi, the Middle Eastern school is seeking to broaden the scope of its offerings. Leaders from JUST met with Ole Miss officials Tuesday in Oxford to sign an agreement that creates exchange opportunities for faculty, students, and researchers. "The most important thing about an agreement like this is that it puts our two institutions together to exchange experiences," said Wajih M. Owais, president of JUST. "Both our university and UM can benefit culturally, scientifically, and in other ways. I'm really proud to have this agreement signed, and we hope this will open many doors for cooperation between the two universities." The agreement provides a framework for the two institutions to work together, said Michael Metcalf, UM associate provost for international affairs. "Now we're going to drill down into the details," Metcalf said. "Over the coming months and years, we'll work together to develop the specifics of the relationship. We're really thrilled about the prospects." The agreement is the latest development in an ongoing relationship with the Middle Eastern nation, a relationship established in 2006 when His Majesty King Abdullah II of Jordan spoke on the Oxford campus. Learn more.

Honors College Sophomore Chosen for Prestigious Washington Internship

Forensics Team Wins Regional Speech Contest at LSU

Center Approves Campus Disaster Warning Equipment Purchases, Urges Preparedness

Pharmacy Administration Recognizes Industry Pioneer as Alumnus of the Year
UNIVERSITY OF MISSISSIPPI MEDICAL CENTER NEWS


More Than 1,200 Children Receive Dental Care at UMC's GKAS Event
Nakeria Williams, a third-grader at Johnson Elementary School in Jackson, brushes her teeth every morning. After getting her teeth cleaned and evaluated by dentists at the School of Dentistry at the University of Mississippi Medical Center, she now plans to also start brushing her teeth at night. Williams was one of 1,200 children from pre-kindergarten through fifth grade at Galloway and Johnson Elementary Schools in Jackson and T.Y. Fleming Elementary School in Minter City to receive free preventive dental treatment Feb. 1 as part of the national Give Kids a Smile (GKAS) event founded by the American Dental Association. Learn more.

Division of Information Systems Taps Singleton, Nowell for Leadership Roles
UNIVERSITY OF SOUTHERN MISSISSIPPI NEWS


Noetic Technologies Seeks Entries for Invention Competition at Southern Miss
Noetic Technologies Inc. of Hattiesburg is seeking entries for the fourth annual "Invent Your Future" competition this spring with an eye toward identifying and fostering ideas for potential commercial development. Teams will compete for $10,000 in prize money that could help jumpstart their innovative ideas. The technology-oriented competition is designed to identify entrepreneurial ideas in Mississippi and the surrounding region and to help nurture their commercial potential. Participation is open to area high school and college students. The deadline for submissions is Feb. 29. A maximum of eight teams will be selected for the final competition that is slated for 8:30 a.m. on March 25 at the Thad Cochran Center at The University of Southern Mississippi. Finalists will make a 15-minute presentation and have a five-minute question-and-answer session with a panel of three external judges who will select the winner. The event is hosted in conjunction with the Southern Miss College of Science and Technology and other sponsors. Competition rules, entry form, and additional information are found online at www.noetictechnologies.com/inventyourfuture. Learn more.

Southern Miss Business School Accreditation Reaffirmed by International Agency

Southern Miss Nursing Students Score Above National Average on Licensing Exam

Southern Miss Professors Take on Editorship of International Tourism Journal

Dresses on Their Way to Prom Queens Across State Thanks to Southern Miss Effort
UNIVERSITY OF SOUTHERN MISSISSIPPI GULF COAST NEWS


Political Science Professors Co-edit Book on U.S. and the Middle East
Jack Covarrubias, visiting assistant professor of political science, and Tom Lansford, assistant dean in the College of Arts and Letters and associate professor of political science, are co-editors of the recently published book, Strategic Interests in the Middle East: Opposition or Support for U.S. Foreign Policy. The book, published by Ashgate in the United Kingdom, explores the Middle East and the international politics that surround the region. Through a comprehensive study, Covarrubias and Lansford have analyzed important issues concerning the Middle East, U.S. foreign policy, and international security issues. Robert P. Watson of Florida Atlantic University said the book "manages to succinctly identify, explore, and explain the interactions with, and reactions to, U.S. foreign policy in the region by a number of nations in Europe, Asia, and the Middle East, and does so in an engagingly well written, balanced effort." Learn more.

Southern Miss Gulf Park Campus to Host Piano Concert


Feb. 15-22 - Mississippi State University's Department of Art presents recent art works by David Lawrence at Giles Architecture Building Gallery from 8 a.m. to 5 p.m. Paintings by the artist will be on display at the gallery. For more information, call (662) 325-2075. Learn more.

Feb 16 - Alcorn State administrators and staff will receive Emergency Management certificates from Homeland Security representatives on campus during the women's basketball game half-time. Learn more.

Feb. 16 - About 100 high school juniors and seniors from across Mississippi are expected to compete in the National History Day Competition, set to begin at 9 a.m. in Conner and Holman halls at the University of Mississippi. The public is invited to attend at no charge. Learn more.

Feb. 16 - Southern Miss will host the first ever Mississippi Flute Day for area students and teachers. Activities run from 9 a.m. to 6 p.m. For more information, call (601) 266-5093 or see www.mississippifluteday.org . Learn more.

Feb. 18 - Based on the true story of Argentina's infamous first lady Eva Peron, the musical production "Evita" is to be performed at the University of Mississippi's Ford Center for the Performing Arts. Told through song and dance, the story comes to life at 8 p.m. For tickets, call (662) 915-7411. Learn more.

Feb. 20 - The University of Mississippi's Kennon Observatory hosts an open house to view a rare total lunar eclipse, which begins at 7:43 p.m., becomes total from 9 to 9:51 p.m., and ends at 11:09 p.m. Telescopes also are to be available to view Saturn and other objects of interest. Admission is free. Learn more.

Feb. 21 - Mississippi State University's Gender Studies Program presents the second part of its lecture series at 11 a.m. at Rice Hall's Women's Resource Center. This free event has Dr. Emory Morrison speaking about "Family and Gender (In)equity in Early Academic Careers." Learn more.

Feb. 21 - Mississippi State University's President's Commission on the Status of Minorities presents the university's 2008 Diversity Awards program at 2 p.m. in Mitchell Memorial Library's John Grisham Room. For more information, contact Walter Taylor at (662) 325-0233. Learn more.

Feb. 21 - MSU's North Mississippi Research and Extension Center Advisory Meeting brings together agricultural producers from 22 northeast Mississippi counties in Verona. For more information, call (662) 566-2201. Learn more.

Feb. 21- 24 - Southern Miss Theatre presents the musical "Songs for a New World" at 7:30 p.m. in the Martha R. Tatum Theatre. For tickets, call (601) 266-5418. Tickets for adults are $12; faculty, staff, and seniors are $10; and students are $6. There is a 2 p.m. matinee on Feb. 24. Learn more.

Feb. 22 - The University of Southern Mississippi Gulf Coast will host a piano concert by two graduate students from the School of Music. Mary Chung and Amanda Virelles will perform at 7 p.m., in the auditorium of the Advanced Education Center on the Gulf Park campus in Long Beach. Learn more.

Feb. 24 - The Southern Miss faculty ensemble Promenade will present a free concert at 2:30 p.m. at Parkway Heights United Methodist Church in Hattiesburg. Learn more.

Feb. 29 - The University of Southern Mississippi Gulf Coast and the Sun Herald present U.S. Representative Gene Taylor for the Issues + Answers lecture, "The Insurance Crisis: A Case for Multi-Peril Coverage," at 7 p.m. in the Advanced Education Center auditorium in Long Beach, Miss. Learn more.

Mar. 27 - Delta State University will present "The Very Hungry Caterpillar" Learn more.

Mar. 4-7 - MSU's Greenhouse Tomato Short Course at the Eagle Ridge Conference Center in Raymond will benefit greenhouse vegetable growers and horticulturists. Registration is $125 in advance or $150 at the door. Contact Rick Snyder (601) 892-3731 or RickS@ra.msstate.edu . Learn more.

Mar. 18 - The MSU Extension Service's 4-H therapeutic riding program is taking applications for riders and volunteers. The spring session runs each Tuesday from March 25 through April 29 at the Mississippi Horse Park. Volunteer training is March 18. Contact Mary Riley at (662) 325-1695, or mriley@ext.msstate . Learn more.