Delta Revitalization Task Force Issues First Report
During the 2006 Legislative Session, a special task force was commissioned to revitalize the Mississippi Delta Region, which includes all or part of 18 counties in the western part of the state between the Mississippi River and the Yazoo River. The task force, whose work is coordinated by IHL's University Research Center Department of Long Range Economic Development Planning, aims to address the issues that have historically prevented the people of the Delta from experiencing the quality of life, economic growth, and development enjoyed by other regions of the state. The task force began its work in June 2006 by holding public hearings throughout the Delta region, which resulted in six issue groups from which the task force developed a list of seven priorities. These priorities are outlined in the group's first report,
Mississippi Delta at the Crossroads
, which was presented to the Mississippi Legislature and Governor just a few weeks ago at the beginning of the 2007 Legislative Session. The priorities of the task force, outlined in the report, include a focus on improving housing in the Delta Region; the creation of a new economic incentive zone for the Delta Region; a focus on Pre-Kindergarten through 3rd grade education with an effective daycare component; the development of a cultural tourism initiative for the Delta Region; funding for an aggressive marketing campaign on the attributes of the Delta Region; development of a mandatory health insurance plan for individuals 0 to 18 years old; and development of and funding for a teen pregnancy prevention and parental development initiative. For more information, contact Debra Anderson in the Department of Long Range Economic Development Planning at (601) 432-6264 for more information.
IHL Asks Legislature for Commitment to Increase Faculty/Staff Salaries
If you talk to any savvy businessperson, they will tell you that to attract and retain the best possible workforce, you must offer competitive salaries and the opportunity for consistent raises based on performance. The tremendous benefits to the company are well worth the price. For this reason, IHL is asking the Mississippi Legislature to commit to a minimum five percent raise for university faculty and staff for three consecutive years. Despite a highly appreciated 3.75 percent increase last year, on average, Mississippi university faculty still make 15 percent below the regional average. In fact, in 2006, the average faculty salary in Mississippi's universities was nearly $10,000
less
than the average faculty salary in the 16 states that make up the Southern Regional Education Board (SREB). Of the state's three public education entities (K-12, the Community and Junior Colleges, and IHL), IHL is the furthest away from the average of our Southern counterparts. K-12 teacher salaries are approximately 6.4 percent below the SREB average, and community and junior college faculty salaries are approximately 8.7 percent below the average. Paying low faculty salaries actually costs our state far more than the cost of paying competitive salaries and offering the opportunity for consistent raises based on performance. It costs our state in lost faculty - "brain drain," lost students, and lost business. When our best teachers leave the state for higher wages, and the best students leave the state for better instructors, Mississippi loses ground in the competition for the next auto manufacturing plant, biotech corporation, or other industrial firm that is relying on a quality higher education system that generates a high quality workforce. The cycle is destructive, and Mississippi cannot afford to lose high wage jobs that translate into an increased tax base and additional state revenues, all of which improve the quality of life for Mississippi residents.
IHL Office of Research and Planning Releases Reference Documents
The IHL Office of Research and Planning has recently released the 2006 Fall Enrollment Factbook, as well as the 2007 IHL System Profile. The Fall Enrollment Factbook offers total enrollment figures as well as enrollment by level, gender, race, academic program, student's origin, county and state residence, and full-time or part-time attendance levels. The System Profile provides an overview of the System in terms of funding, salaries, budget requests, and student financial aid. It also highlights the mission of the System and the system-wide goals and priorities. Contact Christian Pruett in the Office of Research and Planning at (601) 432-6445 for more information.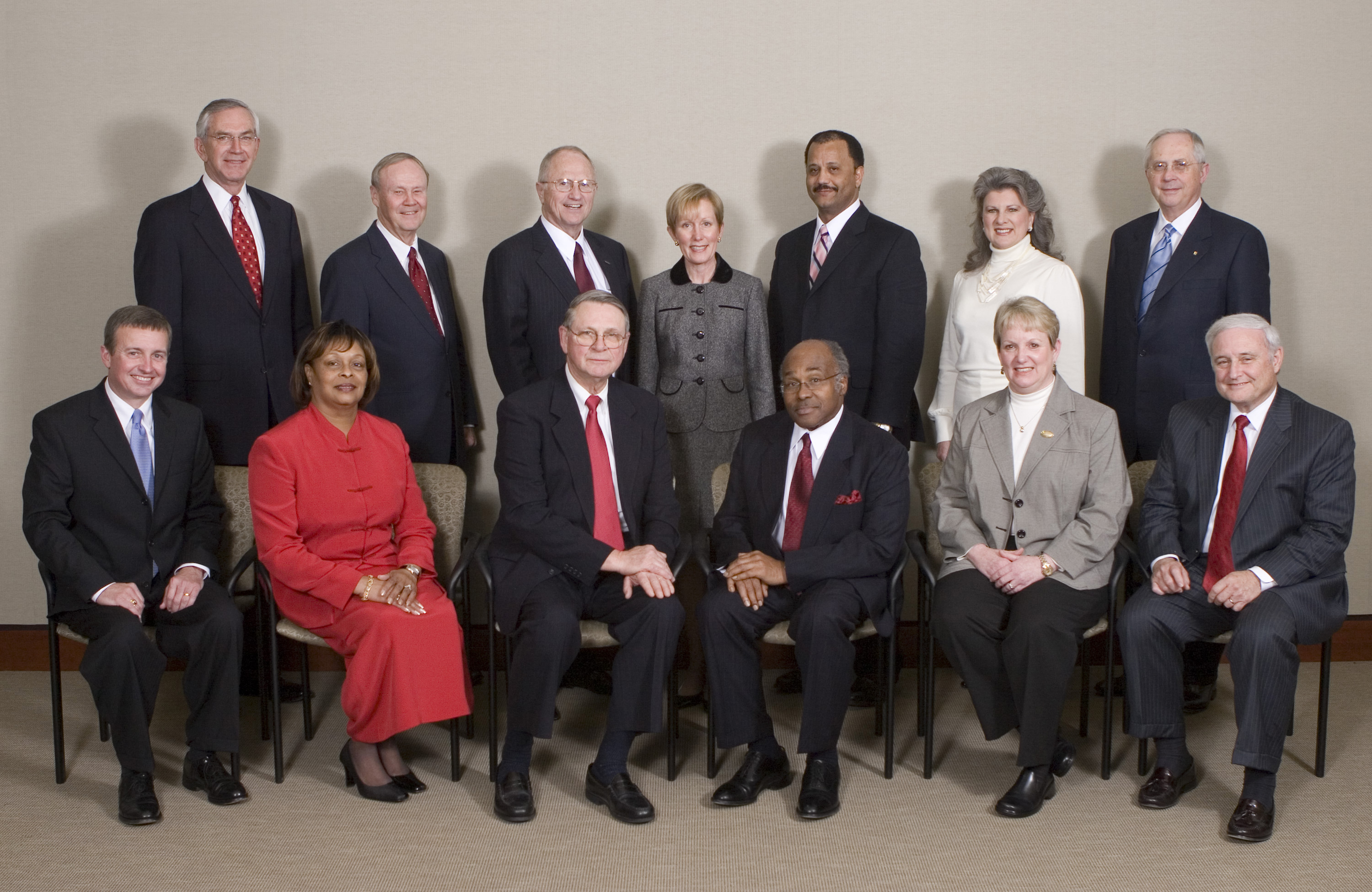 Board of Trustees of State Institutions of Higher Learning

IHL Board to Hold Regular Monthly Meeting February 14 and 15
The Board of Trustees of State Institutions of Higher Learning (IHL) will hold its regular monthly meeting next Wednesday and Thursday, February 14 and 15. The Board will meet in the IHL Board Room in the Universities Center, 3825 Ridgewood Road, Jackson, MS, 39211. The full Board will convene at 1:30 p.m. on Wednesday, and will then conduct business as a committee of the whole. The Board will reconvene at 8:30 a.m. on Thursday, but will break at 9:20 a.m. to attend the House Appropriations Committee meeting at the State Capitol. The Board will come together again following lunch. Various Board committees, including Educational Policies and Programs; Budget, Finance, and Audit; Real Estate and Facilities; and Legal will meet as part of the Board meeting. In honor of Black History Month, the Board will recognize ten university faculty members and one community member for their work to advance diversity. The Board meeting will be available for viewing in real-time via live webcast on the IHL website. An Executive Session may be held in accordance with the Open Meetings Act.


Items included in the "University News" section of the System Review are submitted each week by the universities. The news items are listed in rotating alphabetical order by university.
JACKSON STATE UNIVERSITY NEWS


Governor Barbour and Secretary Eric Clark Transfer Land to JSU; Retail and Residential Development Plans Underway for Surrounding Community
Gov. Haley Barbour and Secretary of State Eric Clark signed papers at the Jackson State University's College of Business on Friday, February 2, transferring 73 tax-forfeited parcels of land to JSU. During the related press conference, President Ronald Mason, Jr., announced plans to build a "true urban oasis," using the land for retail and residential development in the surrounding community. Jackson State is a premier historically black college that can be a great urban university, said Barbour, a former member of JSU's Development Foundation Board. "We all have a stake in Jackson State." Calling it the "biggest and most complicated gift" his office has ever done, Clark said he was delighted to make this transfer a reality. "This has to be the spark plug for the rebirth and redevelopment of our capital city, and it's everybody's capital city." As the only university based in the capital city, Mason said Jackson State understands and accepts its responsibility to the community it serves. Learn more.

See picture: Gov. Haley Barbour, Secretary of State Eric Clark and Jackson State University President Ronald Mason, Jr., pose after the state transferred 73 parcels of land to JSU.

See picture: Secretary of State Eric Clark hands JSU President Ronald Mason, Jr., papers after transferring 73 parcels of land to Jackson State.

Jackson State University Featured in 'Diverse Issues in Higher Education'

JSU Seeking Judges for Science, Engineering Fair

Two JSU Students Win Awards at Graduate Student Symposium

Margaret Walker Alexander Center Presents Black Mayor's Lecture Series
MISSISSIPPI STATE UNIVERSITY NEWS


MSU, Riley Foundation Partner to Create Youth Leadership Program
A Mississippi State-developed leadership program for high school students is being launched with the gift of more than $440,000 from a private Lauderdale County foundation. Conceived by university President Robert H. "Doc" Foglesong, the Young Guns Summer Leadership Camp will stress personal character and leadership development to rising seniors. The Meridian-based Riley Foundation grant will enable the land-grant institution to offer four one-week sessions in June and July. Foglesong recently received notification of the award from foundation executive director Becky G. Farley. The camp will be jointly sponsored by the university and foundation, along with the Mississippi Band of Choctaw Indians. Sessions will be held June 18-23 and 25-30, and July 16-21 and 23-28. In addition to taking place primarily at the MSU Riley Center in downtown Meridian, they will include complementary exercises on the Starkville campus and at the Native-American reservation in Choctaw. "Those selected to attend will reflect the diversity of Mississippi in their backgrounds, interests and ambitions," Foglesong said. "Young Guns will begin the process of transforming these young men and women into enlightened leaders capable of motivating others to accomplish extraordinary things." Learn more.

Historian Takes on Interstates, High Tech

Southern Intellectual History Scholars to Meet at MSU

Two MSU Students Honored for Diversity Efforts

Washington County Resident at MSU Receives National Award
MISSISSIPPI UNIVERSITY FOR WOMEN NEWS


MUW's Bunnell Teaches Wives of SeverCorr Executives Conversational English
Answering the telephone. Talking to a bank teller. Mailing a letter at the post office. These are things that natural English-speakers sometimes take for granted. To someone from another country, even with a basic grasp of the language, these routine tasks can be frustrating and overwhelming. The wives of several of the SeverCorr executives know this feeling well. Todd Bunnell, instructor of English and director of the TESL (Teaching English as a Second Language) Certificate Program at MUW, is helping them overcome the dread they feel when interacting with people by offering an English conversation course. Bunnell said he was approached by three of the women who were looking for an ESL class that could meet at a time that worked for all of them. He said, "I thought it was a great opportunity for [the university], since we don't always reach out to the community." Bunnell said he believes the women got his name from a former student in the TESL Program. Bunnell said the class consists of the students learning about and working on interactions in real-life situations. They cover material in an assigned book, but the students are allowed to lead discussions on topics about which they are interested. The five students (two from Germany, one from Germany via Romania, one from China, and one from Brazil) all possess basic English communication skills, meaning that Bunnell does not need to know another language. "They're more advanced than they think they are," he said. Learn more.
MISSISSIPPI VALLEY STATE UNIVERSITY NEWS


Mississippi Valley State University Online
www.mvsu.edu
UNIVERSITY OF MISSISSIPPI NEWS


Chancellor Khayat to Participate in Live Webcast on College Athletics Friday
University of Mississippi Chancellor Robert Khayat joins the Rev. Edward A. Malloy, president emeritus of the University of Notre Dame, Friday, February 9, to explore the role and future of college athletics during a public forum hosted by the Miller Center of Public Affairs. The 10 a.m. program, "Intercollegiate Athletics: Their Role, Their Status, Their Future," is being webcast live from the Miller Center at the University of Virginia. Everyone is invited to view the free webcast online. The forum is to examine the importance of intercollegiate athletics in fund raising and as part of an overall higher education experience. Recent concerns over coaching salaries, behavior scandals, and academic issues of student-athletes have focused scrutiny on athletics departments and their respective universities. "I'm planning to talk about the uniqueness of college athletics, its popularity and the threats to its continued well-being," said Khayat, who brings to the discussion the perspective of a student-athlete, professor, and university administrator. A former kicker for both the Ole Miss Rebels and the NFL's Washington Redskins, he served as a law professor, associate dean, athletics director, and vice chancellor before being named the university's 15th chancellor in 1995. Read more.

UM Makes Initial Appearance as a "Jeopardy!" Clue

Library Exhibit During Oxford Film Festival Showcases State's Film History

Political Science Department Moves Back to Renovated Deupree Hall

Doctoral Candidate in Accountancy Wins National Dissertation Fellowship
UNIVERSITY OF MISSISSIPPI MEDICAL CENTER NEWS


UMC Nursing "Pioneers," Nurse Educator Honored at Nightingale Gala
A former chief nursing officer and a former director of nursing service at the University of Mississippi Medical Center took their proper place in Mississippi's rich nursing history when they were inducted into the Mississippi Nurses Association (MNA) and the Mississippi Nurses Foundation (MNF) Hall of Fame on January 29. Bebe Richardson, a nurse for more than 55 years who continues to work part-time on special projects in hospital administration, and the late Ruth Werner, the first director of nursing service at University Hospital, were recognized for their lifelong commitment to the profession of nursing and their commitment to make an impact on the health and social history of the state of Mississippi. Dr. Robin Wilkerson, associate professor of nursing, also received nurse educator of the year accolades at the recognition event, the second-annual Mississippi Nightingale Awards Gala at the downtown Marriott, sponsored by the MNA and the MNF. Read more.

Leadership Qualities Carry Bogan from Electrician's Helper to Department Director

Hospital Outreach Director Brings Wealth of Administrative Experience to New Role

Excellence in Research Awards Recognize Medical Center Investigators for Outstanding Contributions to Science, Medicine
UNIVERSITY OF SOUTHERN MISSISSIPPI NEWS


Nobel Laureate to Deliver Lecture at Southern Miss
Nobel Laureate Dr. Richard J. Roberts will visit the University of Southern Mississippi in Hattiesburg on Wednesday, February 21, to deliver a lecture on "Friends and Foes: The Unseen Bugs who Share our Planet" at 6 p.m. in Bennett Auditorium. Roberts is chief scientific officer of New England Biolabs. Roberts' visit is jointly sponsored by the Hattiesburg Clinic, Forrest General Hospital, the Honors College and the College of Science and Technology. His appearance is part of the Hattiesburg Clinic Lecture Series and the Distinguished Scientists Seminar, both now in their 15th year of bringing top-level scientists to lecture at Southern Miss. Roberts, a molecular biologist, is the winner, with Phillip A. Sharp, of the 1993 Nobel Prize for Physiology or Medicine for his independent discovery of "split genes." It has since been established that the discontinuous gene structure discovered by Roberts and Sharp is the most common structure found in higher organisms (eukaryotes). In addition to having important implications for the study of genetic diseases, this structure is believed to drive evolution by allowing information from different parts of the gene to be brought together in new combinations. Roberts received a Ph.D. in organic chemistry from the University of Sheffield, England in 1968.

Southern Miss to Observe Black History Month with Slate of Activities

Fairchild Lecture Series Examines Islamic and Muslim Traditions

Southern Miss to Host High School Musicians for All-South Honor Band
ALCORN STATE UNIVERSITY NEWS


Alcorn State Hosts Advanced Placement Symposium
Alcorn State University, in partnership with the "International" College Board, hosted an Advanced Placement Symposium at the university on Wednesday, January 31. Participants included school superintendents, principals, and counselors from school districts in southwest Mississippi, Hinds County, and northeast Louisiana. The primary purpose of the symposium was to discuss advanced placement (AP) – whereby high school students may enroll in designated courses at their high schools (taught by AP certified teachers) for college credits – and to determine the extent to which school districts may be interested in expanding existing courses and/or initiating new courses. "The next step is to develop a timeline and strategy of implementation to train the teachers and the administrators first," commented Jaye Espy, educational manager of the College Board Southern Regional Office. Learn more.

Alcorn Writing Center Adds Titles to Research Library
DELTA STATE UNIVERSITY NEWS


'Last Shoot Out at Whitfield Gymnasium' to Be Held on Delta State Campus
The Delta Music Institute (DMI), a recording and music industry center on the campus of Delta State University, will host "The Last Shoot Out at Whitfield" on Tuesday, February 13 at 6 p.m. in Whitfield Gymnasium on the campus. "The Last Shoot Out at Whitfield" will mark the transition of historic Whitfield Gymnasium from a sports and recreational venue to the home of the DMI recording studios. Construction on the studios is set to begin in early spring. The Delta Music Institute is a first step towards a broad program in Arts Production. It began with a generous donation by Fred Carl of Viking Range Company in 2003. The focus of the DMI is to provide students with a broad and thorough education in the technological, business, and creative areas of the music industry. For information about the DMI, please contact (662) 846-4579. Read more.

Hilpert Takes Health & Wellness Theme Literally

Delta State to Host Mississippi Delta Women's Leadership Conference


Feb. 9 - 11 - Delta State University will host the annual honor choir festival, in which over 130 of the finest and most talented high school choir singers from across the state will participate. These talented students were selected by audition to participate in the festival by members of the Delta State music faculty. The festival will conclude with a performance on Sunday, Feb. 11 at 2 p.m. in the Delta & Pine Land Theatre of the Bologna Performing Arts Center on the campus. For more information, please contact the music department at (662) 846-4615.

Feb. 11 - The University of Mississippi's annual Patrons of Music Benefit Concert, slated for 3 p.m. in the newly renovated Nutt Auditorium in Scruggs Hall, will raise money for scholarships and for an endowment to assure continued growth of the music program. Learn more.

Feb. 12 - Mississippi State University will hold the most recent round of MSU Idol, a competition modeled after the popular television program. For more information contact the Campus Activities Board at (662) 325-2930. Learn more.

Feb. 12 - Award-winning poet Alan Shapiro, the University of Mississippi's John and Renee Grisham Visiting Writer, will read from his latest book at 7 p.m. at the Ole Miss-Oxford Depot. The free, public event is sponsored by the Department of English. Learn more.

Feb. 12 - Join the newly-formed Emmett Till Memorial Commission from Tallahatchie County at the University of Mississippi's Paris-Yates Chapel as they discuss a shared painful history and initiatives around the development of civil rights trails and curriculum to help prod economic opportunities in economically distressed communities. Learn more.

Feb. 12 - 15 - The University of Southern Mississippi Department of Theatre and Dance will present "Lovers and Madmen (or Down with the Doublet!)," the first show of its 2007 spring season. This compilation of Shakespearean scenes will be presented at 7:30 p.m. each evening at the Gilbert F. Hartwig Theatre. Learn more.

Feb. 15 - Jackson State University and OPERA/SOUTH will honor African-American contributions to classical music, drama, and dance, at 6 p.m. in F.D. Hall Music Center. For more information, call (601) 979-2700. Learn more.

Feb. 15 - The Mississippi State University Career Center will host a dinner etiquette workshop at the Leo Seal M-Club Building. Tickets to the Wolseley North America Dinner Etiquette Workshop are $10 and available in 300 Montgomery Hall. Learn more.

Feb. 16 - The University of Southern Mississippi welcomes Dr. David Buss, a renowned psychological expert on human sexuality as the guest speaker at the fourth annual Hildman Colloquium in Psychology. Buss' presentation, "Sexual Conflict in Human Mating," will be held at 2 p.m. at the university's Thad Cochran Center, Ballroom I. The program is sponsored by the Southern Miss Department of Psychology. Learn more.

Feb. 16 and 18 - Delta State University will serve as host to organist and choir director Adam Ward in two separate public presentations. Ward will give a lecture to choral music majors in the department of music about his experiences as a church musician Friday, Feb. 16, at 11 a.m. in Room 212 of Zeigel Hall on the campus. In addition, he will present an organ recital on Sunday, Feb.18, at 4 p.m. at First United Methodist Church in Cleveland. For more information, please contact Dr. Richard Waters at (662) 846-4115.

Feb. 17 - The University of Mississippi Medical Center Alliance is presenting its major fundraiser, Taste of UMC, at the Jackson Medical Mall Thad Cochran Center at 7 p.m. Tickets cost $25 each, and proceeds are used for various art and patient needs at University Hospital.

Feb. 19 - 20 - The Jackson State University College of Education and Human Development will host a Black History Month Conference. Learn more.

Feb. 22 - Mississippi State University faculty member and classical guitarist Michael Patilla will be featured in a concert at the Bettersworth Auditorium in Giles Hall. Fore more information on the program, call (662) 325-2866 or (662) 325-2854. Learn more.

Feb. 23 - The University of Southern Mississippi School of Social Work's Family Network Partnership will host the Fourth Annual Aspire Scholarship Benefit Concert at Hattiesburg's downtown historic Saenger Theater at 7:30 p.m. The concert will feature The Southern Miss Repertory Dance Company, the Hattiesburg Civic Light Opera, Paul Lee, and the Pine Belt Youth Ballet. Learn more.

Apr. 11 - 12 - Delta State University will present its Third Annual Research and Scholarship Symposium in the Henry J. Jacob Conference Center of James M. Ewing Hall on campus. For more information, contact John Green at (662) 846-4069 or (662) 846-4334. Also, you may visit the Faculty Research Committee website.