IHL Outlines Budget Request for State Legislators
Earlier this month, members of the IHL Board and Mississippi's eight institutional executive officers met with members of the full House Appropriations Committee and the Senate Appropriations Sub-committee to discuss the budgetary needs of Mississippi's public university system. Ms. Amy Whitten, Board President and Mr. Aubrey Patterson, the Board's Chair of the Budget, Finance, and Audit committee, discussed with both groups the System's funding request, specifically the Board's five year framework. Originally, the Board requested $71.4 million from the legislature for classroom instruction and general campus operations. This request helped the System quickly reach the regional average, but the Board decided the number was unrealistic in today's economy. Rather than making this giant step in one year, the Board projected where the System would need to be in five years and divided that amount equally over a five year period. Specifically, instead of requesting the original $71 million this year, the Board is requesting $33.3 million annually each year over the five years to take the System to the regional average. Click here to view the Board's original appropriation request versus the request as a result of the five year plan. Also during the committee meetings, the institutional executive officers discussed the dramatic impact to the campuses of the proposed five percent budget cuts. Click here to view a summary of System budget reductions. For more information, contact Assistant Commissioner of Governmental Relations Dr. Jim Borsig.

Commissioner and University of Mississippi Chancellor Searches Progress
The searches for a new Commissioner of Higher Education and a new Chancellor at the University of Mississippi are progressing. The IHL Board has issued requests for proposals (RFPs) for search consultants for both searches. Next, the Board Search Committees for each search will hold listening sessions with constituency groups to learn what constituents want in their next leaders. IHL's institutional executive officer (IEO) and commissioner search process allows Mississippi to be on the consideration list of the highest caliber professionals in higher education. The process is a transparent, representative-based process that works in accordance with today's recruitment standards for high-level institutions of higher learning. The IHL Board is committed to fulfilling its constitutional duty and obligation to advance higher education in Mississippi. For more information on the Commissioner of Higher Education or the University of Mississippi Chancellor search processes, including a timeline of events and copies of the RFP, visit the IEO search website.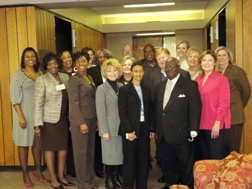 Members of the Developmental Education Task Force held a planning session in the IHL Executive Offices in Jackson on January 8.

Developmental Education Task Force Holds Planning Session
The Developmental Education Task Force held a planning session on January 8 to discuss the benefits of developmental education. The task force, which includes representatives from all eight public universities, was established to visit existing developmental education policies, programs, practices, and procedures with the goal of improving developmental education within the System. The task force seeks to develop a shared understanding of the benefit of developmental education to students, the universities, and the state; develop accountability measures, goals and timelines; construct recommendations for best practices; and develop a comprehensive plan to improve developmental education programs in the state's public universities. For more information about the Developmental Education Task Force, contact IHL Director of Student Affairs Pearl Strickland-Pennington at (601) 432-6482.
Special Task Force Continues Work through Delta NEXT!
The Special Task Force for the Revitalization of the Delta Region, a group formed in 2006 by House Bill 1034, continues its work in Mississippi's Delta region through the launch of the second issue of Delta NEXT!, a magazine designed to encourage students in grades 6-9 to stay in school and graduate. The mission of the 25-member Special Task Force, chaired by former House Speaker Pro Tempore Robert G. Clark, is to develop a "plan of action" to strategically revitalize the Delta region and improve the quality of life for residents. The Special Task Force has determined that the number one long-term priority to revitalize the Delta is to increase the educational attainment and skill development levels of its citizens. To achieve this goal, the Special Task Force developed Delta NEXT! magazine to help students understand the educational journey, how to stay on track, how to be successful in high school, and how to achieve the dream of going to college. The magazine is distributed in the Delta Revitalization region-18 counties stretching from Tunica to Jefferson Counties-and reaches approximately 23,000 students in 124 schools in 35 districts. For more information on the Special Task Force for the Revitalization of the Delta Region, please contact Dr. Debra Anderson at the Mississippi Institutions of Higher Learning Bureau for Long Range Planning at 601-432-6264.

Items included in the "University News" section of the System Review are submitted each week by the universities. The news items are listed in rotating alphabetical order by university.
UNIVERSITY OF SOUTHERN MISSISSIPPI GULF COAST CAMPUS NEWS


Renovation Plans Begin on Southern Miss Gulf Park Campus
The Mississippi Board of Trustees of State Institutions of Higher Learning (IHL) has approved the selection of the architectural firms that will renovate Elizabeth Hall and Hardy Hall on The University of Southern Mississippi Gulf Park campus in Long Beach. The university will renovate the buildings with help from the Federal Emergency Management Agency (FEMA). Dale and Associates Architects of Jackson will spearhead the renovation design for Hardy Hall, and the Klee Odom + Klee architecture firm of Biloxi will oversee the design for Elizabeth Hall. Prior to Hurricane Katrina, Elizabeth Hall housed the Southern Regional Public Safety Institute. After renovations, Elizabeth Hall will be converted from a dormitory to offices for the College of Arts and Letters. Hardy Hall will be restored to its original condition and house administrative offices, the bookstore, and the College of Education and Psychology. Both building structures will remain the same, but the first floor of each building will be reconfigured due to extensive damage from the hurricane. It will take six months to one year for architects to complete the design of each building. Following the approval of the building design, it will take approximately one year for construction to be completed on Elizabeth Hall. Renovation on Hardy Hall will take nearly 18 months for completion. Learn more.

History Professor Gives Lecture on Civil Rights Movement in Biloxi
ALCORN STATE UNIVERSITY NEWS


Presidential Inauguration Viewing at Alcorn State University
Alcorn State University students, faculty, and staff didn't have to miss out because they couldn't go to Washington, D.C. to witness "history in the making". Student Engagement and Student Activities offices of the department of Student Affairs collaborated to arrange a big screen viewing of the inauguration of Barack Obama as the 44th president of the United States right here on campus. A sizeable crowd gathered in the Campus Union Ballroom to enjoy the ceremony. Refreshments and door prizes added to the festive atmosphere. Many employees gathered around televisions in offices, conference rooms, and lobbies all across campus, and of course some students took the opportunity to watch from the comfort of their rooms. Many people even tuned in via the Internet. In the ballroom, and in locations around campus, people gave standing ovations right along with the crowds in Washington; especially following the presidential oath and again during President Obama's historic inaugural address. With so many people on campus tuned in to the inauguration, the campus of Alcorn State University was indeed a part of the historic inauguration. Learn more.

Alcorn Partners with University of Tennessee Health Science Center

Alcorn Remembers Dr. Martin Luther King, Jr.
DELTA STATE UNIVERSITY NEWS


Delta State and Hinds CC Partner on New Elementary Education Initiative
As a young wife and mother, Hinds Community College sophomore Michelle Bridgers of Terry has a lot on her plate. That's why she's so grateful for the new 2 plus 2 partnership between Hinds and Delta State University (DSU) that will allow her to finish her bachelor's degree in education from Delta State on the Hinds campuses. She's also pleased her degree will be from a university historically known as a teacher education institution. "Hinds and Delta State are providing us with a great opportunity to obtain a quality four-year degree at an affordable cost," she said. "This short commute allows me to spend more time with my family and fulfill the obligations that I have." Officials of Hinds Community College and Delta State University, on Thursday, January 15, officially sealed the new 2 plus 2 agreement that allows Hinds elementary education majors to stay at Hinds to finish their DSU bachelor's degree. Learn more.

Mixon Crowned Miss Delta State University

Diamond Statesmen Voted to Repeat GSC Title, West Division in 2009

Delta Academy Announces Graeber Foundation Scholarships to Delta State
JACKSON STATE UNIVERSITY NEWS


JSU Celebrates King Holiday, Honors Community Leaders
As a child, Dolphus Weary said he dreamed of escaping the poverty and despair of Mississippi. In 1969, he left his home for college in California, vowing never to return. But Weary did return in 1971, this time with a mission to improve the state and the lives of its residents. Weary, founder of Mission Mississippi - an organization created to encourage unity across the boundaries of race and religion - was the featured speaker during the 40th Martin Luther King Jr. Birthday Convocation Jan. 16. The annual event is sponsored by Jackson State University's Margaret Walker Alexander National Research Center. King's dream served as Weary's inspiration. "Dr. King gave me hope," Weary said. "Dr. Martin Luther King dreamed for me so that I can dream for others." Jackson State senior Timila Echols said she found the convocation and Weary's message to be informative. "It is a strong reminder to continue to study our history and for me to do my part," said the Kansas City native and English major. "Though the battle is not over, Dr. King's dream is slowly, but surely coming to pass." Learn more.

Curtis Johnson Receives Aggression Management Certification

Retired JSU Chemistry Professor Donates $20,000 for Scholarships
MISSISSIPPI STATE UNIVERSITY NEWS


MSU, Walter Reed Army Medical Center Partner to Train Wounded Vets
Computer science faculty members at Mississippi State soon will be training "wounded warriors" in digital forensics at Walter Reed Army Hospital. With the goal of helping veterans improve their job opportunities after leaving the military, the university's partnership with U. S. Army Garrison at the Washington, D.C., medical center is similar to an MSU training program in digital forensics. To date, that campus program has been completed by more than 2,400 law enforcement officers from more than 20 states. Professor Ray Vaughn and associate professor David Dampier of the computer science and engineering department recently launched the program with Walter Reed's garrison commander, Col. Bruce Haselden. Training will be provided through the hospital's Transition Employment Assistance Management Service Division. During a formal ceremony on Jan. 29 in the nation's capital, Maj. Gen. Carla G. Hawley-Bowland, commander of the North Atlantic Regional Medical Command and Walter Reed Army Medical Center, signed a memorandum of understanding with Kirk Schulz, MSU's vice president of research and economic development. Other MSU and Defense Department representatives, along with members of the National Science Foundation, and U.S. Veteran's Administration, also attended. Schulz said working with Walter Reed helps the university fulfill its land-grant mission of public outreach--in this case, to America's veterans. Learn more.

MSU Honoring Major Engineering Donor, Other Top Graduates

MSU Social Scientist Among Leading U.S. 'Stalking' Researchers

Croatian Diplomat Visits MSU, Jackson

MSU Student Forestry Group Maintains High Ranking
MISSISSIPPI STATE UNIVERSITY DIVISION OF AGRICULTURE, FORESTRY AND VETERINARY MEDICINE NEWS


MSU Extension Helps Ease Farmers' Soil Fertility Management Costs
Mississippi farmers have no control over volatile fertilizer costs but they can use good soil fertility management to offset the effect on production expenses. "We have to be efficient users of fertilizer, and that doesn't mean just this product's application rate," said Larry Oldham, soil specialist with the Mississippi State University Extension Service. "This concept includes the whole production system of seed, soil, water, climate, pests, labor, and capital." Fertilizer prices have carved out big chunks of most farm budgets in the last 18 months. One reason for the increase has been the widespread switch to corn, which has a higher fertilizer requirement than other major agricultural row crops. The interest in corn and subsequent increase in acres planted drove up fertilizer prices. "Corn requires about one third more nitrogen fertilizer than cotton does," Oldham said. India, China, and Brazil intensified their agricultural production, which increased worldwide demand for fertilizer. Crude oil and natural gas markets turned volatile, and energy prices rose. The decline in the value of the dollar overseas helped push up fertilizer costs because most of the product's ingredients are imported. "Everything goes back to the basic principles of supply and demand," said Gregg Ibendahl, Extension agricultural economist. "Increased demand for products leads to higher prices. In late 2007, farmers would have been better off if they had made purchasing decisions sooner." Learn more.

MSU's Therapeutic Riding Program Reaccredited

Mississippi State Veterinary Students Earn Dual Degrees

MSU Students Lay Waste to Biomass-as-Fuel Obstacle

Aussie Native Feels at Home as Mississippi State University Biocurator
MISSISSIPPI UNIVERSITY FOR WOMEN NEWS


MUW a Step Closer to New Name
Three names recently emerged as a possible future moniker for Mississippi University for Women. Reneau University, Waverley University and Welty-Reneau University were chosen by the 30-person MUW Naming Committee comprised of faculty, staff, students, alumni, and community leaders. The committee provided rationalizations for each name suggestion in order to better communicate MUW's goals for the new name. Reneau University honors Sallie Reneau, a dedicated proponent of women's education in the late 19th century. She began the campaign that eventually prompted the Mississippi Legislature to establish present-day MUW, the first public college for women in America. Waverley University comes from a novel penned by Sir Walter Scott and evokes images of innovation, vision and creativity, all of which describe the university's long and storied history, as well as its current outlook. Welty-Reneau University combines two very important people in MUW history. Sallie Reneau, as noted, is truly a founder of the university. Eudora Welty attended the university for two years and is one of the university's most noted former students. This suggestion recognizes the life and work of the Pulitzer Prize-winning author. Learn more.

Ina E. Gordy Honors College Announces Forum Series at MUW
MISSISSIPPI VALLEY STATE UNIVERSITY NEWS ONLINE


Mississippi Valley State University Online
www.mvsu.edu
UNIVERSITY OF MISSISSIPPI NEWS


Ole Miss Names Morris Stocks Provost, Chief Academic Officer
Morris H. Stocks, interim provost and vice chancellor for academic affairs at the University of Mississippi since Jan. 1, 2008, has been named UM's provost and vice chancellor for academic affairs. The appointment was announced by Chancellor Robert C. Khayat, who retires June 30. "We are fortunate that Dr. Stocks accepted our invitation to serve as provost during this time of transition," Khayat said. "I am confident that all of us will be supportive of his efforts as we continue to move the university forward." Stocks began serving as interim provost following the December 2007 retirement of Carolyn Ellis Staton, who had held the position since 1999. The provost is the university's chief academic officer. Ole Miss launched a search for Staton's replacement last fall, but after announcing his plans to retire, Khayat decided to suspend the search and appoint Stocks to the position to maintain institutional stability and continuity, said Alice Clark, vice chancellor for research and sponsored programs, who was chairing the search committee. Stocks, former dean of UM's Patterson School of Accountancy, served three years as associate provost. He also served as senior vice chancellor for planning and operations in 2006-07. "I believe this is an excellent decision given the context of the chancellor's retirement and the many challenges the university faces in the upcoming years," said UM Faculty Senate chair Kenneth Sufka, professor of psychology and pharmacology. Learn more.

Former Secretary of State Colin Powell to Deliver Public Address at Ford Center

Education School to Begin School Principal Training Program in June

Law Student Pens Paper That Gains National Attention

136-Year-Old Thompson Family Heirloom Finds New Home in University Museum
UNIVERSITY OF MISSISSIPPI MEDICAL CENTER NEWS


Finding a Health-care Home
Thousands of patients come to the University of Mississippi Medical Center's Emergency Department each year for chronic health problems that require primary care but not urgent treatment. It's no secret in health care nationally that uninsured patients go to the emergency room for treatment because they don't know where else to go, a result of 47 million Americans falling through the cracks of the health care system. In Mississippi, where it's estimated that more than 400,000 people are uninsured, that's a lot of medically homeless people. But where national leadership has been slow to intervene, the Medical Center has made progress in finding medically underserved Mississippians a primary care physician. Learn more.

The Gender of Depression

Continuing the Dream

Passionate About Women's Health
UNIVERSITY OF SOUTHERN MISSISSIPPI NEWS ONLINE


Southern Miss to Mark 10th Anniversary of Mississippi Oral History Project
For the last decade, the story of Mississippi has been captured through the voices of its people with the help of the University of Southern Mississippi's Center for Oral History and Cultural Heritage. This year, the center will mark that achievement by celebrating and promoting the Mississippi Oral History Project (MOHP). A statewide initiative launched in 1999 and administered by the center, the MOHP has resulted in one of the largest oral history collections in the Gulf South. Approximately 3,500 taped interviews with citizens, from top political leaders to ordinary citizens sharing their experiences, constitute the collection to date and are housed at the university. MOHP subjects include World War II and War on Terror (Iraq and Afghanistan) veterans; civil rights movement leaders and participants; Hurricane Katrina survivors and those involved in recovery efforts; members of Mississippi's Legislative Black Caucus; and those interviewed as part of county and city oral history projects across the state, among others. "In many ways, the center preserves the collective memory of the state and its people through this important project," said Dr. Louis Kyriakoudes, an associate professor of history at Southern Miss and director of the center. A promotional reception and display to celebrate the anniversary of the project will be held at the Mississippi State Capitol rotunda Feb. 26 from 1-5 p.m. Learn more.

Southern Miss Presents Seminar to Form Healthy Communities

Officials Train in New Orleans for Center for Spectator Sports Security Management Workshops

Southern Miss Mass Communication and Journalism Symposium to Honor Kaul

Southern Miss Center Advances Global Curriculum through Partnerships


Jan. 22 - Mar. 3 - Southern Miss Museum of Art is hosting an international graphic design exhibition. Learn more.

Jan. 30 - JSU will celebrate the Chinese New Year from 6 to 10 p.m. Friday. The fundraiser will support students planning to study in China and Taiwan during the summer. Admission is $3 for students; $5 for faculty, staff, alumni; and $7 for guests. Admission is free for children under 12. Call (601) 979-1793. Learn more.

Jan. 30 - Please join MUW for a year-long celebration of its 125th Anniversary. The Anniversary Celebration will highlight MUW's mission and demonstrate MUW's high-quality academic reputation, progressive curriculum, and enduring influence. Learn more.

Jan. 30 - Ten Ole Miss students join an elite group when they are admitted to the UM Hall of Fame in a 4 p.m. public ceremony. Held in the Ford Center, the annual event also serves to recognize the UM students featured in the latest edition of Who's Who Among Students in American Universities and Colleges. Learn more.

Jan. 31 - The Metro-Jackson Alumni Chapter of Alcorn State University will have a themed fundraiser for the women's and men's basketball teams from 7:00 to 10:00 p.m. in Building 722, located at 722 W. Monument St, Jackson, MS. The party theme is 60's. Admission is $15, and ALL proceeds go to the teams. Learn more.

Feb. 2 - Mississippi State's chapter of Delta Gamma presents U.S. President Gerald Ford's son, Steve, to speak at 8 p.m. at Humphrey Coliseum about substance abuse awareness. The free program serves as the 2009 Dorothy Martin Lectureship in Values and Ethics. Learn more.

Feb. 3 - Jackson State's 'Donuts for Dads' event at 10 a.m. will feature Mississippi Supreme Court Justice James Graves. The event is sponsored by the L. W. Thornton Early Childhood Center and the JSU Department of Elementary and Early Childhood. For more information, call (601) 979-2400. Learn more.

Feb. 4-26 - Black History Month events are scheduled for the month of February at Southern Miss. Learn more.

Feb. 5 - Mississippi State University's department of English presents the Katherine Anne Porter prize winner for short fiction, Kelly Magee, to speak at 7:30 p.m. in the Colvard Student Union's third floor Folkes Auditorium. Learn more.

Feb. 5 - Mississippi State's Lyceum Series presents the British tongue-in-cheek vocal group, the Puppini Sisters, at a 7:30 p.m. concert in Lee Hall auditorium. Learn more.

Feb. 5-6 - A multimedia concert titled "Einstein's Cosmic Messengers" kicks off the International Year of Astronomy at UM. The free program, set for 8 p.m. on Thursday and 1 p.m. on Friday in Nutt Auditorium, illustrates Einstein's vision in a multimedia format featuring composer and percussionist Andrea Centzanno. Learn more.

Feb. 5-6 - The Southern Miss DuBard School will present its Annual Symposium on Dyslexia. Learn more.

Feb. 7 - The Mississippi University for Women CHAMPS (Creating High Achievement in Mathematics and Problem Solving) project will host its third CHAMPS Super Saturday Workshop in the Plymouth Bluff Auditorium. Learn more.

Feb. 7 - Acclaimed bluegrass and folk music artists The Punch Brothers perform at 8 p.m. in the University of Mississippi's Ford Center. General admission tickets are $25 and are available at the Ole Miss Box Office. Learn more.

Feb. 9 - Delta State University will present "Mad Science: CSI Live," a matinee in the Delta & Pine Land Theatre of the Bologna Performing Arts Center at 9:30 a.m. and 11.30 a.m. For ticket information, please call the Arts Education office at (662) 846-4844. Learn more.

Feb. 10 - A Regional Obesity Conference will be hosted by Alcorn on campus from 8 a.m. to 2 p.m. Registration is free, and lunch will be provided. Register by Jan. 31. Registration can be completed online at http://asuextension.com/asuep or by calling the ASU Department of Human Sciences at (601) 877-6252. Learn more.

Feb. 10 - A General Pest Management Workshop at MSU's Central Mississippi Research & Extension Center is designed for crop consultants wishing to recertify their crop consulting license. Continuing education and in-service credits also are available. Contact David Ingram at (601) 857-2284 or davidi@ext.msstate. Learn more.

Feb. 11-13 - An intensive biology and management workshop hosted by the Mississippi State University Extension Service will be in Tully Auditorium at MSU's Thompson Hall. For information or to register for the workshop, contact Scott Messina at (662) 325-3174 or smessina@cfr.msstate.edu. Learn more.

Feb. 12 - Smart Aging: Healthy Futures volunteers will be trained to promote well-being among their communities' seniors at an MSU Extension workshop in Natchez. Contact Ann Sansing at (662) 325-4043 or asansing@ext.msstate.edu. Learn more.

Feb. 19 - Delta State University will present "Hairspray" in the Delta & Pine Land Theatre of the Bologna Performing Arts Center at 7:30 p.m. For ticket information, please call the Box Office at (662) 846-4626. Learn more.

Feb. 19 - The University of Southern Mississippi Gulf Coast and the Sun Herald present a lecture on the space program by Apollo 13 astronaut Fred Haise at 7 p.m. in the Advanced Education Center auditorium on the Gulf Park campus in Long Beach. The lecture is free and open to the public. Learn more.